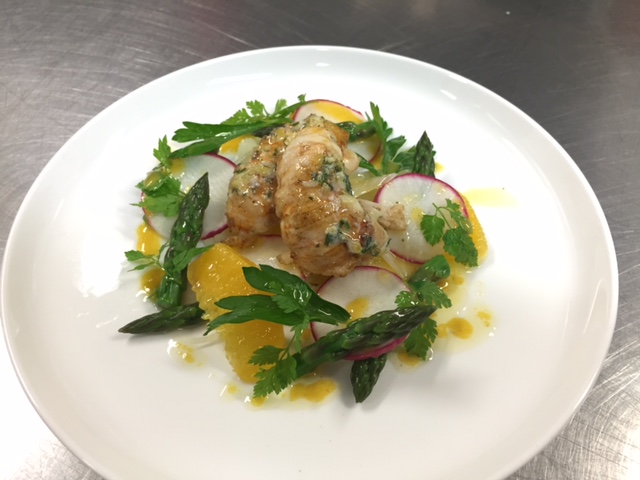 Qantas first class passengers are in for a surprise in 2015! Every set menu in the First Class Qantas cabin has a daily 'special' edition, a freshly prepared beautiful dish to spice things up for the frequent First Class travellers. In March it is Moreton Bay Bugs with herb butter, shaved fennel, asparagus & orange salad.
Qantas is the first airline to offer a daily surprise dish on board and, just like all the rest of the First Class menu, the bugs are amazing. Rockpool chefs, Terry Higgins & Roger Barstow, share this simple recipe with our readers. If you are a foodie like me, you will be delighted with this easy to prepare and absolutely delightful dish – perfect for entertaining in our warm climate.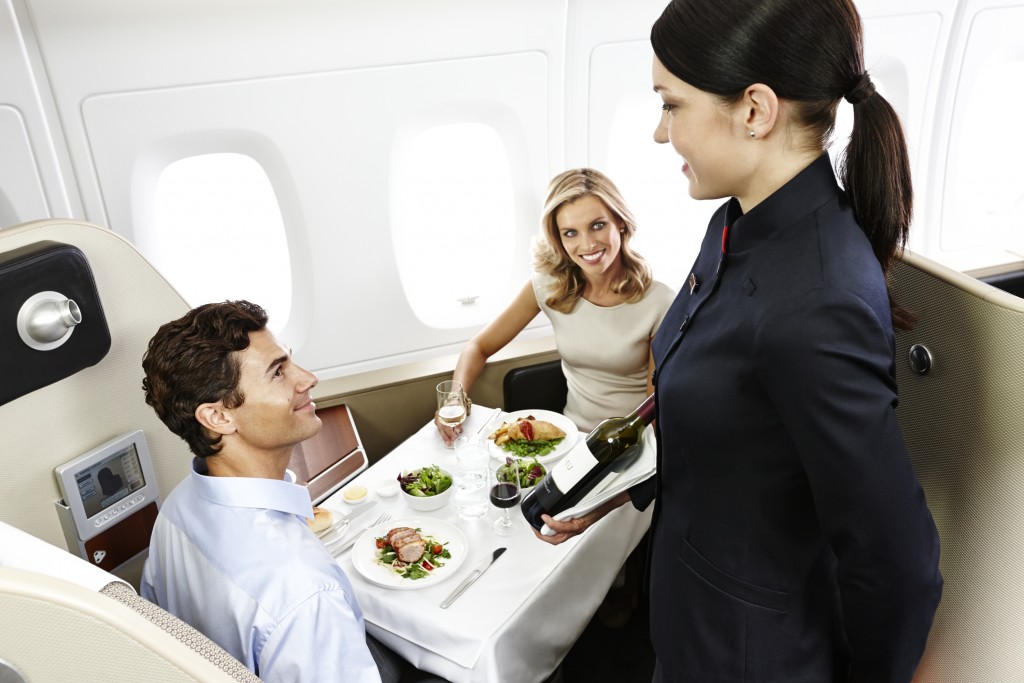 About the dish
This simple salad relies heavily on the quality of the Moreton bay bugs. The bugs are named after Moreton Bay which is 14km off the coast of Brisbane. They're prized for their taste and texture which is akin to other crustaceans i.e. lobster, langoustine, prawns.
You can find Moreton Bay Bugs at your local fish market and even at some specialty grocers.
It's worth making a big batch of herb butter and keeping the left over in the freezer. Add a spoonful whenever you're pan frying a piece of fish or grilling a steak for instance flavour.
Ingredients
Pan fried Moreton Bay Bugs
6 Moreton Bay Bugs
2 Tbsp of Olive Oil
Pinch of Sea Salt and freshly ground pepper
Shaved Fennel Salad
1 bunch of green asparagus
1 large orange
1 medium sized bulb of fennel
4 red baby radishes
¼ cup of picked chervil
Orange Vinaigrette
1½ Tbsp of olive oil
1½ Tbsp of orange juice, freshly squeezed
Pinch of sea salt and freshly ground pepper
Herb Butter
250g of butter, room temperature
1 clove of garlic, finely chopped
2 Tbsp of parsley, finely chopped
1 Tbsp of dill, finely chopped
1 Tbsp of chives, finely chopped
Zest of 1 lemon
Preparation
Shaved Fennel Salad
Remove the woody ends of the asparagus and cut in half, on a diagonal, lengthways. Cook asparagus in a small saucepan of boiling water for 2.5 minutes, strain and transfer asparagus to a bowl of ice water. This will stop the asparagus cooking any further, ensuring that it still has some crunch.
To prepare the orange segments, first cut a slice off either end. Next, trim away the skin and pith. Remove the orange segments over a bowl to catch any juices.
Thoroughly rinse fennel with cold water. Trim away the green stalks, keep these if you're making soup or stock, otherwise discard. Thinly slice fennel on a mandolin, starting at the top and working around the core. Discard core. Immediately toss and store sliced fennel with prepared orange. This will prevent the fennel discolouring.
Thoroughly rinse baby radishes. Trim the tail and thinly slice on a mandolin.
Pick small sprigs of chervil, avoiding any yellow leaves.
You can store all the prepared salad ingredients together but toss together with the orange vinaigrette just before serving.
Orange Vinaigrette
Strain orange juice to remove any seeds and coarse pulp. Whisk in olive oil, sea salt and ground pepper.
Herb Butter
Having the butter at room temperature will make mixing a whole lot easier. Once you've picked and chopped your herbs, finely minced the garlic and grated the lemon zest; combine with soft butter. If you're preparing a large batch and using an electric mixer, use the paddle attachment rather than a whisk.
Pan Fried Moreton Bay Bugs and plating
Toss shaved fennel salad with orange vinaigrette. Plate the salad before starting to grill the bugs.
Pre-heat a pan over high heat. Add olive oil and sear the bugs for 2 minutes, until golden. Before turning bugs over, season with sea salt and freshly ground pepper. Flip the bugs over and cook for a further minute. Move the pan off the heat and add a heaped tablespoon of the herb butter. Place the bugs on top of the salad and pour over all the juices from the pan.