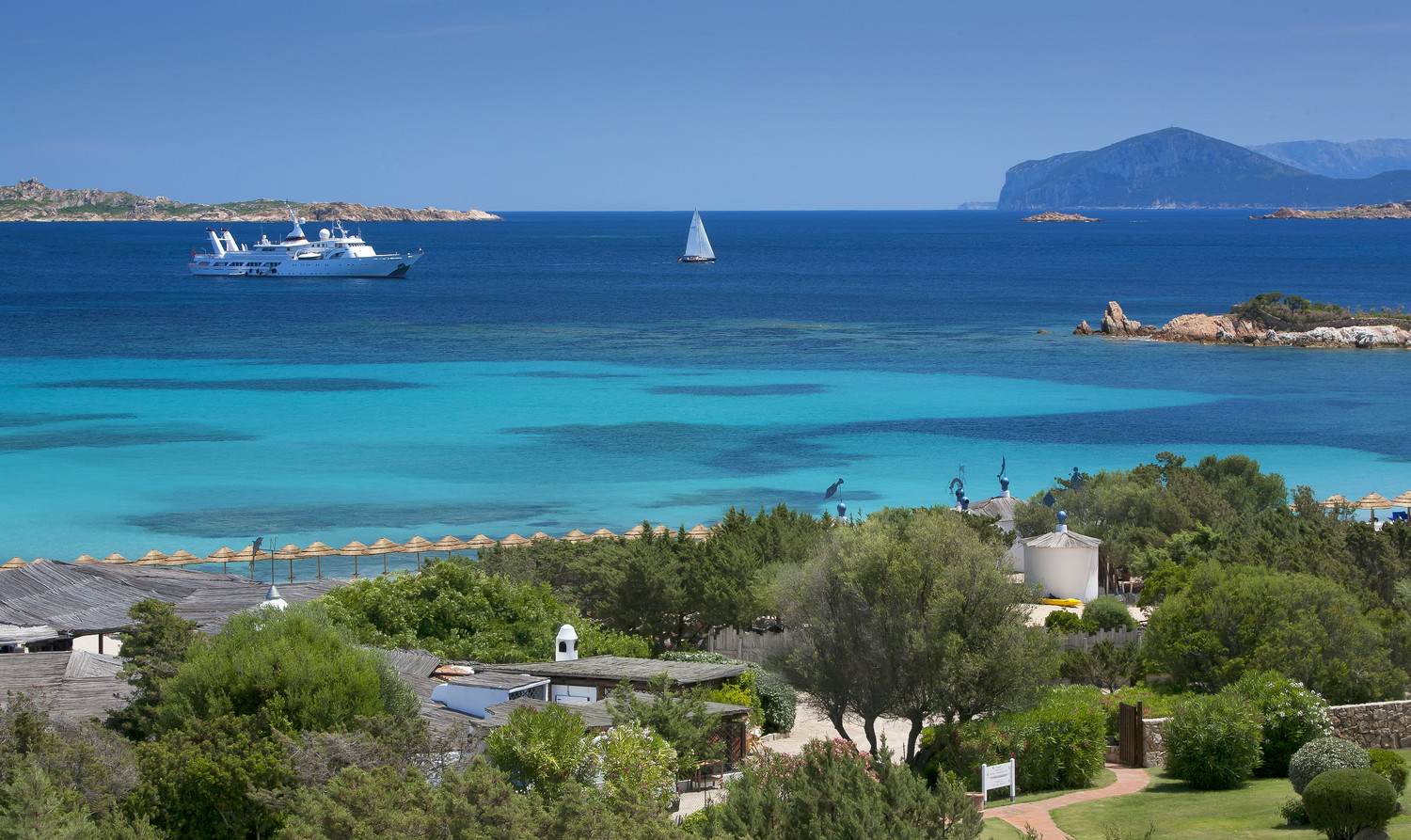 the lux score
95
the lux score explained
Service 10
Rooms 7
Food & Beverage 10
Ambience 10
Attention to Detail 10
Generosity & Value 8
Wow / Hip Factor 10
Facilities 10
Location 10
Fit to Promise 10
Sardinia is an amazing Italian island, one of a kind due to its unsurpassed natural beauty and world class glamour. It is a place where in July and August many of the world's richest people come to celebrate summer, sunshine and life in general. It is not uncommon to rub shoulders with European billionaires at dinner in Cala Di Volpe or moor your boat next to Putin or Berlusconi in one of the picturesque bays.
The best way to enjoy Sardinia is with a big boat and a luxurious villa. There are many agencies that offer villa rental services but, to make life easier, why not book it directly from the best hotel on the island.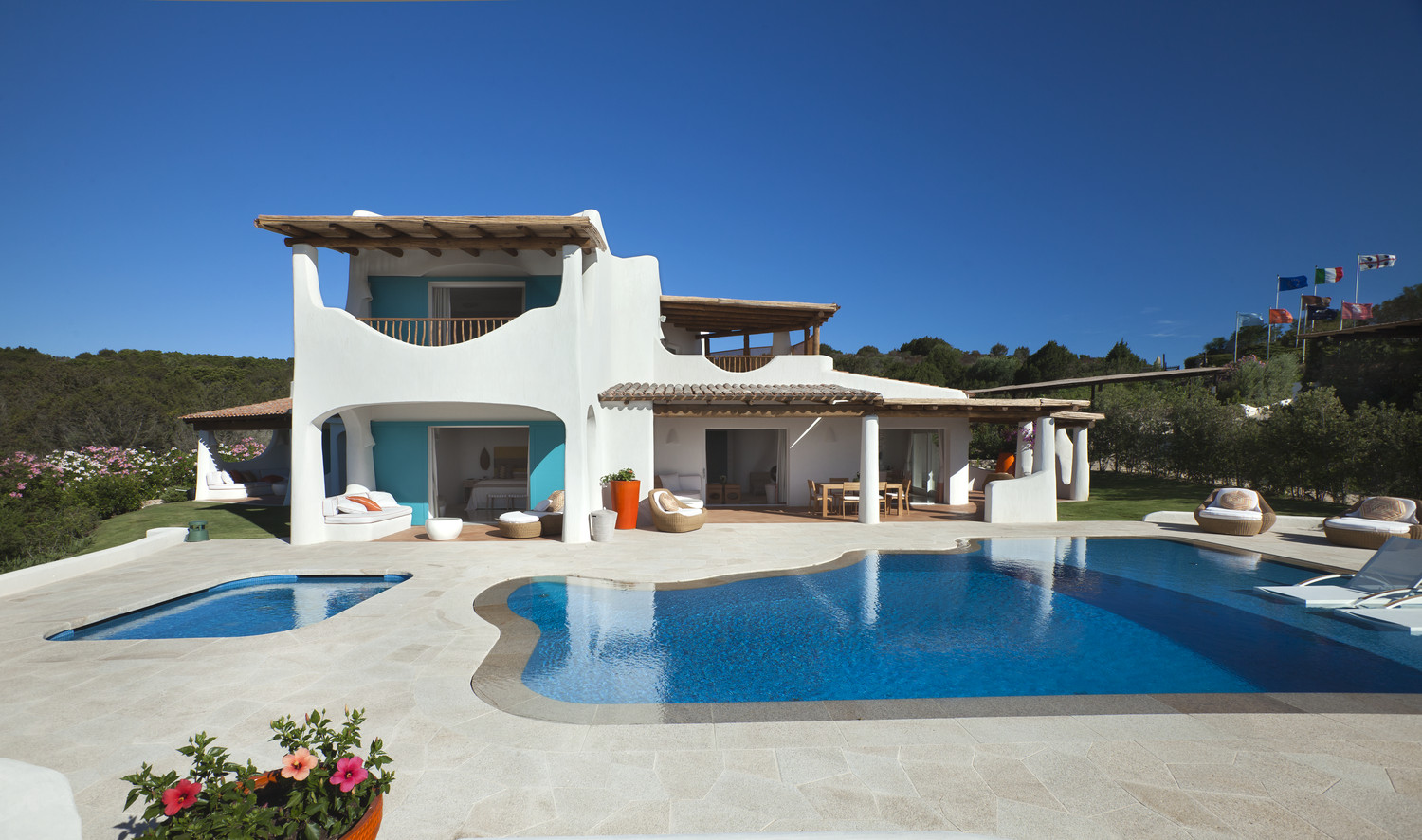 We chose Romazzino Hotel as our base due to its picture perfect beach, fabulous location and excellent reputation.
Romazzino is part of the Starwood Luxury Collection and the group has 3 of the most prestigious hotels in Sardinia – Cala Di Volpe, Romazzino and Pitrizza.
A little about the other 2 hotels:
Cala Di Volpe is one of the worlds most expensive hotels (we heard it is number 3 in the world), originally built by Aga Khan 50 years ago as a playground for the world's most rich and famous. Now, it has gracefully aged, but the territory is as stunning as ever and Cala Di Volpe guests are still the who is who of business, politics, sport or social world.
Cala Di Volpe's private beach is a short complimentary boat trip away which is not a problem for couples but not perfect for families. Other great facilities on the doorstep are tennis courts and an excellent golf course.
Pitrizza is another ultra luxurious hotel, that offers mostly villa accommodation. The resort is very private and secluded, set up on another beautiful beach. Villas range from 1 to 5 bedrooms, are very generous in size and beautiful in style. They were build about 3 years ago and start from €5,000 per night. Yes,these are the prices in Sardinia and  hotel guests don't seem to cringe at them. That's the essense of Sardinia – if you have to ask how much something is – chances are you can't afford it.
Romazzino Hotel – Our Choice For Families
Romazzino is located on Costa Smeralda, Emerald Coast of Sardinia, in Italy.
It is easily reachable from most Italian cities by a short direct flight to Olbia. Many international budget airlines fly to Olbia too, from London, Munich, Vienna and many other cities (check Easyjet, Meridiana, AirBerlin).
Romazzino is situated in a bay of its own, with turquoise crystal clear water and possibly the prettiest beach in the whole of Sardinia.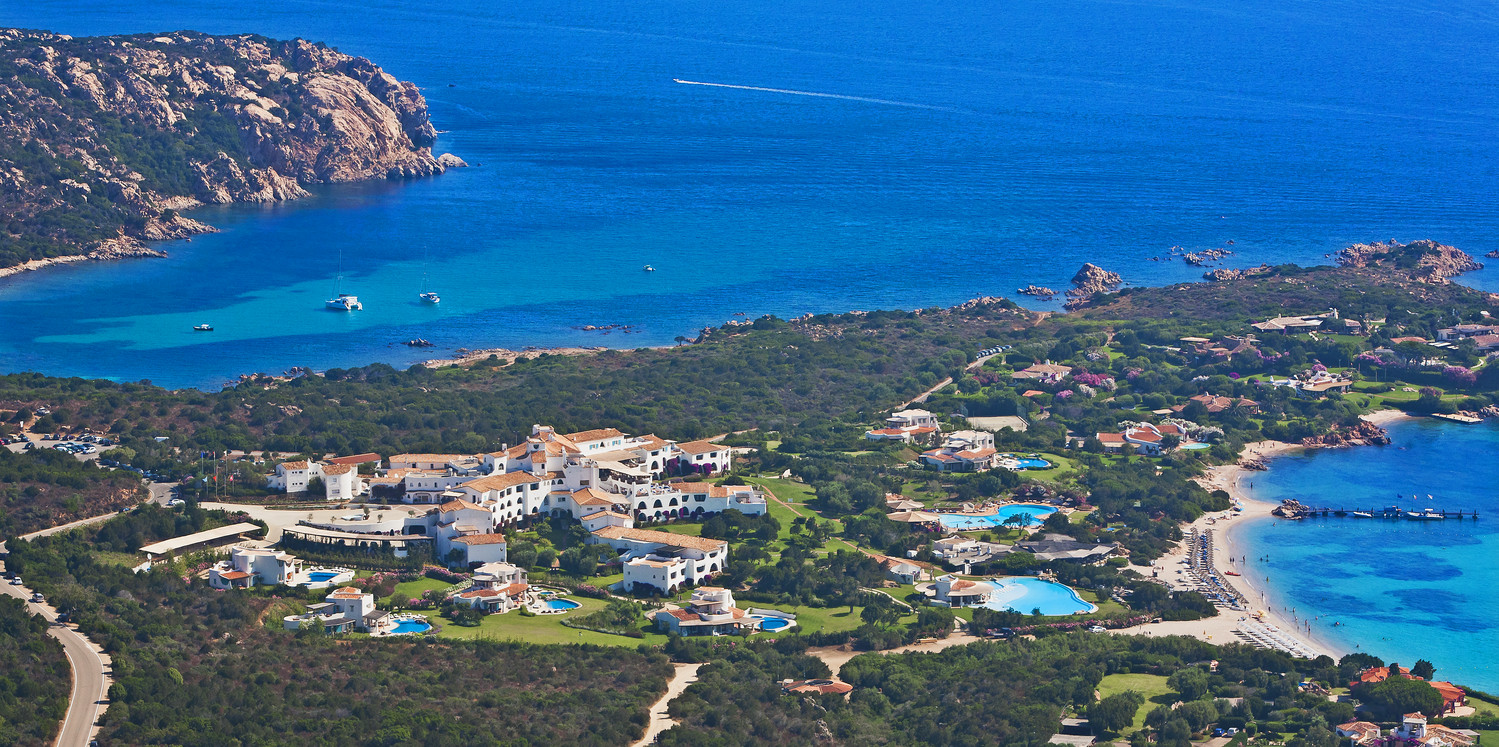 Resort's white washed walls remind me of a Greek island villa and even though it is a top notch property it is very down to earth, friendly and relaxing.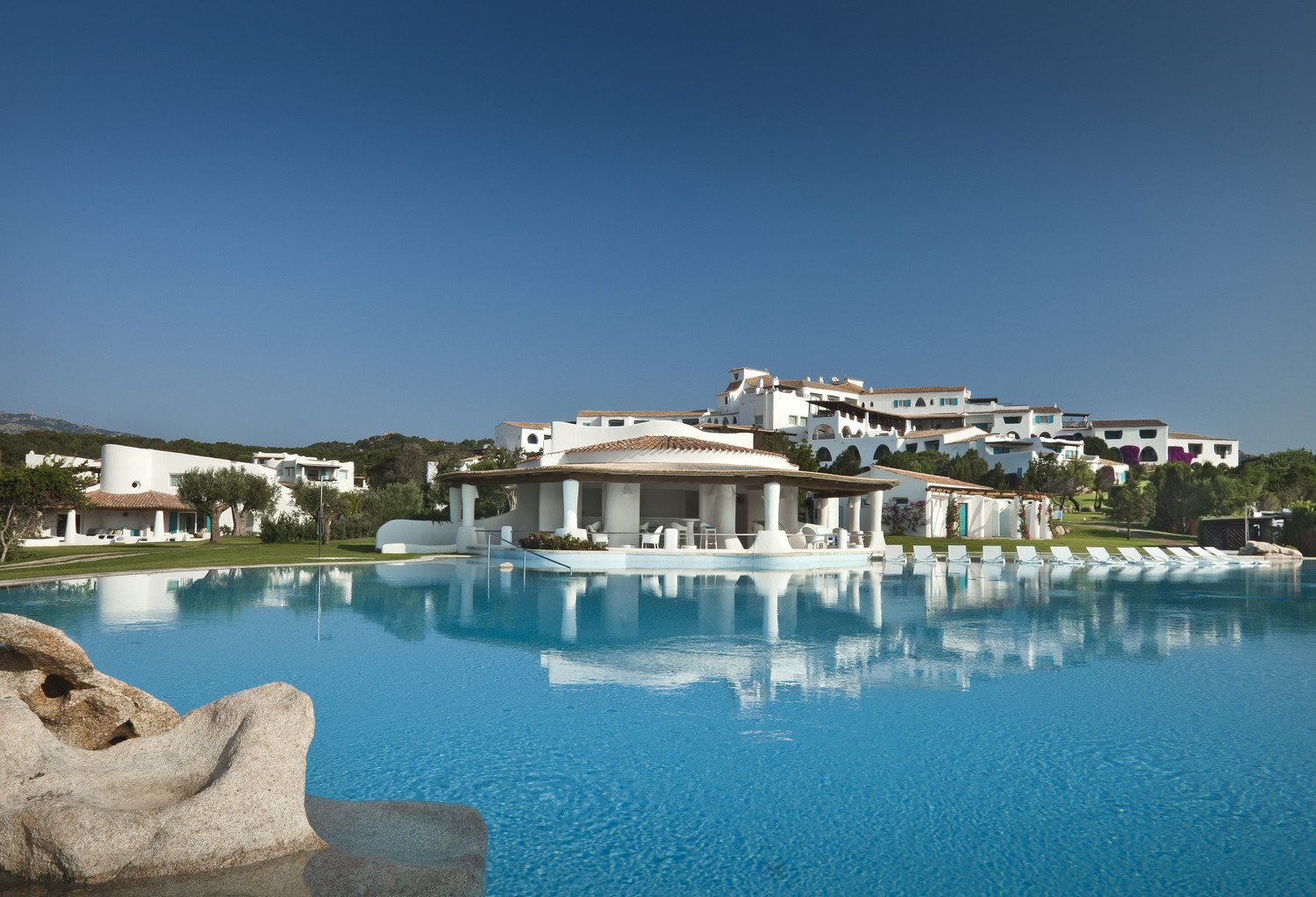 Reservation and Arrival
Advertised prices on the internet start from about €985 in low season. However you could negotiate a little and ask for a better offer if you contact the hotel directly. Romazzino also accepts reward bookings, so if you have Starwood points, it's a great way to use them.
We visited the hotel a day before the arrival to have a look at the rooms and check the rates. A very friendly front office manager has showed us around, made a tentative reservation and promised to look after us on arrival. And he did – we checked in into a premium sea view room with a huge terrace – a nice surprise.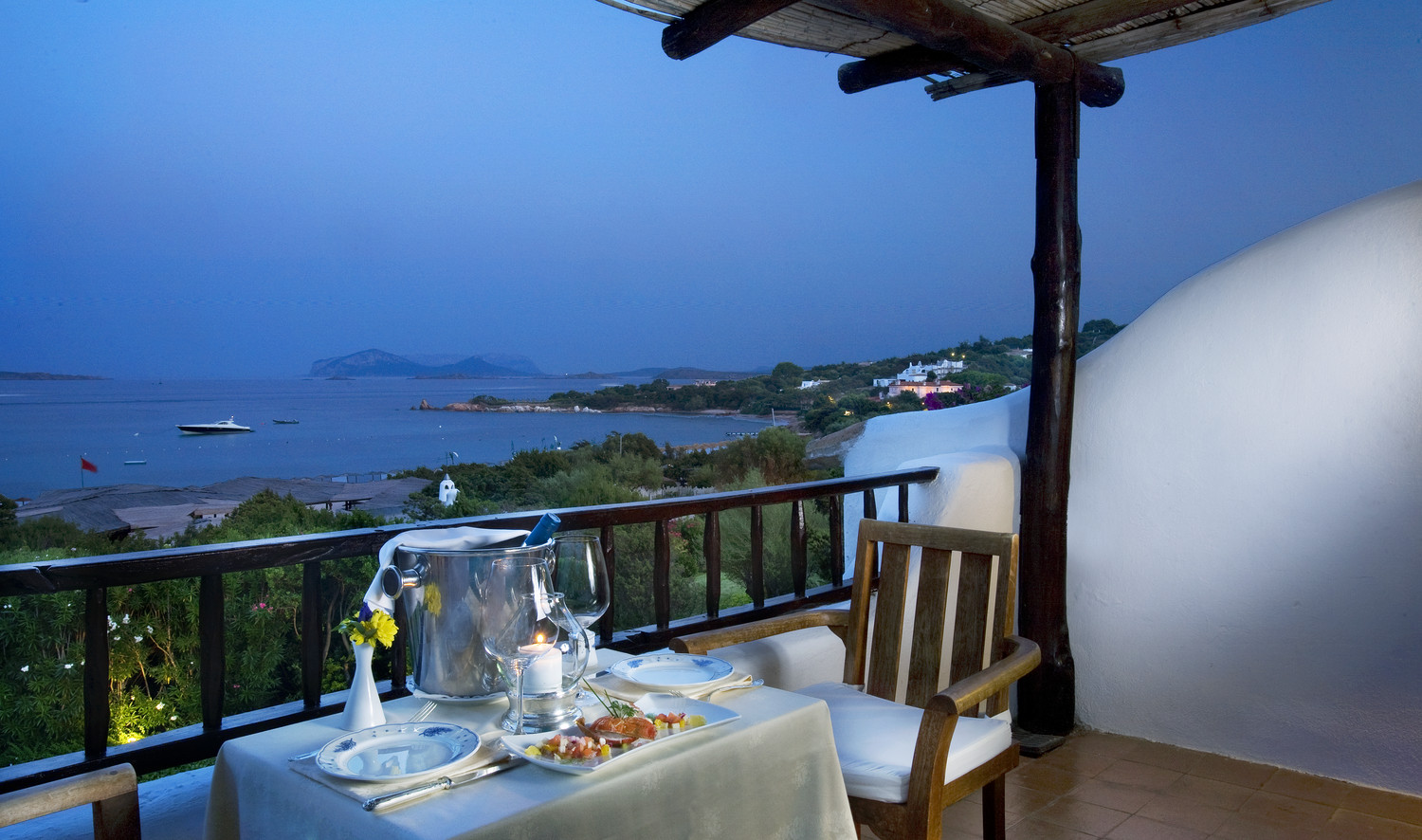 There was an abundance of fresh flowers and a fruit basket in the room. Both lovely.
Accommodation
Romazzino is a small boutique hotel, featuring only 100 rooms, suites and villas (77 rooms, 17 suites and 6 villas). The configuration of the suites is open plan as the hotel structure doesn't allow for one or two bedroom suites without a massive refurbishment. To be honest, I was a little worried about the standard of accommodation as the hotel is nearly 50 years old now but I didn't need to worry – the rooms are very sweet and quite modern. They were slightly refurbished in the last couple of years and look fresh and inviting. Bathrooms are also spacious in the premium rooms and feature double vanities, yet no separate showers.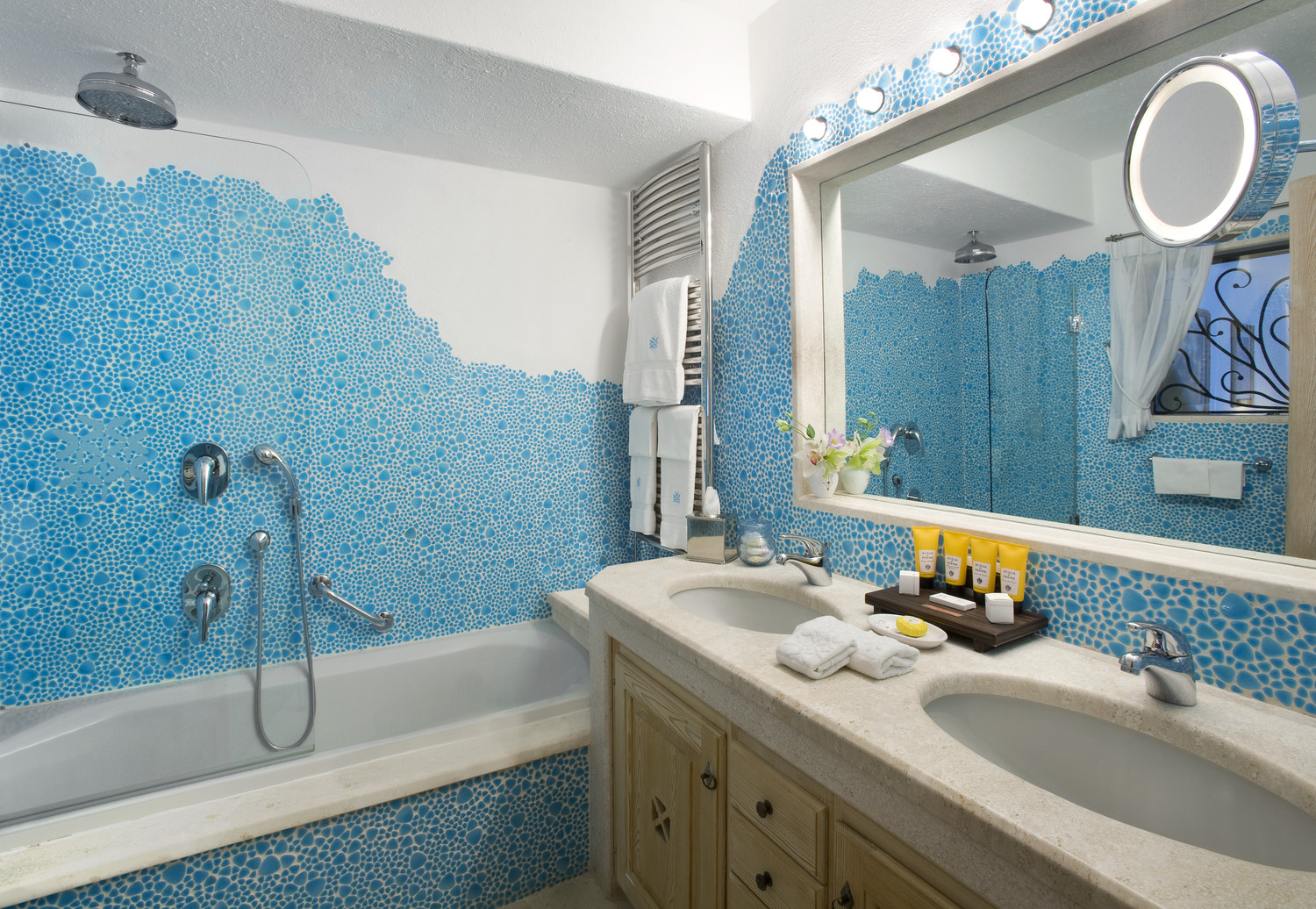 Price guide for the rooms is €985 including full board in low season, for suites €3,900 and for villas €20,000 per night.
My personal advice after seeing the hotel is to book any renovated room that fits your budget and enjoy the hotel. Of course, the better the room and nicer it is, but even staying in a simple room you'll have a wonderful holiday in Romazzino.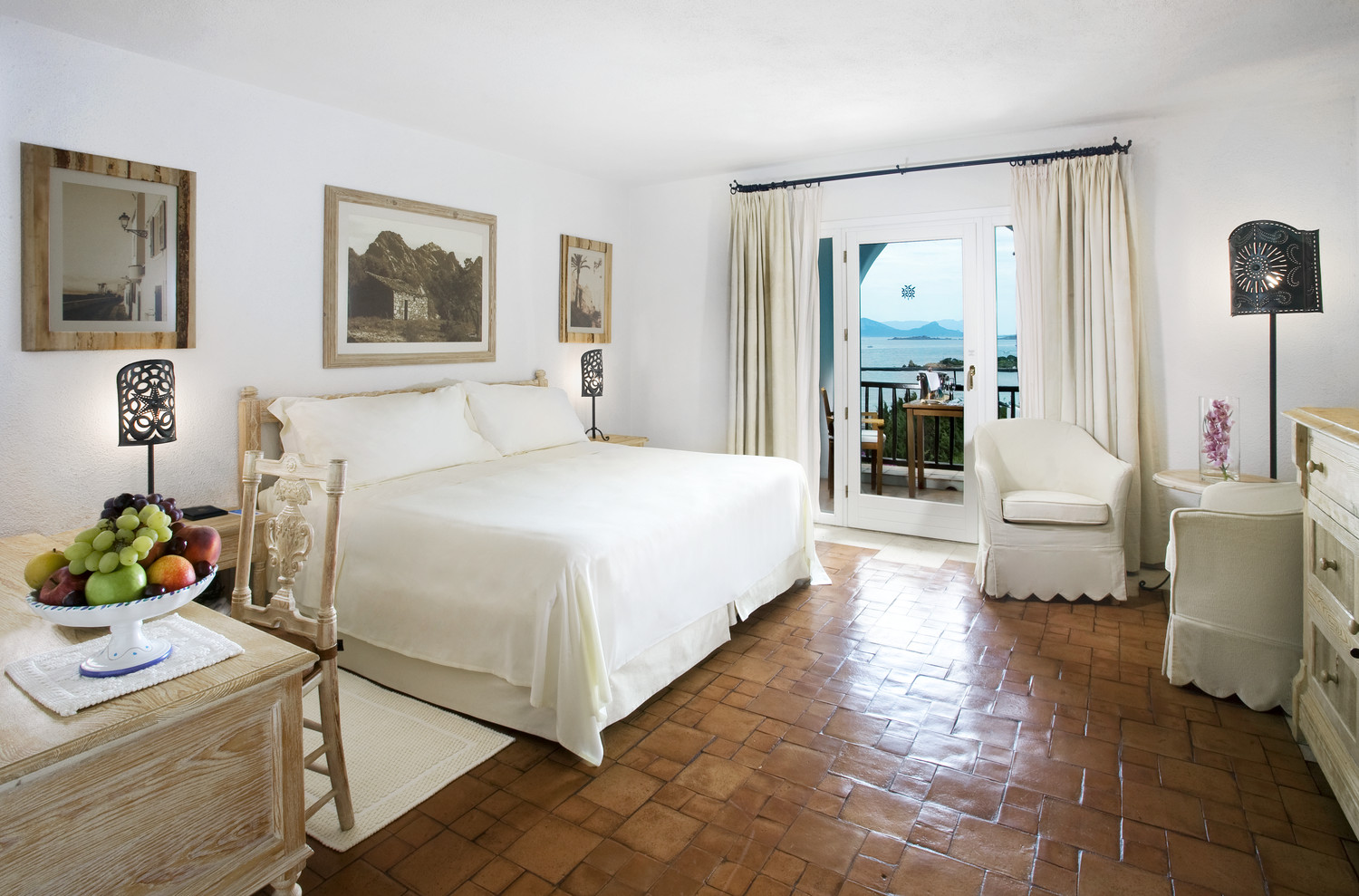 Of course if you are a family with kids you'll need 2 rooms to be comfortable. Romazzino has lovely sections in the end of the corridors that are designed for families, with 2 rooms separated from the rest of the lobby by a third door.
Suites
Junior Suites are slightly larger than rooms but still don't have a separate bedroom. The only suites with separate bedroom are Presidential and Royal.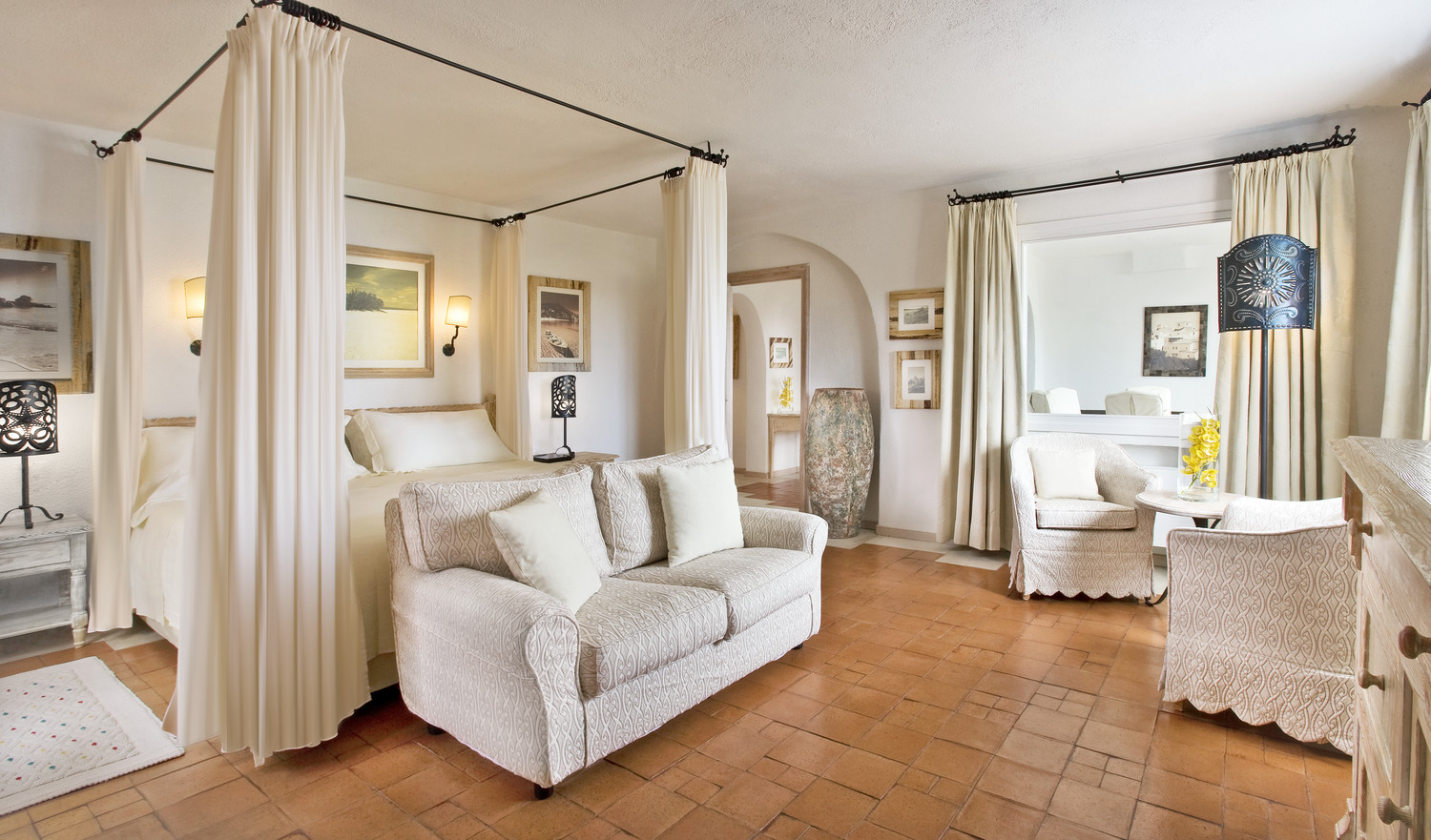 Villas
Villas are the gem of the resort – they offer ultimate luxury and privacy to their guests and vary between 3 and 5 bedrooms. They are exclusive retreats with all the hotel's services included. All 6 villas feature private pools and 24 hr butler service. They were build over the last three years so they include state of the art technology and all modern comforts luxury travellers would expect – plush furniture, spacious marble bathrooms with stand alone baths, fireplaces, under floor heating and other luxuries.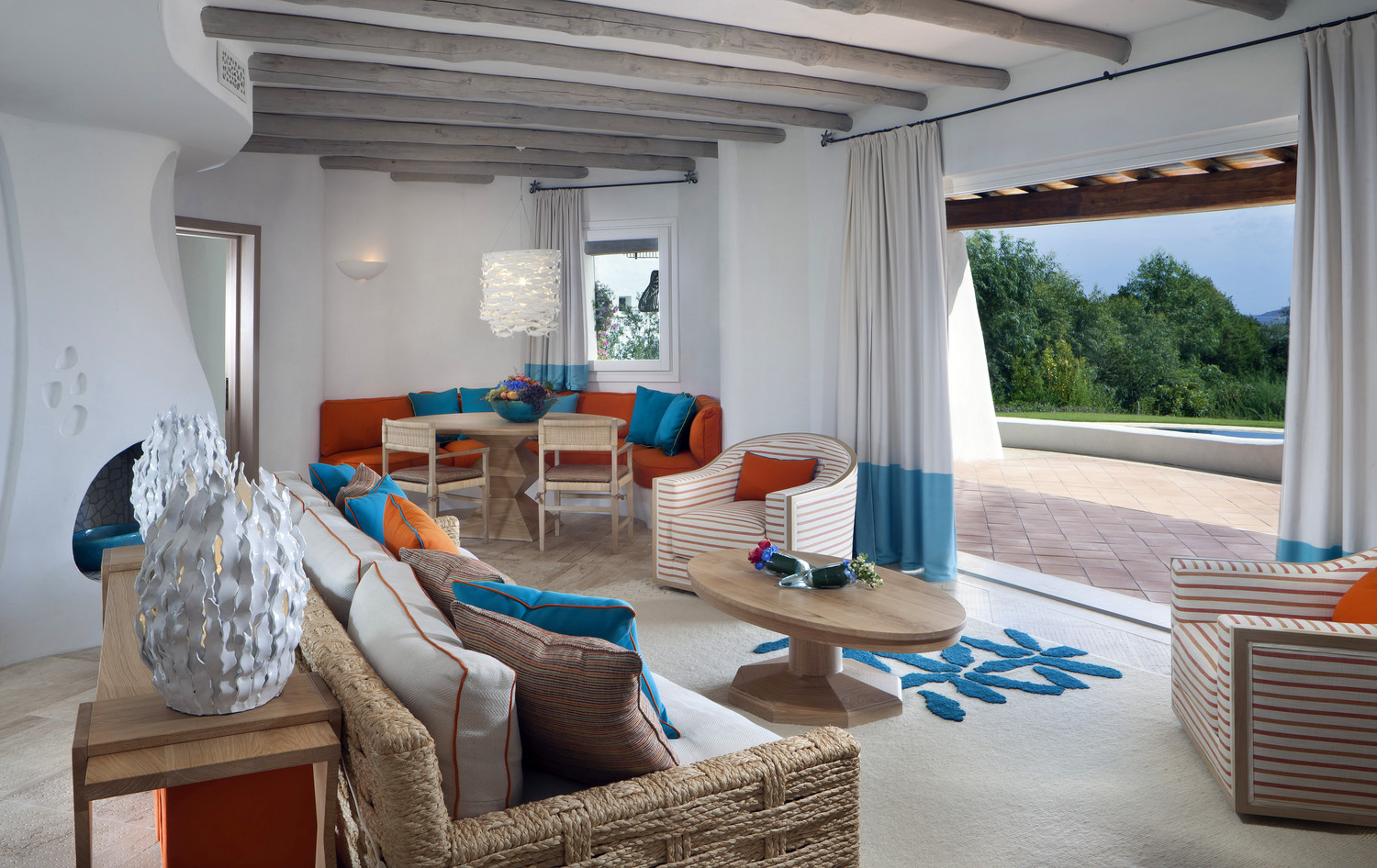 Facilities
Romazzino has the best facilities on the island in our opinion – 2 large swimming pools – one with fresh water and another with salt water, stunning private beach and an outdoor gym.
Very pretty beach with crystal clear blue water (though a little chilly in June) offers plenty of comfortable deck chairs and umbrellas reserved specifically for hotel guests.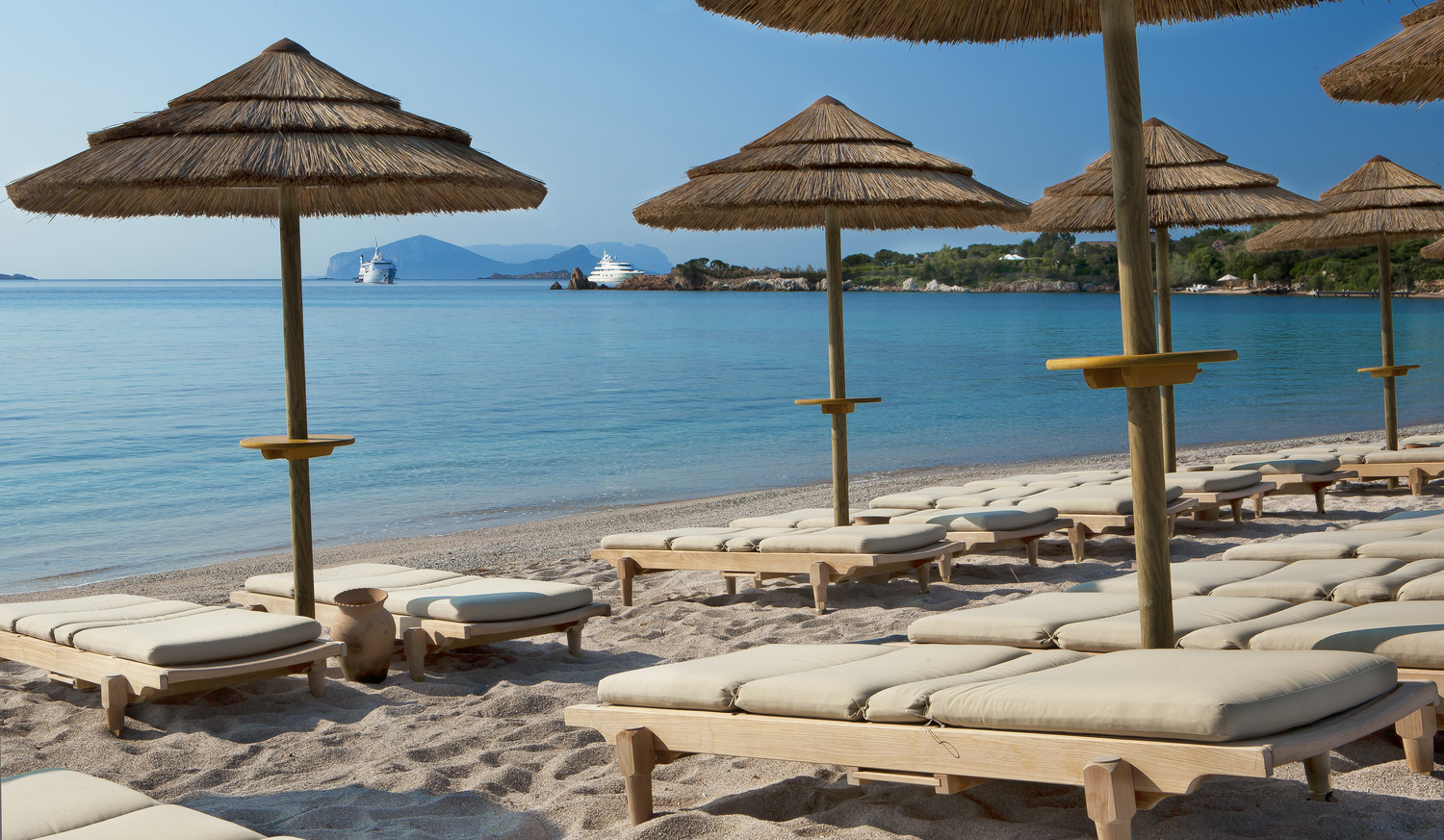 For those who love a massage by the beach there is a dedicated area and for those who love a little adrenalin on their holiday, there is watersports centre. But seeing that Sardinia is quite windy waterskiing and wake boarding, even though available, is hardly ever in use.
Concierge services are excellent too – they can organize all sorts of exciting activities for the guests – tennis lessons, private boat charter, fishing trips or a day on a golf course. Most of the staff are local so they will also give you excellent recommendations for dining and night life.
Romazzino Kids Club is another important highlight of this hotel. It welcomes guests between 3 and 12 year olds and offers a lot of activities  from 10am till 10pm. Cosimo, one of the entertainers was so much fun, kids wanted to play games with him all day long. Water games, pool games, table tennis, face painting, art activities, pizza making – everything was new, fun and exciting and catered beautifully to all nationalities and ages. Thank you Cosimo, kids will remember you fondly!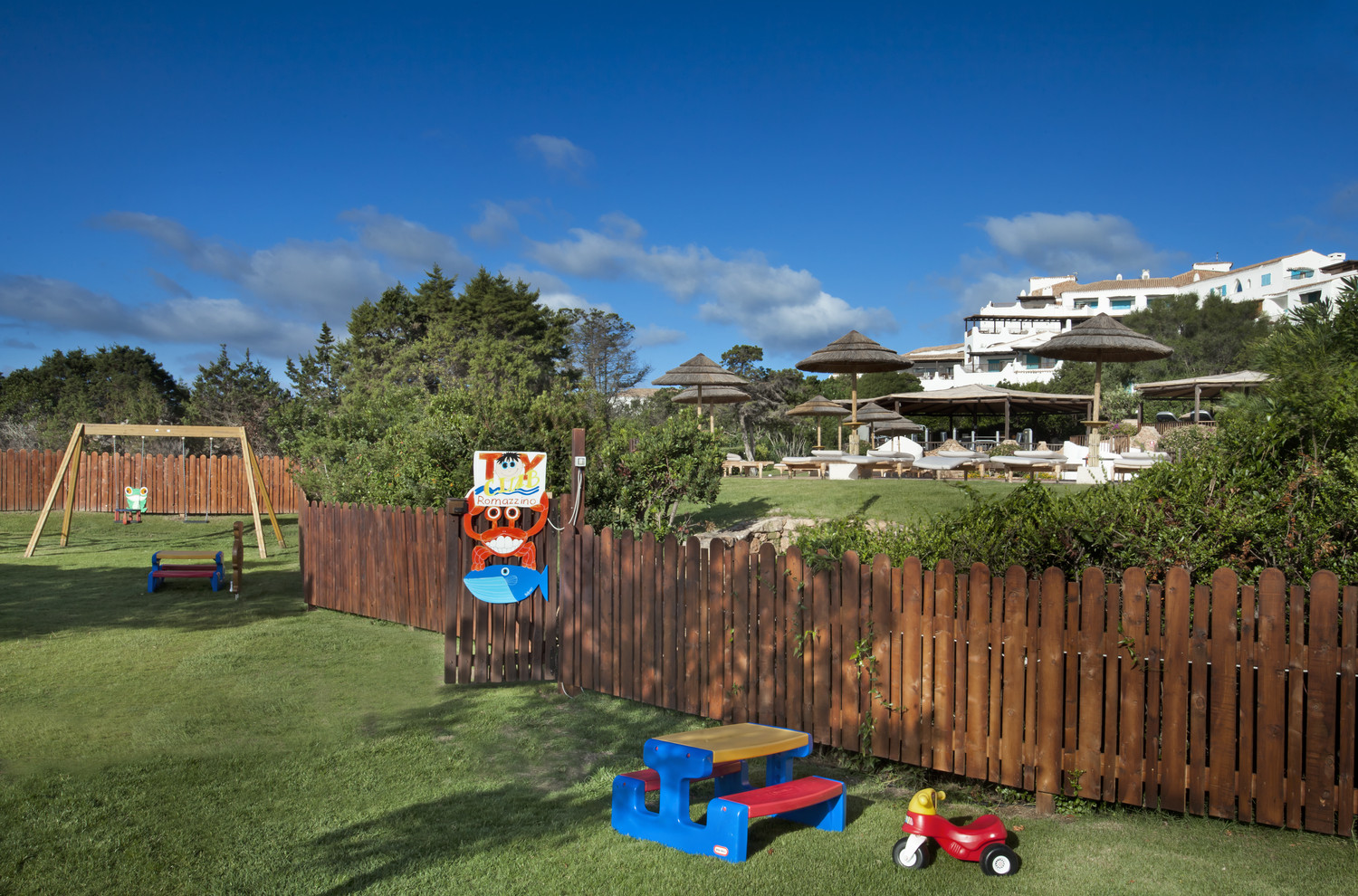 Dining
Well, dining is a huge highlight in Romazzino. First recommendation and a very important one – book full board not just the breakfast. Most guests tend to spend the day at the resort so you'd be very likely to have lunch and dinner at the hotel. Each meal is charged at €165 per person, so it would be much more economical to have full board.
Breakfast is served in the main restaurant and offers a great Italian selection of cheeses, cold meats, fruit, yogurt and hot dishes on order. We lingered over this very pleasant meal for a long time, and left the dining room last on quite a few days. It i so lovely to take your time, not rush and soak up the views of the world's most beautiful surroundings while enjoying a cup of perfectly brewed espresso.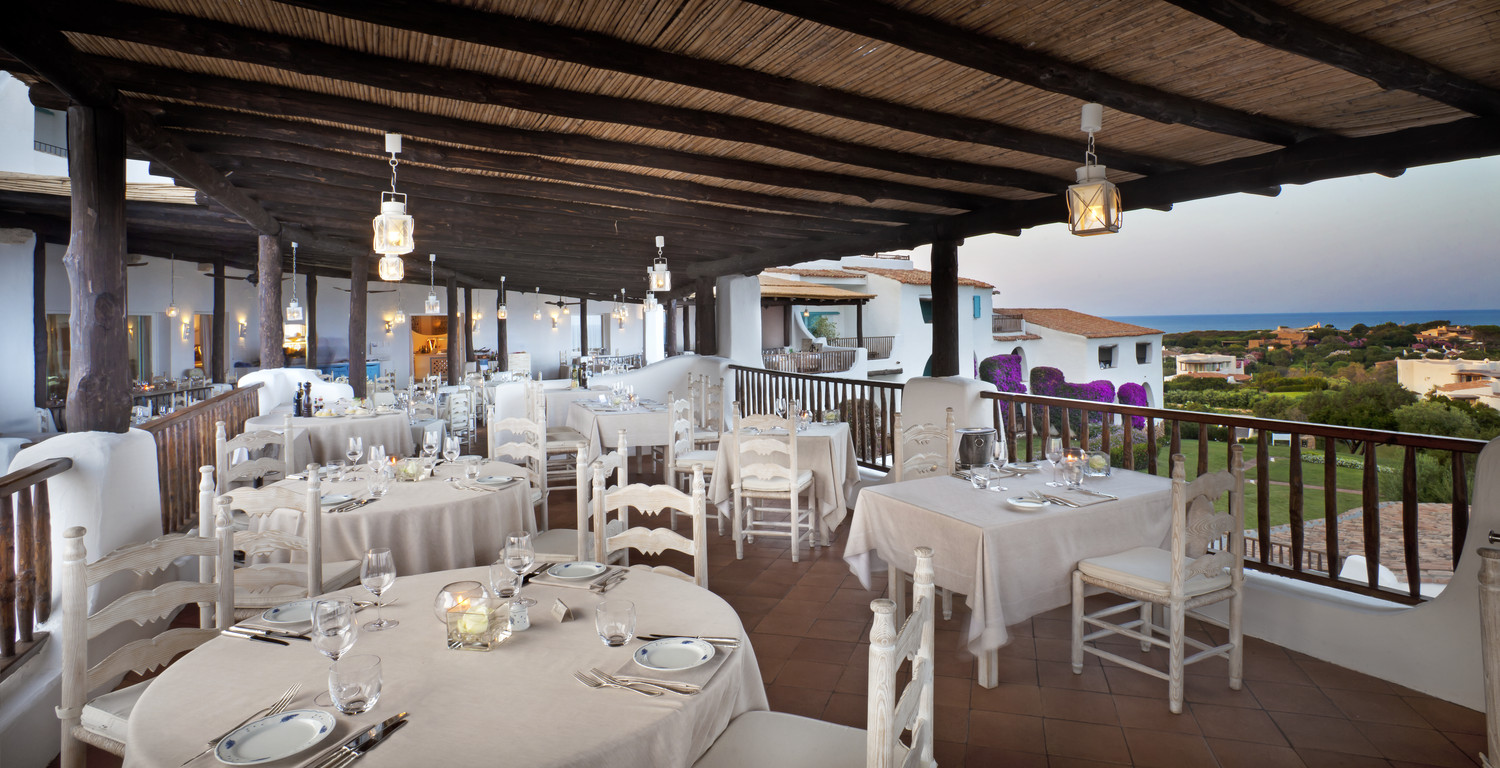 Lunch is served in a beachside restaurant, buffet style. Multiple food stations present a choice of antipasto, salads, hot and cold appetisers, pizzas, pastas, seafood, cold cuts and deserts. Food in Romazzino is so wonderful and my only complain is that we couldn't stop eating.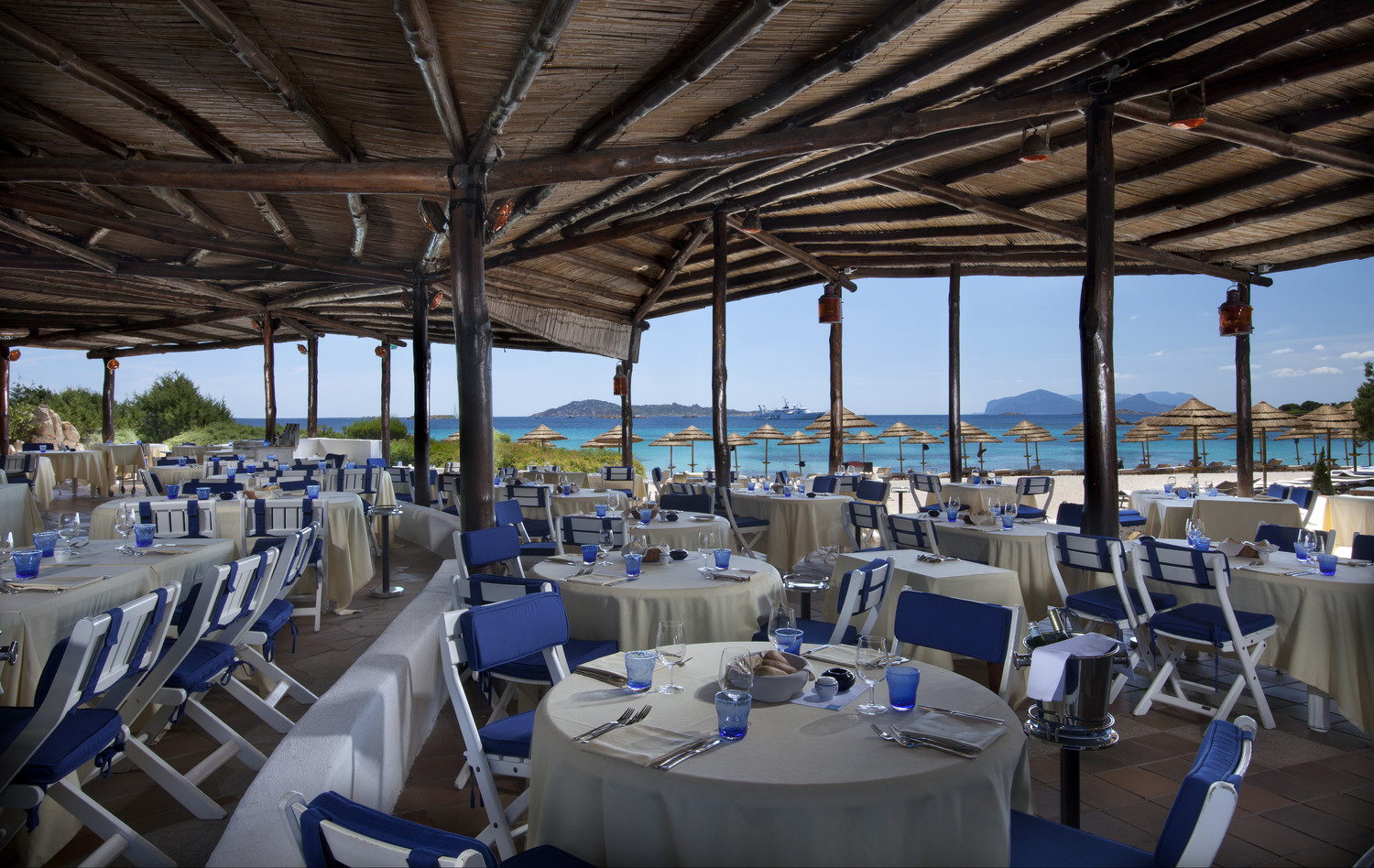 If lunch is not part of your package, you could always have a little snack in the beach bar, however it is quite expensive.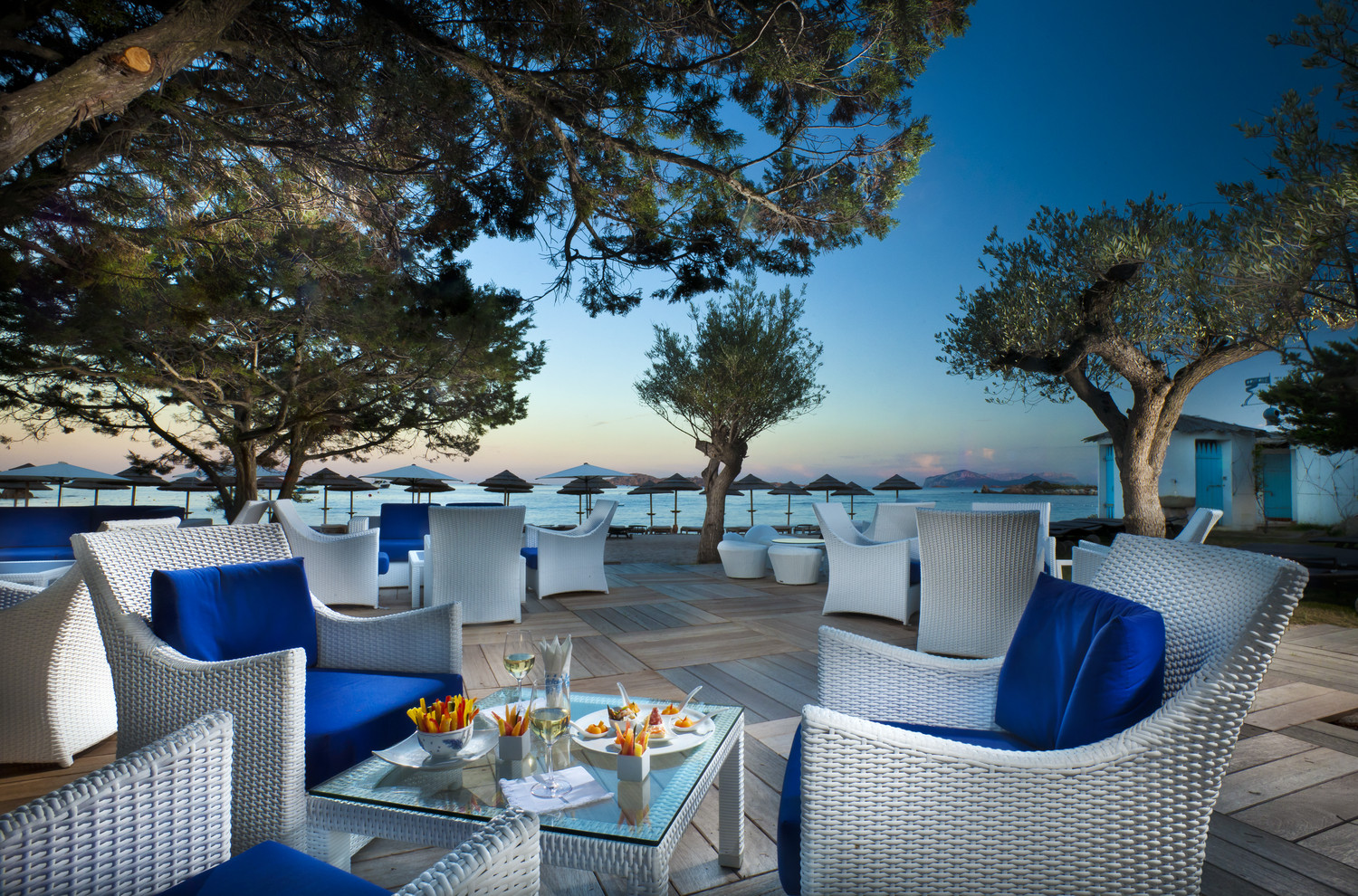 Dinner is served in the main restaurant and has a postcard view of the bay and resort grounds. The food truly is divine, the menu changes every day and if you don't find something you really want on the menu the chef will be more than happy to try and prepare a special dish just for you.
The service at lunch and dinner is very friendly, they are beautiful with children and very hospitable to adults. They will help you carry your plate from the buffet, make sure you have your favourite table for dinner every night, offer your favourite drinks. Wonderful!
Another amazing feature of the resort is 'dine around' option. If you have full board, you can try one of the other 4 restaurants that belong to the same group – we highly recommend to mix it up a little as all restaurants are amazing, offer a slightly different atmosphere, views and specialties. Two that we recommend the most are Il Pescatore (set on the water's edge in Porto Cervo) and Cala Di Volpe (a place to be seen in Costa Smeralda).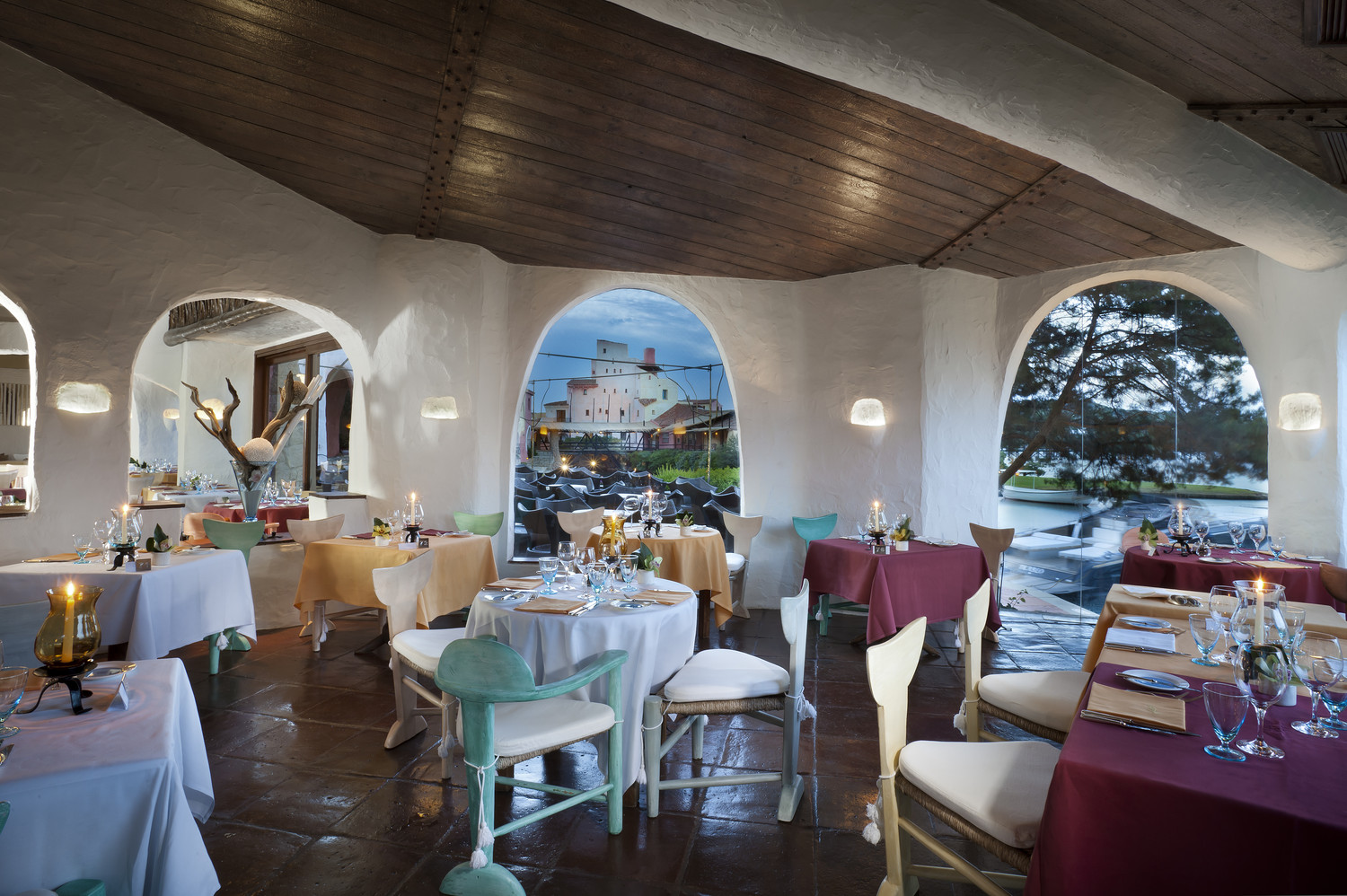 The Lux Traveller Loves
The island itself – it is an epitome of glamour, luxury, wealth combined with breathtaking natural beauty and amazing food.
Everything about the hotel – perfect location, stunning beach, entertainment for the children, stupendous views and silver service dining.
Atmosphere – very elegant, yet down to earth and friendly. Romazzino is very relaxed during the day and due to its large territory it never feels crowded. Dinner is a dressy affair, a nice contrast to the day time.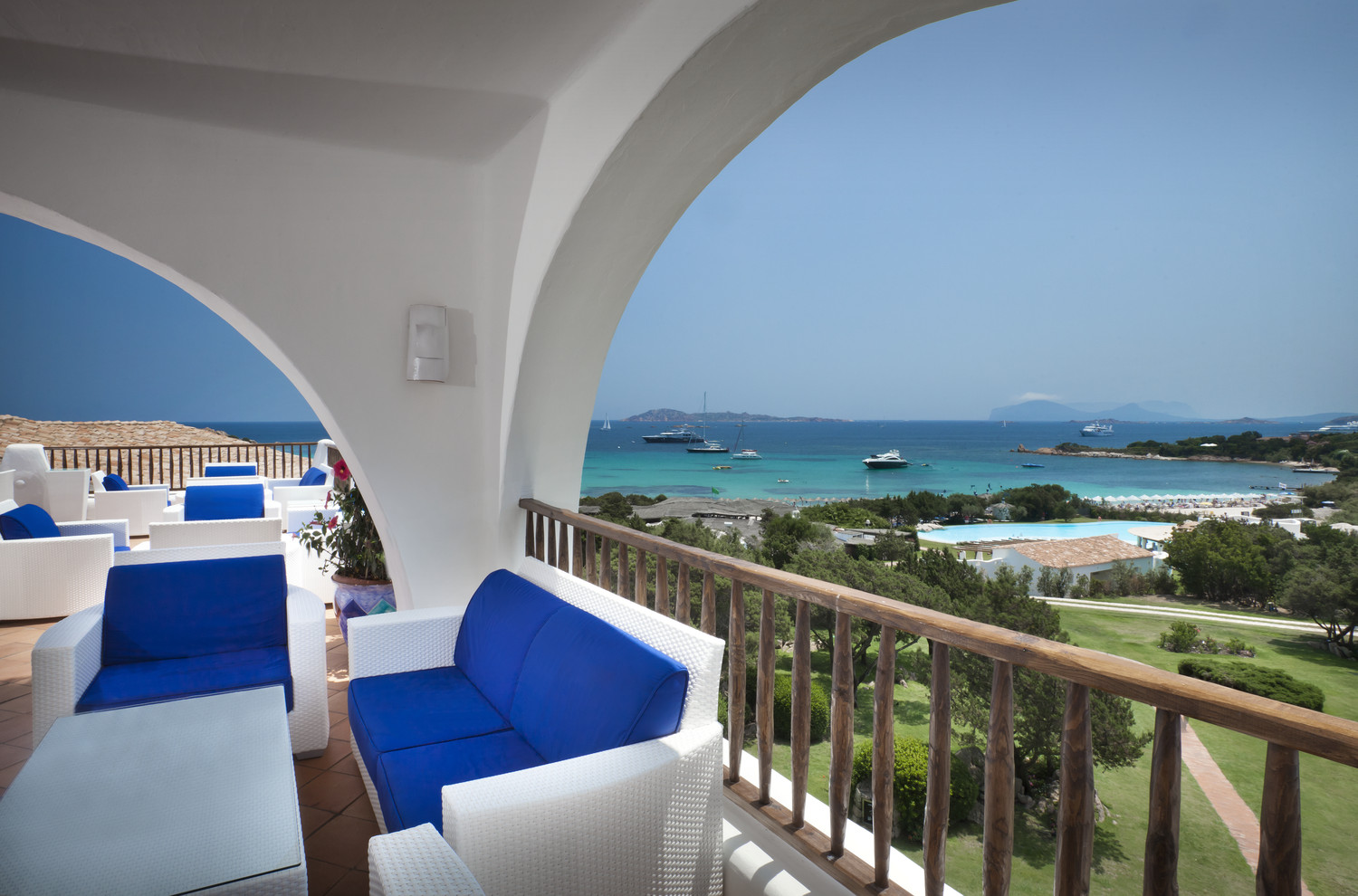 The Lux Traveller Doesn't Like
You don't get quoted one of the most expensive hotels in the world for no reason! Everything that isn't included in your rate is going to be charged at an absolute premium. To give you an example pizza is €40 (USD $60), a glass of champagne €50 (USD $75), set price dinner €165 (USD $248) per person and this applies to all activities, massage services, deck chairs and the rest. So, if you coming to Sardinia with a budget in mind, Romazzino might not be your hotel of choice.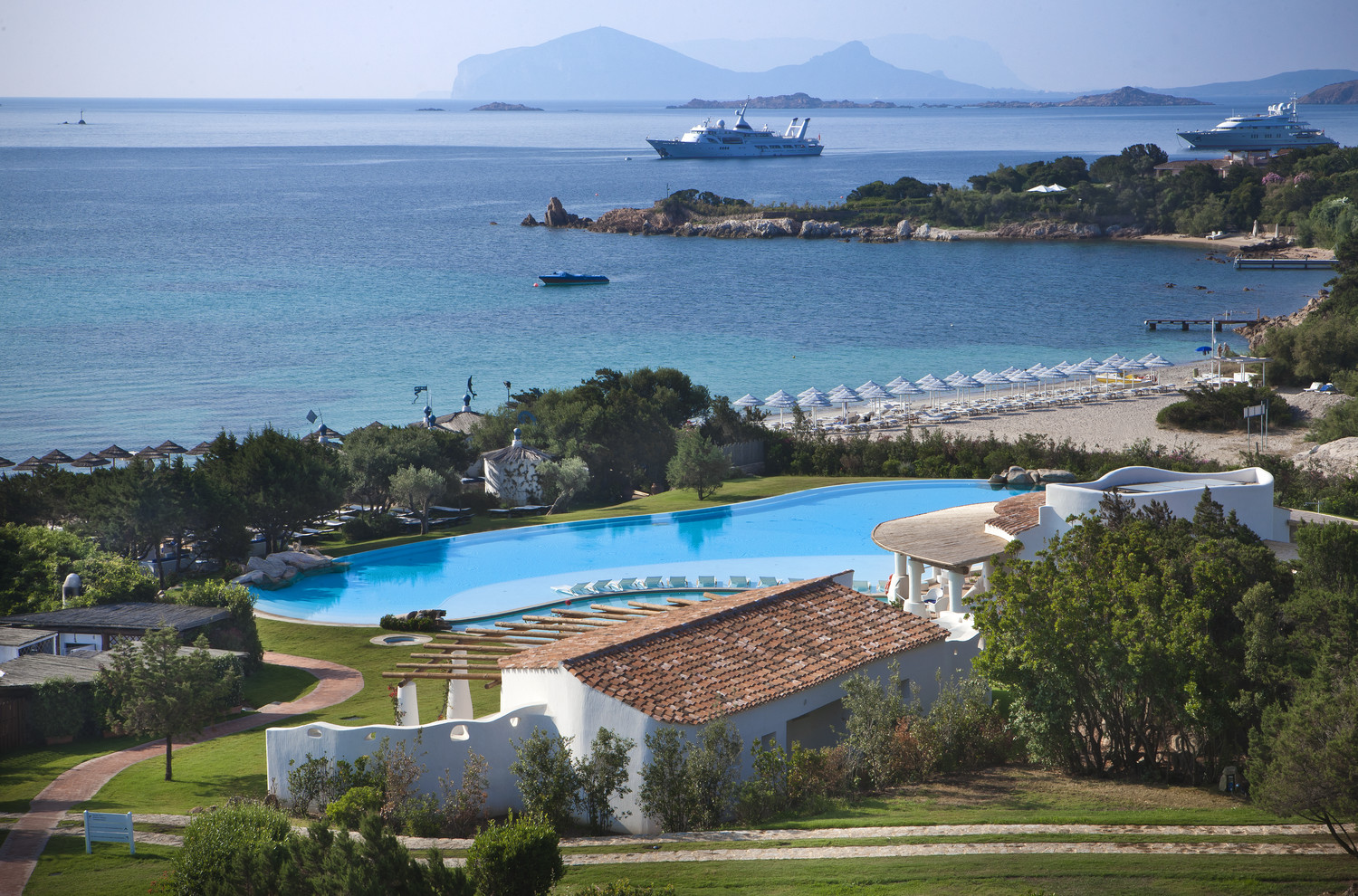 All In All
Romazzino is a magnificent hotel in one of the most beautiful islands in the world. It has one of the best private beaches in Sardinia, the setting that you'll remember forever, silver service and exceptional food. When we were leaving, my daughter was so sad, she really didn't want to go. I think it says it all – excellent time was had by all – adults and children alike! We don't return to many places as there is so much to see in the world but we'd really like to call Sardinia and Romazzino home again on our next summer holiday in 2015.