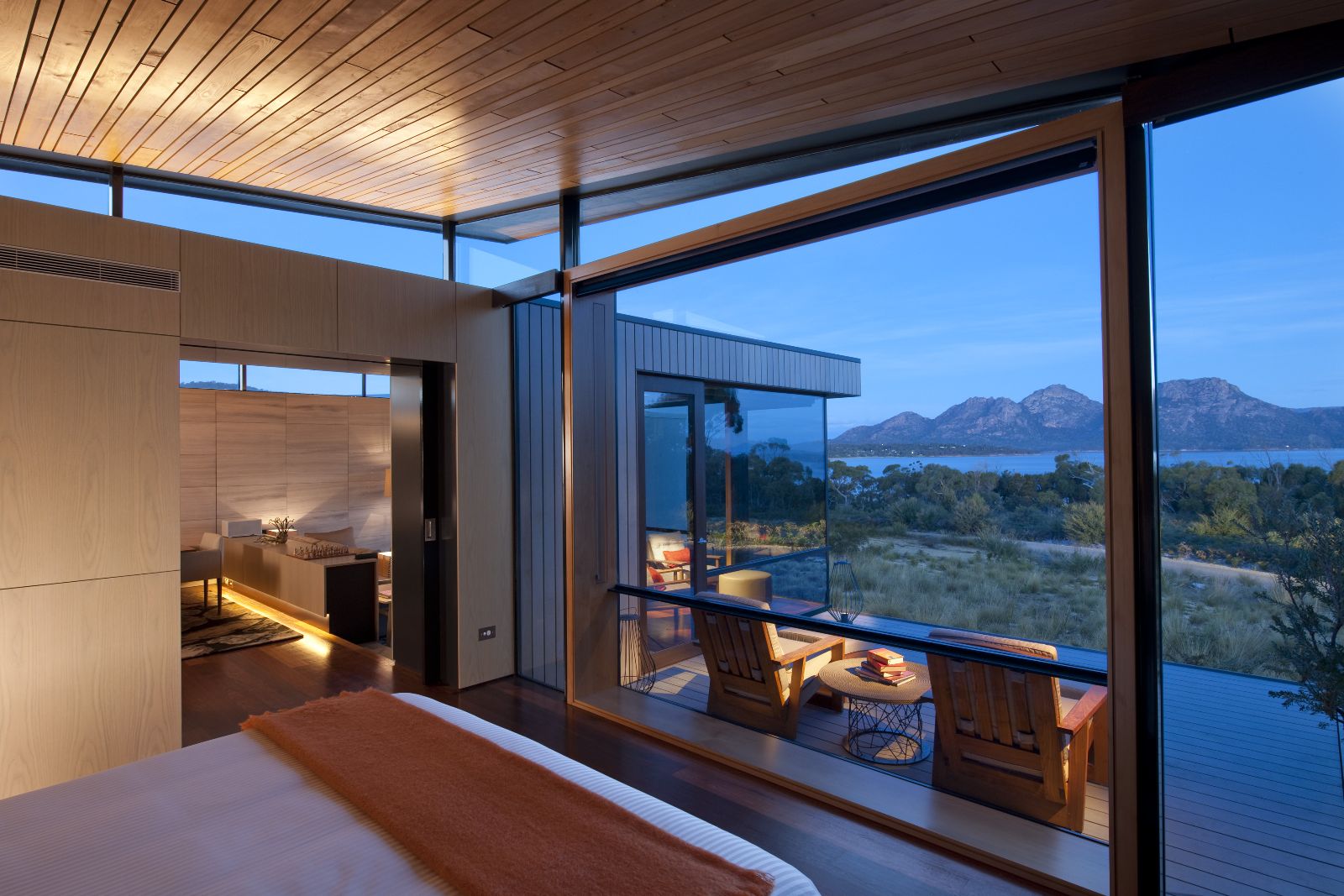 the lux score
94
the lux score explained
Service 9
Rooms 9
Food & Beverage 10
Ambience 10
Attention to Detail 10
Generosity & Value 10
Wow / Hip Factor 10
Facilities 7
Location 9
Fit to Promise 10
Saffire Freycinet is a luxury resort situated along the beautiful East Coast of Tasmania in Australia.  It opened 4 years ago and since then it has gone from strength to strength. Tasmania is not usually associated with luxury so even though I was looking forward to the trip I wasn't quite sure what to expect. And I certainly didn't expect what I discovered – the best resort in Australia!
If you ask why – my first response is service! Service in Saffire is like nothing we have previously experienced in Australia. It is friendly, genuine, very welcoming and just perfect. And other reasons are – spectacular views as far as the eye can see, the best food and the sensational architecture of the resort.
The main building looks like a giant manta ray floating just the above the picture perfect bay.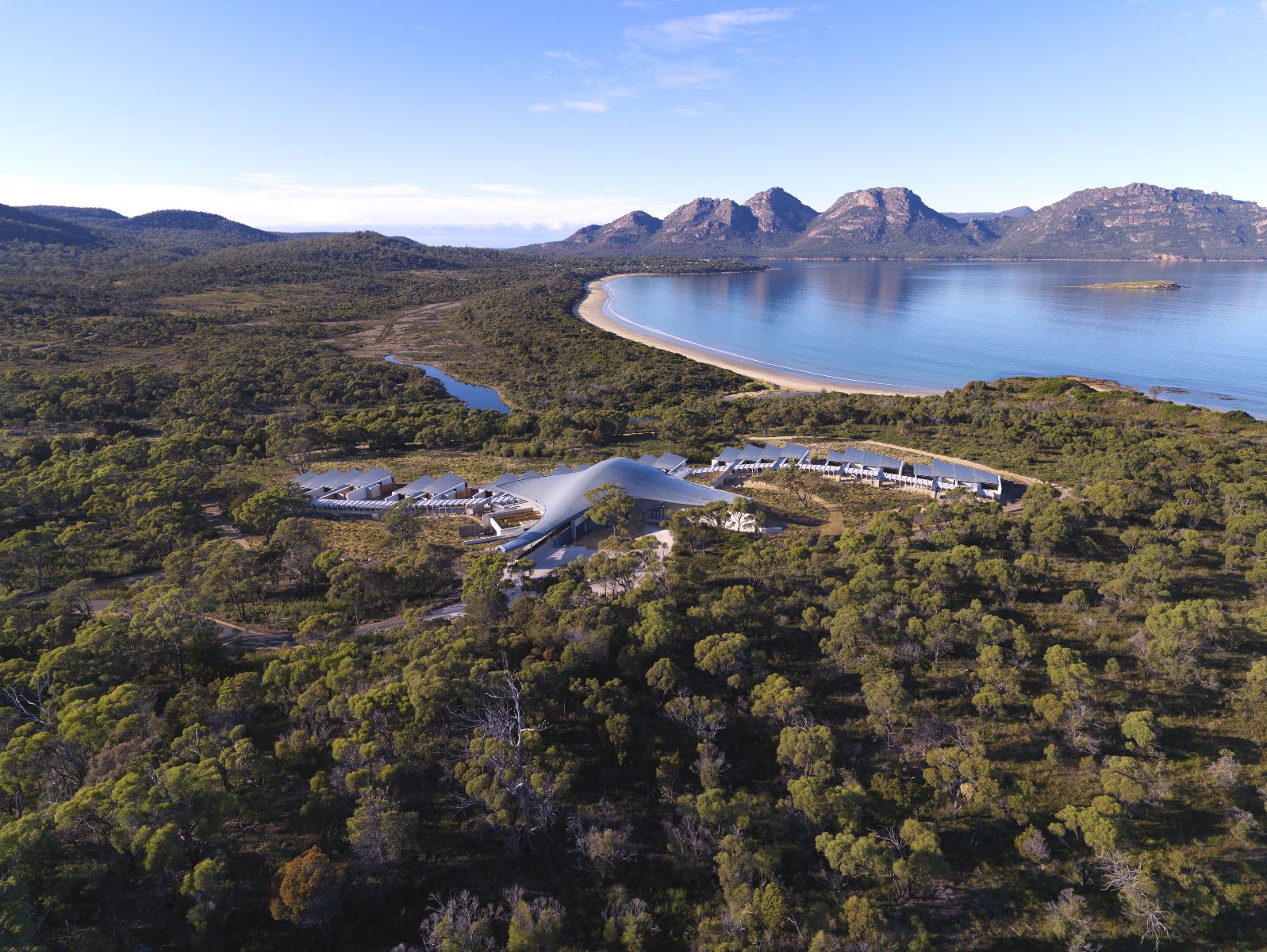 Location & Arrival
Saffire is not very easy to get to but the staff do their best to make the trip as seamless and pleasant as possible for their treasured guests.  The resort is located between two airports – Launceston and Hobart – so take your pick. We recommend Hobart as it is easier to book a business class seat to Hobart from major Australian cities and it has a dedicated Saffire airport lounge, open during business hours. You can hire a car and drive yourself, or organise a transfer with a driver. We chose the latter.
Our flight from Sydney took two hours and as soon as we walked into the Arrivals Hall we were greeted by a very friendly lady who escorted us straight to the lounge, offered us drinks and snacks and instructed the driver to collect our luggage from the carousel. A hassle free way to arrive.
The trip to the Resort takes approximately 2.5 hours but it is a very pretty drive. Because it can take a while to get there from your home city, we suggest that you stay at Saffire for at least 2 nights / 3 days or even better for 3 nights / 4 days.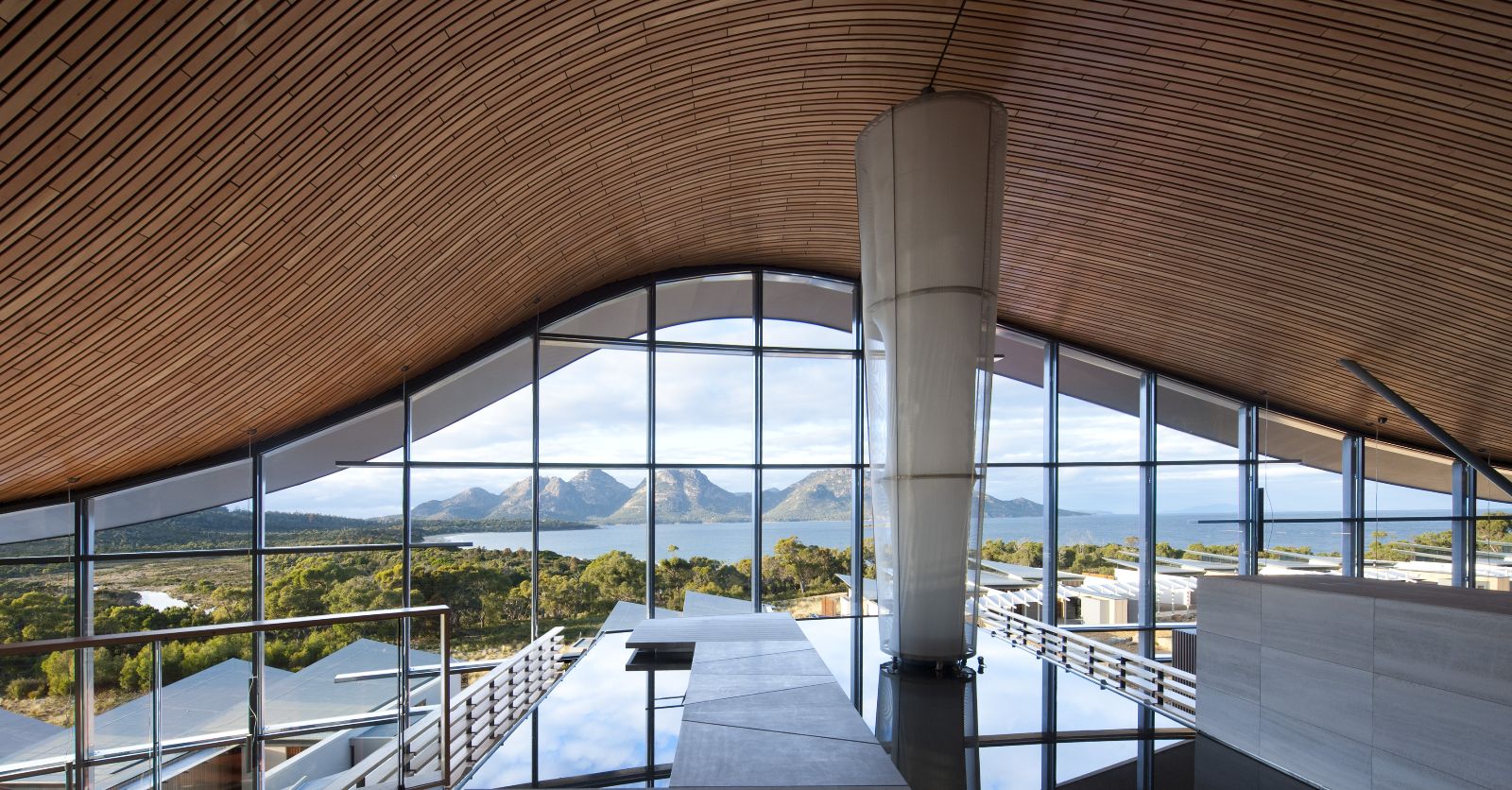 The WOW factor starts from the minute you walk into the lobby – the sensational view of the bay and mountains takes your breath away.
We were offered to complete the check-in in the suite and it seemed like a fabulous idea.
Accommodation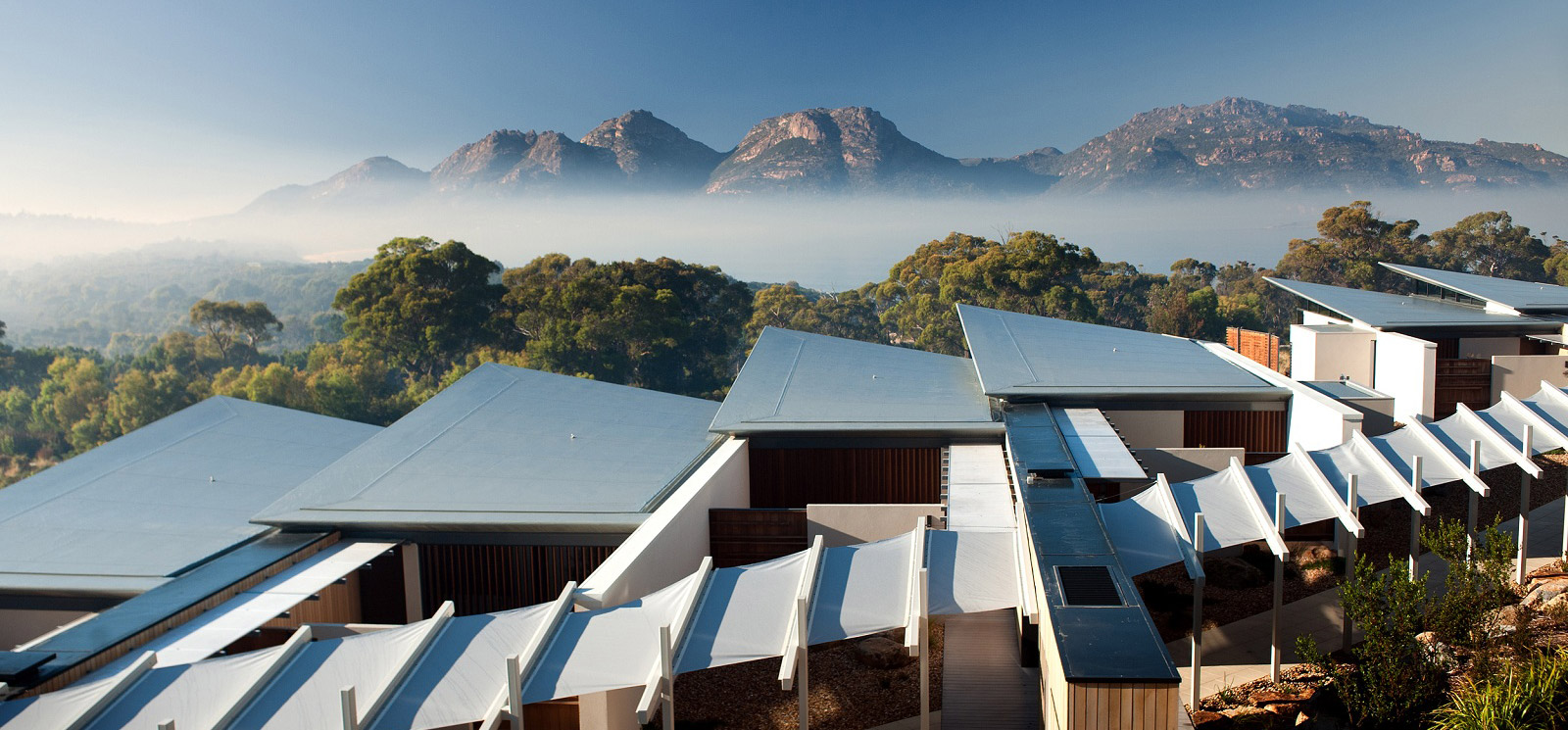 Saffire has only 20 villas and being such a small resort the atmosphere is very intimate. Staff get an opportunity to get to know the guests personally, learn about their tastes and cater to their every wish. Sublime!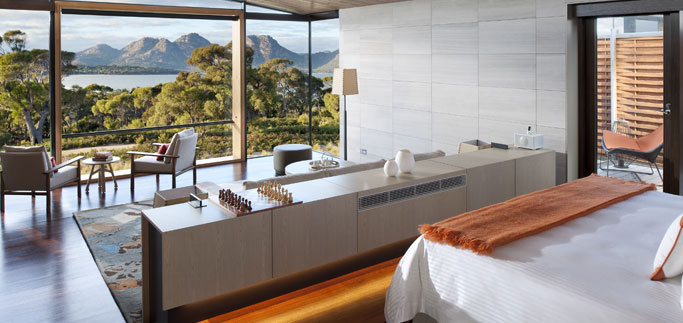 There are three types of villas to choose from – Luxury Suites, Signature Suites and Private Pavilions.
There is not a lot of difference between Luxury and Signature Suites. Signature suites are a little bigger but both are equally stunning and comprise of combined bedroom/ living area, large marble bathroom with double showers and heated floors and of course, the views to die for.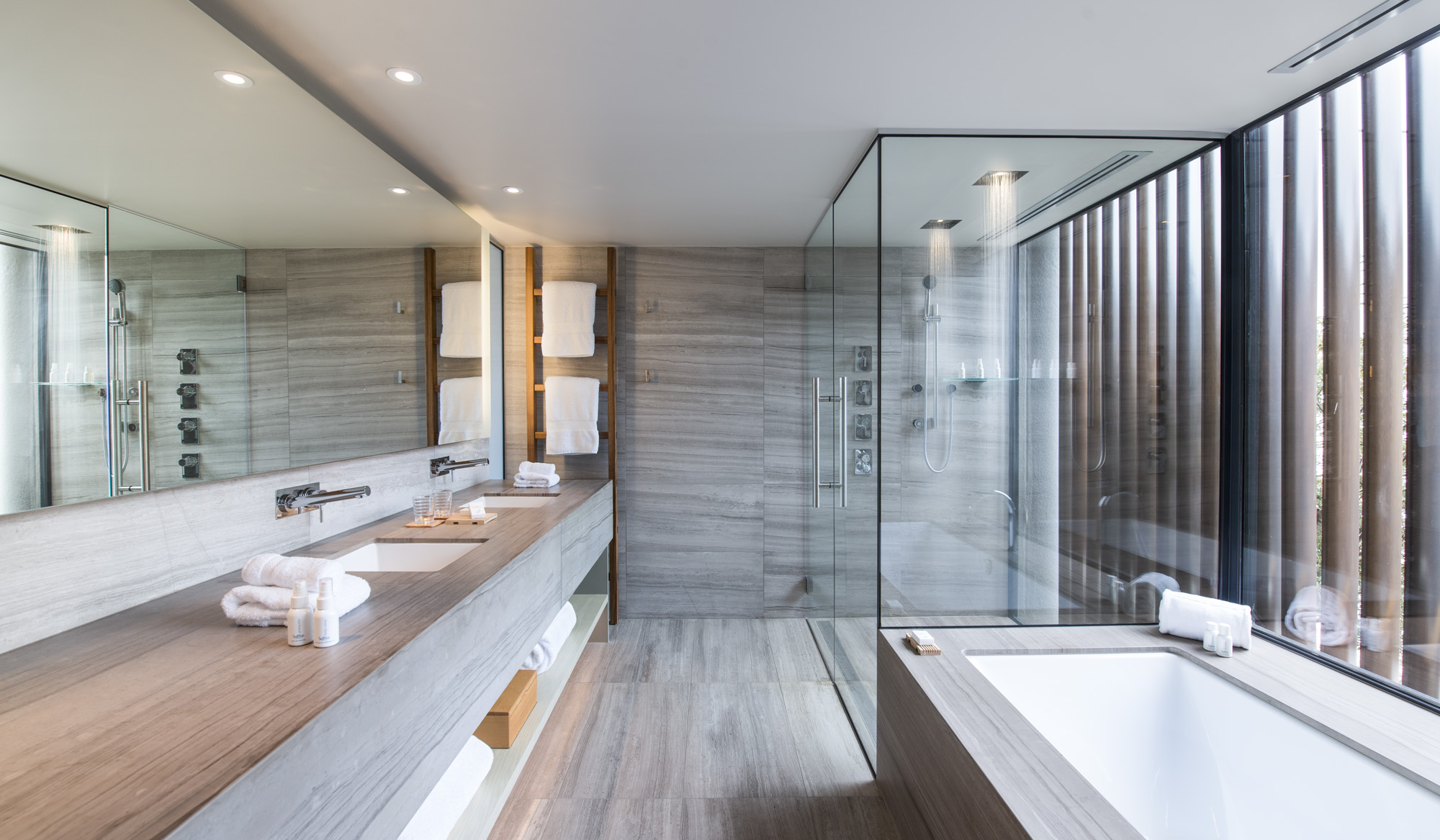 All villas are modern in style yet environmentally friendly and effortlessly blend into the landscape.
Saffire's signature beds are worth a mention – they are so comfy that I literally felt like I was sleeping on a cloud. And a hot water bottle left tucked in at turn down service makes this bed even more welcoming.
The Pavilions offer a separate bedroom and living room areas as well as a full kitchen – they are perfect for a family travelling together.
We hear that Pavilion guests often invite the Head Chef for a private degustation dinner to be prepared and served in the privacy of their Pavilion. A very special experience to have your dinner served by one of Australia's most acclaimed chefs.
And that brings us to dining.
Dining
OMG – we seriously had the best food ever for three days non stop. As we'd finish a three-course lunch we were already fantasising about the dinner that was to come.
Hugh Whitehouse (Saffire's head chef and a magician) changes the menu every day, ensuring you will never have the same dinner menu twice.
Hugh's concept is 'farm to plate' and that means that almost everything cooked on the day was either caught earlier that day when it comes to seafood, or grown locally at the organic farm next door. Hugh's imagination knows no boundaries. Every menu is a height of creativity and an explosion of flavours.
Guests can choose the times they dine, the style they dine in, the number of courses they have and which out of 60 complimentary wines will accompany their gourmet meal. Wonderful!
And what is even more amazing all meals are included in the rate, so your six-course degustation menu accompanied by beautiful local and international wines is included.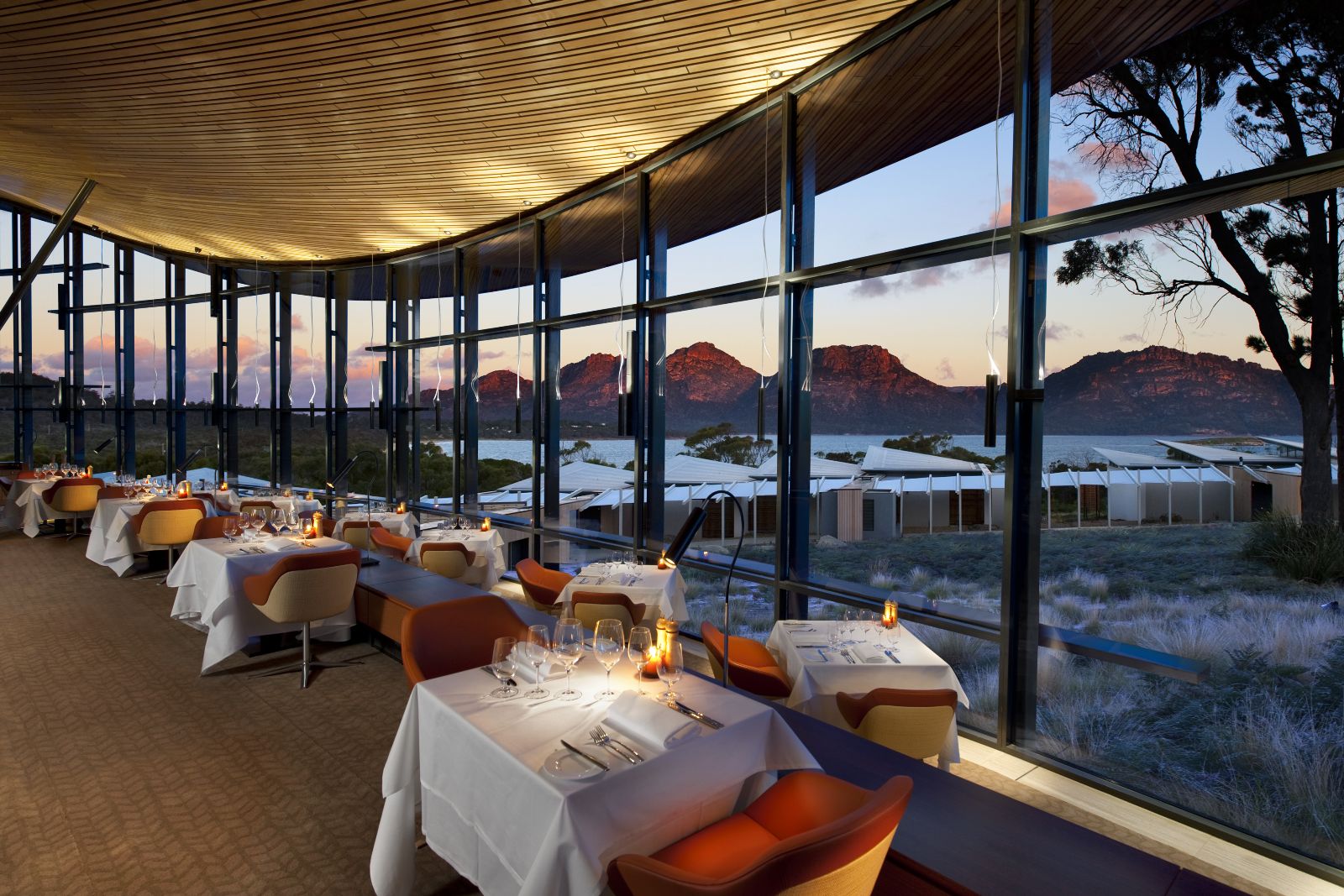 Breakfast is served either in the restaurant in the suites – both are really lovely. Guests can choose from an a la carte menu that includes freshly squeezed orange juice, home-made muesli, fruit or traditional hot dishes.
Lunch is buffet style and normally includes a variety of interesting salads, a couple of hot dishes and a dessert. If you happen to skip lunch, the kitchen can always prepare something just for you. One day I felt like chicken soup and voilà, 20 minutes later I had a beautiful soup delivered to the table, prepared just for me. That's service and that's the description of luxury – anything, any time, anywhere!
Activities
Some couples come to Saffire just to relax, take in the surroundings, enjoy the food and do nothing at all. Others love the activities and exploring the local area. Saffire has something for everyone.
My style is a mix of both. I like to do a couple of things a day but also love to sit by the fireplace with a hot chocolate and the laptop that I never leave too far behind.
So on my visit I have booked myself into a spa to experience a couple of signature treatments and organised a lovely walk through the nearby Freycinet National  Park to stunning Wine Glass Bay.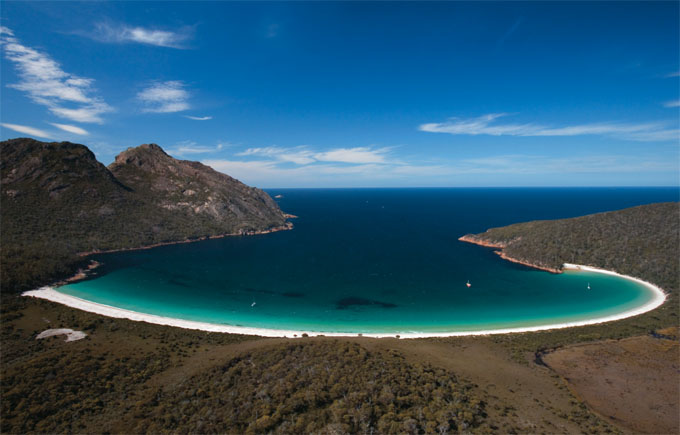 The walk is so beautiful and picturesque – I highly recommend it. You simply can't leave the area without seeing this bay. It was voted one of the most beautiful beaches in Australia and I'll have to agree with that. The walk is very easy, about an hour return, but for more active walkers you can choose to go on different trails and spend half a day exploring the area by foot. Something we'll try next time.
When weather allows (unfortunately it wasn't the case on my visit) Saffire organises beautiful boat trips to the local beaches. It would be a real treat to experience it on a warm sunny day.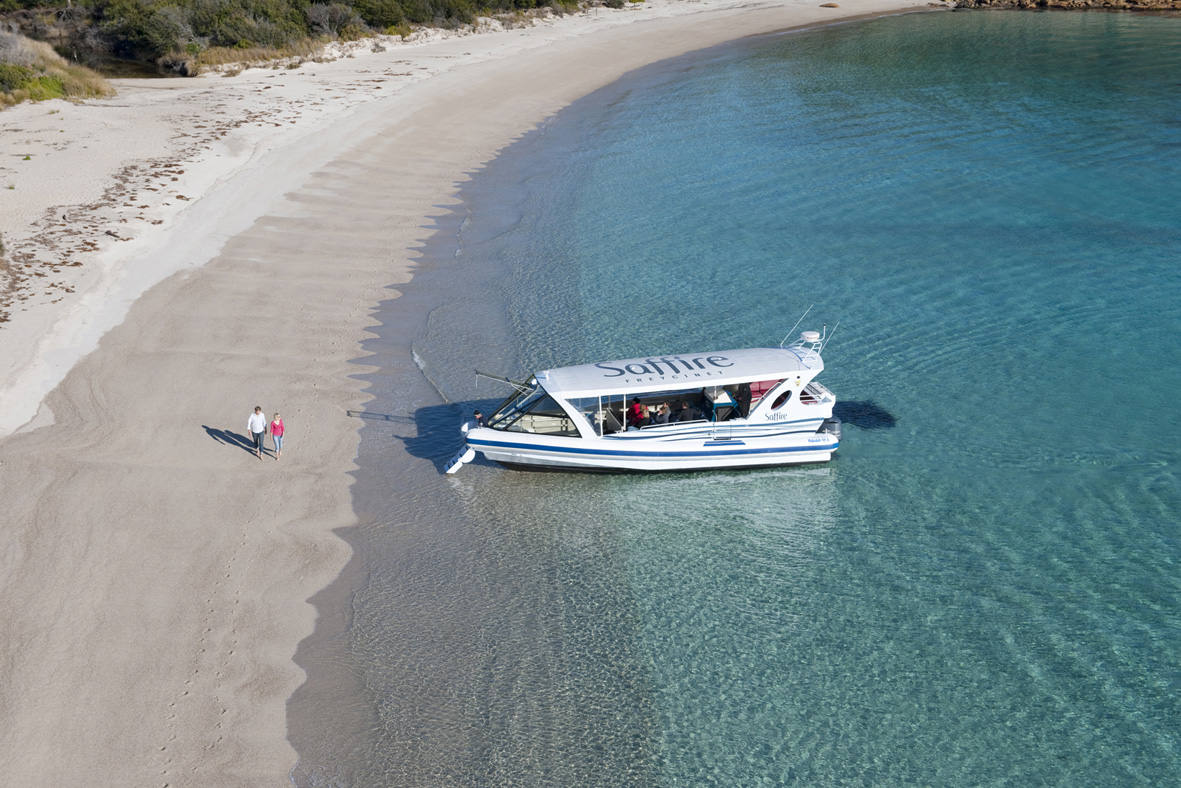 The Spa
The Spa at Saffire is  quite small, it has only five treatment rooms and is booked out a long time ahead, so we recommend you reserve our treatments when you book your stay. Every suite comes with a spa credit so the therapists are very busy pampering the guests from early morning till early evening.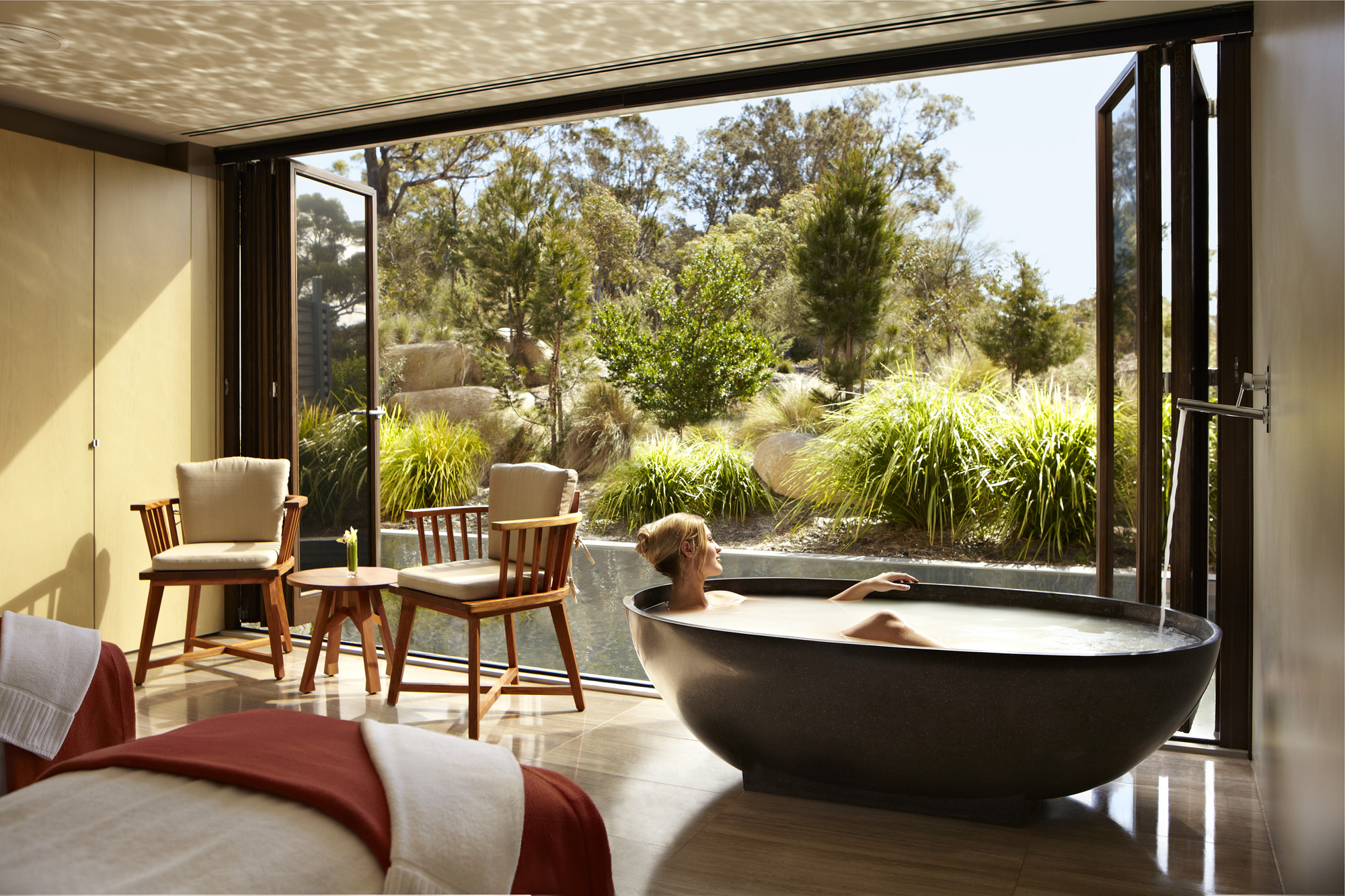 The spa prides itself on hiring only the best therapists and it must be said, the massage I had was one of the best I can remember. The lady had a lot of knowledge about different muscle groups and worked magic.
Hot stone massage is another specialty and it is a very relaxing treatment that we also highly recommend.
The Lux Traveller Loves
We love the design element of Saffire Freycinet. Every part of the resort has been thoughtfully designed to maximise the views and enhance the guest experience. The view I woke up to every morning is nothing short of magic and a combination of local red and white marble, Tasmanian oak and celery top pine creates the most warm and elegant atmosphere.
The red marble fireplace in the lounge room is a favourite place amongst guests to gather up in the late afternoons for an apéritif and canapés.
We also love the food – truly the most impressive culinary experience in Australia.
The wine list is equally impressive – it has a choice of 60 complimentary wines and 400 premium wines for guests' indulgence.
Exceptional value – the rates at Saffire start at $1800 per suite per night and it includes all meals, wines, spa credit and a lot of activities. So we found it to be exceptional value for money.
Service – the best in the country.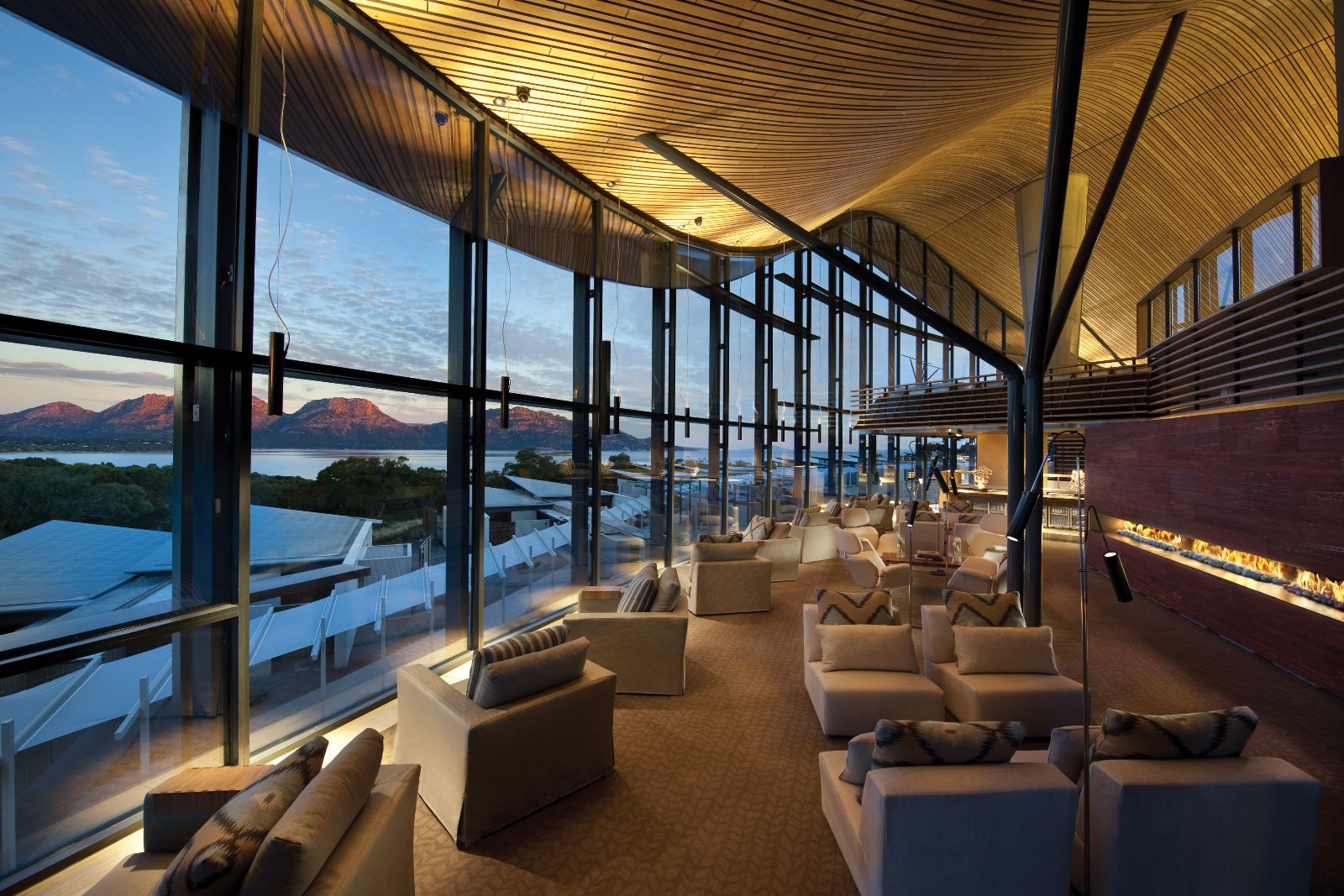 The Lux Traveller Didn't Like
The only thing I didn't like about Saffire was leaving the resort! I stayed for 2 nights / 3 days but really wished I booked an extra night.
Ok, the other thing is that getting to Saffire is the long journey but trust The Lux Traveller – it is worth it!
All In All
Our stay was nothing short of perfect and we are already planning to return next year!