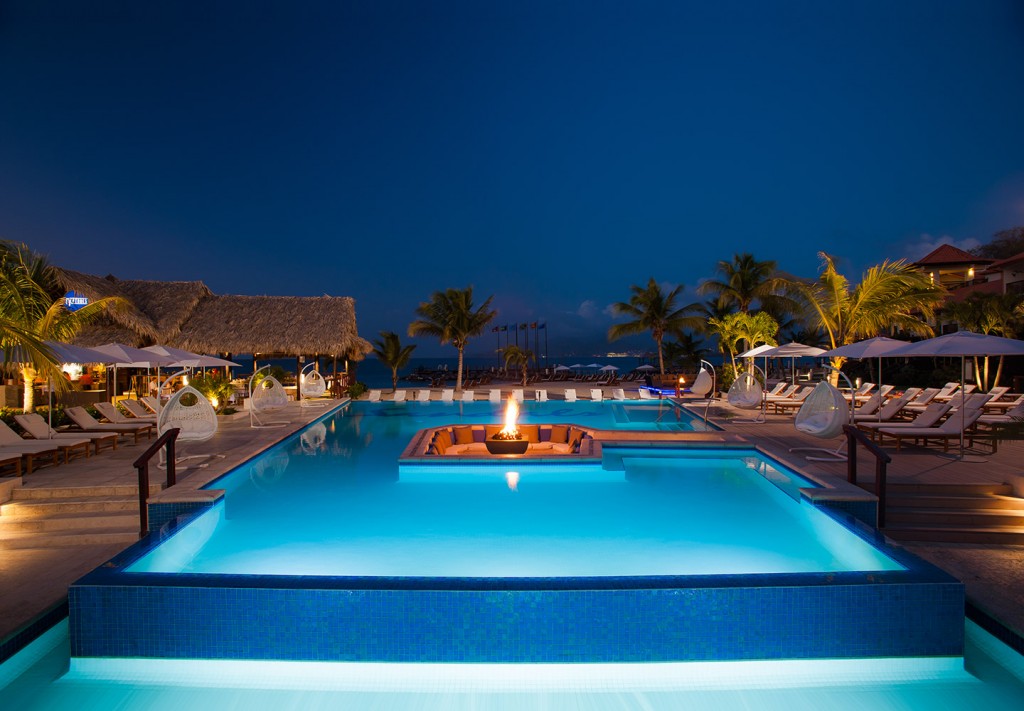 the lux score
90
the lux score explained
Service 10
Rooms 8
Food & Beverage 8
Ambience 9
Attention to Detail 9
Generosity & Value 10
Wow / Hip Factor 7
Facilities 10
Location 10
Fit to Promise 9
It is very exciting to see the evolution of Sandals Resorts come together in their newest property Sandal's LaSource Grenada. I believe that this Sandals property takes the All-Inclusive Resort brand to new levels of international excellence.
I am not usually a fan of the all-inclusive resort concept because I find that such resorts often compromise one aspect of service to execute another. Rarely do I see the whole operation functioning in a balanced and top-level way. But with Sandals LaSource Grenada, I think they have mastered the formula for delivering personalized service to many people.
Destination
Grenada is an island country consisting of Grenada itself and six smaller islands located in the southeastern Caribbean Sea.
Grenada has multiple points of access for the traveller.  I personally flew in from NYC and was happy to learn that there are a couple of choices for air carriers, both Delta and Caribbean Air offer direct flights there and the main airport is well equipped to accept private jets.  Many travelers also access the island by boat, either by a private yacht or via a cruise ship.  Sandals Grenada is located just a five minute drive from the airport.
Accommodation
Sandals LaSource has 225 rooms and suites, 69 of which offer a special Butler service. I stayed in a Millionaire's Suite in the South Seas Village. These suites have private plunge pools in front of the bedrooms as well as Jacuzzis on the terrace.
The bathrooms are also spectacular because they are quite spacious and luxurious. I loved soaking in the deep marble tub, especially when my Butler prepared a special warm bath for me with rose petals, champagne and snacks.
Dining
There are 9 themed restaurants ranging from Italian to French, to Japanese to Fish to a Parisian style bakery. For an All-inclusive category, the food is very good. My favorite is Butch's, the very first steak house in the Sandals Resorts collection.
I found the culinary offering at Butch's to be on par in quality with the top steakhouses in NYC.
Wellness & Spa
Sandals LaSource has a lovely state of the art fitness center equipped with the latest workout equipment. One of my favorite spaces is the yoga pavilion where morning yoga classes are offered a few times a week.
The fitness center is open 24hours a day. Most guests appeared to be utilizing it in the early am hours. As for myself, I enjoyed briskly walking along Pink Gin Beach for some light exercise.
The Sandal's signature Red Lane Spa offers a full service international massage and treatment menu as well as comprehensive hair and nail services. There are many brides who have destination weddings at Sandals LaSource, so the staff really excels in the hair and makeup department.
Property
It is so easy to relax and enjoy yourself at Sandals LaSource and partake in the dozens of activities offered from a large variety of water and land sports.
The beach at Sandals Grenada is unique to the island.  They call it Pink Gin Beach because the sand has a rosy color.   I found Pink Gin Beach to have more sea shells and a coarser grain of sand compared to other beaches I visited in Grenada. This denser surface made it quite easy to take long morning walks along the surf.  I also enjoyed swimming in the ocean even though the water is not the super clear, crystal transparent blue that I typically associate with the Caribbean.
As with all Sandal's resorts, the pools are a main attraction. Sandals LaSource has 6 in total, one of which has a swim up bar. Since premium brand drinks are included in the all-inclusive package, you can imagine how popular this pool is! But my favorite pool is the one with the fire pit in the center. At night, I enjoyed relaxing in the middle of this pool while feeling the Caribbean breeze.
Romantic or Family resort?
Like all Sandals properties, Sandals LaSource Grenada is customized for a romantic vacation, although I did see plenty of families there.  Sandal's other product, 'Beaches' is geared more for families and children in that they have extended children facilities and kiddie entertainment.  At Sandals LaSource I saw many honeymooners and even met a couple that would be getting married there during my stay.  My recommendation would be to plan a trip there if you are seeking a more adult experience where you just want to relax in one place that offers both peaceful and active environments.
Excursions
Grenada is a very beautiful island full of natural wonders like waterfalls and rain forests.  It is also one of the safest countries in the world.  One of the benefits of staying at Sandals LaSource is that they have their very own Adventure Tour Company called Island Routes.  Island Routes operates all over the Caribean where Sandals owns and operates resorts and its a great way to explore the island.  Its easy to arrange and the have a nice variety of tours from which to choose.  Another very nice option is volunteering some of your time to the local community.  The Sandals foundation, similar to Island routes in that it offers programs at all Sandals properties, allows for the resort guests to participate in community outreach.  While I was there I visited a Catholic school with some fellow guests to teach a class to children about preserving the environment.  It was a lovely and rewarding experience.  
The Lux Traveler Loves
The warm bath drawn by the Sandals Butler and personally decorated with rose petals and served with champagne.
The tender, perfectly prepared filet mignon served at Butch's steakhouse.
The Sandal's Foundation organizes visits to local Caribbean communities where Sandal's operates resorts to donate volunteer services. As a guest of the resort I was able to take a few hours out of my morning to visit a local Catholic School and teach a class. Sandals Foundation organizes a curriculum and in my case it was the topic of Ecology.
Splitting Hairs
The restroom of Butch's steakhouse is not located in the restaurant. Instead, the guest needs to exit the restaurant and walk a bit of a distance to another building to access the restroom and it's a bit inconvenient to have to leave the restaurant.
Some of the construction in the room, although beautiful to the eye, seemed to be poorly made and of less than superior quality. I would not have minded or even perhaps noticed if the lack of quality did not interfere with functionality. I am sure that Sandal's LaSource will be finding solutions to ensure that such details are fixed and maintained.