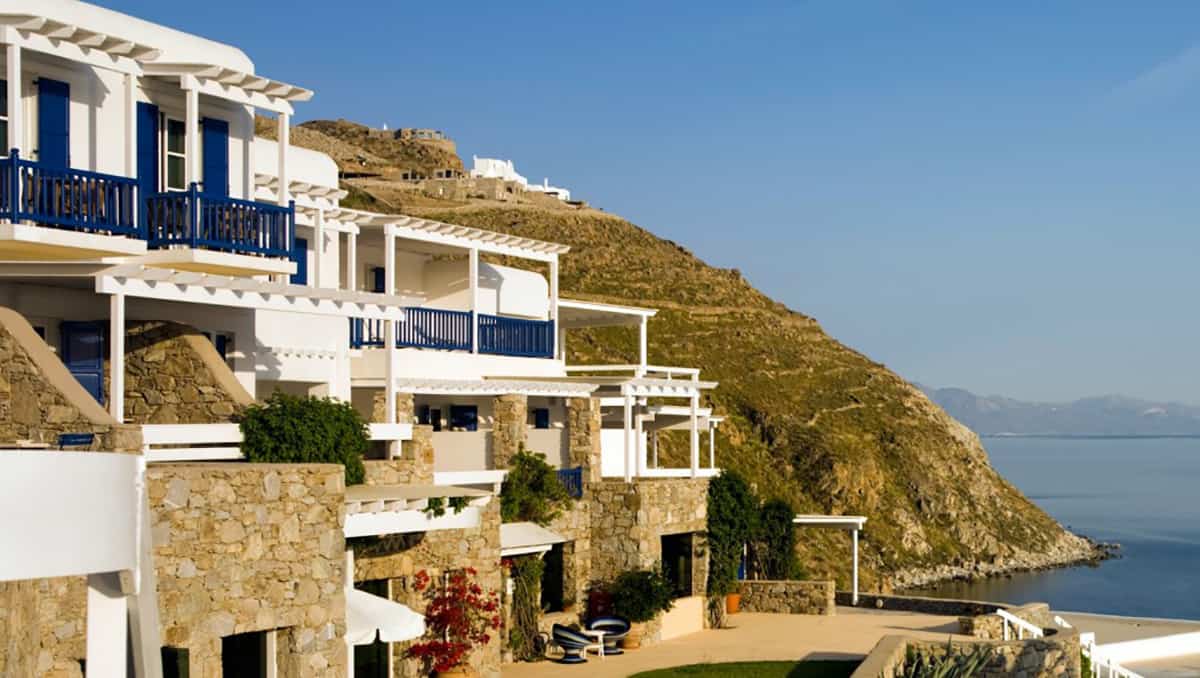 the lux score
80
the lux score explained
Service 5
Rooms 6
Food & Beverage 8
Ambience 9
Attention to Detail 8
Generosity & Value 8
Wow / Hip Factor 9
Facilities 9
Location 10
Fit to Promise 8
Santa Marina is the only hotel in Mykonos that has a beautiful private beach to itself. That makes it very unique. A great range of suites and villas, excellent facilities, great restaurant and the most beautiful beach make Santa Marina the best hotel on the island.
Location
Santa Marina is located in Ornos Bay, a gorgeous little bay close to town. Mykonos is not a large island and there is no 'bad' location as such, however being close to town is a bonus for when you want to go out for dinner and dancing. Ornos Bay is only 5-7 min by car to the centre of town (where most of the bars & restaurants are).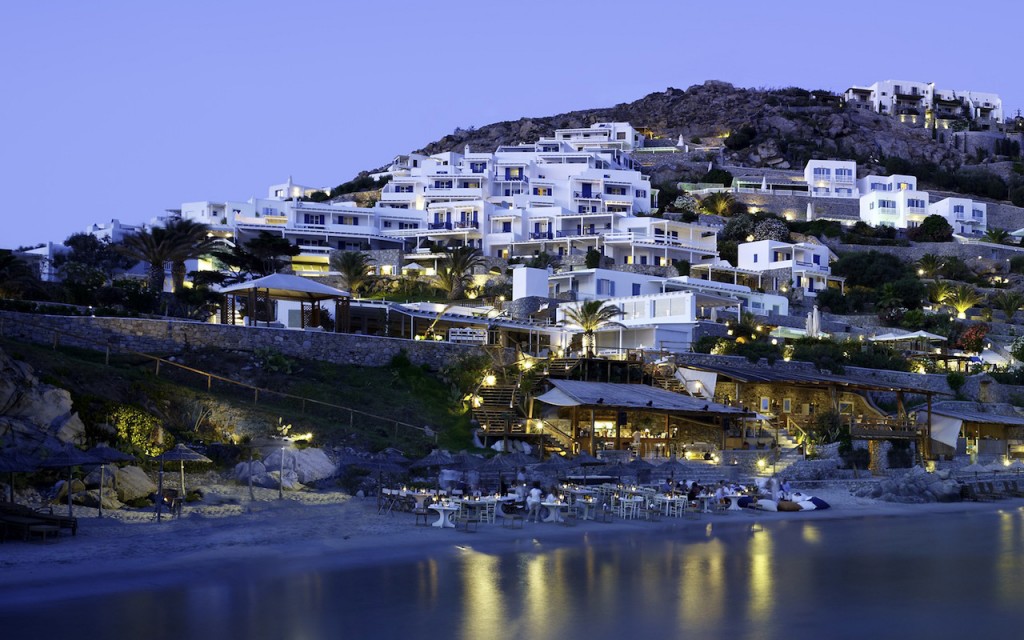 Lux Traveller Loves:
The beach and the beach club are gorgeous!
Pretty blue water (a little cold though, about 19C in the end of June), sand that is great for little children, comfortable deck chairs and white designer cabanas give the beach club a distinct feel of luxury and exclusivity.
Beach Restaurant – The Best! Even though Mykonos is known for its great taverns with good food we wanted to have lunch at …every day. Fresh fish gets delivered to the restaurant by the fishermen fresh every morning. I am not a fish person, but every grilled fish we tried melted in the mouth.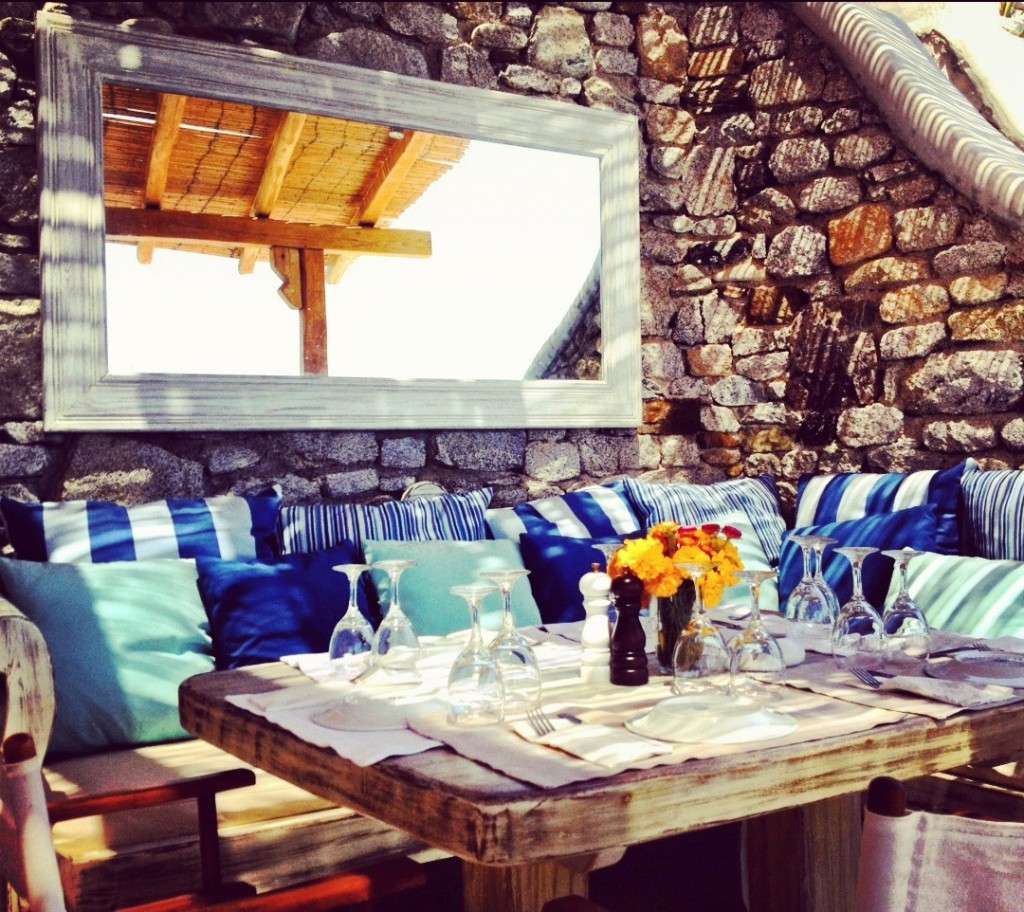 Lifestyle – Mykonos is an island with its own pace of life. Most guests don't get up before quarter to 11am in the morning and stroll to breakfast. Long breakfast finishes around 11.30-12pm when everyone slowly moves down to the beach. After about 3 hours of sun baking and swimming we move about 30m down the beach to the beachside restaurant for a long lunch that features bottles of French Rose, fresh fish and Greek delicacies.
Long lunch is to be followed by more sun and sea or a siesta or both.
And at about 9-10pm we venture out to town for more wine, food, breathtaking views and dancing into the early hours of the morning! How we love this place!
Santa Marina is a perfect place to stay and enjoy the best Mykonos has to offer.
The Spa
I love the spa and always find the time in my busy beach schedule to visit it. The spa in Santa Marina is quite small with only a few treatment rooms, aqua therapy, steam room and sauna. Therapists are excellent though. I had a massage and it was everything I was hoping it to be – firm yet relaxing and very enjoyable.
I also got to use the gym a couple of times. It is also small but functional, with 3-4 treadmills and some free weights.
Kids Entertainment – there is a room dedicated to kids activities and the coordinator is a really lovely lady. Our 9 year old has made a couple of friends in there while parents enjoyed adult time at the beach. Kids club doesn't cater for small children under 4 but worked well for us.
Lux Traveller Doesn't Like:
Standard rooms are small and need a renovation. On a good note, we were told that by the time the next seasons starts all rooms will be updated. Let's hope so – they need it.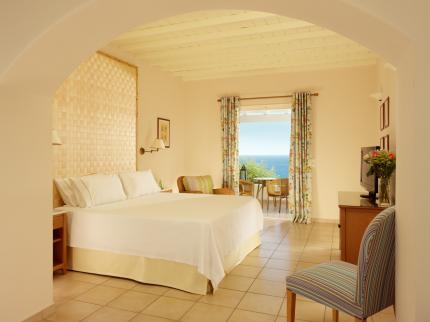 Accommodation:
For the Lux experience book only a Deluxe Suite or a villa.
Every other room category is small, especially if you travelling with children.
Junior Suites are just a slightly bigger room with a sofa.
Bathrooms are also quiet awkward, with showers above the bath.
Deluxe Suites are the only category we'd recommend for you, Lux Travellers.
There is one gorgeous suite with a pool – splash out on that one if you can or for a truly Lux experience book a villa. They are more private, spacious and luxurious.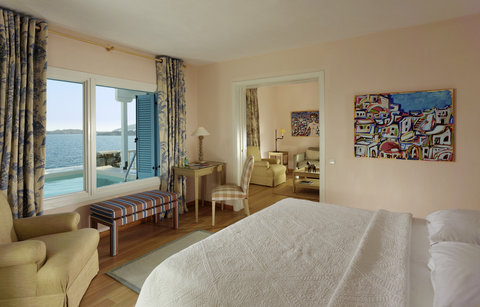 Service – Not Good (a lot of little issues)
Unfortunately the service wasn't great this time. We visited the hotel a few times before and had great memories of the place. This time we were a little disappointed – our transfer was half an hour late to pick us up, the room wasn't ready until 5pm on arrival day, room smelled really badly of smoke and housekeeping didn't do a lot to fix it. Housekeeping was ordinary – some days our room wasn't serviced till 5pm.
With all the above issues in mind this hotel still remains one of the best in Mykonos. Bring your relaxed attitude to Santa Marina and you will have a wonderful time here.