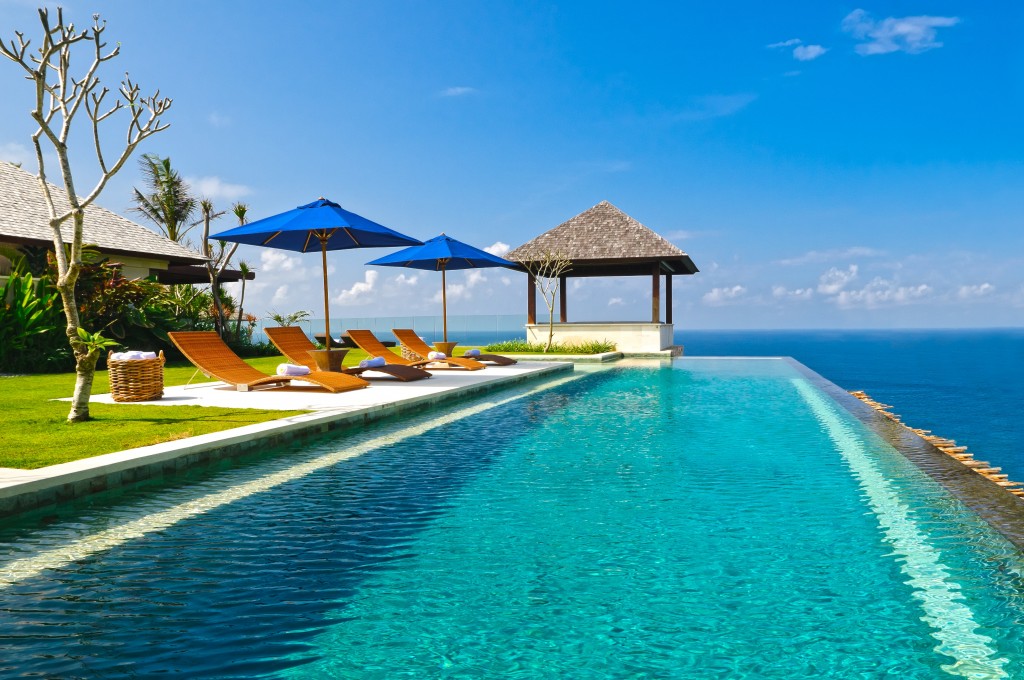 the lux score
86
the lux score explained
Service 9
Rooms 8
Food & Beverage 7
Ambience 9
Attention to Detail 9
Generosity & Value 9
Wow / Hip Factor 9
Facilities 8
Location 10
Fit to Promise 8
Semara is a very small boutique hotel in beautiful cliffside Uluwatu, in the southern part of Bali. Uluwatu is quiet and exclusive, in my view the most beautiful location in Bali. It is home to many of the most prestigious hotels on the island.
What separates Semara from other properties is its unique beach, truly the best in Bali. For traveller who love beach holidays and don't compromise on accommodation Semara is an excellent choice in Bali.
We hear that Semara has been booked out on most nights this year. Jennifer Hawkins (Australian supermodel) had chosen this spectacular resort for her wedding in 2013 and amazing photos from the event have inspired an endless flow of Australian luxury travellers.
This luxury resort consists of only 7 grand villas, 5 bedrooms in each. For weddings and special occasions guests can either do a complete buy-out of the whole resort (35 bedrooms) or rent a villa of their choice.  While guests with a more moderate budget can simply stay in one of the suites.
Villas start from US$1800 per night while one of the bedrooms (suites) can be yours from only US$450 per night.
Arrival and Accommodation
We have arrived at Semara late in the evening and were escorted straight to our room for check in. Unfortunately the beautiful ocean view master bedroom wasn't available on the day we arrived so we got to experience a plunge pool garden room for the night (entry level room without a view).  I have to say that this room is not my first choice – it is fairly small (by Bali standards) with a high walled terrace, with absolutely no view and a tiny plunge pool. I'd say that for a couple seeking privacy and holidaying on a budget it could be a good option. While for more seasoned luxury travellers like ourselves we needed a bit more oomph to be impressed 🙂
On the next morning we moved to the Master Bedroom with an ocean view and we would highly recommend this suite. It is a spectacular retreat with a breathtaking view of the Indian ocean. Palm trees and endless blue was all we saw in the mornings! Picture perfect!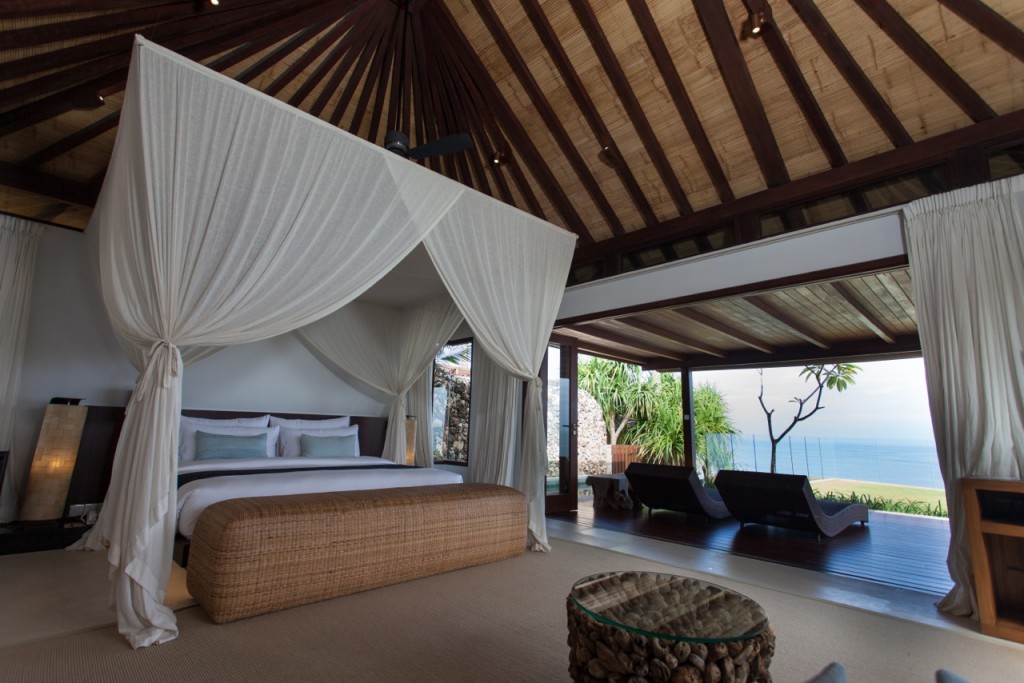 The layout of the villas is very interesting and not traditional. Each bedroom is a completely separate stand alone pavilion; the rooms are not joined to each other in any way.  Each villa has a master bedroom and 4 other terrace / garden rooms, a huge living room with bean bags, TV, oversized sofa for relaxation and a dining table for 8-10 guests. There is also a cinema room, sauna, BBQ area and a butler's kitchen.  And the most beautiful feature of the villas is a 20 meter wet edge cliffside swimming pool that all villa guests share.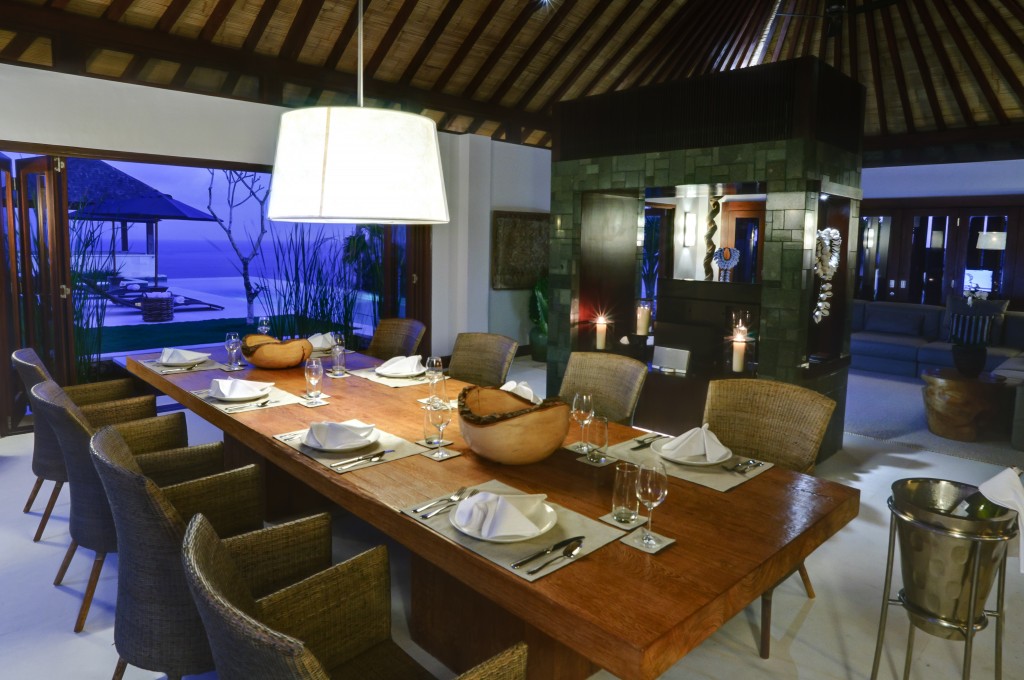 Interestingly enough, as Master bedroom opens onto the pool, guests staying in it feel like the whole villa is theirs. You don't get the same feeling when staying in any of the other rooms.
We have quickly made the villa 'ours'.  Spent afternoons by the pool, read books in the lounge, had breakfast and dinner at the dining room, watched family movies in the cinema room.
We utlised the villa as much as we could and truly felt at home here. That's the most wonderful memory that stands out for me from this stay – feeling at home and not having any need to rush off anywhere.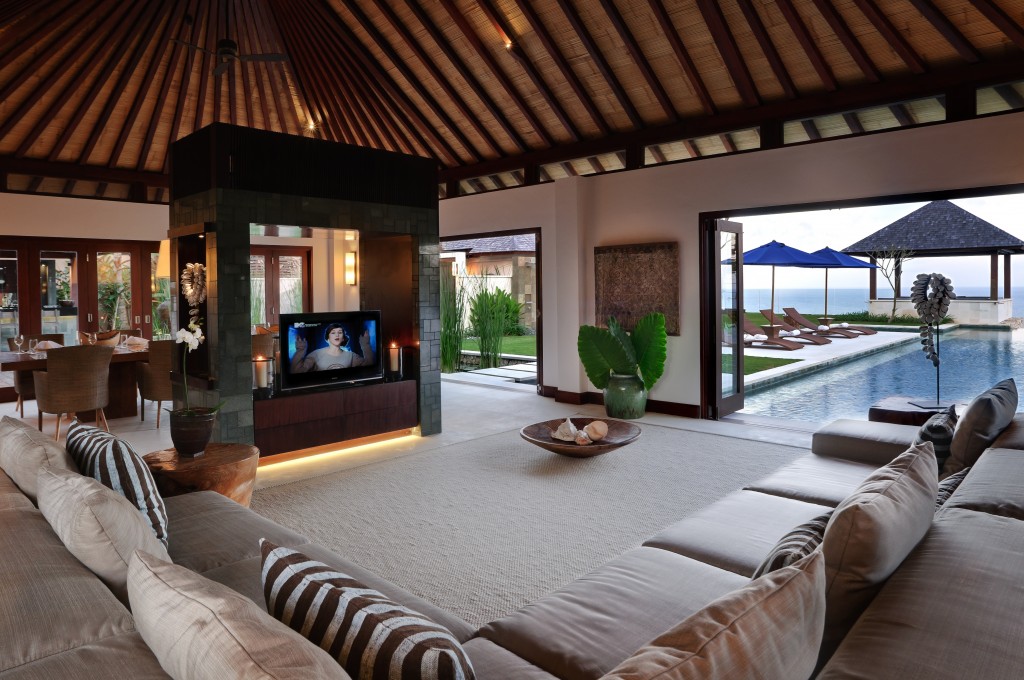 Resort Facilities
Semara is a proud owner of the best beach club in Bali – Finn's Beach Club. The beach has white soft sand and crystal clear blue water, not something you will find anywhere else in Bali.
The atmosphere is really lovely too – lots of people, nice music, great pizzas, funky bean bags – a must visit even if you are not staying at the resort. Outside guests are welcome and pay $25 entrance fee (that includes a spectacular ride on an inclinator down the cliff face and $15 credit towards your spend on the beach).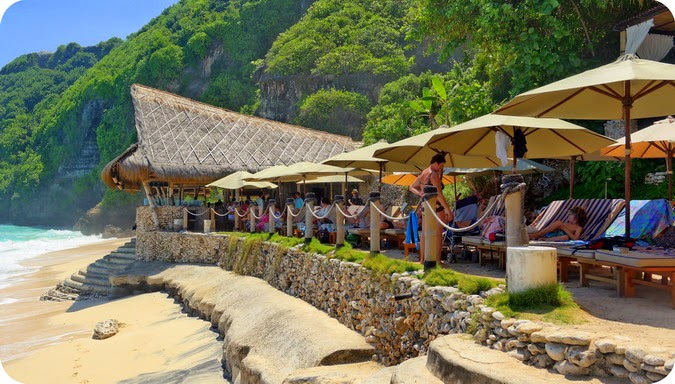 Finn's also provides free watersports  – kayaks and stand up paddle boards as well as snorkelling equipment.
Wonderful day out!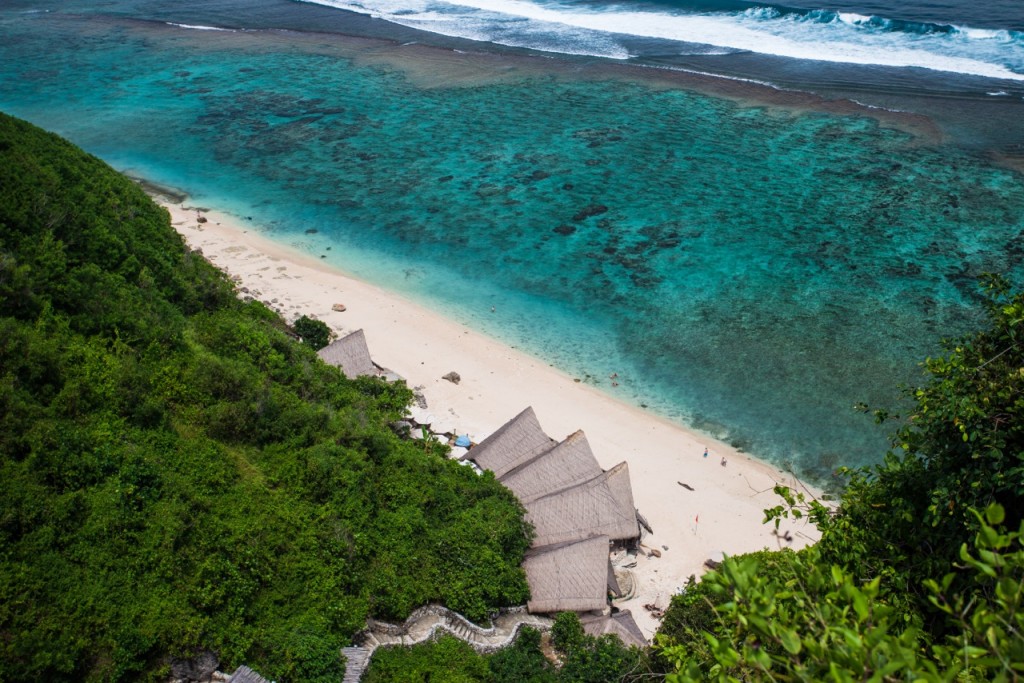 We loved spending the mornings at the beach  (book ahead for a private cabana) – swimming and kayaking, followed by a lazy afternoon by the pool in our villa.
Body Temple Spa
Semara like all luxury resorts has a spa, however the spa concept is a little different here from most spas.
Seeing that Semara promotes 'in-villa' living, most of the treatments are performed in the comfort of your luxury hideaway.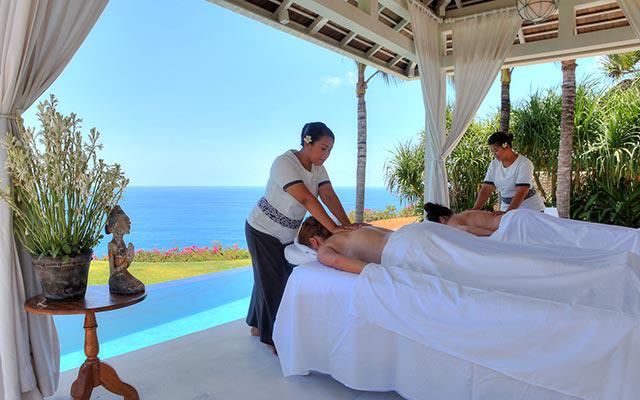 I have experienced a massage and a scrub, while my two little kids had mini massages and pedicures at the same time. It was a cutest set up – 3 massage beds next to each other on our shady terrace facing the Indian ocean – so wonderful and relaxing.
I loved the setting and being close to my kids during the treatment so we could share the experience as a family. Very sweet and bonding.
The massage was great and even my 4 year old loved it. Highly recommend it.
Semara also has a tiny gym (if you really want to do some indoor training) but I would suggest going on a paddle board instead. You could always catch up on the indoor exercise at home.
Dining
Apart from Finn's Beach Club (open for lunch and dinner) Semara has one more restaurant 'Selatan' and it serves breakfast, lunch and dinner. However it didn't seem very busy at the time when we were at the resort. We got a feeling that most guests (ourselves included) prefer to dine in their beautiful villas.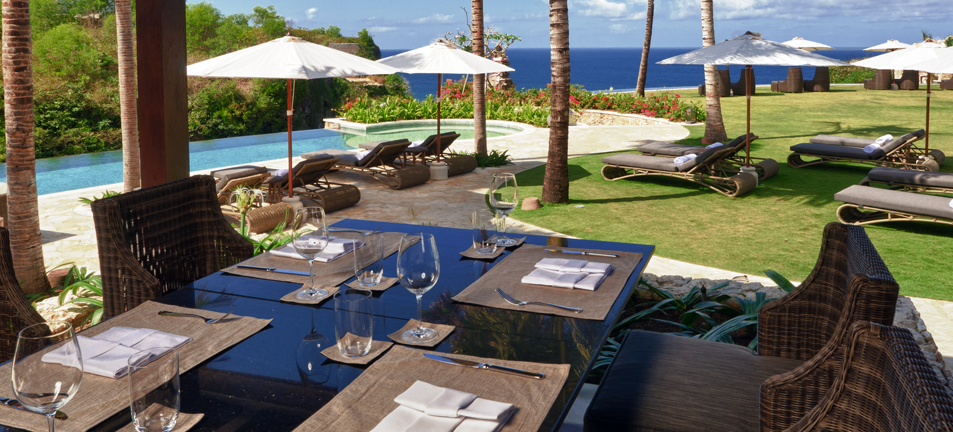 We love local food and have ordered a few Balinese dishes from the in-villa dining menu and enjoyed both, the food and the setting.
We have also tried a dinner at Finn's on another night. The menu is the same as during lunch (pizza, salads, grilled seafood) but a special touch is bonfires on the beach – a real treat for the younger guests. They sat around the fire and toasted marshmallows and chocolates, not something they get to do often.
Finn's food is fresh and their pizzas are famous in Bali. I especially loved the papaya and octopus salad and grilled jumbo prawns.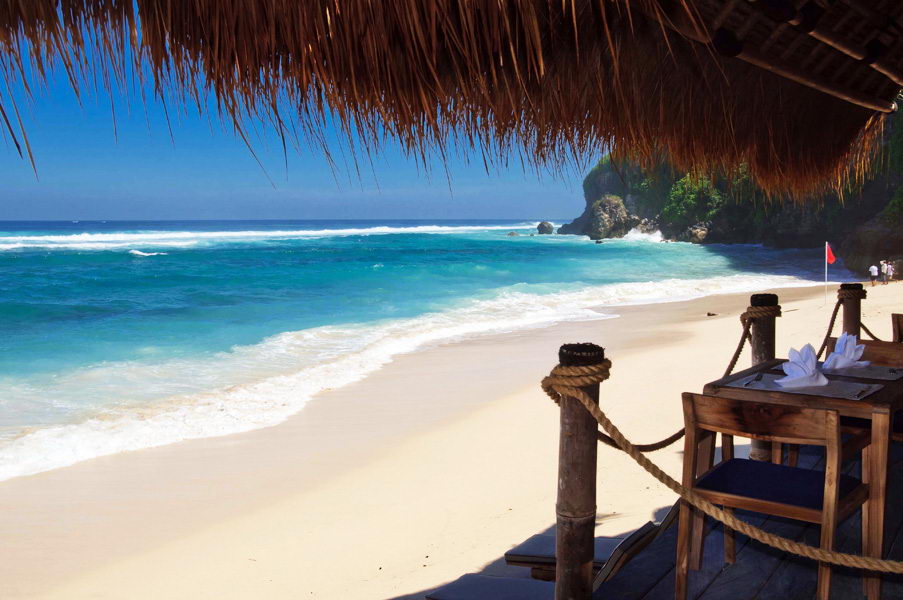 If you are staying in Semara for a longer time and would like to try other restaurants at the nearby resorts your butler will recommend a few excellent options. Our personal recommendations and favourites are Il Ristorante in Bulgari Resort (fantastic Italian al fresco fine dining restaurant in a romantic setting with great atmosphere) or Warung  (Indonesian restaurant at a nearby Alila Uluwatu – the best Balinese / Indonesian food we tasted in Bali).
The Lux Traveller Loves
Truly feeling 'at home' in Semara's beautiful villas. We didn't want to rush anywhere, leave the resort for outings or shopping. Just loved spending our days between the beach and the villa.
Outstanding views of the Indian ocean from our Master bedroom and wet edge pools hanging over the cliff.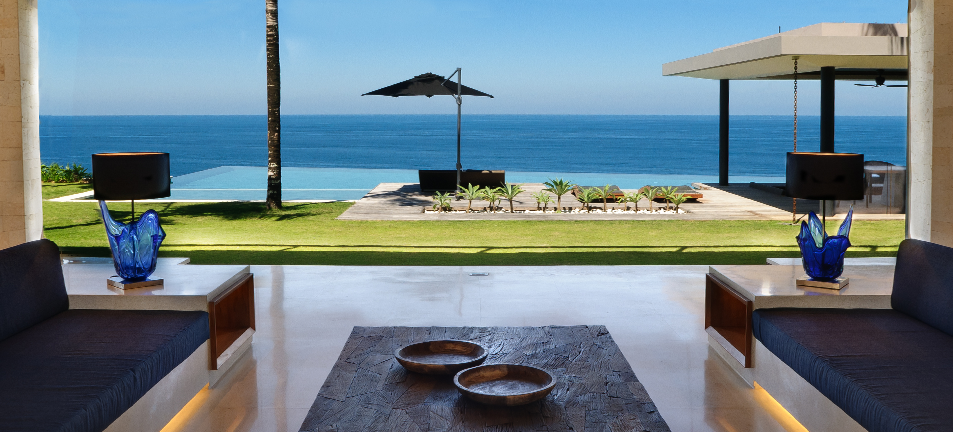 Excellent butler service – the lady we had looking after us made sure our glasses were always full of water, remembered how we liked to take our tea, beautifully set the table for meals, packed our luggage, drove the kids in a buggy – perfect in every way. We literally didn't have to move a finger the whole time at Semara.
That's a definition of luxury for many busy people.
Finn's Beach Club – Best beach in Bali with great food and atmosphere.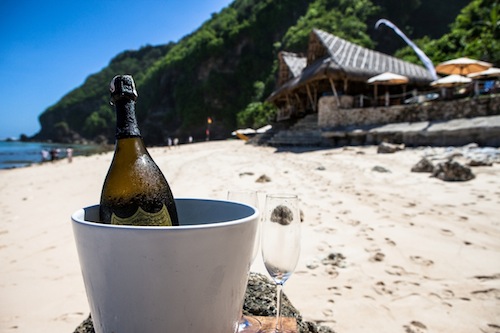 The Lux Traveller Didn't Like
If you are staying in one of the back rooms without a view the experience is not the same, so we would highly recommend spending a little more money and upgrading to the Master Bedroom.
It would be good to make breakfast in the restaurant a little more exciting (it is very basic by Bali standards at the moment) but we were advised by the GM that it is work in progress and will be changing soon for the better.
All In All
Seeing that it is a very small resort (only 7 villas or 35 rooms) there is no action or atmosphere in the public places. If you love action and meeting people it is probably not the best choice of accommodation.
If you are looking for a stunning luxury villa with breathtaking views for your family to enjoy the sun and the sea, to relax and bond, Semara is a perfect choice!