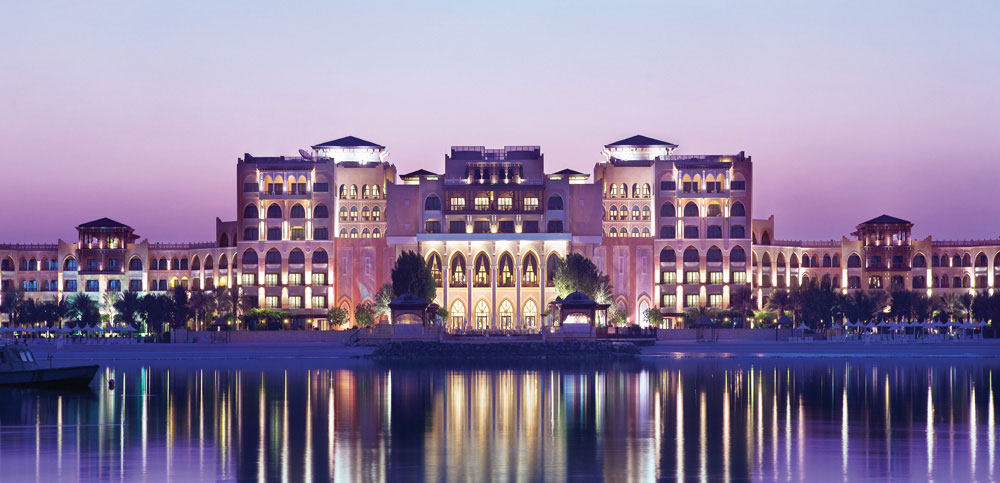 the lux score
71
the lux score explained
Service 7
Rooms 6
Food & Beverage 8
Ambience 7
Attention to Detail 7
Generosity & Value 7
Wow / Hip Factor 7
Facilities 8
Location 7
Fit to Promise 7
Shangri-La, or utopia, according to the 'Lost Horizons' novel that gave the hotel group their name – by anyone's standards fulfilling a guests expectation of utopia is going to be tricky.  We have stayed with Shangri La before and were very impressed by the service.  Faced with the plethora of hotel options in Abu Dhabi, choosing a known quantity and in such a unique location allowed us to see whether utopia existed!!
LOCATION
There can't be many hotels with quite such a unique view.  The hotel is located across the canal from the cities Grand Mosque.  The scale and beauty of the mosque is quite incredible – we didn't get bored of looking at it and the call to prayer was not as disruptive as I had imagined. The hotel is away from the main city areas, not in a hectic location, as a result there is ample on-site parking. Shangri-La is under the flight path of 'an' airport – but I think this is military and private planes only and so we saw no more than about 5 low flying planes a day.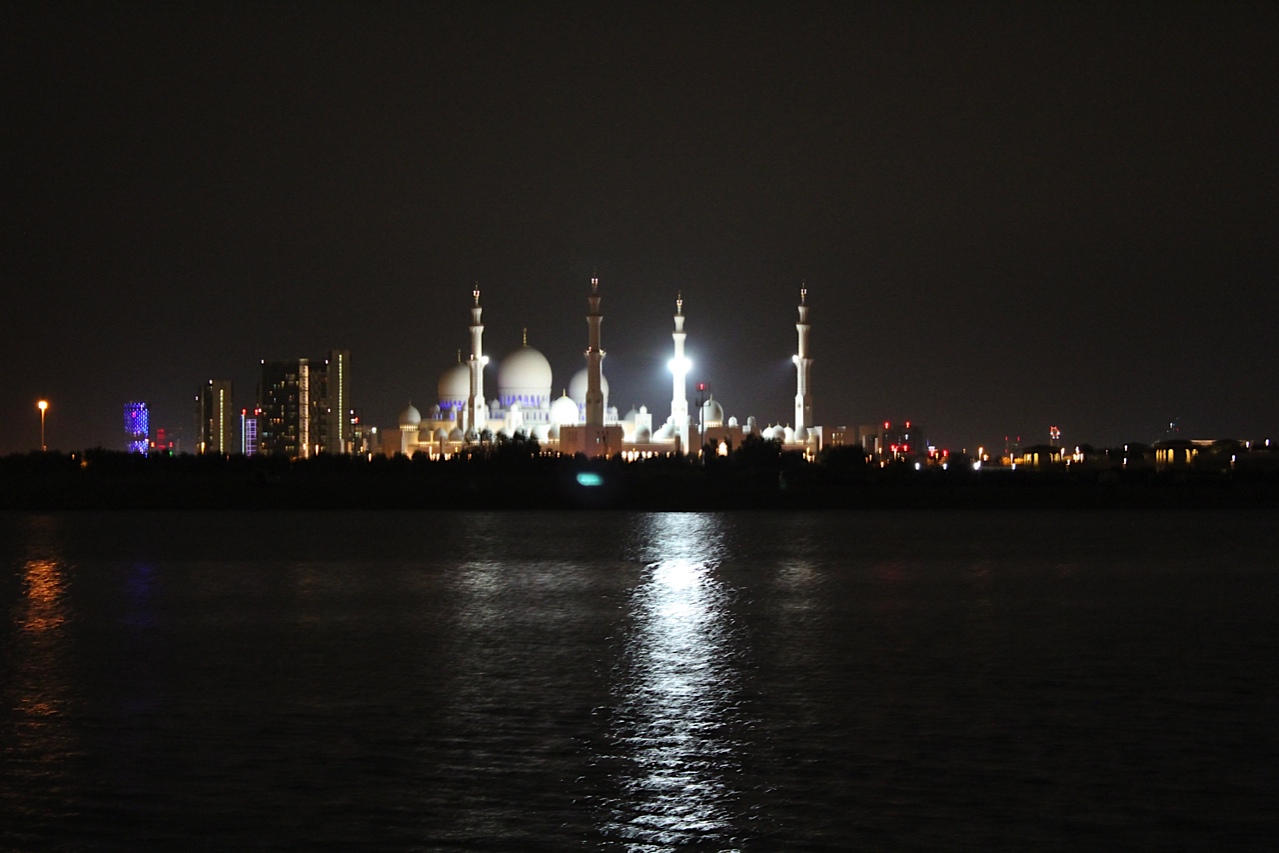 ARRIVAL
The hotel website provides very helpful driving instructions that were very accurate and we arrived (from deep in the Empty Quarter) without any  issues.  Our car was taken away the moment we pulled up and our bags were taken care of.  We were staying in a 'Horizon Club' room and so we were immediately escorted by a friendly member of staff to the Horizon lounge for check in. Check in was swift and helpful Club Manager has suggested a few places we should visit during our stay. All very smooth and peaceful!
ROOMS
Our room was large, on entry you turned left for the bathroom and right for the bedroom.
There was a hallway space between the 2 with a large wardrobe and luggage storage space.  The bathroom was big and well lit.  L'Occitaine toiletries were provided and topped up morning and night!  Surprisingly for the hotel grade, there was just one wash basin.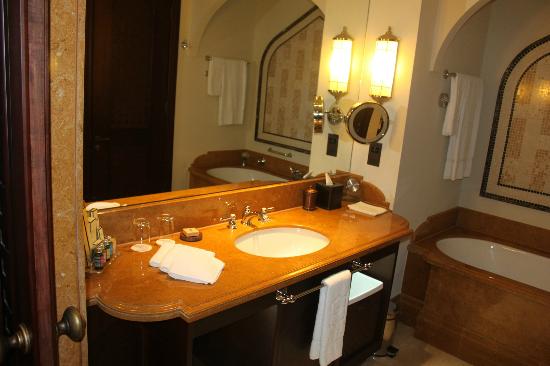 The bedroom is large and bed was incredibly comfortable.  We did pop back to the room on our first morning and our room was being serviced – surprisingly all bedding was being changed after just one night, I'm not sure whether this is a daily change?  The bedroom is elegant, but does have a feeling of mass production, however there are nice touches, like the lighting at the front door, and roses having been left for us.  Our room did not have a clean view of the mosque – this was only something that could be seen from one side of our balcony.
Looking at the layout of the building there were many other rooms with less of a view.  We didn't spend much time in our rooms, but it was disappointing.
FACILITIES
The Horizon Club offering included rooms on higher levels, breakfast in the lounge and evening drinks and canapés.  The Club offering also ensures a more personal service and shelter from the busier parts of the hotel.  Neither the club lounge or balcony have views of the canal or mosque – we did ask why this was and understand that the Horizon Club is a relatively recent addition.  The lounge is spacious and there was plenty of space during evening cocktails.  The atmosphere in the evenings in very pleasant.
The hotel complex is large – in our 2 days there we barely had a chance to 'scratch the surface'.  The beach is small, but well kept and there is ample seating. The beach is on the canal (not on the open sea) and the water seemed clean but we didn't swim there preferring the warmer water in the pool.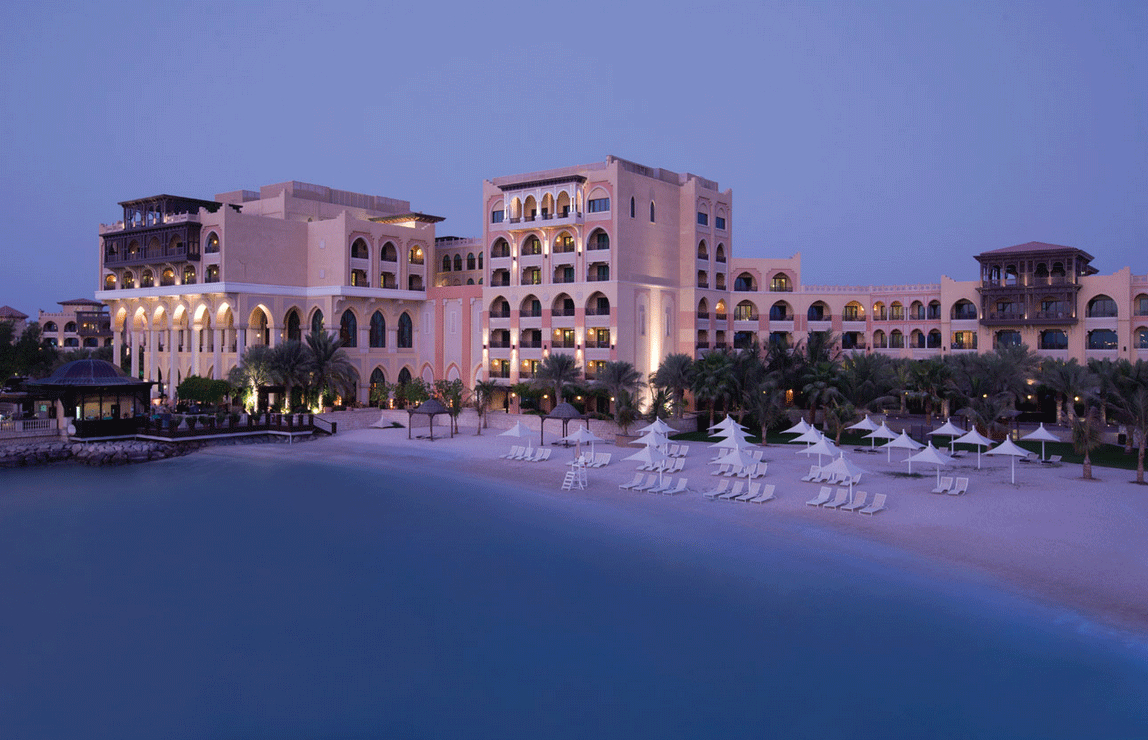 There are 2 pools – the main pool in front of the large building frontage (and restaurant) and a smaller, more shaded pool, between the beach and the hotel.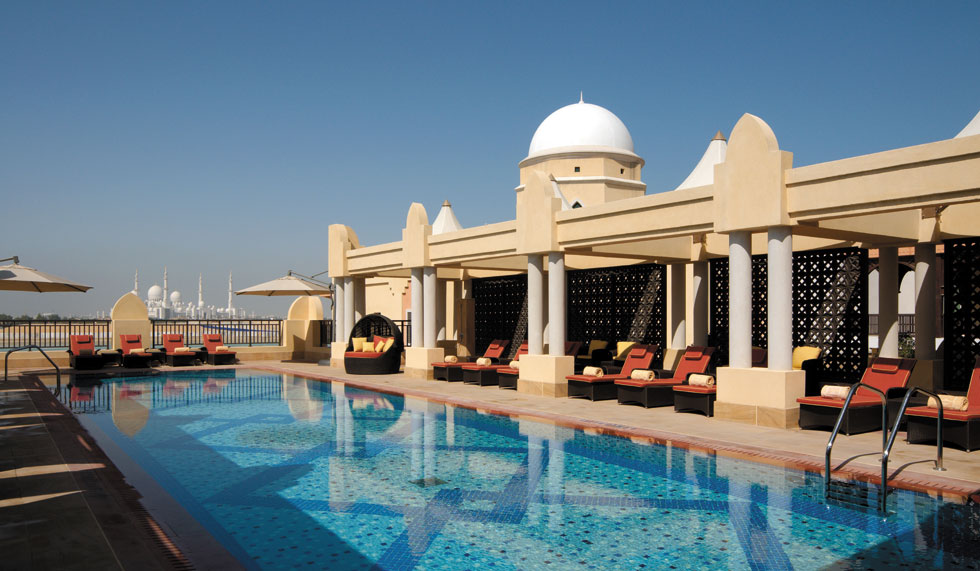 There is I believe a third pool, in the gym complex. The main pool is a popular spot for sun-bathing, but we didn't have any trouble getting a spot arriving early afternoon on both days.  Quite a few of the loungers are in the shade, so it was surprising that the pool staff didn't clear towels away from those in the sun when people went for lunch.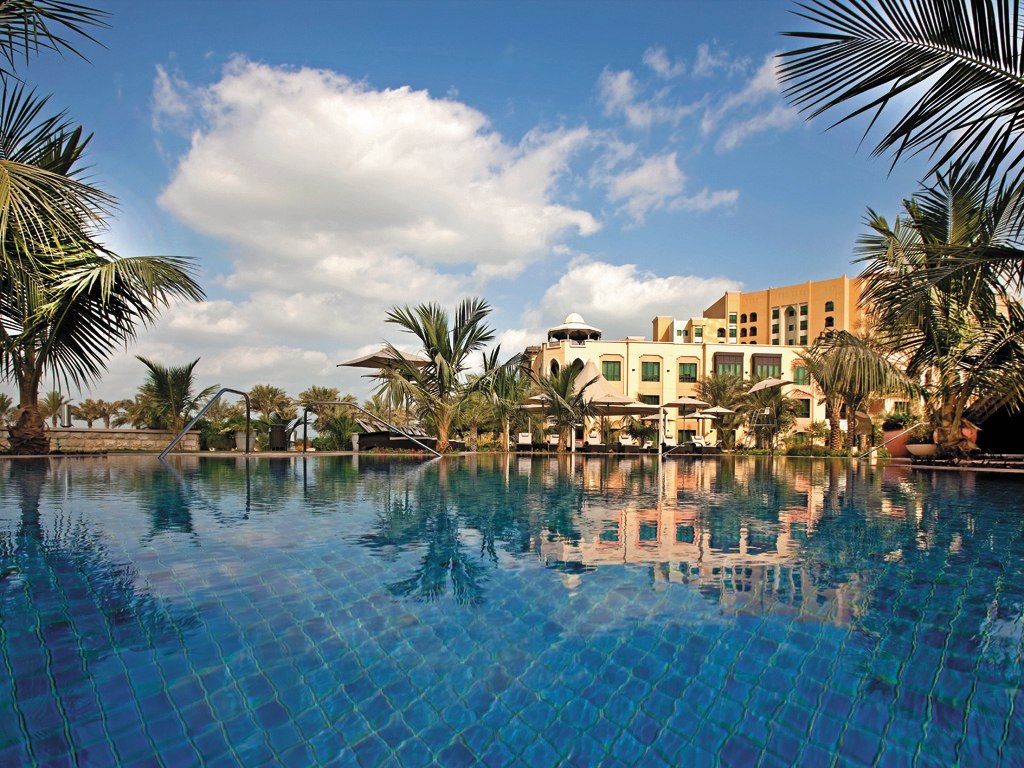 The hotel complex benefits from an adjoining souk.  Whilst it isn't part of the hotel per se, but it is possible to take a free abra ride to the souk on the pretty canal that has been put through the middle of the complex. The souk has plenty of little tourist shops to mooch around and has a number of restaurants too.  We didn't head back to the hotel late after dinner, but the abra had stopped running – it wasn't a long walk however and the fresh air did us good.
Daily bus trips are arranged to the mosque and concierge were very helpful for other activity requests.  We asked for a taxi to take us to the Emirates Palace (to take in the gold-plating) and concierge helpfully pointed out that my husband's attire (flip flops and shorts) would not be appropriate and so he was able to change and avoid a wasted trip.
DINING
The food offering was what impressed us if I consider our stay as a whole.  Club lounge – always a sensible choice and here was no different.  Breakfast can be taken in the main restaurant or in the lounge.  The lounge is quiet and has attentive service (and does good coffee).  Happily there is a la carte service which makes a change from many other club lounges, there is also a selection of fruit and pastries and cereal from the buffet.  The lounge is open all day as a quiet space for a drink, there is also a terrace which is a great sun trap away from the prevailing wind (but which sadly has no mosque view).  Mid-afternoon high tea is served – a great selection of little sandwiches, sweet treats and fruit.  Disappointingly for me, despite flagging a food allergy ahead of our stay, no special food was prepared for me which I have come to expect at London hotels that I have visited for afternoon tea.  In the evening all Horizon Club members congregate punctually at 7pm for complimentary drinks and canapés.  Sadly no champagne, but wine and beer of a good enough quality.  The food was particularly good – whilst of the 'wedding buffet' type, it was high quality, plentiful and there was a good choice.  The club lounge staff are at all times very attentive and chatting and certainly know their guests names and preferences.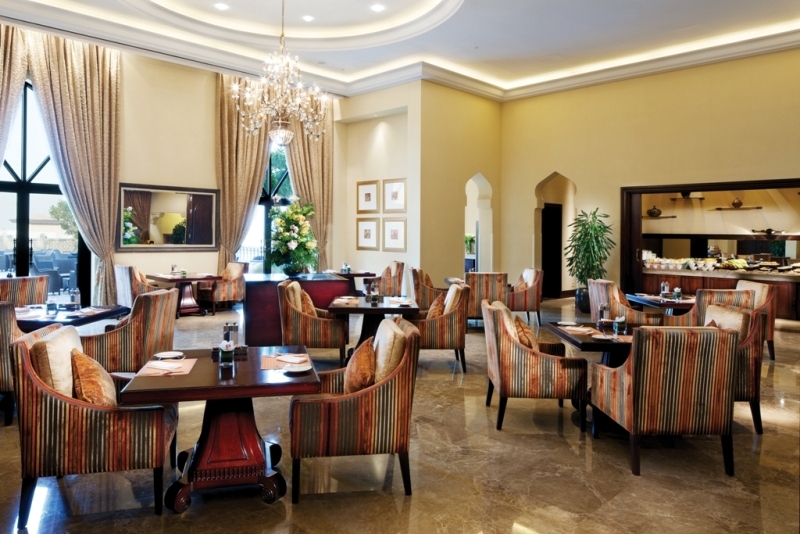 Onsite, the hotel has a grand choice of places to dine.  The piece de resistance though, is Pearls and Caviar.  This restaurant does not in any way feel like it is part of a hotel – no doubt designed that way – but does have the benefit of putting the charges on the room.  This spot is located a little way from the hotel and so doesn't get hectic in the way that other parts of a hotel have a tendency to.  Upstairs there is a swanky bar (ladies night when we were there, free Prosecco for me!) and downstairs and elegant dining area including balcony spots that were sought after.  Good quality food and a good choice too.  Attentive and friendly service with a manager that spends time speaking to the guests and explaining the meals.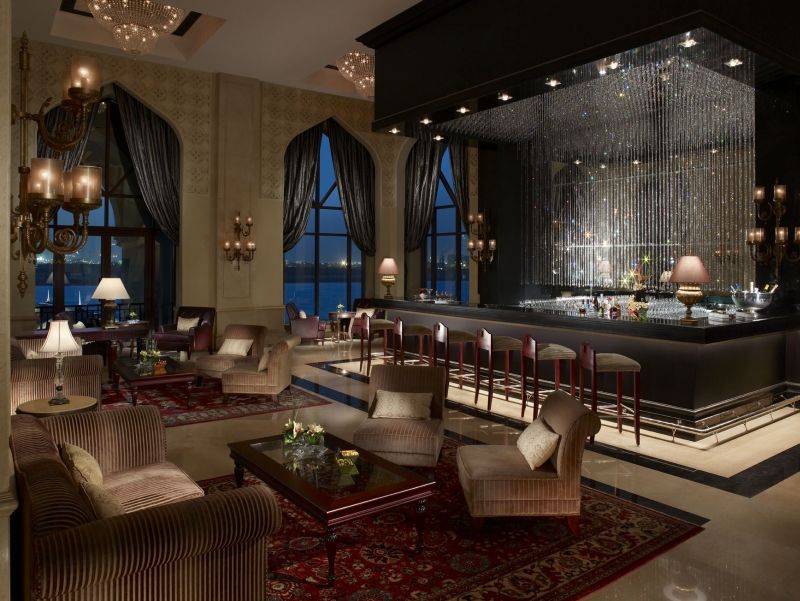 Very enjoyable – we typically dine away from a hotel for a memorable meal, but Pearl and Caviar achieved what we didn't expect to find in a big hotel.  We also ate in the souk – at Ushna, which serves fantastic Indian cuisine.  A great winelist – we found 'Morgenhof' from Stellenbosch which we hold dear and for a relatively reasonable price.  It would be fair to say we know our curries… And this absolutely delivered – from poppadoms and breads onwards.  Service was incredibly friendly, and the staff were incredibly educated about food allergies.
THE LUX TRAVELLER LOVES
Pearls and Caviar was a real highlight – to have such a good and funky bar/restaurant on site was very unexpected.  As a relatively large resort there were plenty of hotel-spec restaurants to choose from, but this was clearly a location in its own right.  The view – I challenge anyone to become bored with it, or not be surprised everytime they catch sight of the mosque, as just how stunning it is!  The hotel has a very unique vantage point.  We didn't quite find 'utopia' but I think as city hotels go, and for its price (rates for a Horizon room start from 1000 AED, about $350) it does deliver enough.  I do think that the development on Saadiyat island is going to make the city hotels pull their socks up – city location, but with an idyllic white sand beach… that gets my vote every time.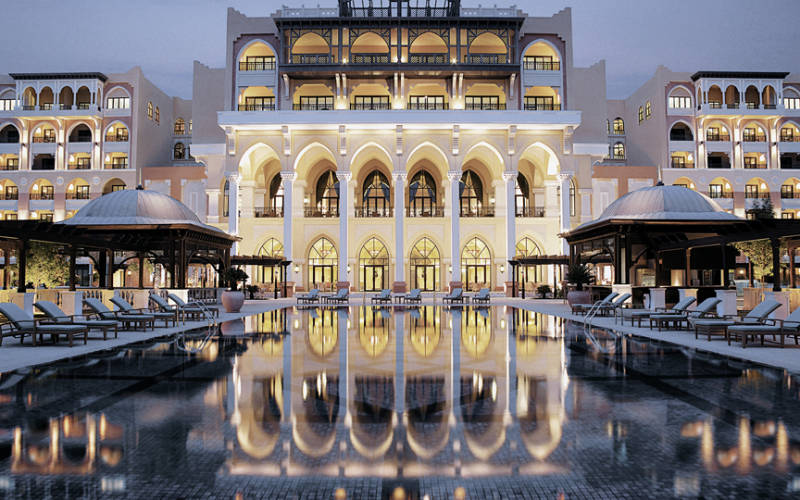 THE LUX TRAVELLER DOESN'T LIKE
Service was a little simpering at times, especially in the Horizon Lounge. I like to be addressed by name and remembered by the staff we already met, but beyond that it felt a little over the top.  It was clearly well meant, but at times just a little bit uncomfortable!  At weekends, the expat community descends on the hotel complex for Sunday (Saturday) brunch and to enjoy the bar, which does serve alcohol.  The outdoor seating area overlooks the main pool and when the restaurant is busy it gets a little too rowdy by the pool.
ALL IN ALL
Shangri-La Abu Dhabi is a good base for a city visit if the focus is not on being downtown, as the CBD is about a 20 minute taxi ride away.
We would stay here again as Shangri-La have a good product that doesn't falter, but the pace that new buildings are going up in Saadiyaat Island the hotel choice is going to get better.