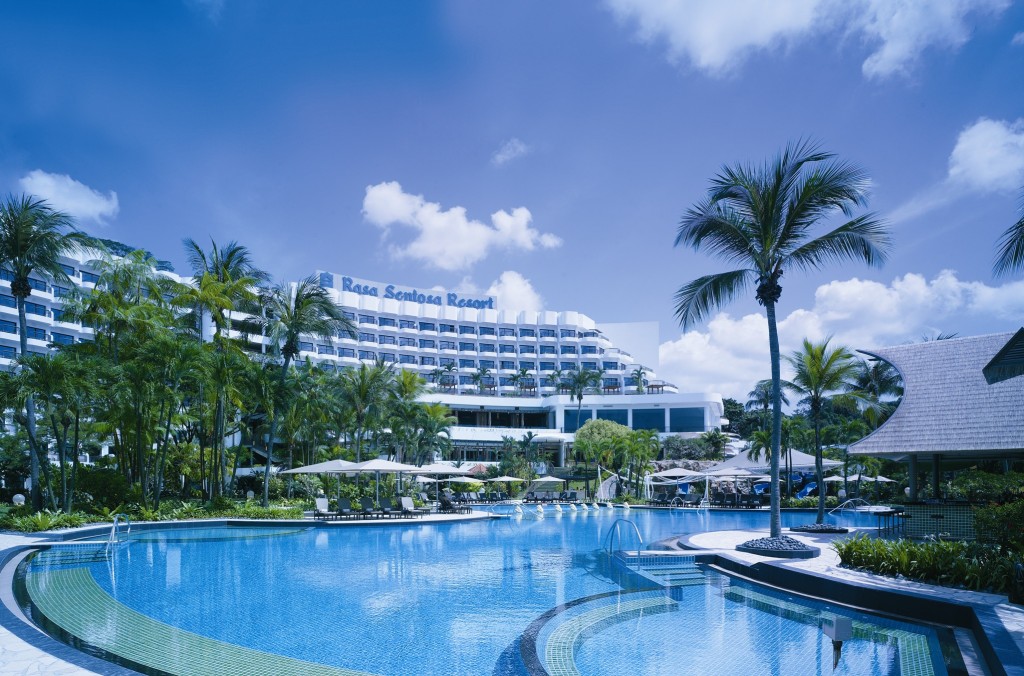 the lux score
85
the lux score explained
Service 7
Rooms 7
Food & Beverage 8
Ambience 9
Attention to Detail 9
Generosity & Value 8
Wow / Hip Factor 8
Facilities 10
Location 10
Fit to Promise 9
Shangri-La Rasa Sentosa Resort & Spa is the most family friendly resort in Singapore. It has a multitude of facilities and activities to keep the young guests entertained as well as luxury accommodation, gourmet food and Chi Spa for the adults to indulge in.  The hotel is located on Siloso beach in Sentosa, a popular island resort 20 minutes away from the centre of town.
Shangri-La Rasa Sentosa is the only hotel in Singapore with a private beach. Beautiful location plus exceptional kids' facilities make this hotel very attractive to families. On this occasion I was travelling with my two little angels and it was a perfect opportunity to try something different, avoid the hectic city and retreat to peaceful Sentosa for some family R&R.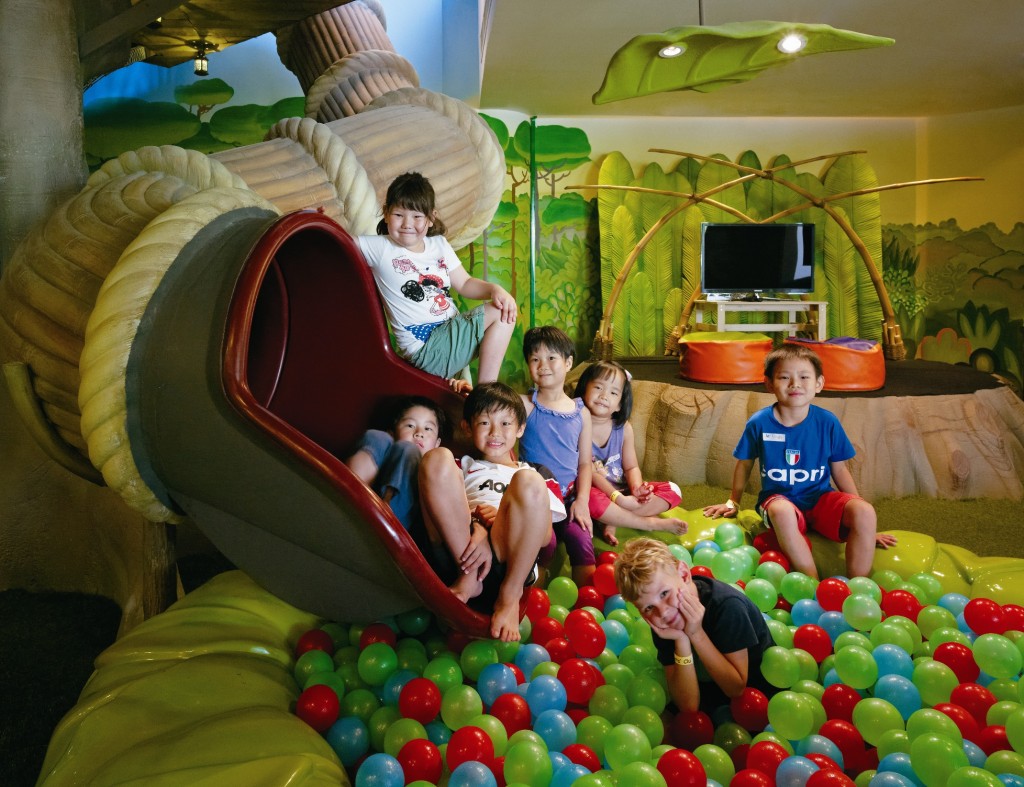 Arrival and Accommodation
Hotel has arranged a private airport transfer for us – it was a quick and easy way to get to our destination. The resort is about 30 minutes drive from the airport.
On arrival there were three representatives to greet us (nice touch) and we were quickly escorted to the suite for check-in. We booked a Deluxe Sea View Suite which was perfect for a family with 2 children.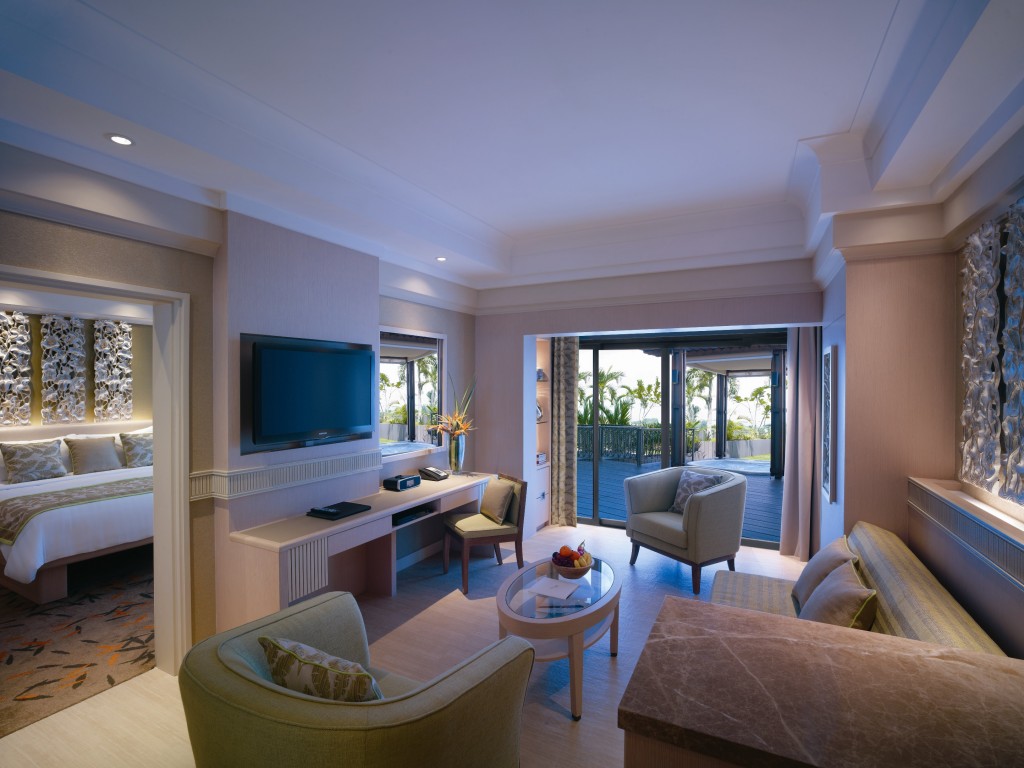 Both the bedroom and the living room opened onto a large outdoor terrace with a dining table, deck chairs and a Jacuzzi.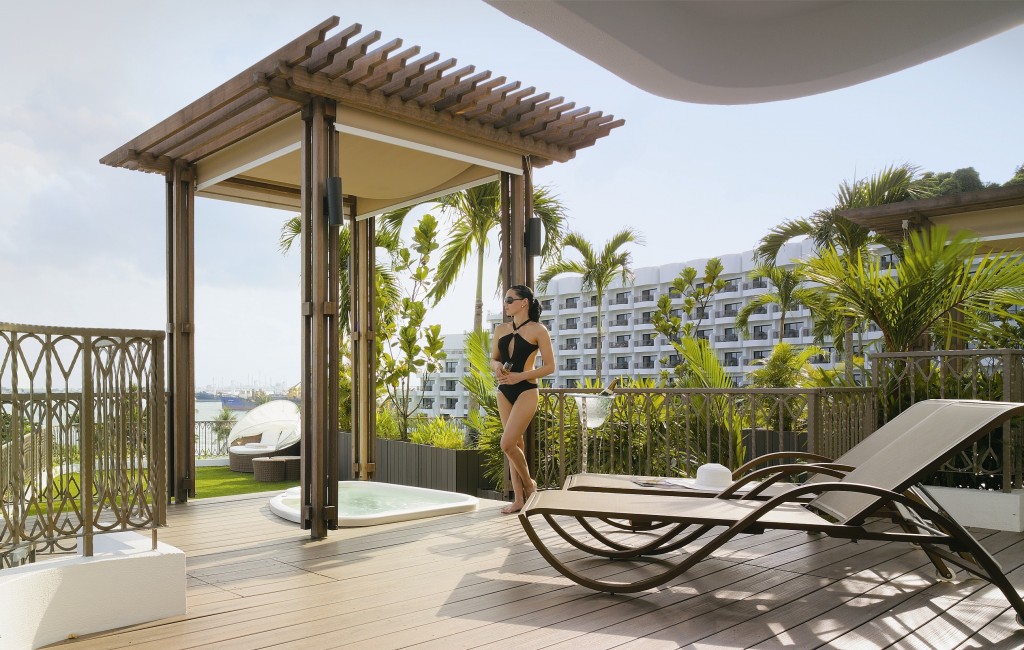 The view from the 7th floor over the resort grounds and towards the South China Sea was superb, especially at night when all the container ships in the harbour turn into a multitude of colourful lights.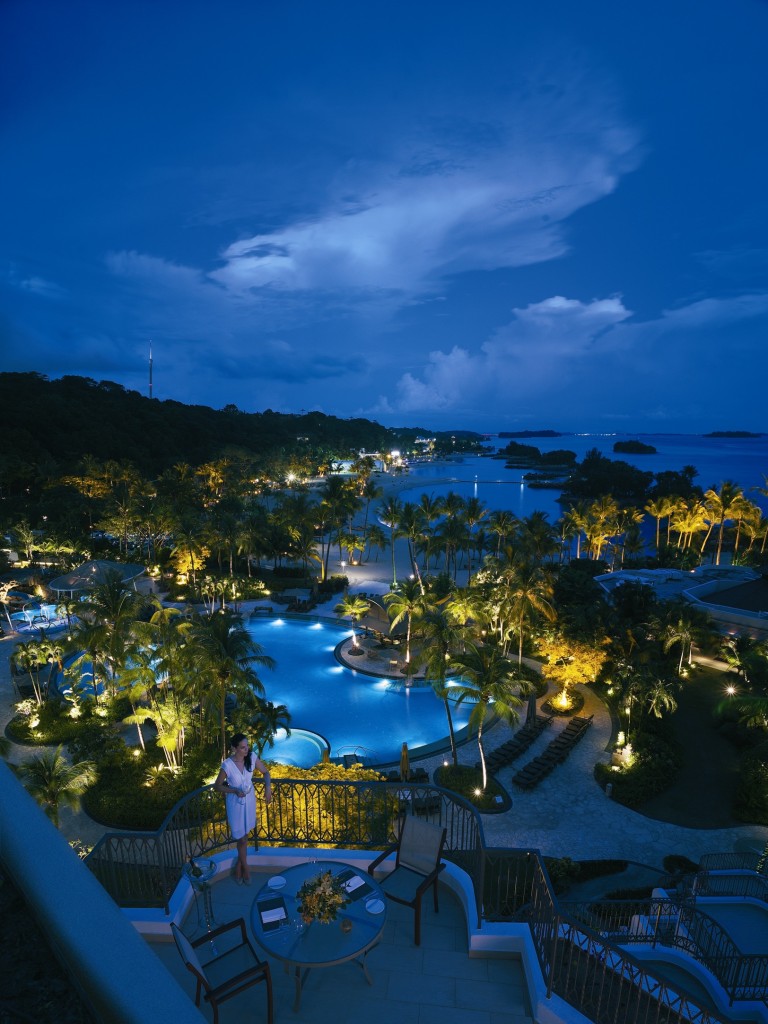 Shangri-La Rasa Sentosa Resort & Spa is a large hotel, comprising of 454 rooms and suites. We would certainly recommend the suites as the rooms are quiet small in size, they start from 31 sq meters. However if the budget can't be stretched to a suite, request one of the rooms on the end of the wing with a large wrap around balcony or a room on the ground floor with a direct access to the pool.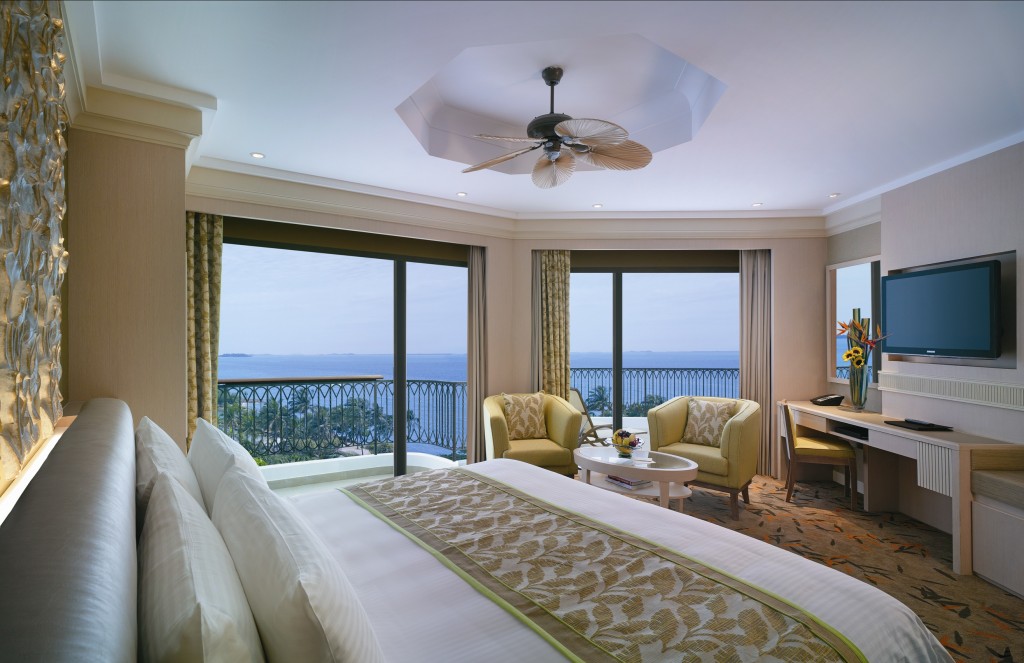 Facilities
Shangri-La Rasa Sentosa Resort & Spa is a paradise for the children. Some of the outstanding facilities include 3 water slides (kids can literally spend hours on them), trapeze school (chargeable), kids club with a treehouse and a huge indoor slide (free for hotel guests enrolled in a full day program, including lunch and dinner), kids pool, water play ground, non motorized water sports on the beachfront and kids bicycles.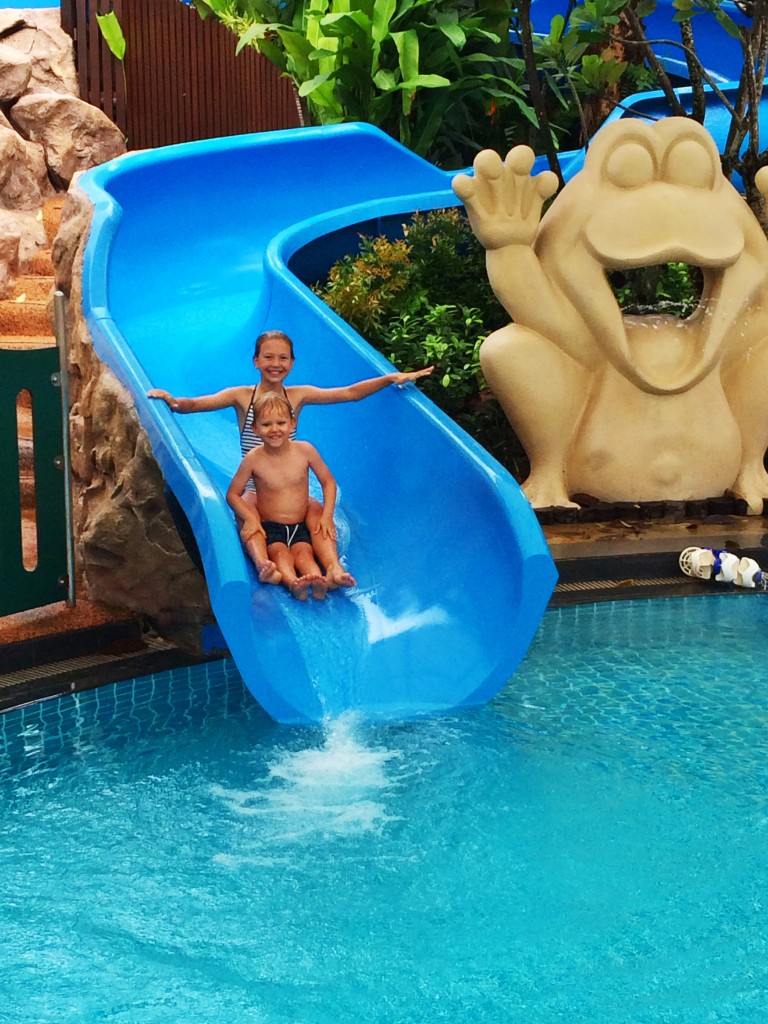 Room amenities are also perfectly suited for younger guests with mini size bathrobes, junior toothbrushes, bathroom stools for additional height.
For adult guests Shangri-La Rasa Sentosa Resort & Spa offers a selection of relaxing spa treatments. Try one of the signature treatments like Singapore Massage or Rasa Tea Rejuvenation. We didn't have the time for a spa treatment on this trip but will definitely check it out next time.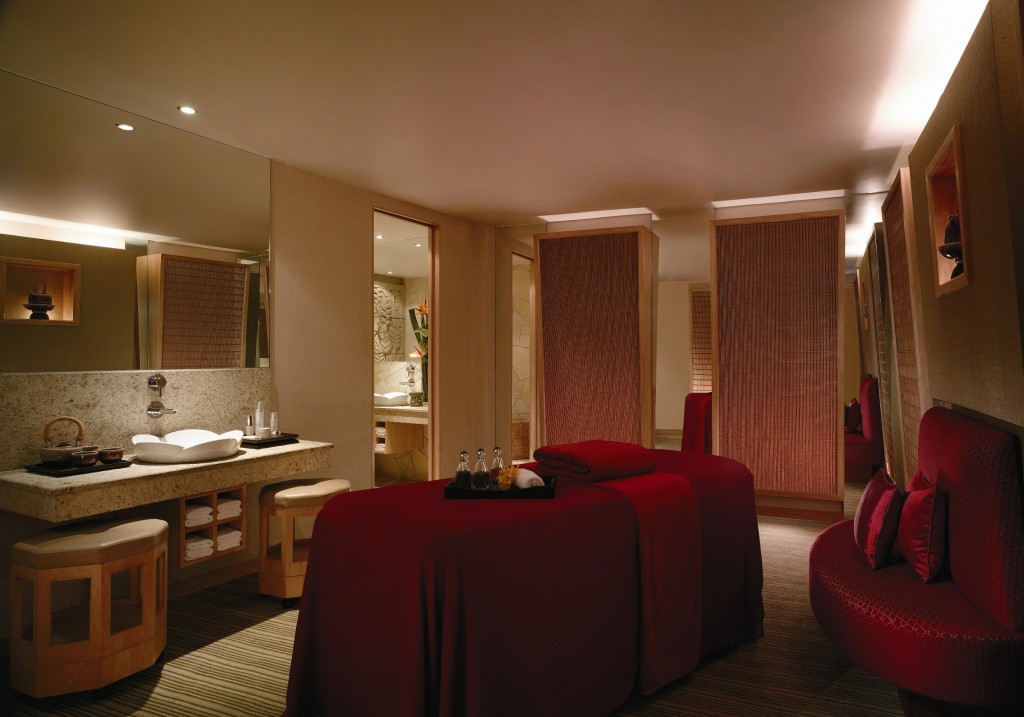 Dining
The resort has one main dining area on level 3 and it is called 'Dine On 3'. It is open for breakfast, lunch and dinner.
Buffet breakfast is very busy, we often saw a line to get seated. It also appears to be self service for tea and coffee, quite unusual for a five star hotel. No fresh juices or berries, but overall breakfast buffet has a good selection of both western and asian favourites.
At dinner time the restaurant is divided into four areas – Buffet (themed every night of the week), Chinese noodles, Premium dining at The Terrace (seafood and western cuisine) and Casserole for casual a'la carte dining (offers a selection of Moroccan, Asian or Western Dishes). We had a pleasure to try the buffet and the food was excellent – cuisines from different parts of the world were represented by an Indian station, Middle Eastern corner, Chinese specialties and Western classics. Desert table had a chocolate fountain and marshmallows – a favourite with the kids. Ice cream flavours are also worth a special mention – some of the sorbets are made specifically for Shangri-La from local ingredients like Pandan and Teh Tarik (pulled tea), both delicious.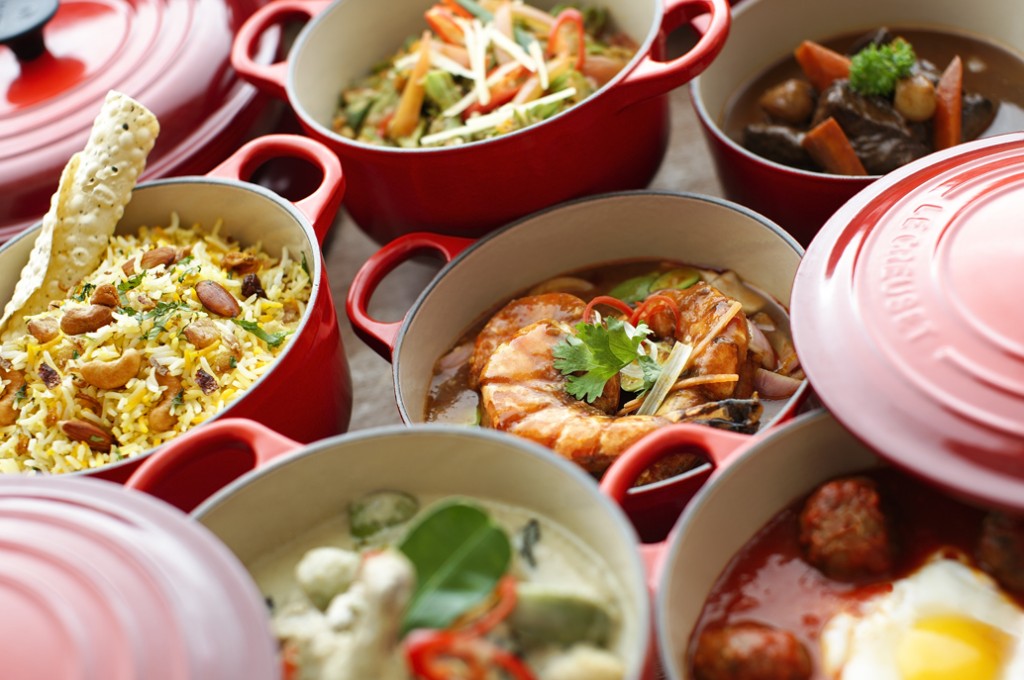 All restaurants are overseen by the same chef from Morocco and we loved the slight Middle Eastern accent in many of his dishes.
Lunch is served either by the pool, on level 3 restaurant or at a beachside pizza restaurant Trapizza. Poolside dining seemed to be the most popular option. I tried Rasa burger from the pool menu and it was fantastic, if a little expensive ($40 for a burger and a soft drink).
Trapizza is a fair walk away and unfortunately you can't order a pizza by the pool.
The Lux Traveller Loves
Private Beach (the only hotel in Singapore boasting this luxury)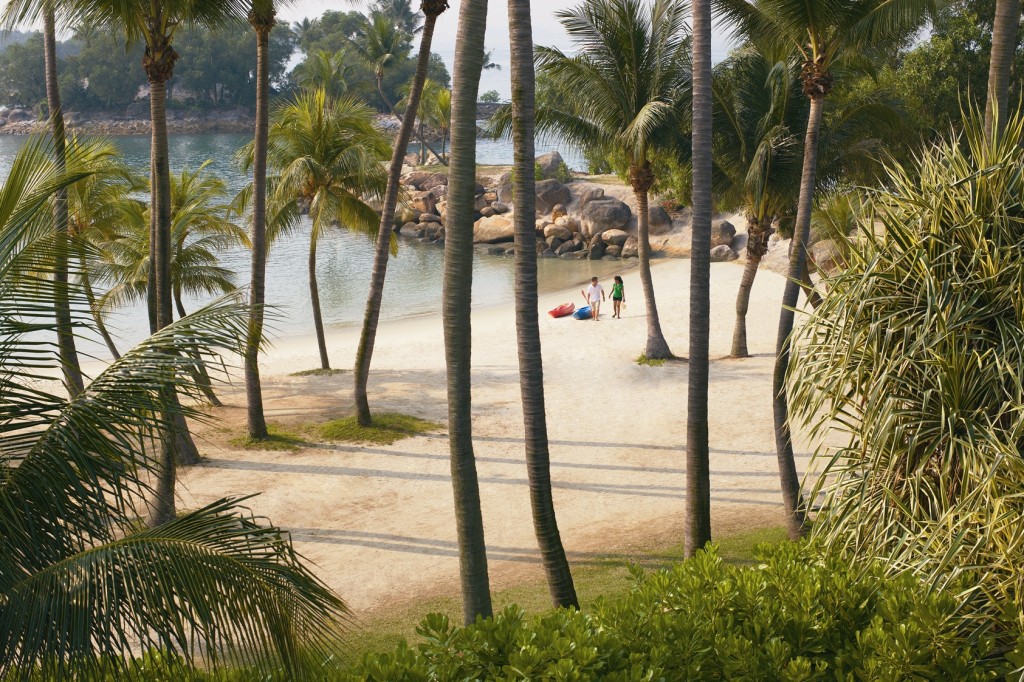 Child friendly facilities – Shangri-La Rasa Sentosa Resort & Spa is a paradise for the younger guests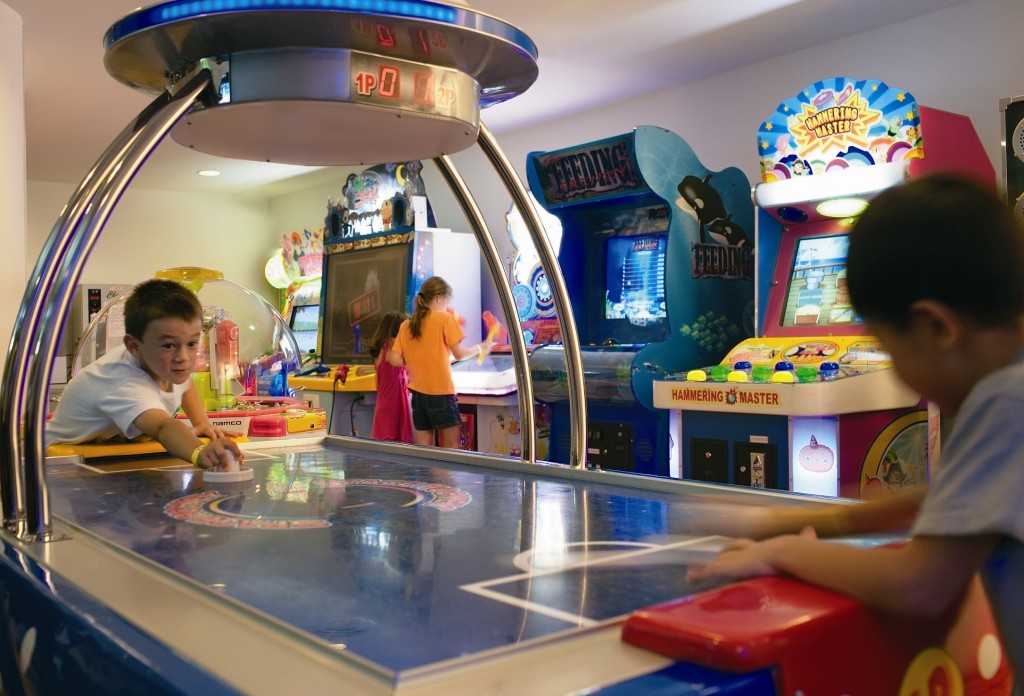 Deluxe Sea View Suites with outdoor Jacuzzi and a large terrace
Great location on Sentosa Island near many family attractions (Madame Tussauds, entertainment parks, zip line and many others)
Resident peacock family that comes to say 'hello' to guests at breakfast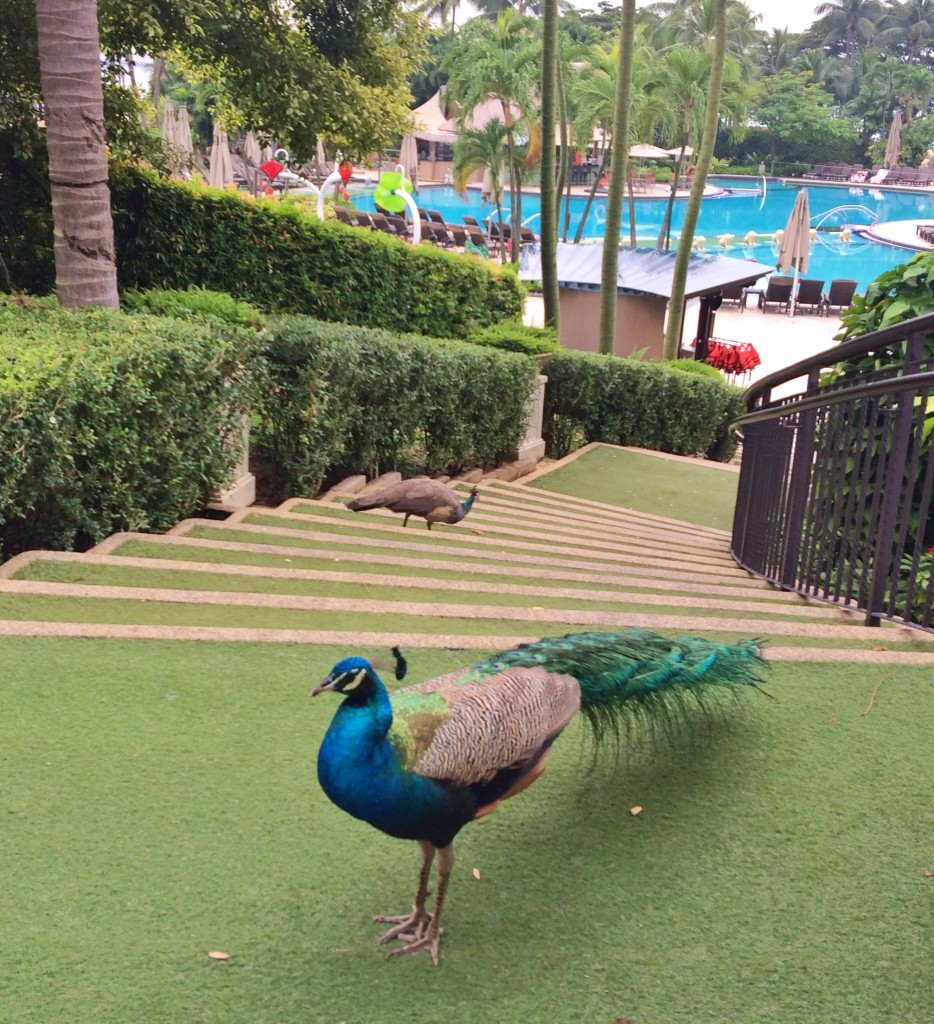 Splitting Hairs
Lunch menu is a little limited – could be expanded or combined with a pizza restaurant
Breakfast is a complete self service – would be nice for waiters to offer guests drinks on arrival and replace cutlery when required
All In All
Fantastic option when travelling with children. We stop over in Singapore often and will definitely return to Shangri-La Rasa Sentosa Resort & Spa.