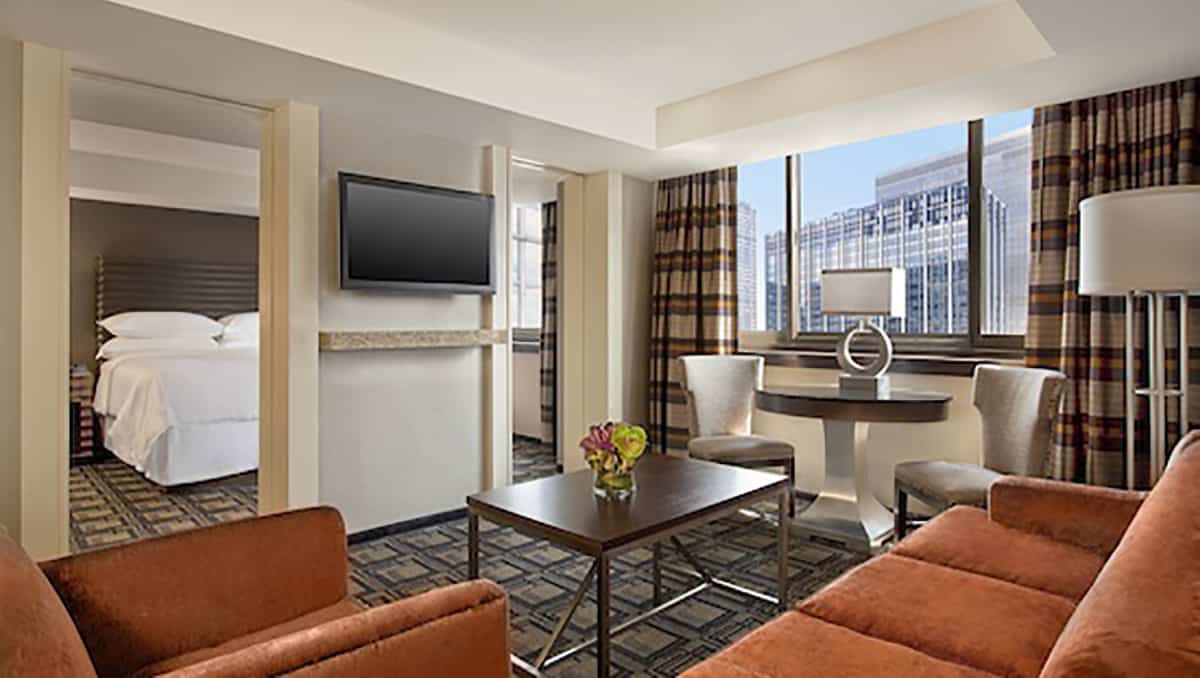 If you are staying here on points or got an excellent room rate it is a solid New York option. However this hotel is not elegant or luxurious like some of the other top end NY hotels.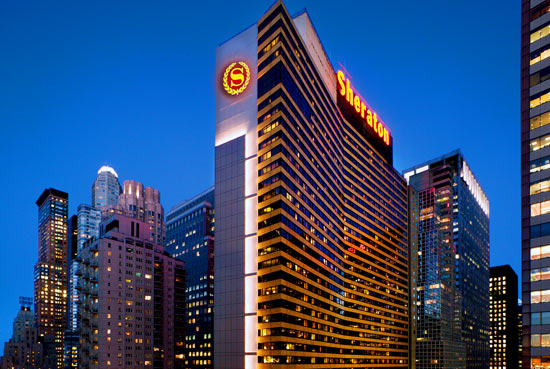 We stayed in the Sheraton on points for nearly a week.
Was it a luxury experience – NO. Was it of good reliable Sheraton standard – YES.
Arrival & Location – We have arrived late at night and hotel lobby was quite deserted (lucky, as the next morning the line to reception went on for about 50m).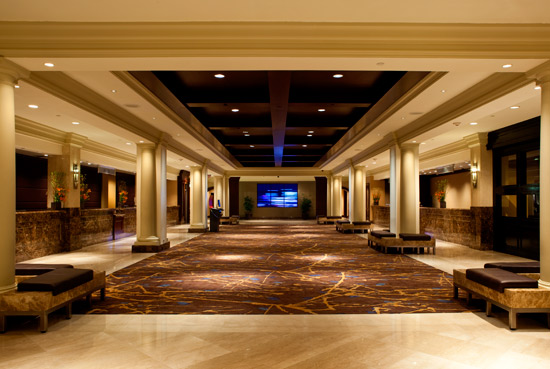 Sheraton Tower is a tall building very close to the Times Square (5 min walk) and in walking distance to the Central Park and all the shops on the Fifth and Madison. So the location is excellent with a lot of great restaurants and bars in the area.
Sheraton building is nice looking but lobby is older style and not impressive. Same goes for the lifts and corridors.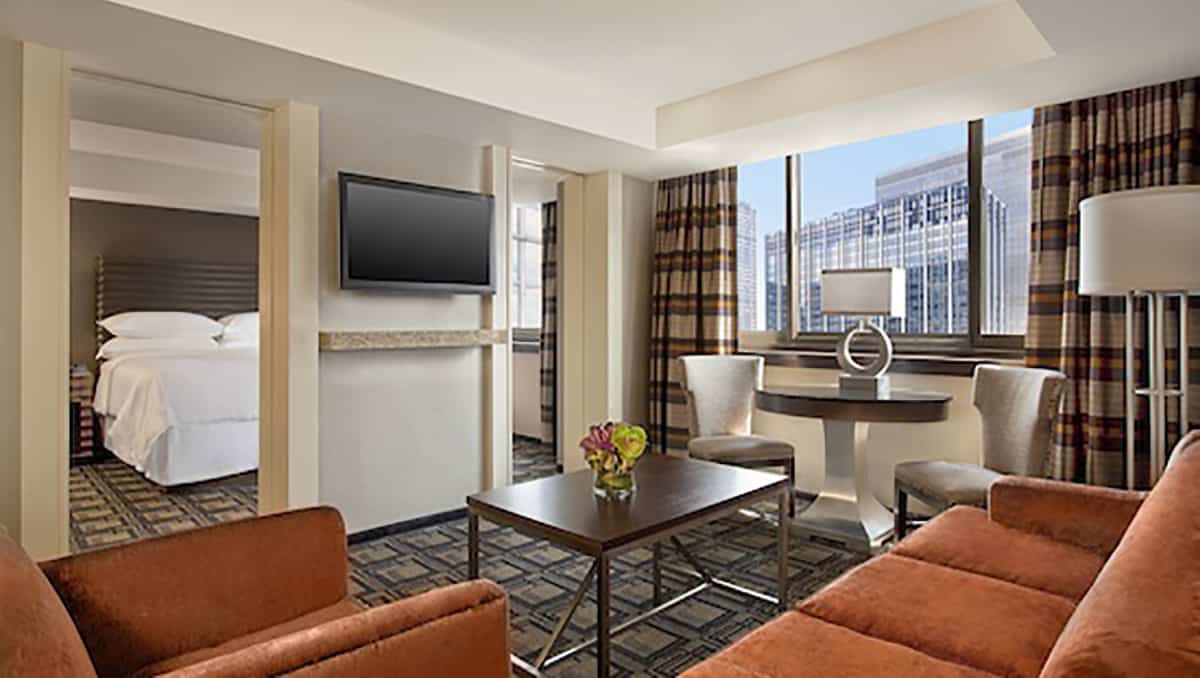 Rooms & Suites
Rooms are small and fairly average in design and furnishings. Families would need to book 2 rooms.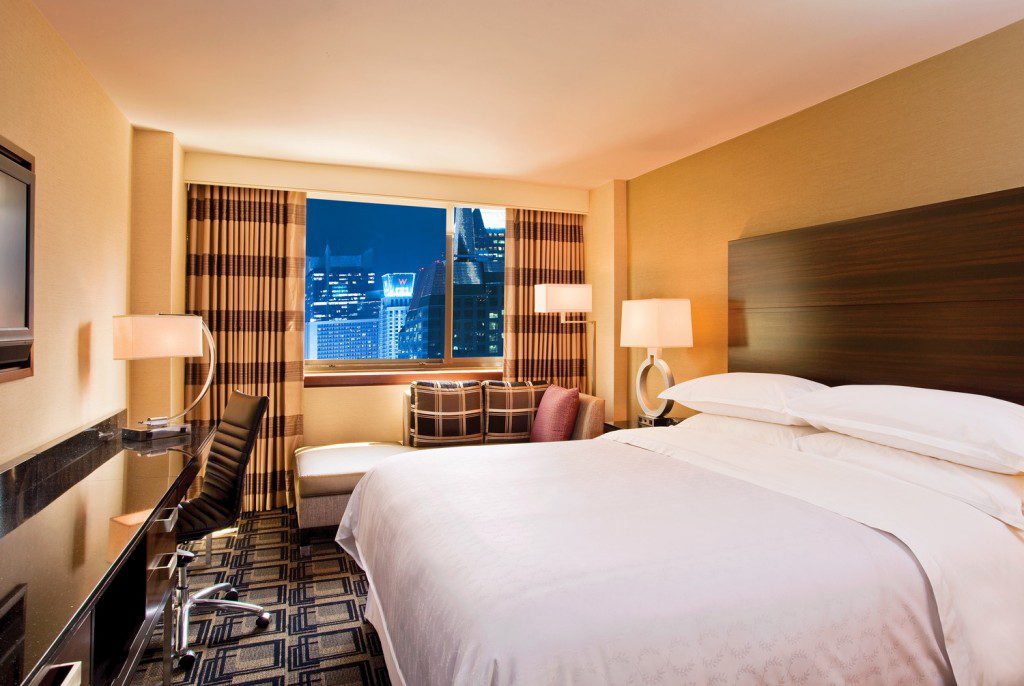 Executive suite – was VERY roomy, modern and had a nice view of Times Square. Excellent choice. We were there as a couple but this suite had more than enough rooms for the children. Highly recommended.
Sheraton Club – Located on the 44th Floor  with Amazing Views of 7th Avenue towards Times Square, Hudson River and Central Park. Lounge has been recently renovated and is an excellent place for breakfast or pre-dinner snacks. In the afternoon it has cheese and olives, free soft drinks and mineral water. Alcoholic drinks need to be purchased (quite unusual for the rest of the world but I think it is a standard feature in the large US hotels).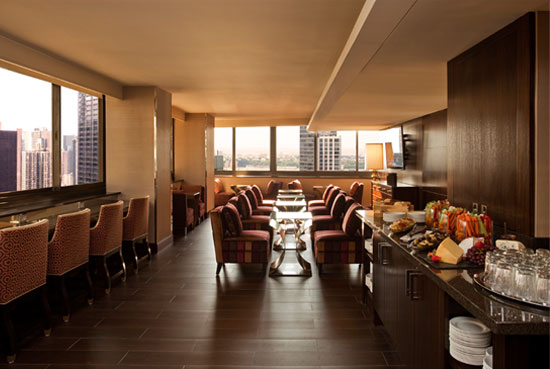 Breakfast in the lounge – Continental, very simple but we never went hungry. Coffee, fruit, yogurt, etc. Light breakfast with a great view.
Atmosphere – People in the hotel are by no means luxury travellers, mostly people on a budget and conference attendees. So in terms of atmosphere – none would be the best answer. But when you are paying with points this factor could be easily overseen.
All in All – Would we come back or recommend it to you, Lux Travellers? Yes, if you are paying a really good rate or stay on points. There is nothing wrong with this Sheraton if you don't expect over the top luxury and book a suite. It is a simple but comfortable stay.
Tips – we had to ask for a suite upgrade twice a day, every day. Don't give up!
Check in / check out – only at the club as you could be waiting for hours downstairs.