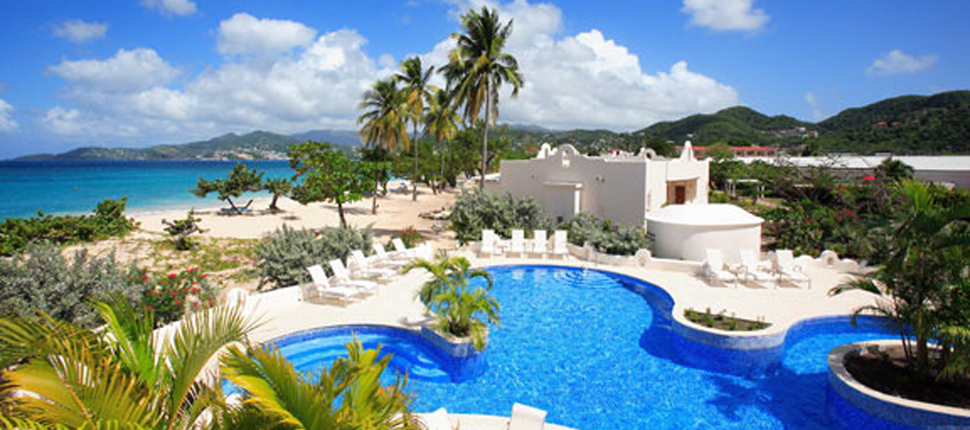 the lux score
93
the lux score explained
Service 10
Rooms 10
Food & Beverage 9
Ambience 9
Attention to Detail 10
Generosity & Value 10
Wow / Hip Factor 7
Facilities 8
Location 10
Fit to Promise 10
Spice Island Beach Resort is a tranquil oasis located in the Southern Caribbean on the lovely island of Grenada. This small, luxury, all-inclusive boutique hotel sits on 1600 feet of Grand Anse Beach, which I consider to be one of the most beautiful beaches in the world.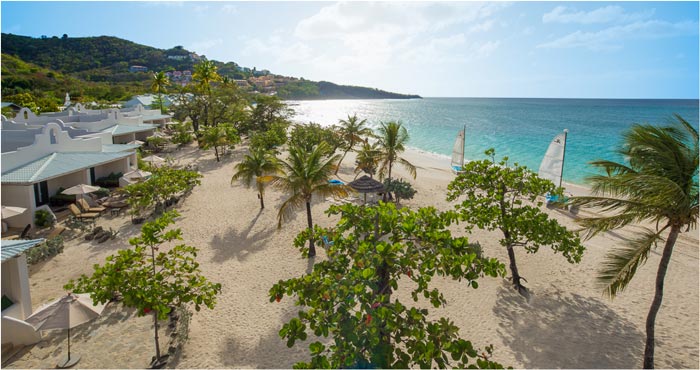 It also hosts one of the most spectacular sunsets I have ever witnessed to date. Once you discover Spice's indelible charm, you will forever hold this unique resort in your heart. In fact, after just one visit, you will truly feel a part of the Spice family. By the end of my three-night visit, we were all on a first name basis and it felt like I knew them for years. I can see why so many guests choose to return there annually, over decades, and call it their 'second home.'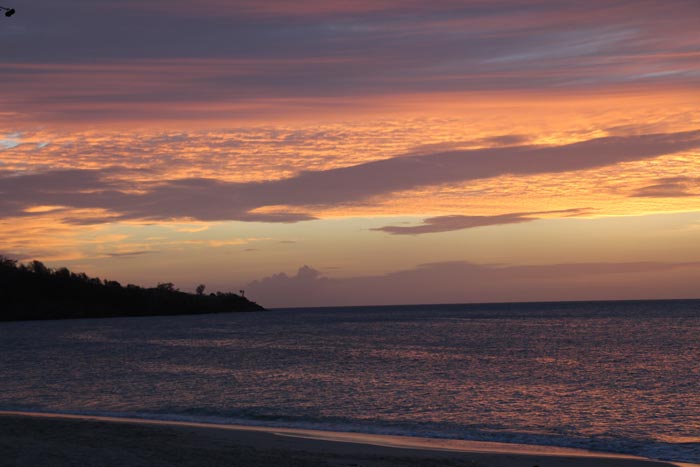 Overall, I believe the resort has a nice blend of understated elegance mixed with friendly, professional service that is executed by a highly trained staff. There is absolutely nothing pretentious about Spice Island and I really appreciate their humility and grace.
The Owner and visionary of the property is Sir Royston Hopkin, a pioneering hotelier and personality of the luxury Caribbean hospitality sector. And yes, he is indeed a true knight bestowed his knighthood in 2005 by Queen Elizabeth II making him the first hotelier in the Caribbean to be bestowed such an honor.   Sir Royston takes a hands-on approach to operations by working closely with his wife, three children and their extended Spice family, the resort's winning team. They are a close-knit group that works superbly together. They treat every guest as a VIP.
Accommodation
There are 34 Beach-front suites as well as additional suites that each have a 25 sq. ft personal outdoor space that is located is directly on the beach.   I enjoyed lounging here on the hammock in the evening during sunset time. It's also perfect for tanning during the day.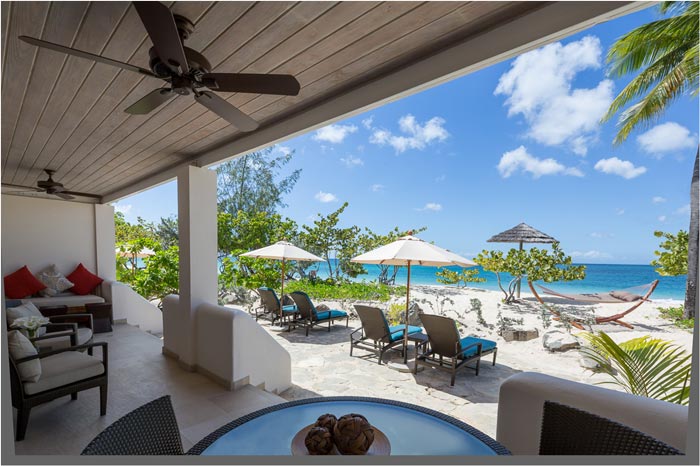 If you prefer a pool setting to the beach one, there are also suites that have their own plunge pool. All of them are spacious, well appointed and stocked with extra large sized Molton Brown Amenities.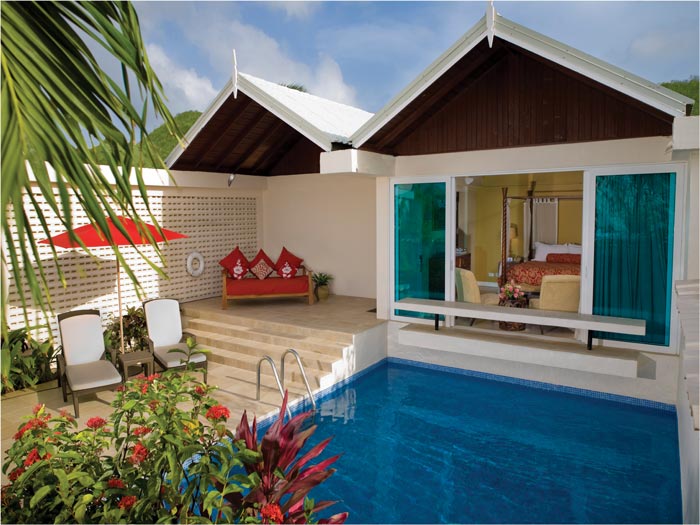 Regardless of which category you choose, I believe you will feel like the suite is your own private cottage house. The Beach suite where I stayed had a dining area with a full wet bar as well an ample sized 'living room.' I enjoyed ordering in room service on several occasions.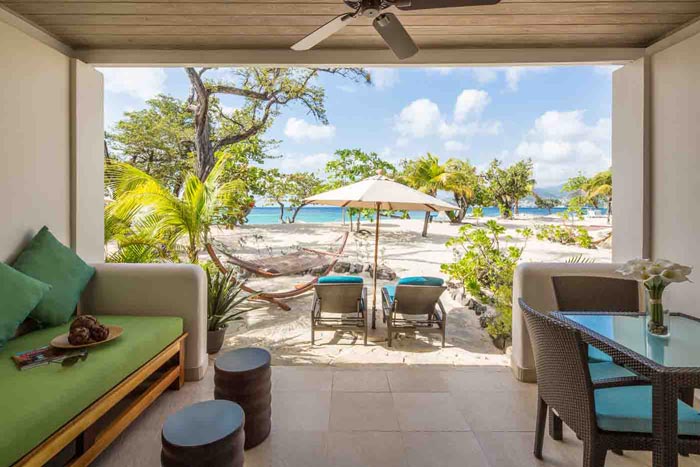 Food & Beverage
There is a huge emphasis on the utilization of local products at Spice Island. The menu changes every night but you can always request a special dish that is not on that menu.  Chef Jesson Chuch delightfully brings the unique flavours of Grenada to his dishes with proper flavour balance.
Much of the menu focuses on Caribbean cuisine, like a Roti for lunch that most resembles a wrap.   But there are also some local favorites like Oil Down, the national dish of Grenada as well as International classics.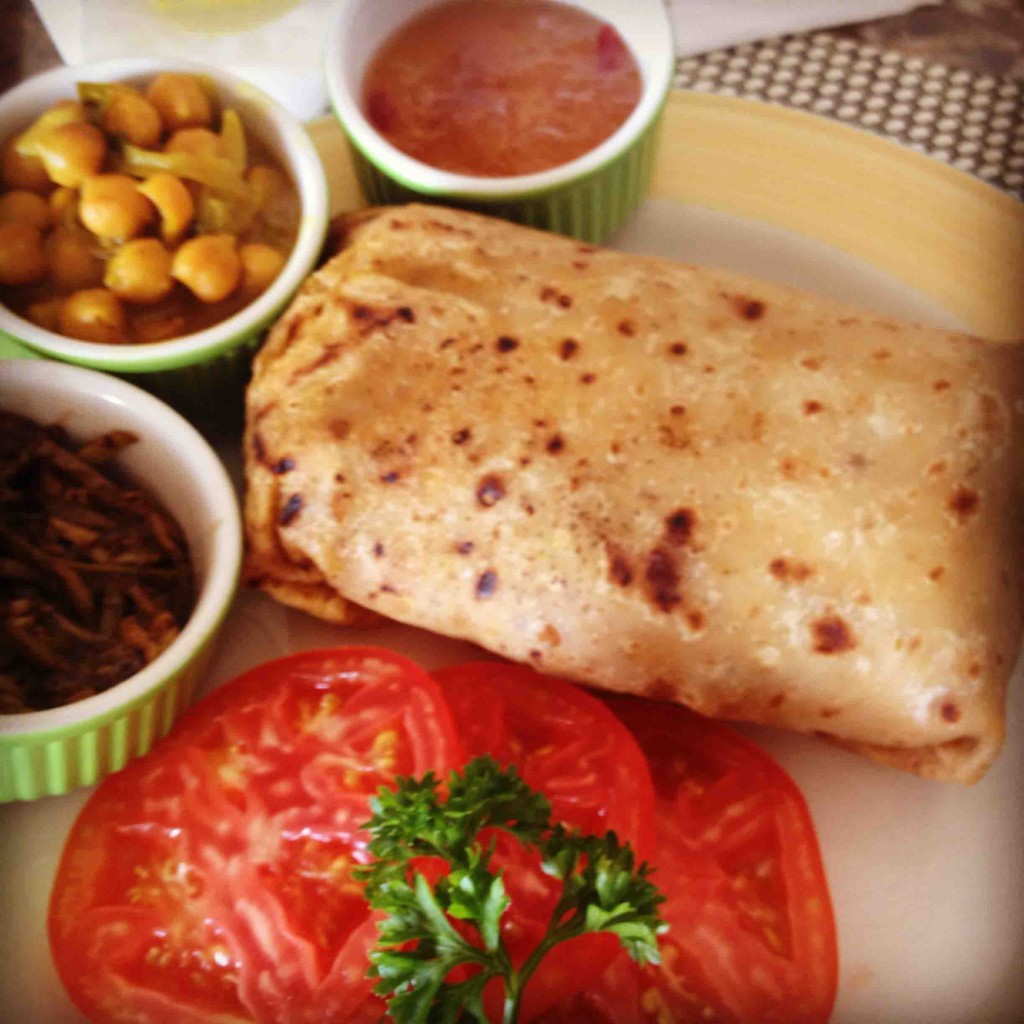 I think that one of the most important features of a Caribbean Resort is its bar services. Whether you like a fresh juice, a special cocktail or a cold beer, the bar is many ways an epicenter of the resort and certainly an important service. Spice Island has excellent bar service.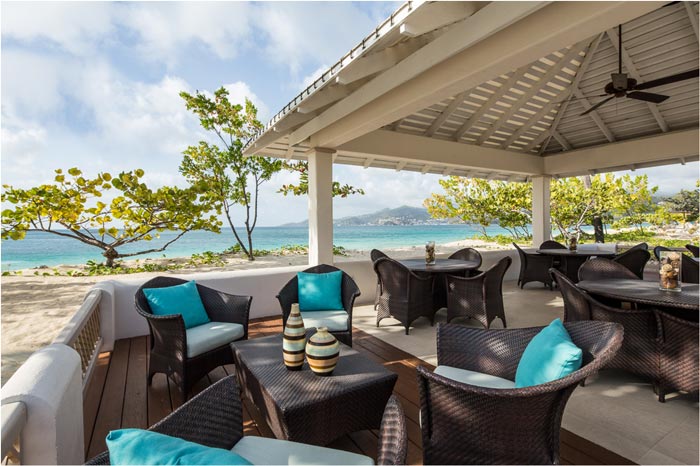 Wellness & Spa
There is a nice Spa on property called Janissa Spa.   There is an excellent area for both manicure and pedicure.   I also enjoyed a massage with locally produced essential nutmeg oils. I could easily spend hours lounging in this Spa area.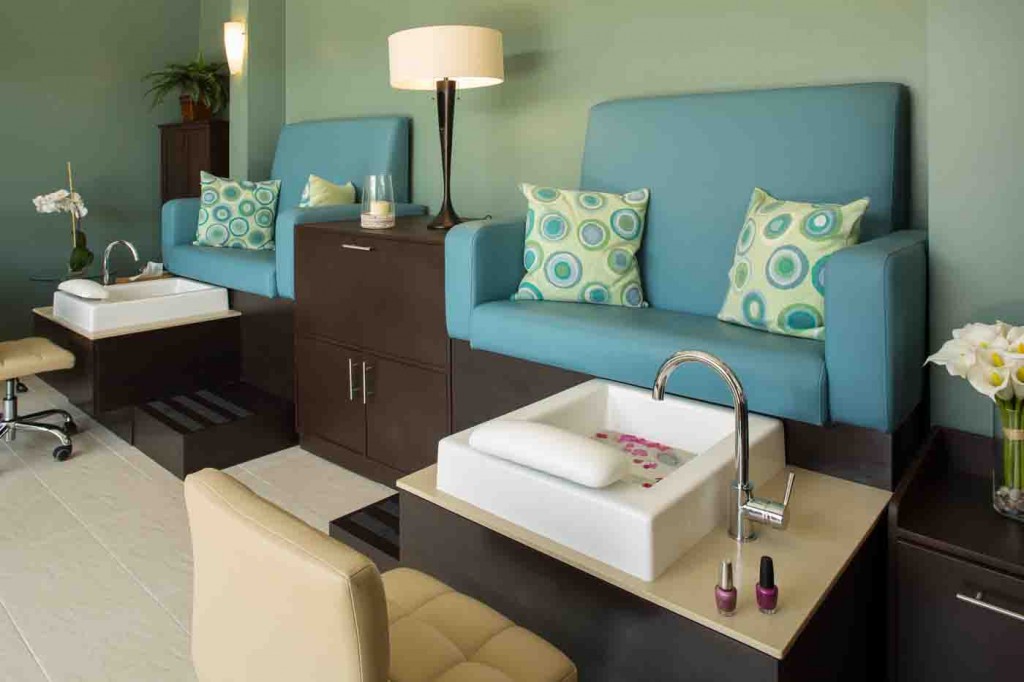 The Lux Traveler Loves
The Spice team's has a warm family spirit while simultaneously delivering an ultra professional and appropriately high level attention to the guest.
Gatsby Boutique. Here you will find very fashionable beach resort pieces like cover ups, bathing suits and hats. It is curated and operated by Lady Betty Hopkin and she has impeccable taste.
The amber, mauve pink colored glowing sunset over Anse Beach. It is perfectly dreamy and romantic.
The Spice Island Classic, the resort's signature drink that is Sorrel topped off with some sparkling wine.
Splitting Hairs
Excuse the pun, but the hair salon services are average. Unlike the rest of the resort that feels world-class in every way, this area feels more like a neighborhood establishment. Unless you are planning to have a destination wedding or some other special occasion, you probably would not utilize this service. However, if you do need to use the salon, I recommend that you schedule a test visit to do your hair and make up prior to your big day or celebration.
If you are seeking a vibrant nightlife on property, this is not your resort. The evenings are for peaceful dining, strolling the beach during sunset or enjoying a large table with family and friends. If the resort does offer evening entertainment, it's a local vocalist sort with an easy listening, smooth jazz vibe. Do not expect to tear up the floor under a disco ball here, unless pre-arranged for your special event.