I love this flight, it leaves Sydney at 3.25pm which gives you just enough time to get organized before the flight. It is a great connecting flight to may European destinations from Singapore.
And more importantly it is A380 and Singapore Airlines know how to spoil you on A380.
There are 2 business class salons on the upper deck, 11-20 and 20-28. Seat configuraton is 1-2-1 and they are the best seats I have seen in Business class to date. They are lined in cream leather, huge in size (my 9 year old daughter and myself) easily fit in one seat when we want to have a cuddle.
The seat also becomes completely flat once set up as a bed, parallel to the floor so you don't slide down on the floor towards the end of the flight.
To set the bed up you need to get up (blankets / mattress are stored in the seat) but the staff happily set it up for you.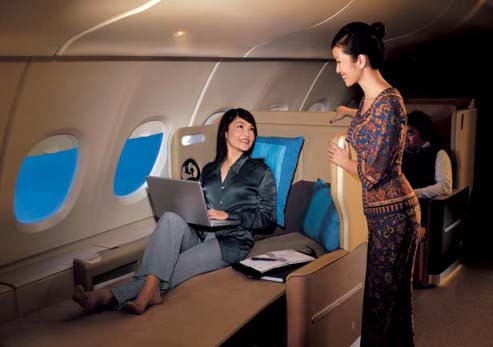 Storage compartments are excellent if you are seated next to the window, a number of safe boxes on the floor. You don't have to get up to get your things – excellent design.
Service is ever so friendly, nothing is an issue. I love Singapore Airlines for their smiles and the design of their A380 seats.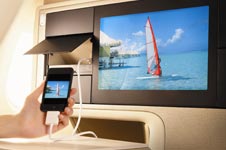 Entertainment offers a large choice of movies, updated monthly.
The food is the weakest link on Singapore Airlines. I always try to order vegetarian dishes as they are less likely to be over-dried & overcooked.
For entrees we were served marinated seafood which didn't seem very tantalizing and I chose a curry for the main dish but almost all meat on my plate was fat.
Cheese plate was lovely though, as was the gourmet ice cream. And chocolate truffles in the end of the meal are always welcome.
The champagne served on this flight was Bollinger. And for the wines there was a good seceltion of New Zealand whites and reds. Nothing fancy but respectable.
All In All – Excellent Flight! Worth every penny!