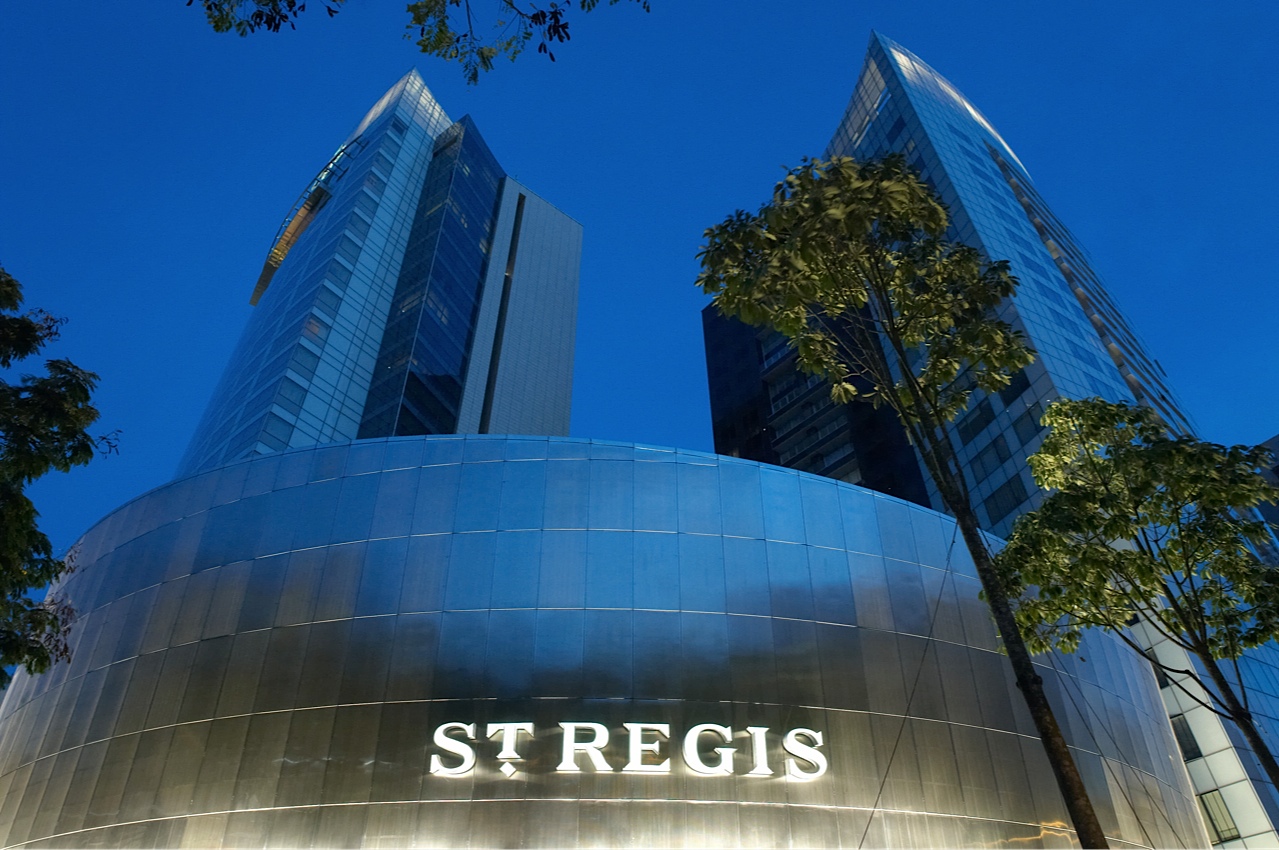 the lux score
92
the lux score explained
Service 8
Rooms 9
Food & Beverage 9
Ambience 9
Attention to Detail 10
Generosity & Value 10
Wow / Hip Factor 10
Facilities 8
Location 9
Fit to Promise 10
The St. Regis is one of the best 5 star hotels in Singapore. The Lux Traveller visited Singapore many times and haven't found a better combination of luxury accommodation, superb dining and entertainment, service and facilities in any other hotel.
Arrival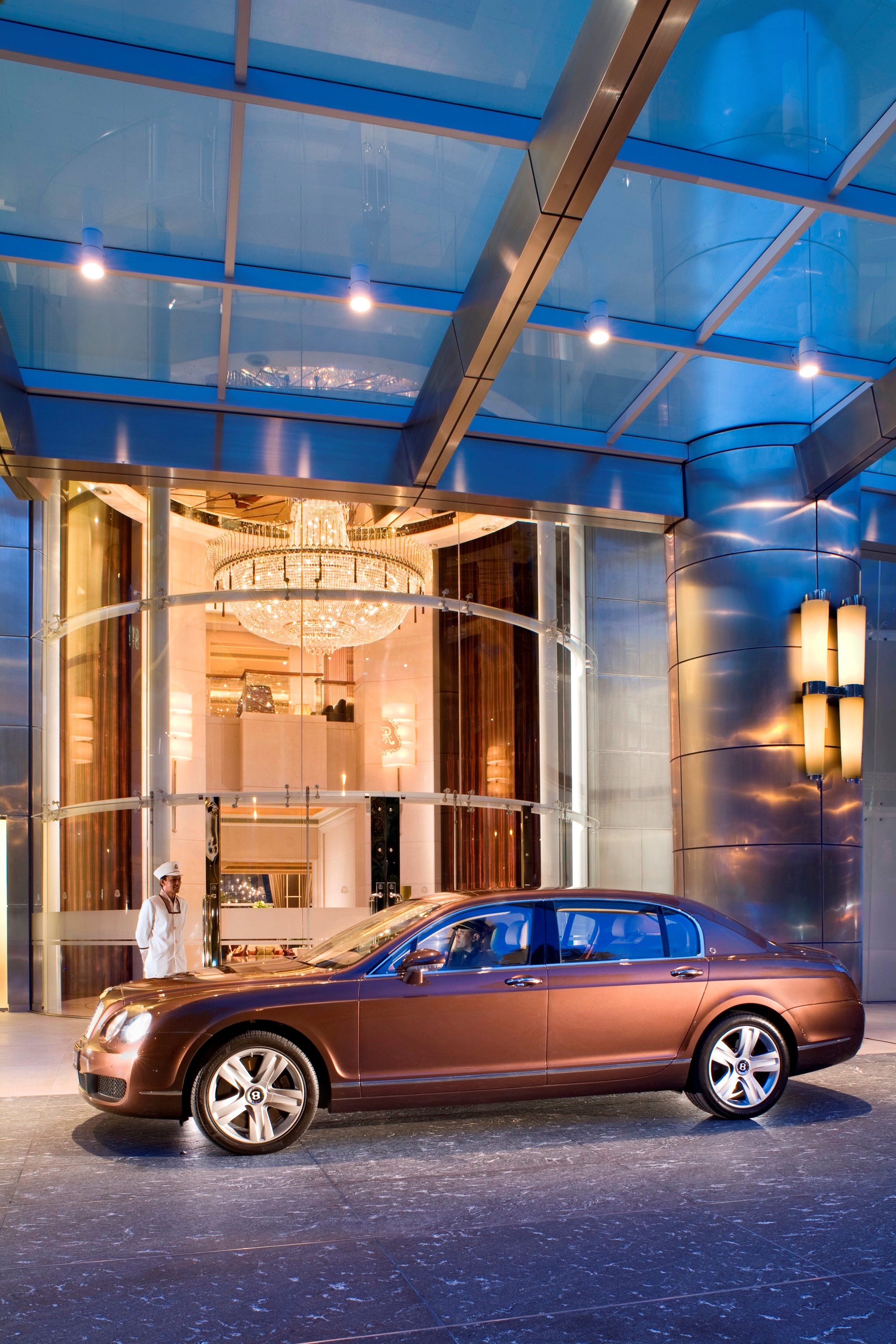 We have arrived at the hotel late at night, almost at midnight, so check in was quick and the suite reserved for us was ready. Bags were brought up and set up quickly too and a big bowl of fresh fruit in the suite was a very welcome treat after a long journey.
A small hiccup occurred when we called and requested a roll away bed – we were told that there are no roll away beds available for the night. That was going to present an issue for 2 adults and 2 children and was a little out of line with the rest of luxurious welcome in The St. Regis. While we were waiting for a resolution, a friendly butler has brought us hot chocolate, biscuits, herbal tea – all beautifully set up in fine porcelain cups on a silver tray. All hot beverages are complimentary thanks to the The St. Regis famous butler service. After about an hour, our bed has turned up and kids were able to go to sleep. Small hiccup during an otherwise perfect stay.
Accommodation
Rooms and suites in The St. Regis are very luxurious, plush and comfortable. I haven't seen nicer rooms in any other hotel in Singapore. Even standard rooms are wonderful, they start from 50 sq m and feature exquisite furnishings, plush carpets, crystal chandeliers, huge beds and marble bathrooms. The St. Regis rooms & suites are an oasis of luxury and calm in the middle of a busy Asian city.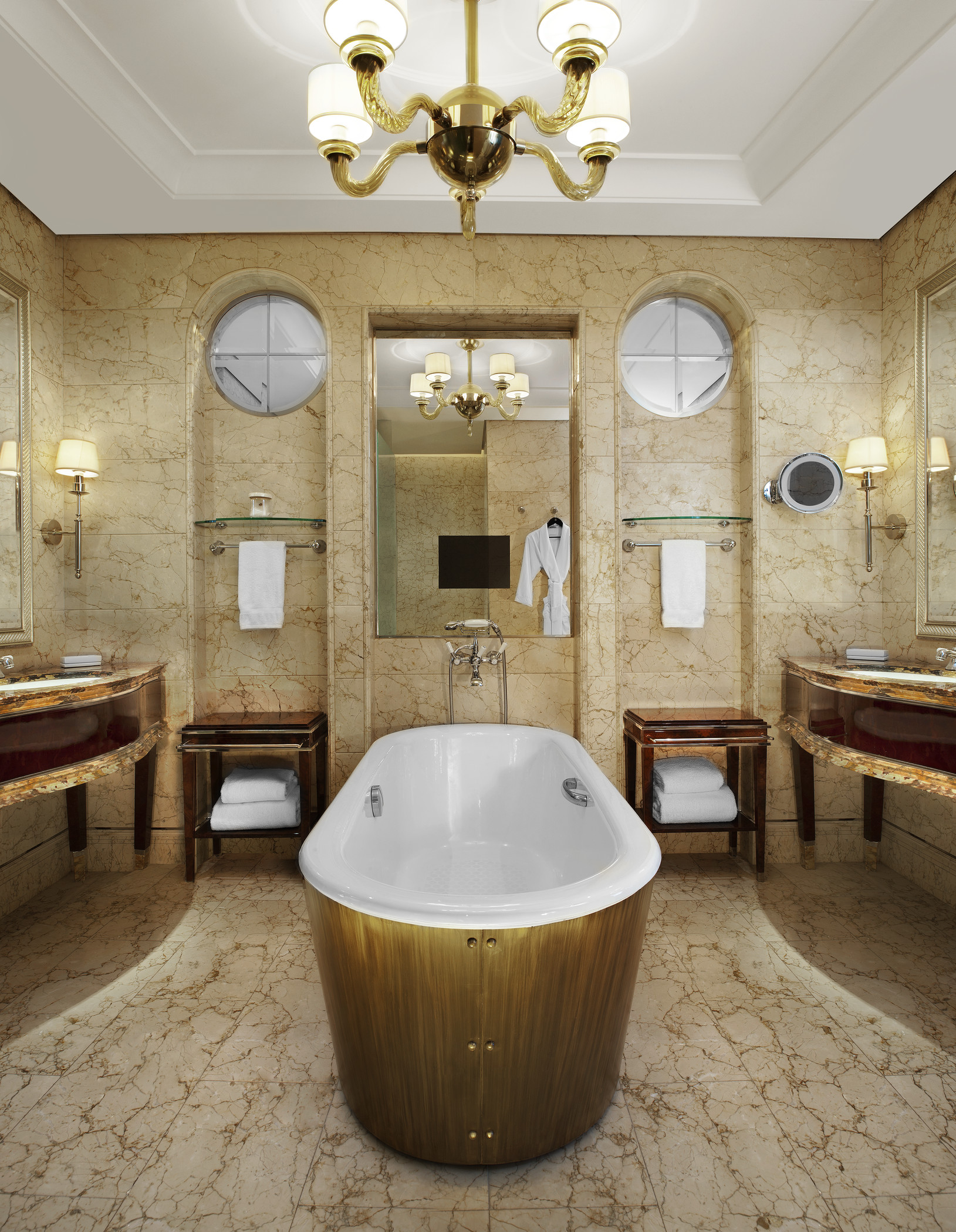 Platinum Starwood guests could get upgraded to a St. Regis suite, 1 bedroom suite with a small living room. They have a tiny sofa in the living room that could possibly accommodate a very young child. These suites don't have great views but if you can get a complimentary upgrade, it is by all means worth it.
We stayed in Caroline Astor Suite, a step up from the St. Regis suite. Caroline Astor Suite is perfect for a family of four or a romantic couple who loves to travel in style.
The living room has floor to ceiling windows and a pleasant view. The furnishings are very elegant, the bed is super comfortable, stunning double bathroom is perfect and plenty of wardrobe space means that you won't have to stumble over your suitcases in the rooms.
Thumbs up for a perfect suite!
Dining
After a very late night and an excellent sleep in St. Regis luxurious bed we were ready to discover the breakfast.
Breakfast is served in the main restaurant overlooking the fountains and the pool.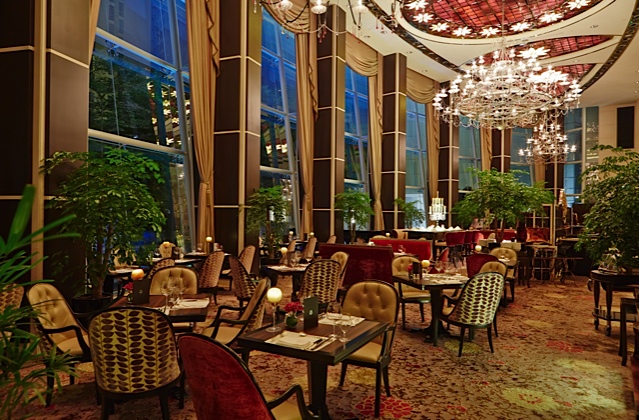 St. Regis breakfast used to be amazing but has dropped in quality a little this year. However it is still delightful – fresh berries, Italian ham, Asian dumplings, eggs any style – all served in a plush setting that is the signature of this hotel. Every room, every restaurant, bar, common spaces exude comfort, luxury and opulence.
The service was a little rushed and pastries were not as fresh as we have expected but we still rushed downstairs every morning.
While breakfast is a firm 7 out of 10, dinner and lunch are a whole different story, especially if you are lucky to stay in the The St. Regis on a weekend.
Saturday / Sunday brunch is famous in Singapore. Every hotel puts on their best spread for the afternoon, usually at a set (all you can eat / drink) price. Some do lobster extravaganza, some champagne specials but we prefer St Regis style – small, elegant and classy.
On Saturday night we tried Prosecco lunch served next to the swimming pool in an Italian restaurant La Brezza. I am still dreaming about their mozzarella and burrata (soft white Italian cheeses) selection – it was divine. Entrees and antipasto are served buffet style and mains and deserts are ordered from the a la cart menu. All accompanied by endless Prosecco, 12-3pm. The restaurant has only about 20 tables so the atmosphere is intimate and if you have children, they can play in the pool while adults can enjoy a glass of an icy cold Italian bubbly. Eggplant parmigina was delicate and light, pizzas very thin, prosecco icy cold and kids happy – perfect afternoon!
After a long lunch, swim and a nap we were ready for more fun! Once you are in St Regis for the weekend you really don't need to leave the hotel in search of variety and entertainment. This amazing hotel provides it all.
On Saturday nights Brasserie Les Saveurs Restaurant puts on a dinner and a show. The St. Regis hires a beautiful pianist, singer and ballroom dancers who show off their sexy moves to the well known songs we all love – Michael Bubble, Shakira, Ricky Martin.
Pianist, singer and dancers were amazing – a true night out to remember. It just happened so that our table was right next to the stage and dancers have invited us to join them on the dance floor. What can I say – we couldn't resist! We danced the night away. May be the other diners had a good laugh at us but we had Fun! Excellent night out – I wish Sydney had something like this on offer.
Oh, we had so much dancing that nearly forgot to mention the food. One of us has chosen a seafood buffet – sashimi and seafood was fresh and delightful. I went for something very light – black caviar with condiments. The St. Regis has excellent caviar served with sour cream and small pancakes – just how it should be! Caviar and a glass of champagne was all I needed for complete happiness that night!
After dinner and dancing the night seemed young and we didn't want it to end.
Lavishly decorated Astor bar is just the right place for enjoy a late night cocktail accompanied by live piano and sexy voice of an excellent black singer.
One would ask how can this weekend get better! Well, it can.
After a good night sleep and another sumptuous breakfast we were off to the Spa.
The Remède Spa
This spa has to be one of the best in Singapore.
It is absolutely beautiful to look at, decorated in soft tones with crystal chandeliers and marble. Remède Spa in The St. Regis Singapore is a modern sanctuary designed for pampering and relaxation.
The spa offers Bastien Gonzales manicures and pedicures (a modern method that is much more gentle on the skin and doesn't require soaking), Vichy Showers, warm jade stone massage, wraps, various massages, body polish, Remède facials, microdermabrasion – you name it they do it!
The facilities are also outstanding – hot and cold pools, steam room and sauna, ice room, showers with mood lighting – all immaculate, pristine and very relaxing.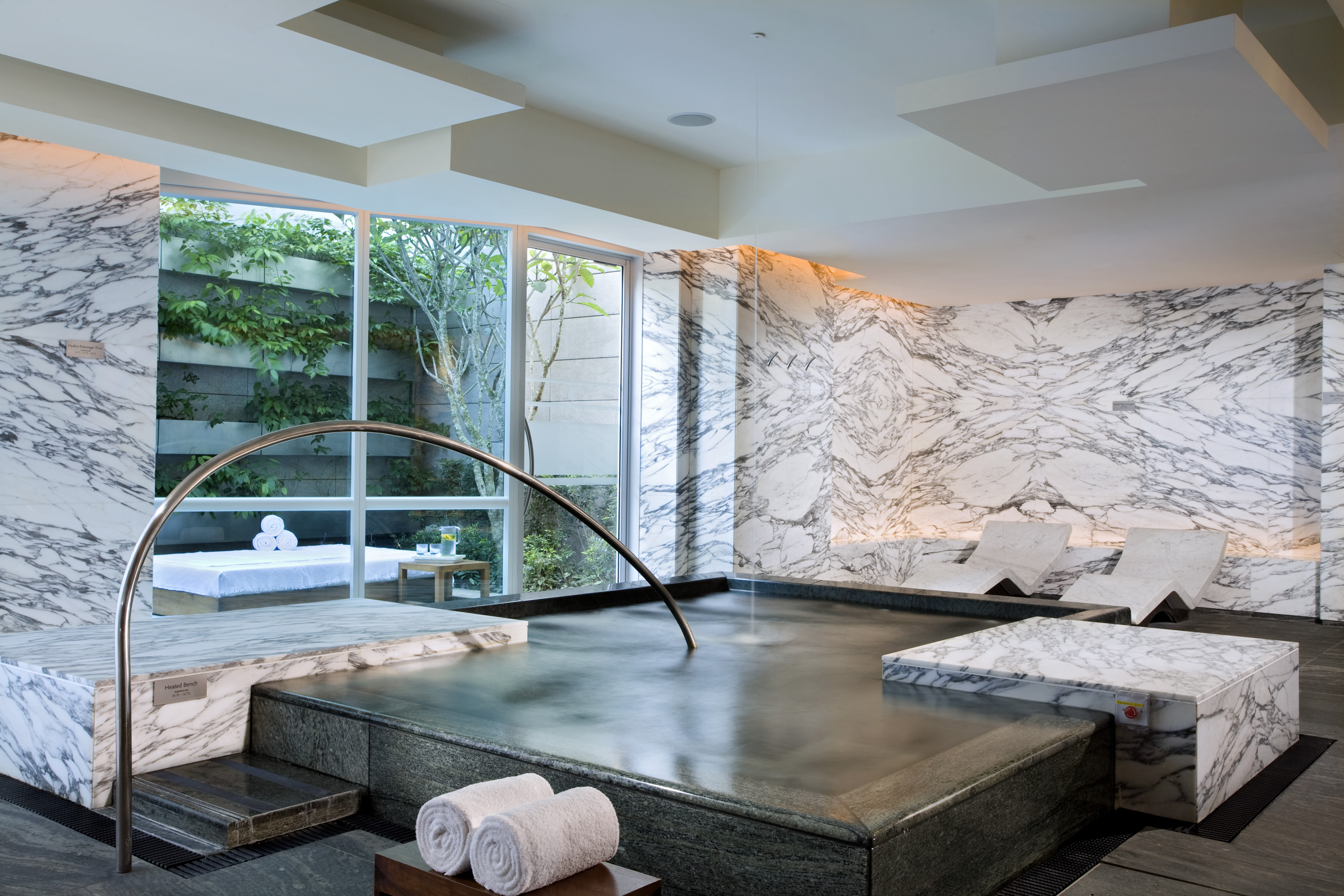 The Lux Traveller had a pleasure to experience a mani / pedi treatment performed in a very comfortable spa chair in a private room followed by a beautiful 90 minute massage. All were exceptional and I felt truly relaxed.
After the indulgent Spa treatment I was ready to join the family for a Sunday brunch. The day just kept getting better!
Yan Ting – Fine Dining Cantonese Restaurant is the best place for Sunday brunch. The Dim Sum set menu at $98++pp and $48++per child is worth every cent.
This beautiful brunch goes for 3 hours and a selection of dishes is endless. I can guarantee that nobody has ever left this brunch hungry.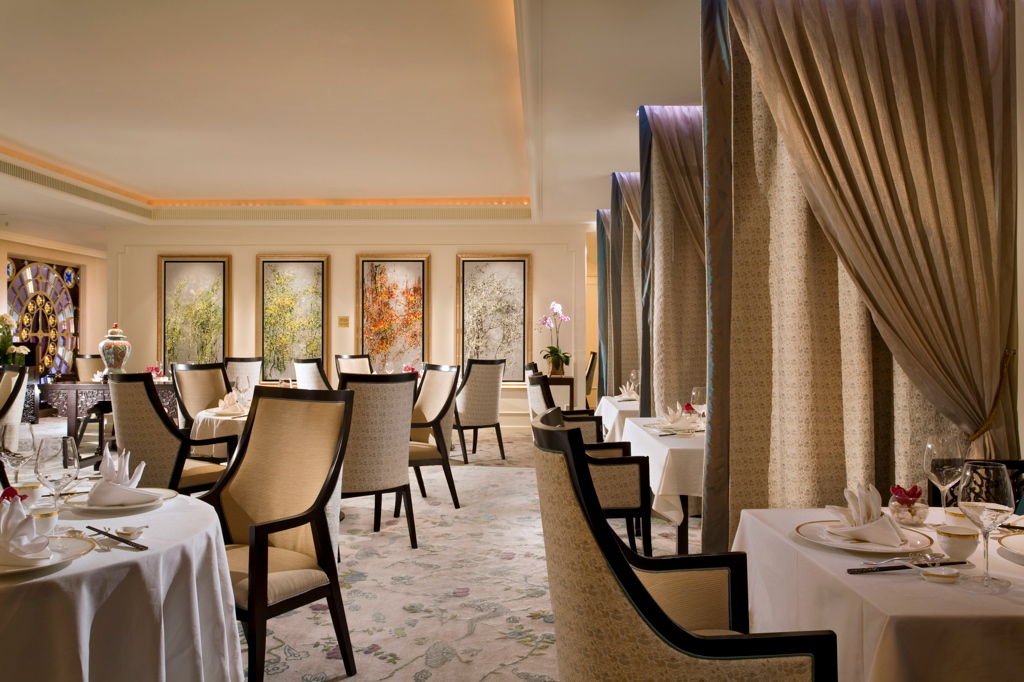 The setting is very elegant – white table cloths, immucalately set table with finest china, soft lounge seats and very comfortable chairs make it a relaxing yet very elegant dining experience. Our children had a ball too trying all little dishes on offer. Even fussy eaters found some tasty Cantonese treats they enjoyed.
Our favourite were Peking duck,  beef tenderloin and prawn dumplings.
This stunning brunch has completed our weekend at St Regis Singapore. What a weekend it was – pure indulgence, fun, relaxation and luxury.
For A Super Special Stay: Book a specialty suite. All of them are amazing but Presidential Suite is just unbelievable. It has been designed in a royal Chinese palatial style and you would feel like a King and Queen staying here for a weekend.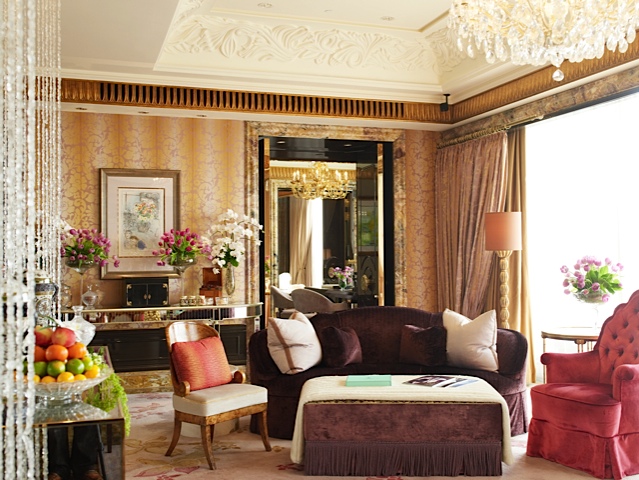 Gold, velvet, silk lined walls, dark marble, terrace with the best views in town is just the beginning of this exquisite suite. The Lux Traveller is hard to impress but this suite has won my heart!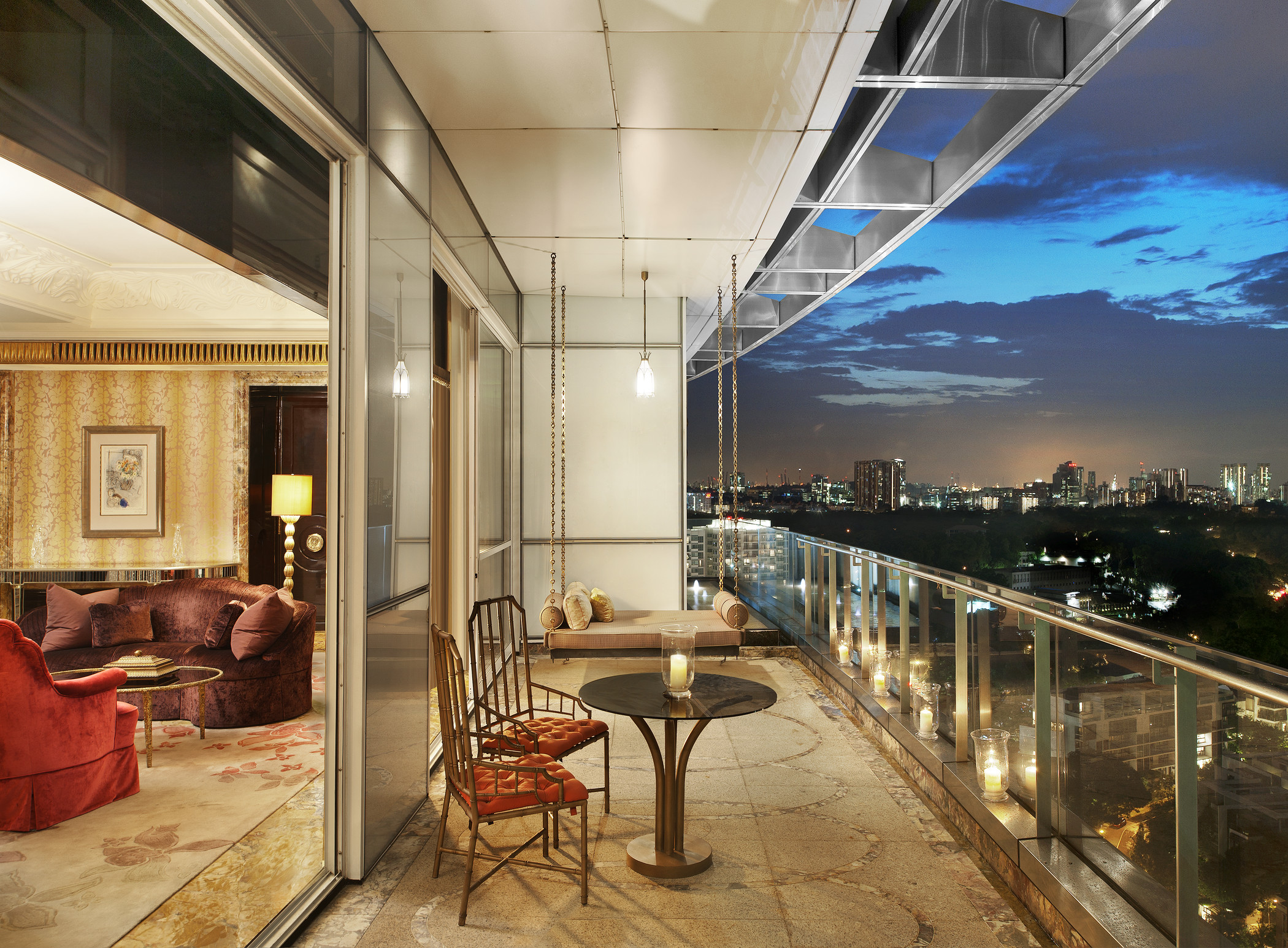 The Lux Traveller Loves: Luxurious accommodation, glam breakfast, super spa, excellent dining options, dancing the night away, requesting favourite songs in Astor bar
The Lux Traveller Doesn't Like: The only complain we had is that service is not so sharp during breakfast and the check in / check out lines can take a long time.
All In All: The St. Regis Singapore is one of the best hotels in town. If you are looking for a perfect place to have a romantic, fun and luxurious weekend look no further and book The St. Regis!