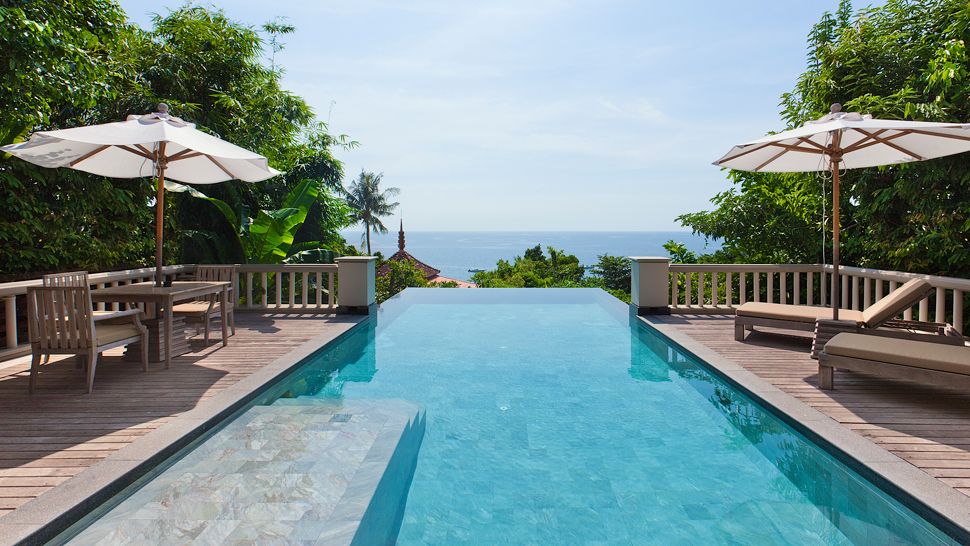 the lux score
93
the lux score explained
Service 8
Rooms 10
Food & Beverage 10
Ambience 9
Attention to Detail 10
Generosity & Value 8
Wow / Hip Factor 9
Facilities 10
Location 10
Fit to Promise 9
Trisara is one of the most luxurious hotels in Phuket. 39 spacious designer villas and 30 exclusive residences are perched on a slope ensuring unbelievable views towards the Andaman Sea. The resort occupies 40 acres of private coastline and boasts some of the best facilities on the island.
Trisara is only 15 minutes away from Phuket airport and is located on the prestigious West Coast, famous for its picture perfect beaches.
The resort is 10 years old yet looks brand new. I haven't seen another property in Phuket that is kept in such an immaculate manner.
If you had to describe Trisara in one word it would be 'beautiful' and beauty at Trisara in expressed in many ways – scents, flowers, design features, small luxuries that you discover during your stay. Flowers at Trisara are everywhere you look – lilies, orchids and lotus flowers are arranged in tasteful bunches all throughout the resort – in villas, at reception and in the restaurants.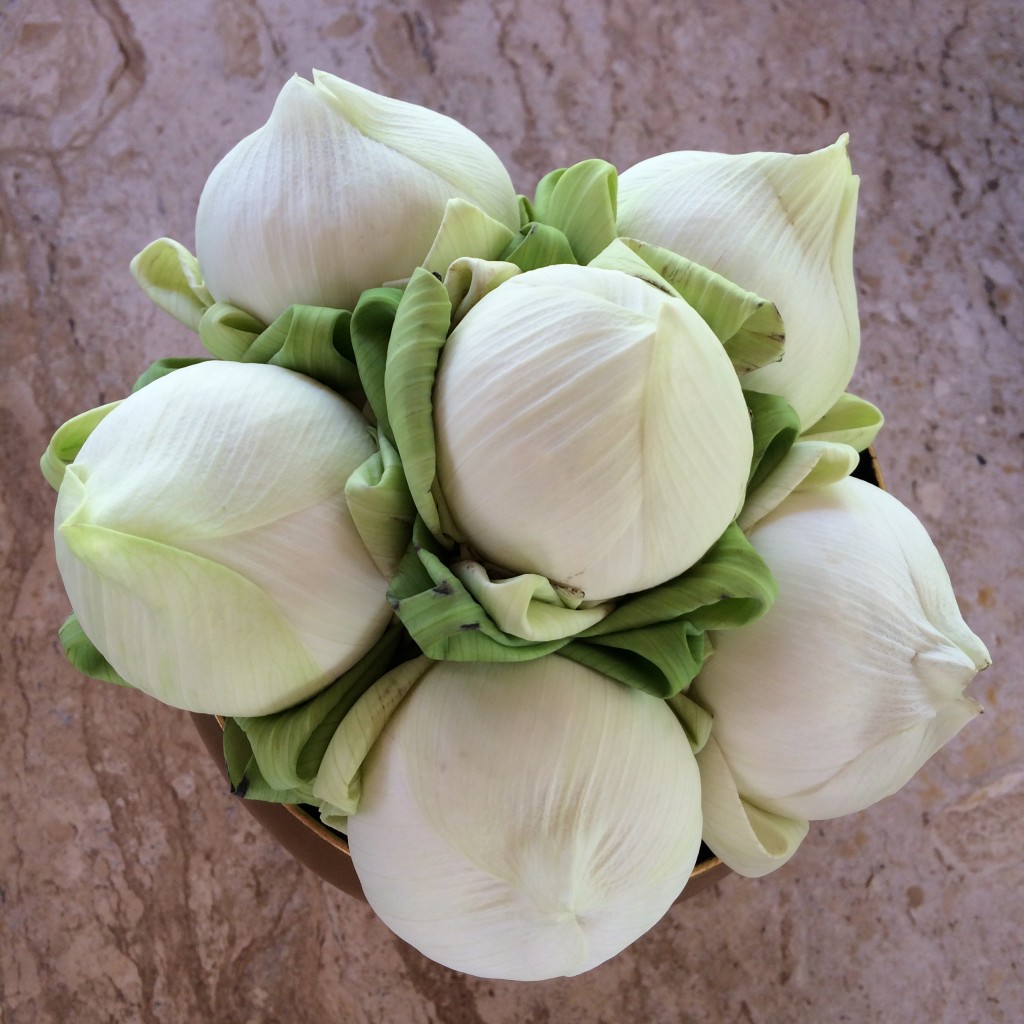 Trisara signature heavenly scent follows guests everywhere they go and can be purchased in the boutique as a 'take home' souvenir.
Accommodation

Trisara offers a selection of one bedroom pool villas and ultra luxurious residential villas that vary from two to six bedrooms.
Pool Villas are set up either as a suite with a separate bedroom and living room or as one very spacious (100 sq meters plus) bedroom . All villas open onto a pool terrace with unsurpassed ocean views. The view from the Ocean Front bedroom might hypnotise you into staying in bed for the whole day! Just get room service and enjoy a lazy day in in a perfect romantic setting!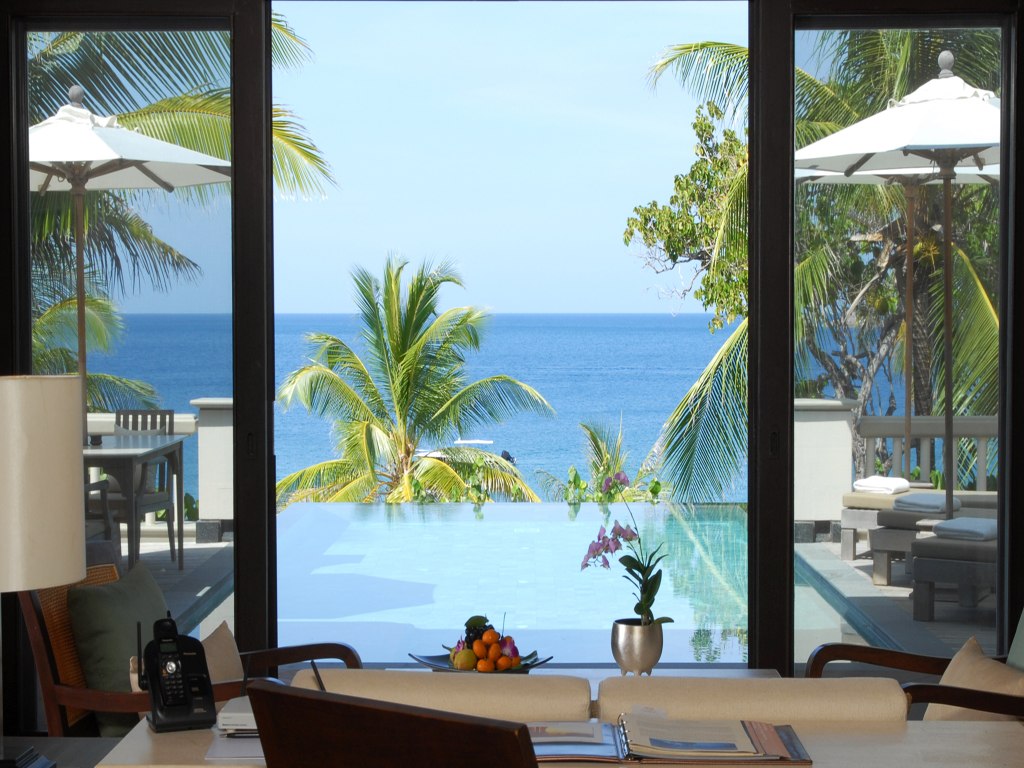 Villas are decorated with no expense spared – they feature marble bathrooms, outdoor showers, luxurious linens, oversized beds with divine mattresses and the latest in technology.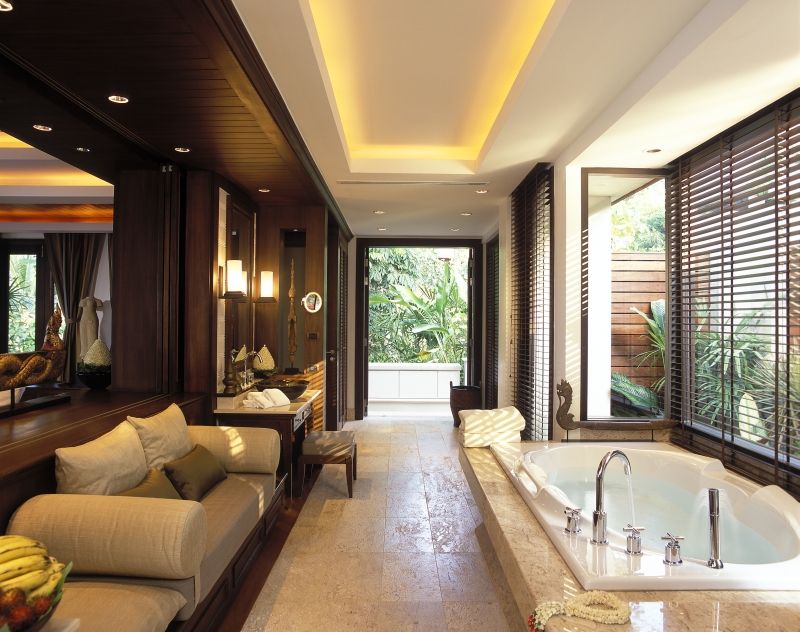 Ultra Luxurious Resident Villas
If you have a few spare million you could become a proud owner of a superb Residential Villa in Trisara. These stunning villas represent the latest in interior design and vary in size from two to six bedrooms. All villas feature breathtaking views, a number of large private swimming pools, multiple indoor and outdoor living areas, spacious bedrooms with equally impressive bathrooms opening onto beautiful vistas of the Andaman Sea.

However if you budget is more modest and you prefer to rent rather than buy, one of these villas could still become your holiday home in Phuket. 2 bedroom Residential Villas are available for hire from USD $2,000 ++ per night.

Dining
Trisara has one of the loveliest breakfasts in Phuket. Breakfast is served in an air conditioned restaurant or do as we did and dine al fresco on a sea side terrace.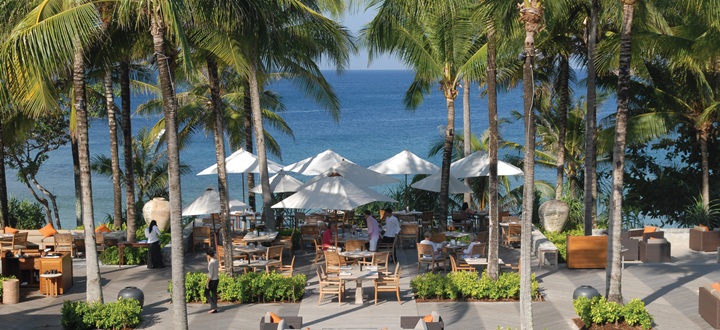 Continental buffet is complemented by an a la cart menu that offers all usual favourites prepared with a Phuket twist like coconut shavings on the French toast or fresh mango with panckakes. We found the food delicious and fresh especially all the fresh fruit juices, smoothies and local dried fruit and nuts.
As for dinner Trisara has 2 restaurants – Trisara Seafood and The Deck, serving traditional Thai dishes.
Seafood, as the name suggests, serves a big range of fresh and imported seafood. We recommend trying the local 'catch of the day'. My firm favourites are Phuket lobster (softer and sweeter than its western brothers) and pink snapper (the most delicate white fish normally cooked to perfection with a variety of local spices). Both go beautifully with a chilled glass of champagne. Trisara is one of the few hotels in Phuket that serves French champagne by the glass – 'thumbs up' from The Lux Traveller!
Most five star hotels in Phuket have a signature Thai restaurant in house. Thai food in Thailand is completely different to Thai food in other parts of the world – it is lighter and more flavoursome. We indulged in Thai cuisine for a month and didn't get tied of the flavours – ginger, lemongrass, garlic, cashew nuts, peanuts spice up the food in the most delightful ways and don't leave you feeling overly full. Wonderful cuisine.
As lovely as these two restaurants are the highlight of our dining experience at Trisara was an in-villa BBQ. A long 3 hour lunch on our terrace was the ultimate luxury. Once your choose the seafood, meat and salads for your meal, a private chef sets up a BBQ on the terrace and serves you delicious dishes one at a time in an elegant poolside setting. A beautiful long afternoon to remember!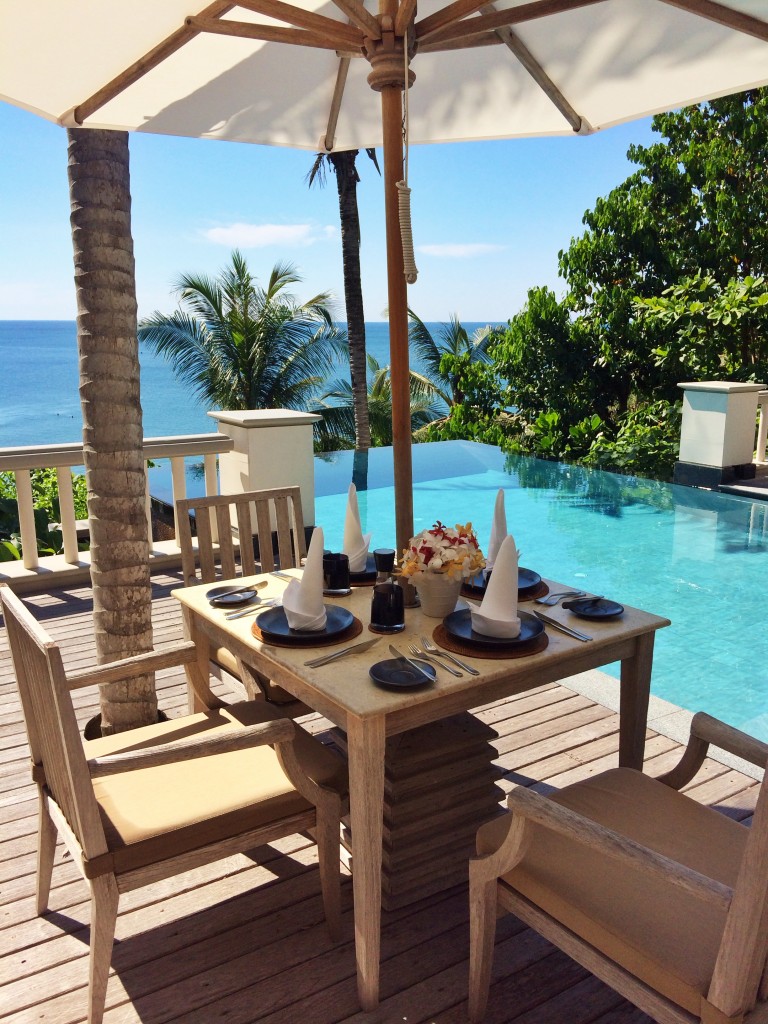 Facilities
Trisara is one of the very few lucky properties to have a private beach.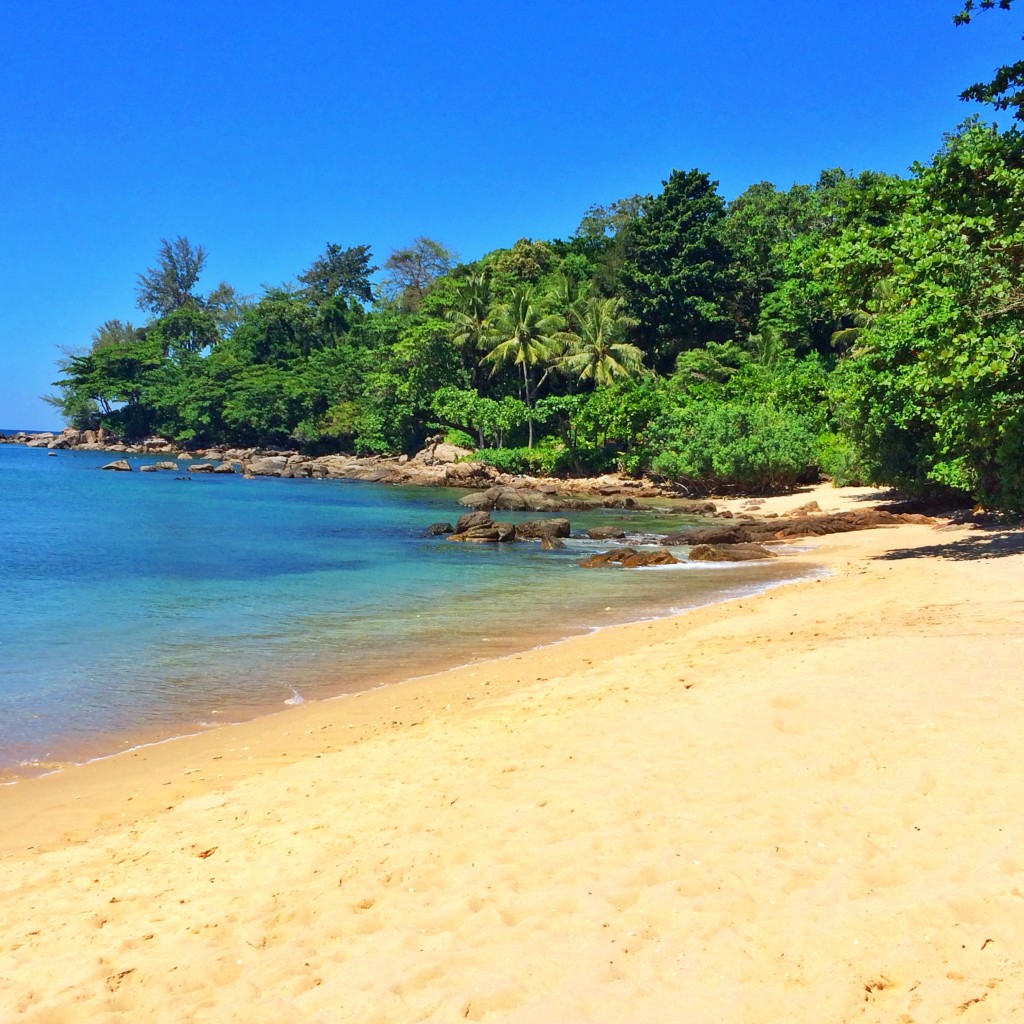 Even though the beach itself is not best for swimming (it has a rough rocky bottom), the setting is magical and the pontoon that hotel constructs for the high season makes it perfect for swimmers.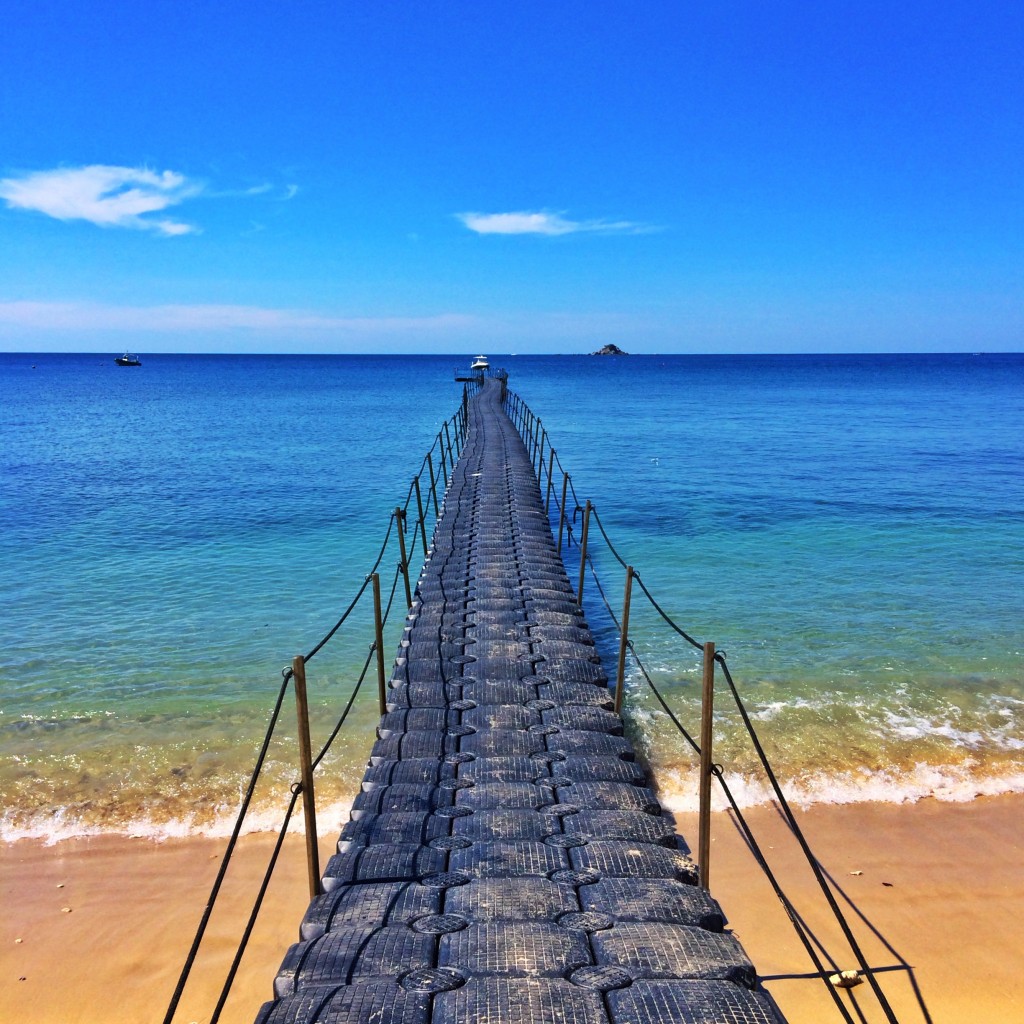 At the beach one can hire snorkelling gear (but there is not a lot to see in terms of sea life in Phuket) or take a stand up paddle board for a paddle around the lagoon.
Trisara also owns 2 boats – one rubber tender, perfect for nearby beach drop offs, and a more luxurious speed boat often used for day trips.
Other facilities include a very functional hillside gym with a personal trainer, tennis courts and private yoga lessons.
I had a morning yoga session which was very slow yet relaxing (best suitable for beginners) and a game of tennis with one of the staff members.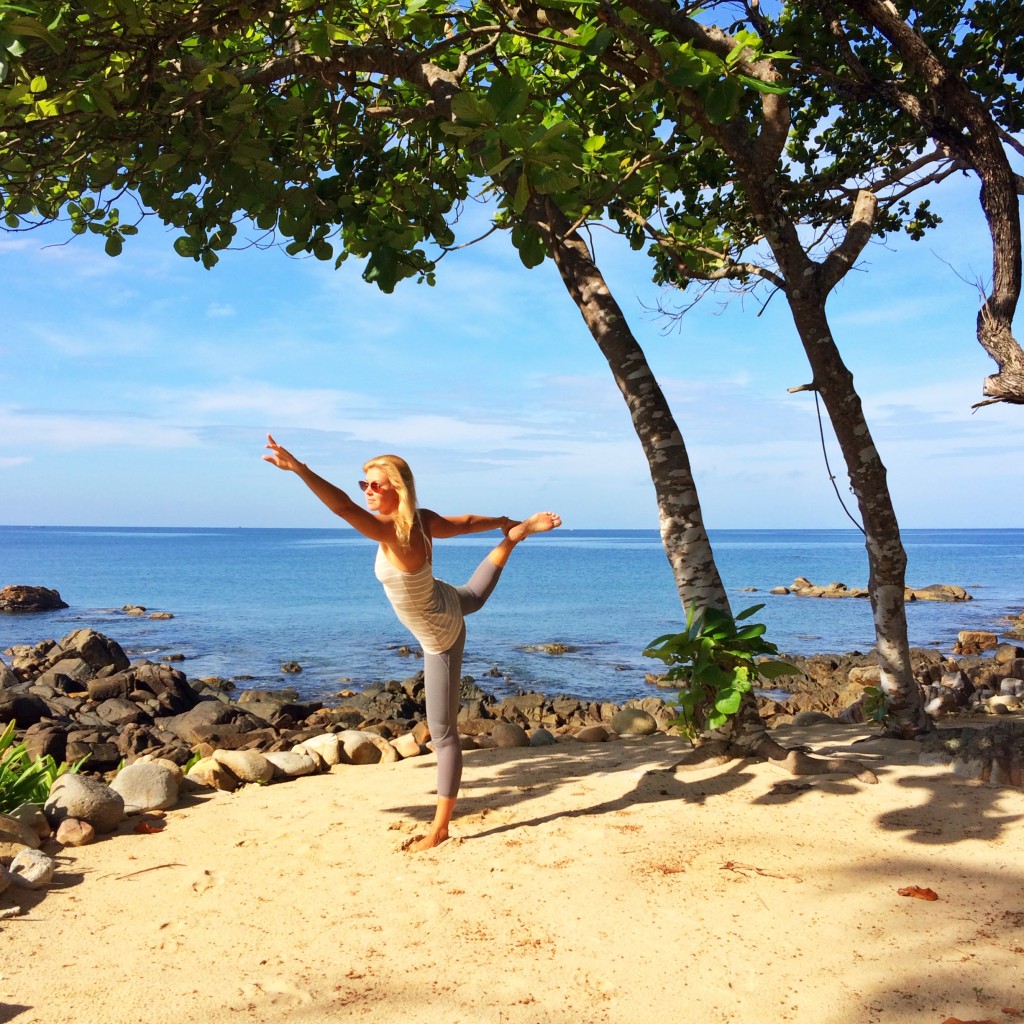 We also went snorkelling to a nearby rocky spot with lots of fish (free 30min trip on the tender) – snorkelling isn't great but kids loved the fish feeding off the boat.
Nikki Beach
Trisara guests also have access to the nearby Nikki Beach (a chain of the ultra glamorous beach clubs made famous by its chic white beds, magnums of champagne, sushi boats and sky high prices that attract billionaire and celebrities from around the world). Nikki beach Phuket has opened only recently and hasn't achieved the same world class status as its St Tropez cousin but I am sure it is in the making.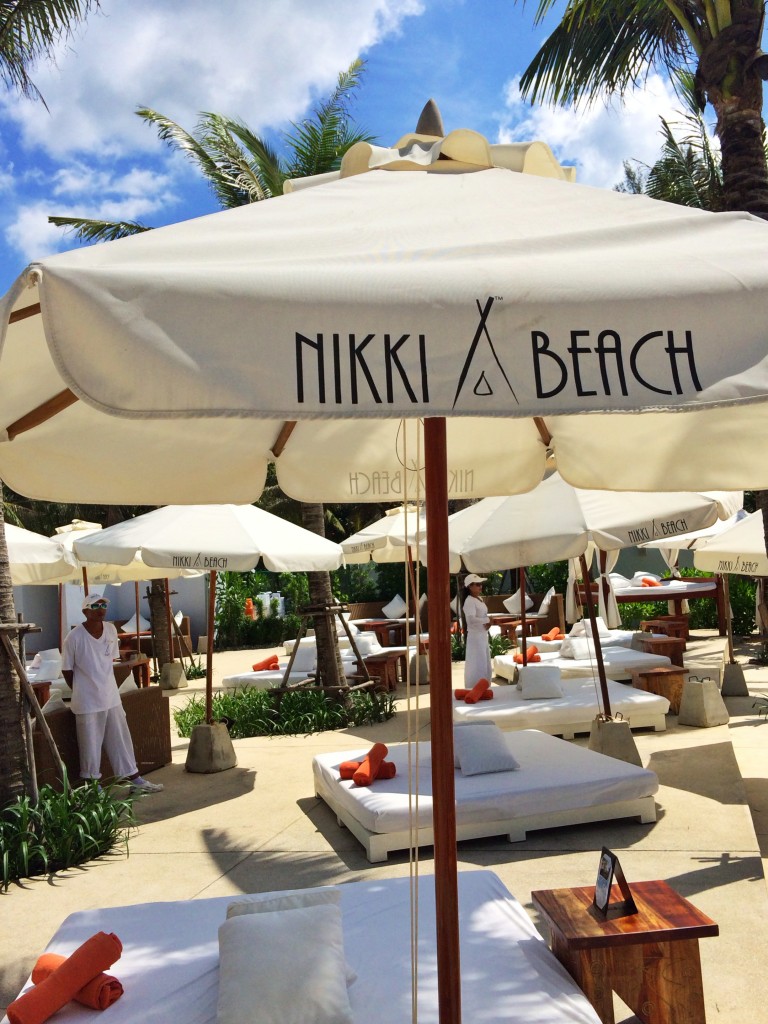 The club provides numerous sun beds and sofas, swimming pool, restaurant, all day DJ and loud entertainment. The club is not the faint hearted but a fun place to visit for something different.
I like music and fun atmosphere but I have to admit I was relieved to return to the peaceful and serene Trisara after a day out at Nikki Beach.
The Spa
Trisara Spa has been made famous by its unique 6 hand massage. It is Trisara's invention and I have to say the experience is beyond heavenly. 3 ladies simultaneously yet harmoniously massage your body in smooth movements that combine Swedish, Acupressure and Traditional Thai massage.
The spa also offers traditional treatments and Sodashi facials but the Royal 6 Hand Massage is 'a must try' during your stay.
Kids at Trisara
Kids are welcome at Trisara and resort has a small kids club to entertain them during the stay. However kids are not the regular visitors to this exclusive romantic resort. The majority of the guests seem to be either young honeymoon couples (mostly from Asia) or older couples in their 50s and 60s.
The Lux Traveller Loves
Best views and magical sunsets
Most luxurious one bedroom villas in Phuket
6 Hand Massage – unique to Trisara, Phuket
The exclusivity of the resort
Private beach with ample day beds
Free access to Nikki beach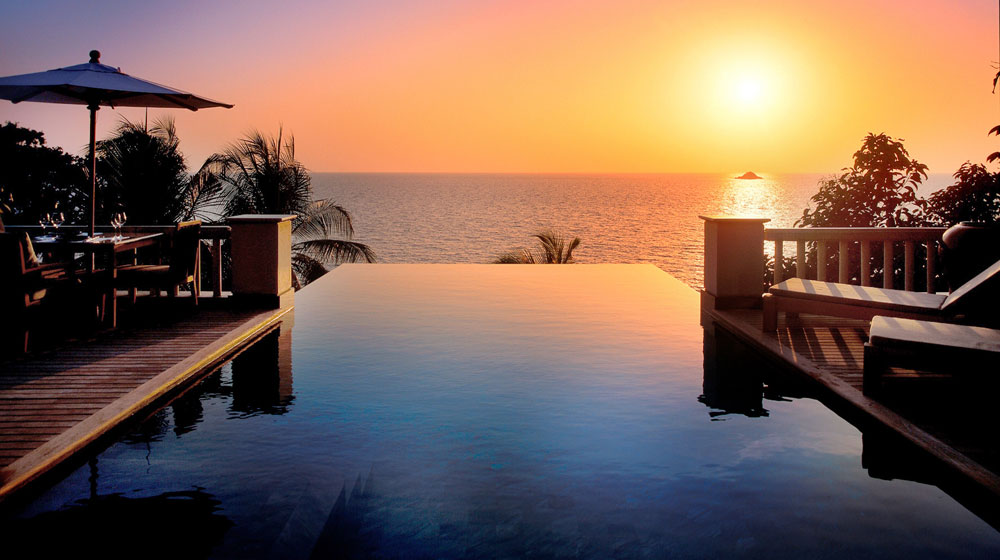 Splitting Hairs
Would be nice to have some complimentary group activities like yoga or gym sessions like in other luxury resorts
All In All
Trisara is one of the most luxurious and romantic resorts on the island and a definite 'must visit' for all luxury travellers to Phuket. Due to resort's small size I would suggest combining a stay at Trisara with one of the other beautiful resorts on the island for a taste of something different. Please email us for your personalised luxury itinerary.