the lux score
81
the lux score explained
Service 7
Rooms 7
Food & Beverage 8
Ambience 9
Attention to Detail 8
Generosity & Value 8
Wow / Hip Factor 8
Facilities 7
Location 10
Fit to Promise 9
Hotel Grand Bretagne is a Grand Dame of Athens. It occupies a palatial building right on Syntagma Square – the very centre of Athens. Grand Bretagne is large hotel (320 rooms & suites) yet very elegant. The hotel exudes old world charm from the minute you walk through the lobby. My experience in this hotel is a little bit mixed and I will tell you all about the good and the bad.
My family has arrived in Athens, exhausted after a 24hr flight, several hours before me. And in my absence they were allocated the smallest room I have ever seen!
When I arrived I found them asleep in this small shoe box of a room, with no views.  As The Lux Traveller you can imagine my shock and horror!
I immediately returned to the reception to speak to the Front Desk Manager. Being a large Starwood hotel an upgrade to a suite was a very reasonable expectation for a Platinum guest.
After a long negotiation and a couple of glasses of champaign at the upstairs bar (recommended!) the manager has advised us that for a reasonable fee we could get an upgrade to the Executive Grand Deluxe Suite which is one category under a Presidential suite.
The Executive Grand Deluxe Suite is AMAZING!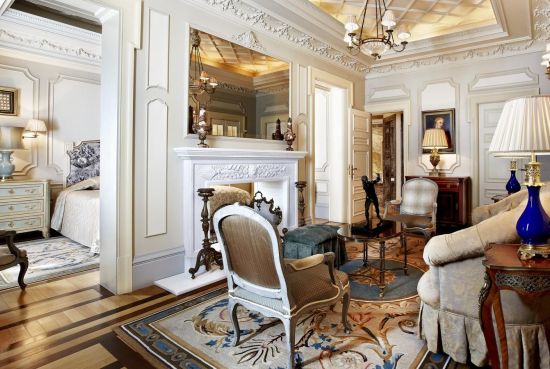 It comprises of a very beautiful spacious bedroom with a small steam room and a full bathroom for 2 people and the most luxurious classic elegant living room with ample sofas for relaxation and large windows for seeing the life go by in Syntagma square. In fact you could view the square from every angle of this beautiful suite.
Suites feature exquisite detailing such as heavy silks and damasks in refined shades of cream and taupe, magnificently trimmed draperies, sparkling chandeliers, and select antique furnishings from Christie's and Sotheby's.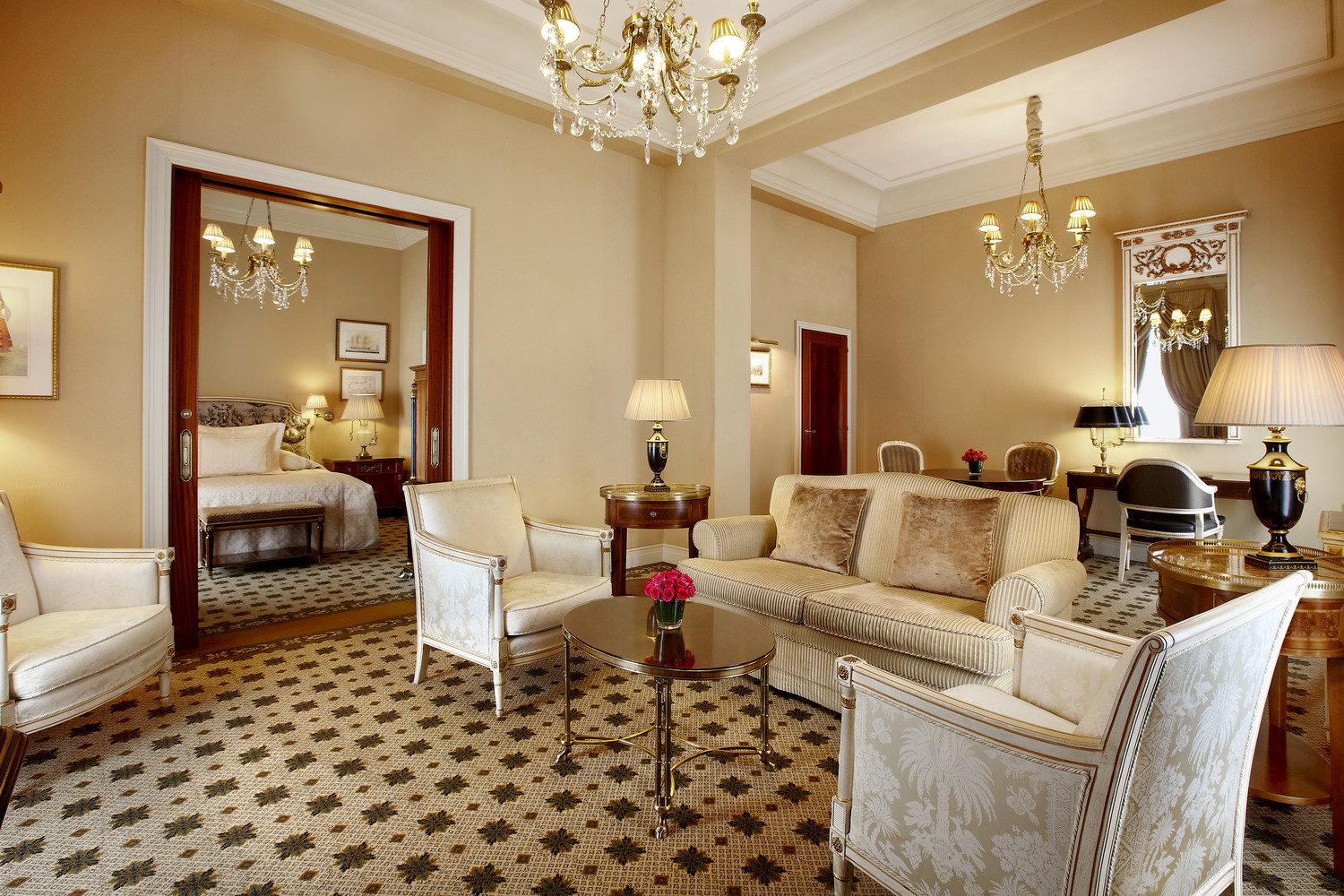 For our enjoyment the suite was decorated with big bunches of freshly cut flowers in crystal vases and a white chocolate statue beautifully set up on the coffee table.
It was The Lux Traveller experience to a tee – I couldn't think of a better place to base ourselves in Athens.
Restaurant upstairs is gorgeous with one of the best views of the Acropolis; the food is nice but not extraordinary.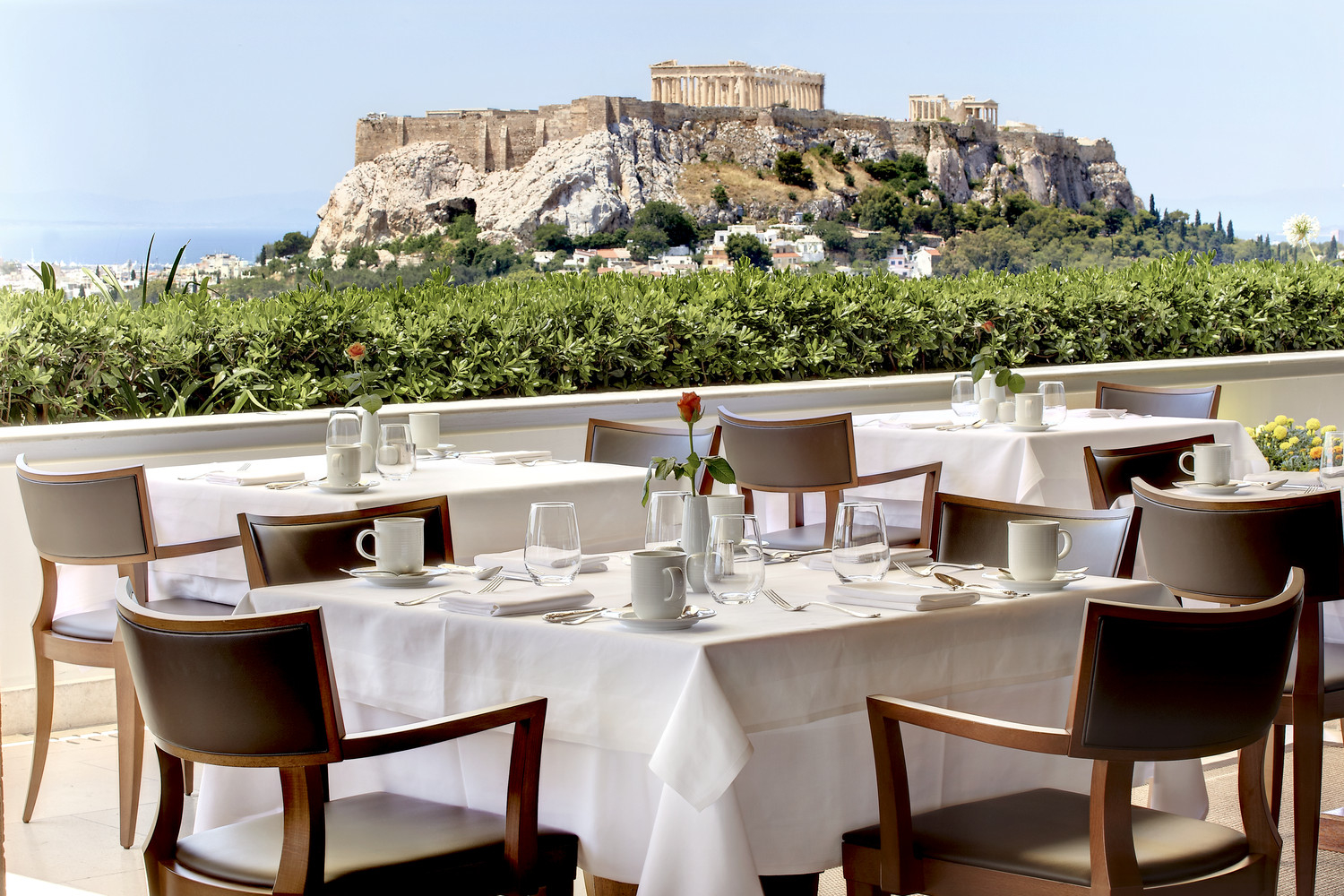 Hotel's pool looks large on the website however it is very small in real life with only a few deck chairs and no shade. Nice to have it but it could be better.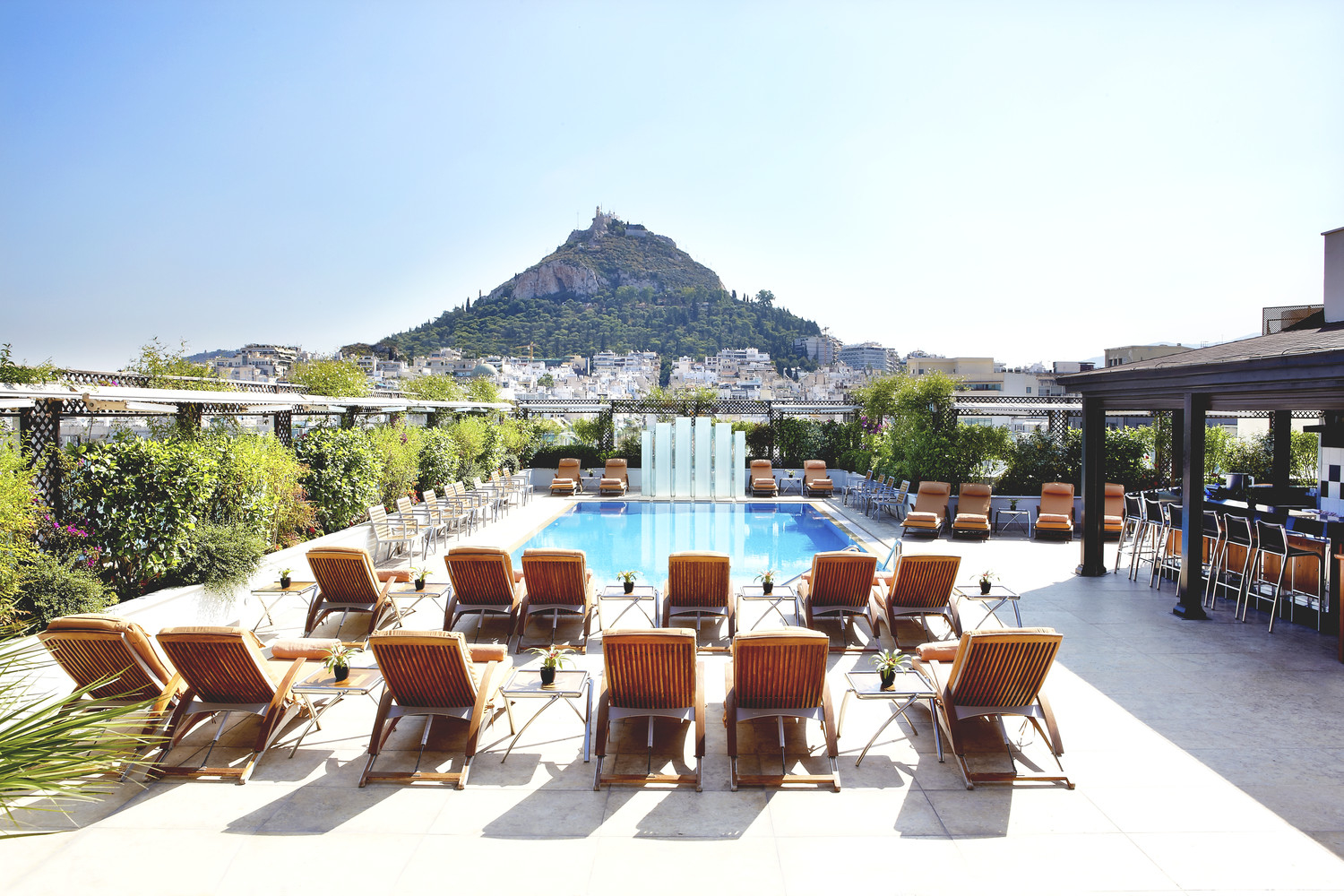 Hotel's lobby and atmosphere – elegant if a little pretentious. Overall – nice!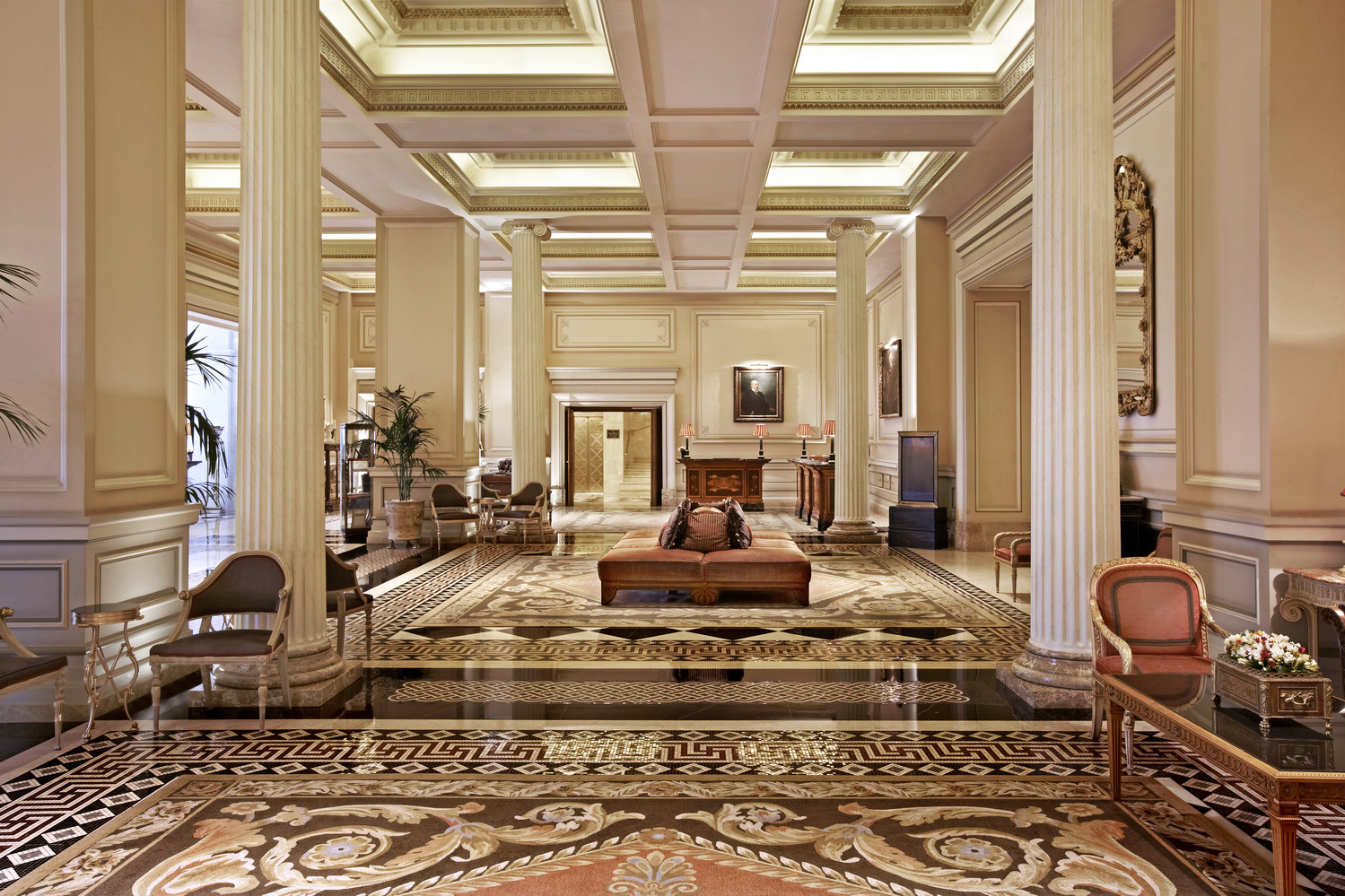 Nice touches – designer sugar lolly pops in the lounge – nice treat for the kids.
Friendly staff (apart from the front desk).
Splitting hairs – pool is tiny and standard rooms are old and small.
Verdict: If you can stay in any of the specialty suites – Do it! They are divine and are excellent base for exploring Athens. However if you are thinking to book a room it isn't going to be a Lux experience.
Tips
If you are not having dinner at the GB Roof Garden restaurant than come here for a drink. The views of the Acropolis take your breath away and the setting is delightful.
Taverna Psarou – must try for dinner in the Plaka, Great food and atmosphere. Very authentic, super tasty and cheap.
If you are staying in Athens for longer than a day or two try the Westin or Astir Palace on the beach. They are 30 min away by complimentary shuttle bus but the rooms are new and spacious and you get all the resort facilities and the beach.
Greece is one of my favourite countries in the world – it is warm and welcoming! It has great beaches, resorts and food and most importantly beautiful people.