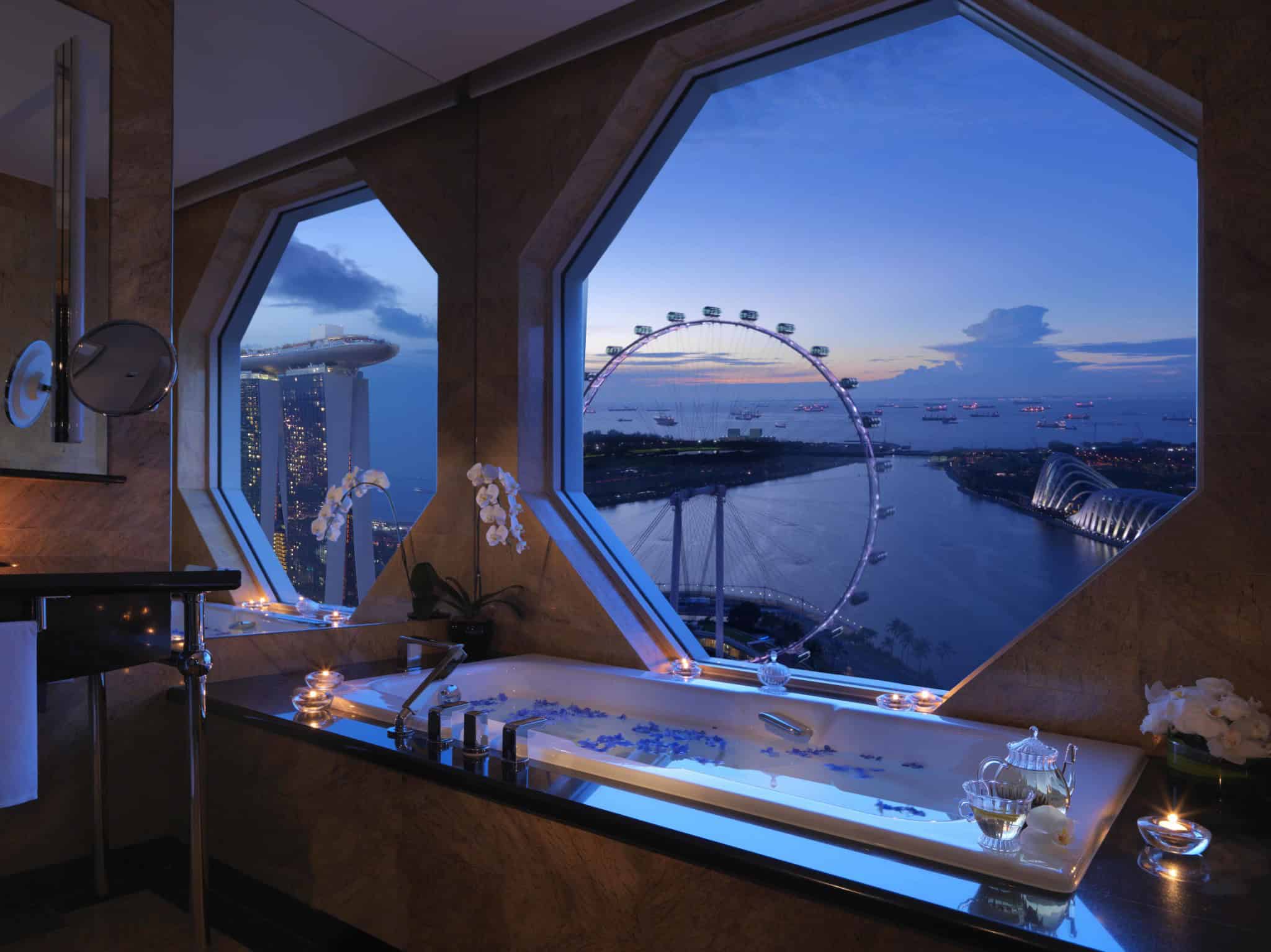 the lux score
89
the lux score explained
Service 10
Rooms 9
Food & Beverage 10
Ambience 8
Attention to Detail 9
Generosity & Value 9
Wow / Hip Factor 8
Facilities 7
Location 9
Fit to Promise 10
It has been some time since I stayed in a Ritz Carlton hotel, so when an opportunity came up to experience Ritz Carlton Millenia Singapore I was very excited.
Art and luxury often go hand in hand and Ritz Carlton Millenia is a good example of it. This Ritz is no ordinary hotel, it has one of the finest collections of modern art in Singapore and many of the pieces you find here were specially commissioned for the public spaces. On the photo below is a massive three ton Frank Stella installation and as you venture further into the hotel you'll find Andy Warhol and Hockney, Gross and Moore. Its free to browse even if you are not staying in the hotel and a real treat for the art lovers.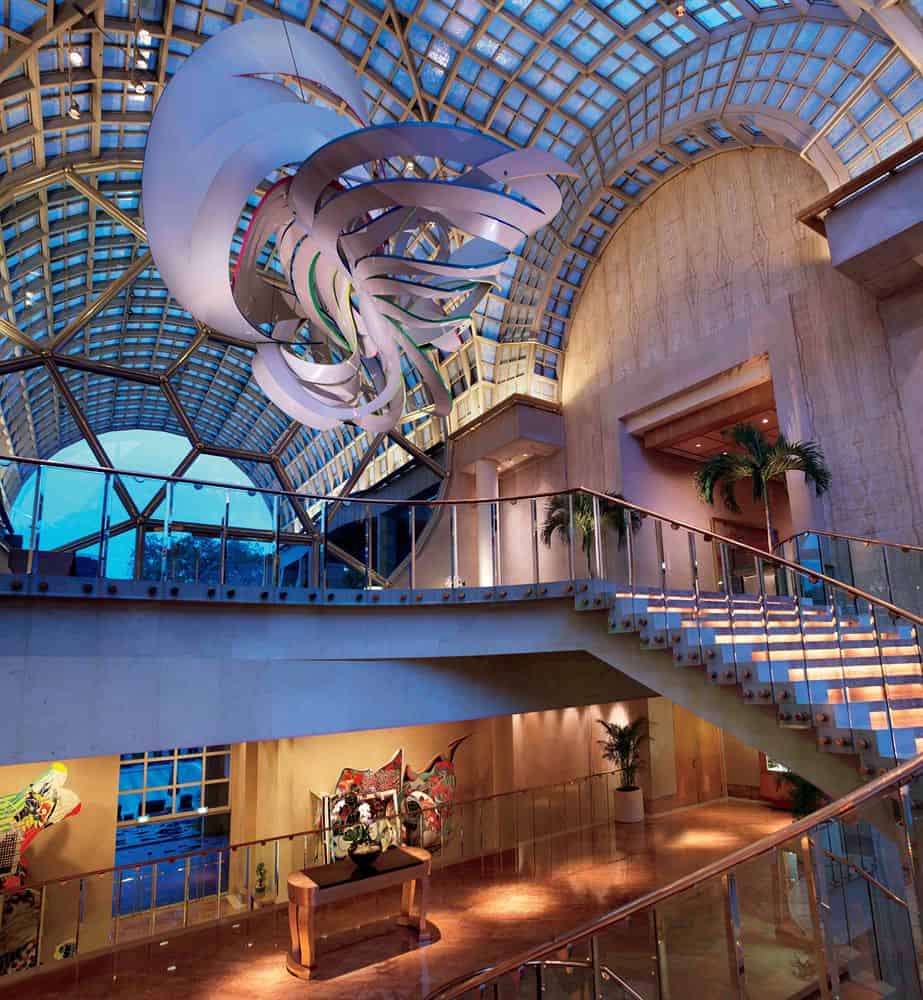 Ritz Carlton Singapore has just celebrated its 20th anniversary and has gone through a makeover to regaine all of its glory. It is a true modern and luxurious 5 star hotel with fantastic suites, excellent dining and one of the best locations in town.
My visit was brief, only one night stop over on the way to Europe, but I tried to experience as much of the hotel as possible and here is my brief summary of the stay.
Arrival and Check-in
My driver was waiting for me at Changi airport with a Ritz Carlton sign in hand. He courteously took the luggage from me and called the limousine. Black S Class Mercedes with a Ritz Carlton badge on it was awaiting me with a passenger door open and cool salon ready to rescue me from the tropical heat. Complimentary water and onboard wifi come as part of the service. In swift 20 minutes we arrived to the hotel; I was greeted by name and escorted to the suite for check-in by one of the club managers.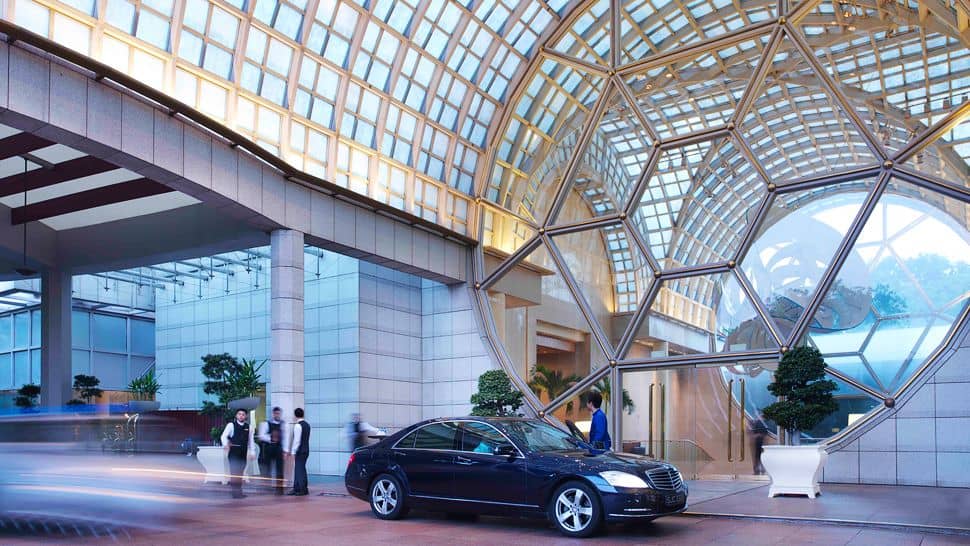 Premier Suite
Premier Suite is an excellent choice for those who appreciate space and views. This one bedroom suite sprawls over 100 square meters and has a serious wow factor with a stupendous view from every window. Being on the corner of the building you get an advantage of Marina Bay Sands in front of you and Singapore wheel and harbour on the side.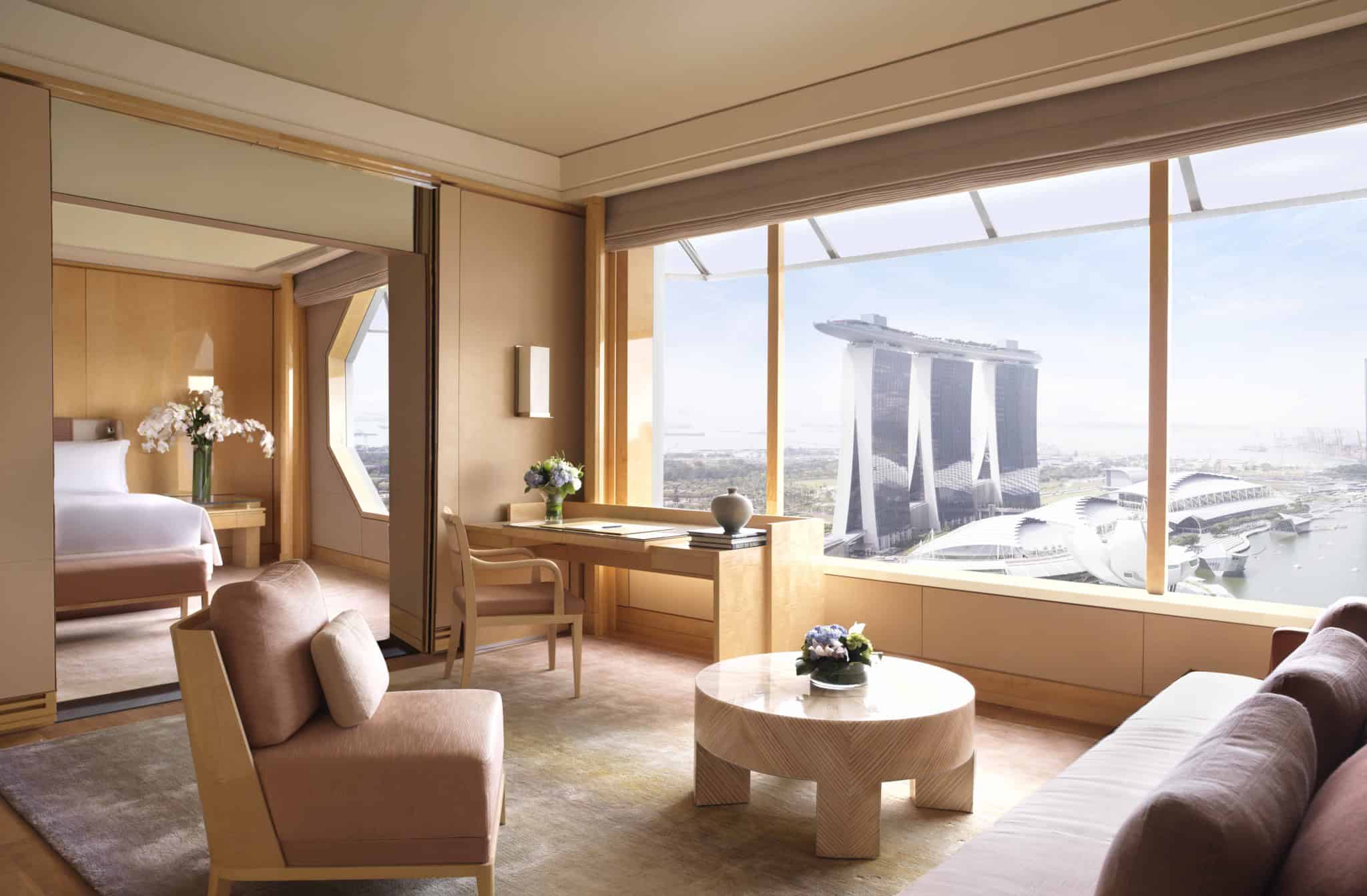 Yes, I am not joking, even the bathroom has a huge hexagon window with a spectacular view. I wish I had someone to take a photo of me in a bubble bath with a breathtaking night view behind me.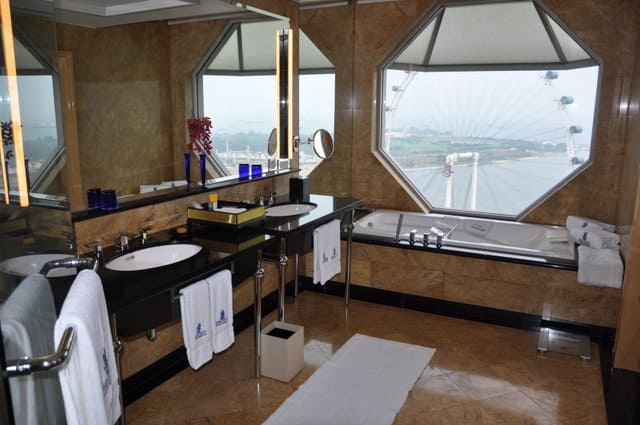 I also love the high bed (reminds me of my grand parents summer house – an ultra comfortable high bed with silky sheets, big pillows and very comfortable Sealy mattress), the study desk facing directly onto the views (even working becomes a pleasure here), a separate wardrobe room (that will keep all your bags out of sight) and a spacious bathroom with double vanities and an oversized shower with three different shower heads.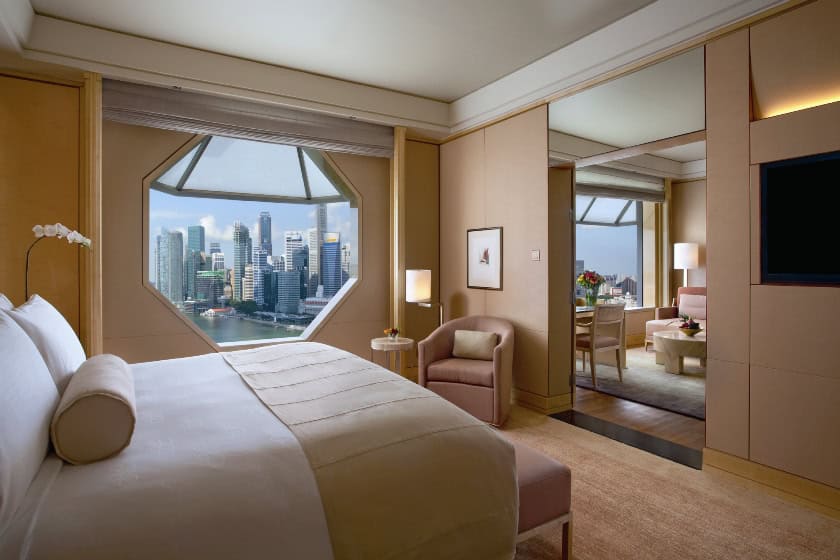 Of course there are other little luxuries to surprise the guests with – a fresh fruit plate, a welcome box of chocolates, Nespresso coffee machine and little squares of dark chocolate on your pillow at turn down.
Club Lounge
Another bonus of staying in a Premier Suite is Club access. Ritz Carlton Club has amazing benefits and possibly the best food and beverage offering in town.
Free flowing champagne all day, Moet & Chandon Brut and 2006 Rose, is just one of the extravagant features. And five dining experiences per day won't keep you hungry. If you don't wish to venture outside of the hotel for dinner Ritz Carlton is a perfect place to stay and club access provides excellent value.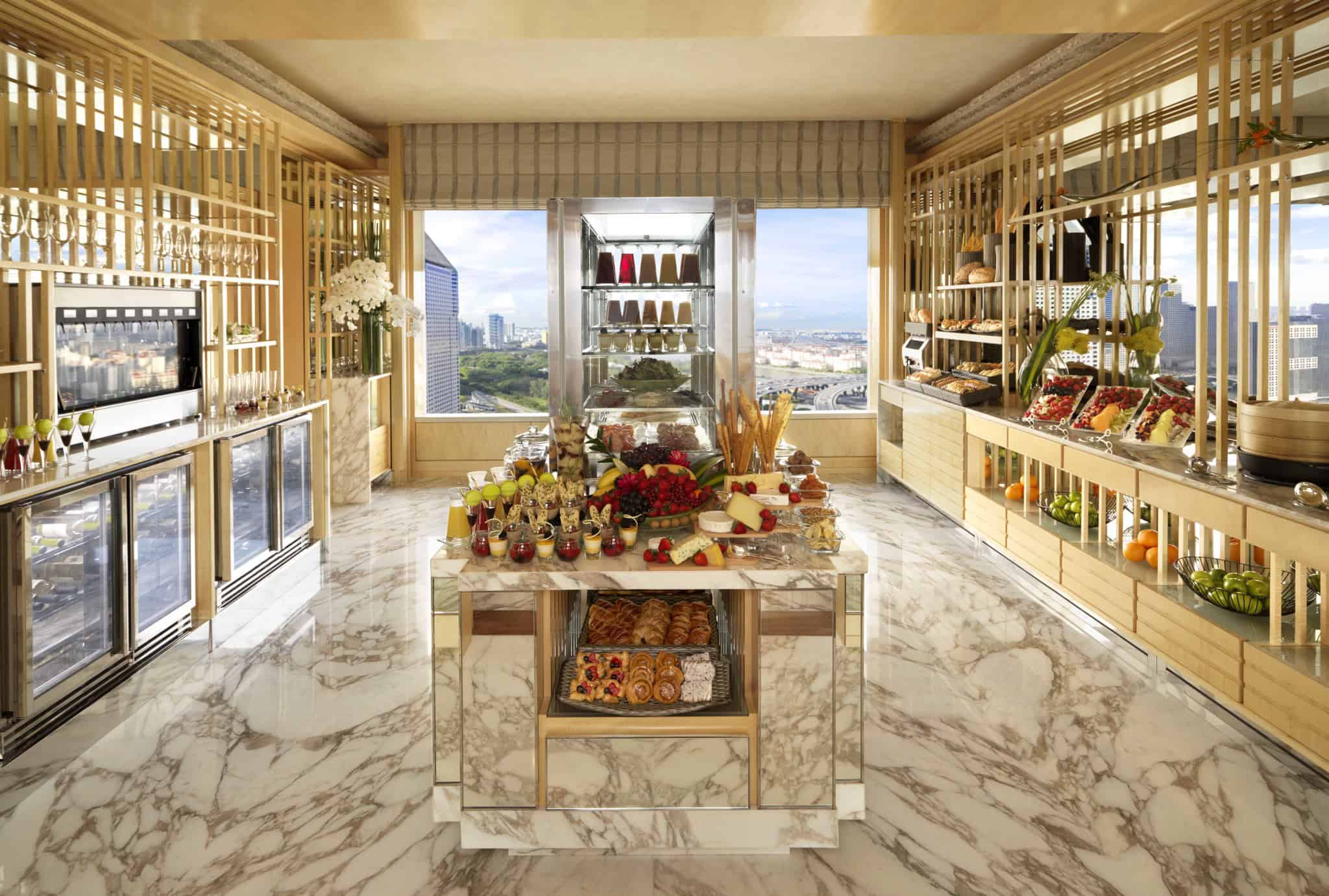 Dining
Dining at the hotel was another highlight of my stay. There are 2 fantastic restaurants, Chinese Summer Pavilion and Western buffet restaurant Colony.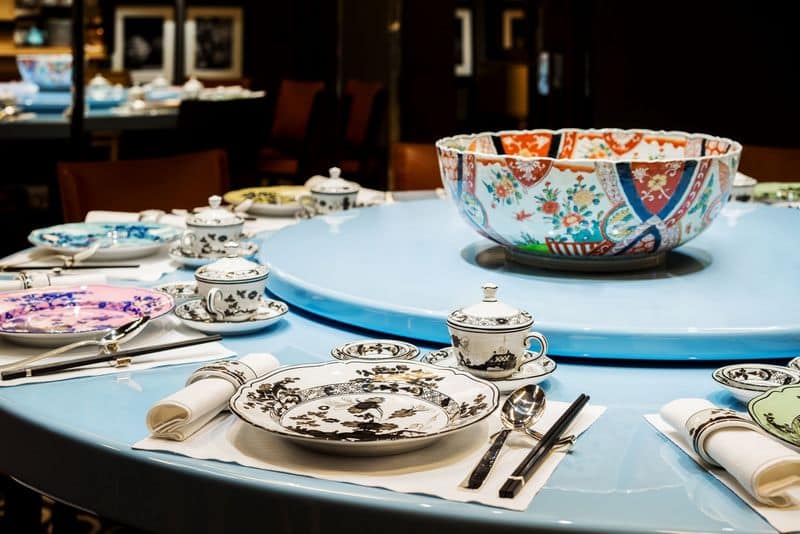 The Ritz-Carlton, Singapore signature Cantonese restaurant, Summer Pavilion has earned its first Michelin Star in the inaugural Michelin Guide Singapore 2016. It is the only Chinese restaurant in a hotel in Singapore to receive this accolade. Service and atmosphere is elegant and the cousins refined. Restaurant is very popular with the local dressy crowd for business lunch Monday to Friday and with well heeled families on the weekend.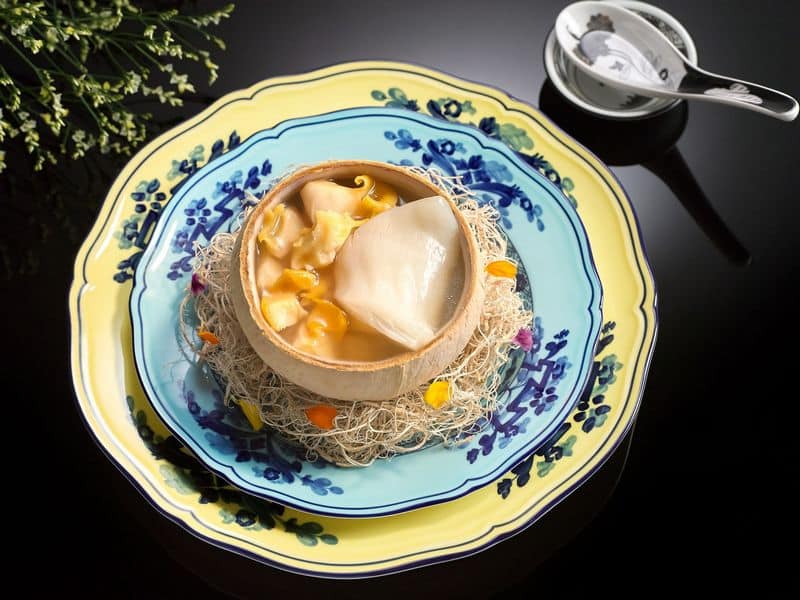 Colony is one of my all time favourites in Singapore. It has an outstanding buffet for breakfast, lunch and dinner with multiple stations, each dedicated to a different cuisine. There is a salad bar, sushi and sashimi corner, deli section with melt in your mouth cured meats and cheeses from different parts of the world, Indian curries, Chinese dumplings, Malaysian laksa, European meat roasts, Asian crispy skin chicken and duck and the list goes on.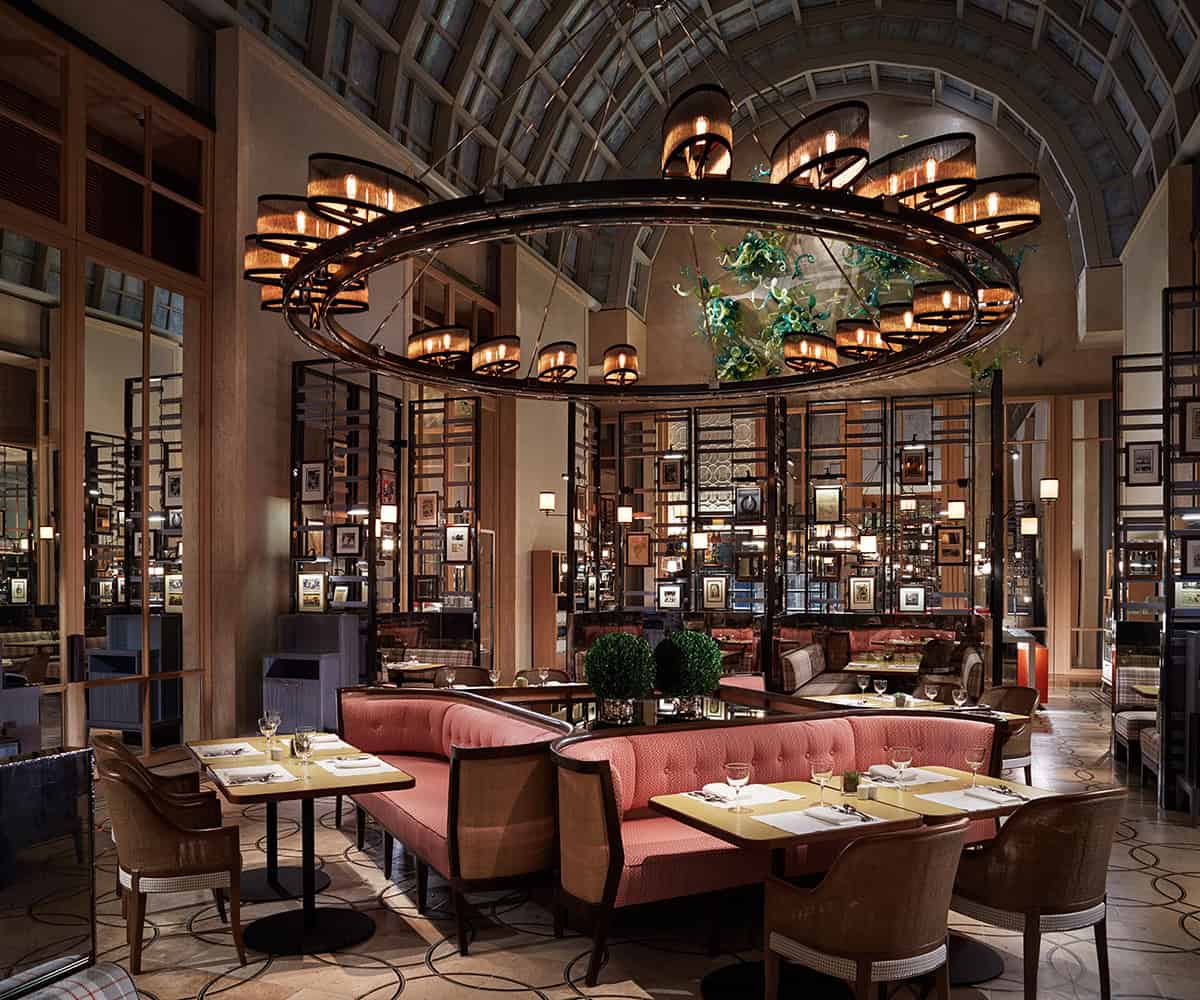 Make sure to visit this restaurant very hungry and allow at least couple of hours to enjoy this stupendous spread. Your mouth must be watering and we haven't even touched on a desert section.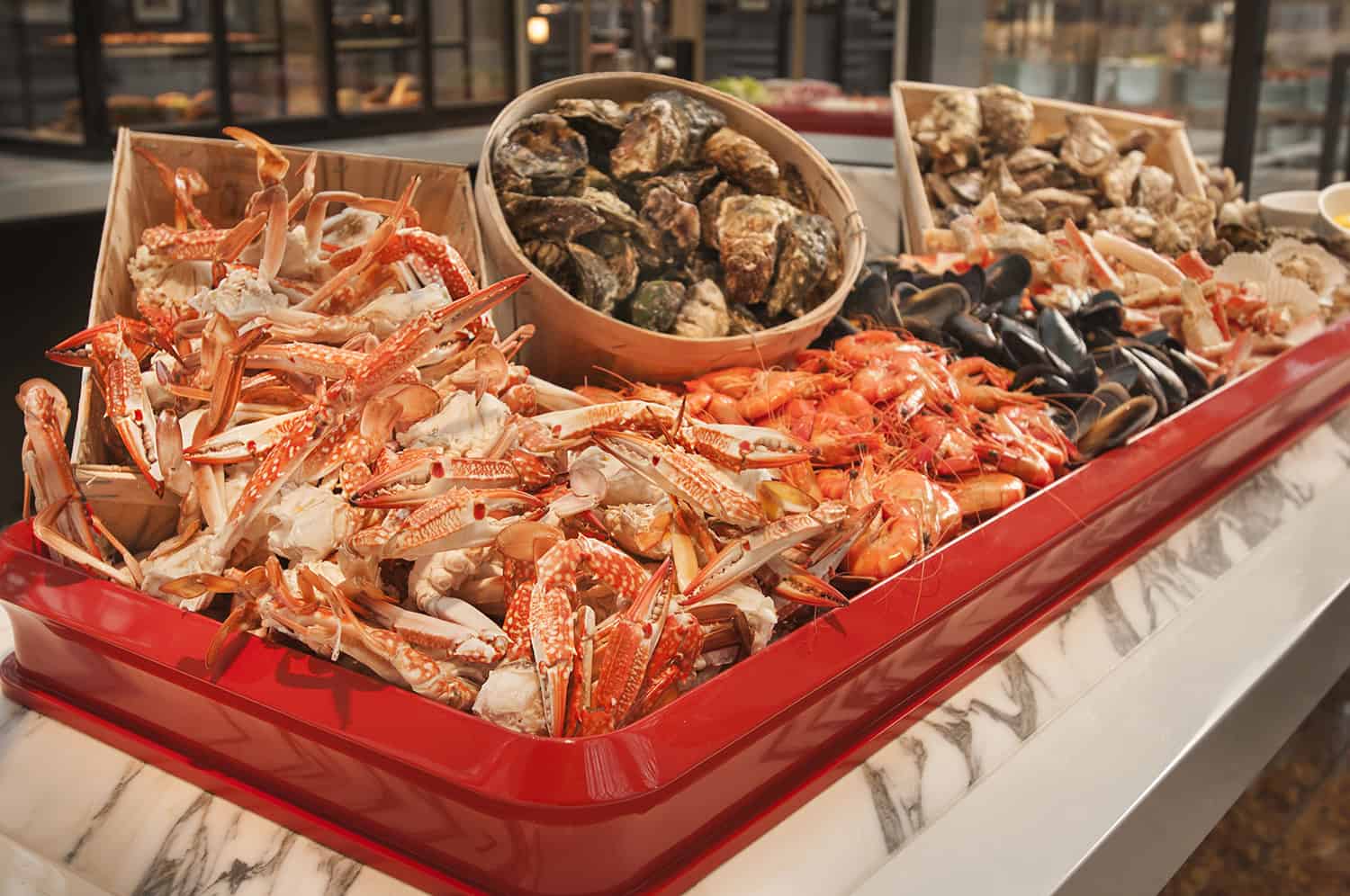 Last but not least is the breakfast – it is served in Colony and is just as magnificent as lunch and dinner. Highlights are juice corner with freshly squeezed juices and blended smoothies, pancake and eggs stations with all pancakes made hot to order and omelets coming out looking light and fluffy. Any fresh berries can be requested on demand and whether you come from western or asian background your tastebuds will be satisfied with the international selection of gourmet dishes. The atmosphere is very inviting and staff courteous just like in the rest of the hotel.
Spa & Pool
Currently the hotel is renovating the spa and pool area but by November 2016 it should be completed. Stay tuned for an update.
The Lux Traveller Loves
Magnificent view from huge windows from every room
Excellent service throughout the hotel
Outstanding dining experience in Colony
One of the best club lounges in town with free flowing French champagne
Fantastic location in the heart of Marina Bay
$5,000,000 art collection and in-house art tours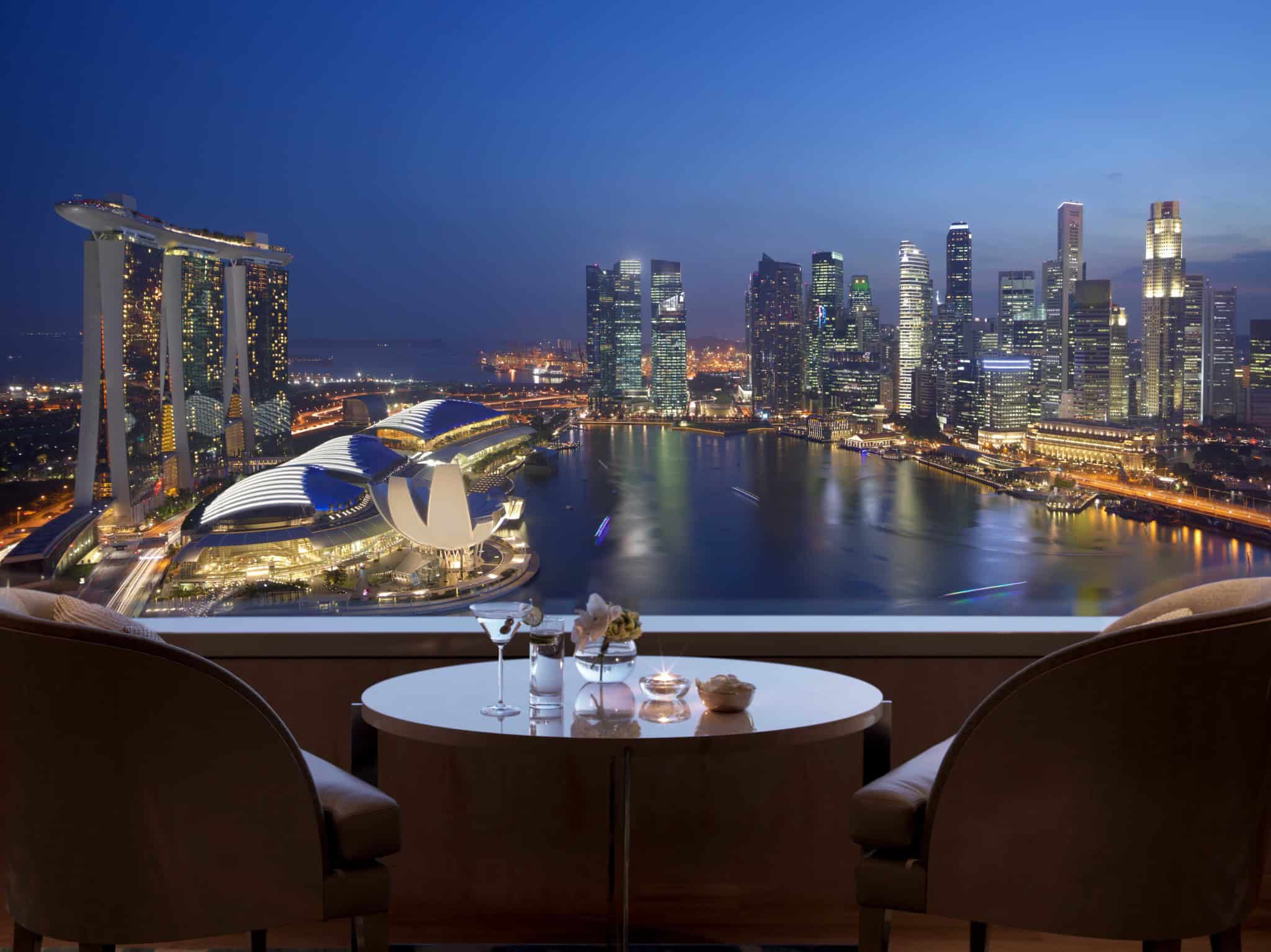 Splitting Hairs
Will be great to see the hotel once all the renovations are completed and pool area is ready for leisure and relaxation. Oh, and more than one international adaptor in the room will be great. Most of us have at least two devices we'd like charged at one time. Apart from those tiny notes there is really nothing to complain about.
All In All
My stay at the Ritz Carlton Millenia Singapore has been an outstanding experience and I would highly recommend this hotel to both business and leisure travellers.