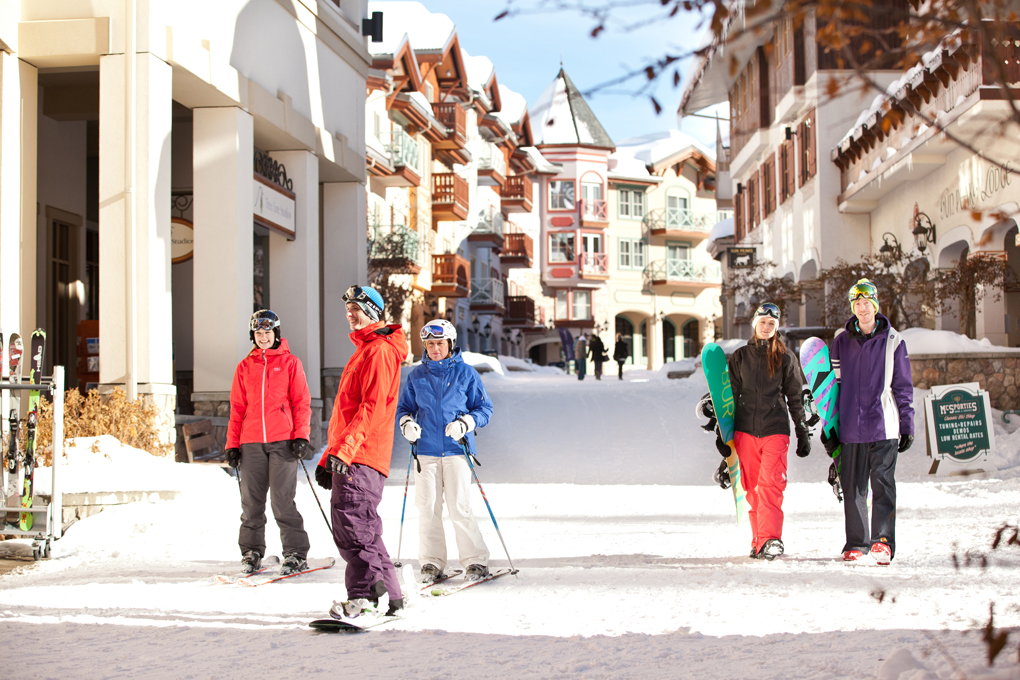 This little gem is full of surprises. Sun Peaks Resort is tucked away in British Columbia, 45 minutes from Kamloops and a three-hour drive from Vancouver.  The ski-through village is charming, and more intimate than the giant that is Whistler. However, there is no shortage of terrain to ski on, with 125 trails and glades to choose from on three mountains, serviced by 11 lifts. You won't find rows of gleaming high-end boutiques but you will have a relaxed holiday skiing on incredible runs and you will feel at home. So at home, you might not want to leave.
The village – is magical. While not coming anywhere close to the shopping in Aspen, Park City or Whistler, there are enough shops to do some damage on your Platinum Amex card. Pick up some beautiful handcrafted jewellery or something from the Gjestal knitwear range in Fusion North Boutique.  Grab a gift or two from Lone Wolf Gallery and for the latest and greatest snow gear, there are plenty of places to stock up including Helly Hansen and North Face. Must do: Ski through the village. Dine at: The Steakhouse at Sun Peaks Lodge Best moment: Waking up on the first morning and peeking out the window to see beautifully groomed runs calling our name.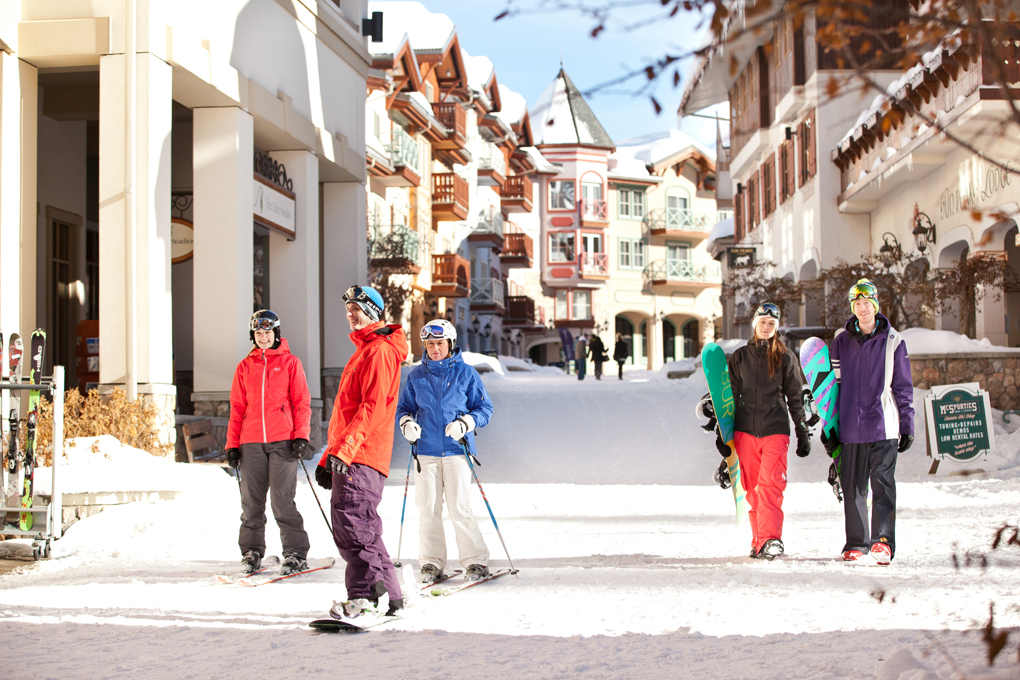 Check in – is simple at Kookaburra Lodge. This architecturally-designed luxurious lodge was established by a Sydney couple – Jim and Bijou Farrell who, like many, visited Sun Peaks Resort and fell in love with it. So in love they wanted to build something for long-stay visitors who wanted to feel at home on their ski holiday instead of being squished up in a hotel room. The apartments are very chic with luxe furnishings and fittings and are just like a home away from home with some notable differences – namely the snow outside and the hot tub on the deck so you can soak away the aches and pains after skiing. Don't worry – no one can see you on your private deck.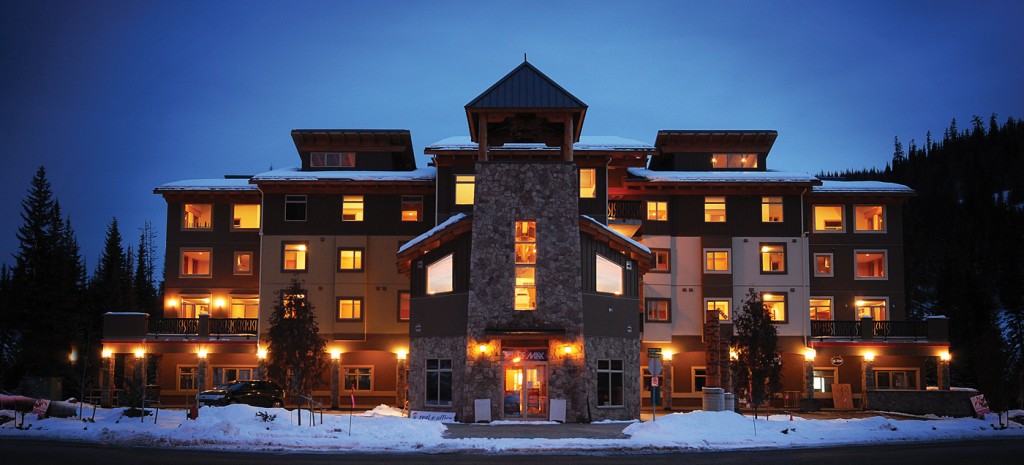 Gear up – at McSporties. We hired all our ski and snowboard gear here and found the staff very helpful and the gear fabulous. We also bought plenty of little extras during our stay, namely mittens – they are better than gloves when it's really cold – balaclavas, beanies and more.
The skiing and boarding – is sensational. There are three mountains – Tod Mountain, Sundance and Mt Morrissey and they cater to every level of skier and boarder with groomed runs, steep runs, steep groomed runs, mogul runs, glades and terrain parks. Very clever planning ensures that there are green, blue and black runs from the top of every lift, which is comforting. There's nothing worse than finding yourself on a chairlift that leads to only black runs if you can only ski green ones!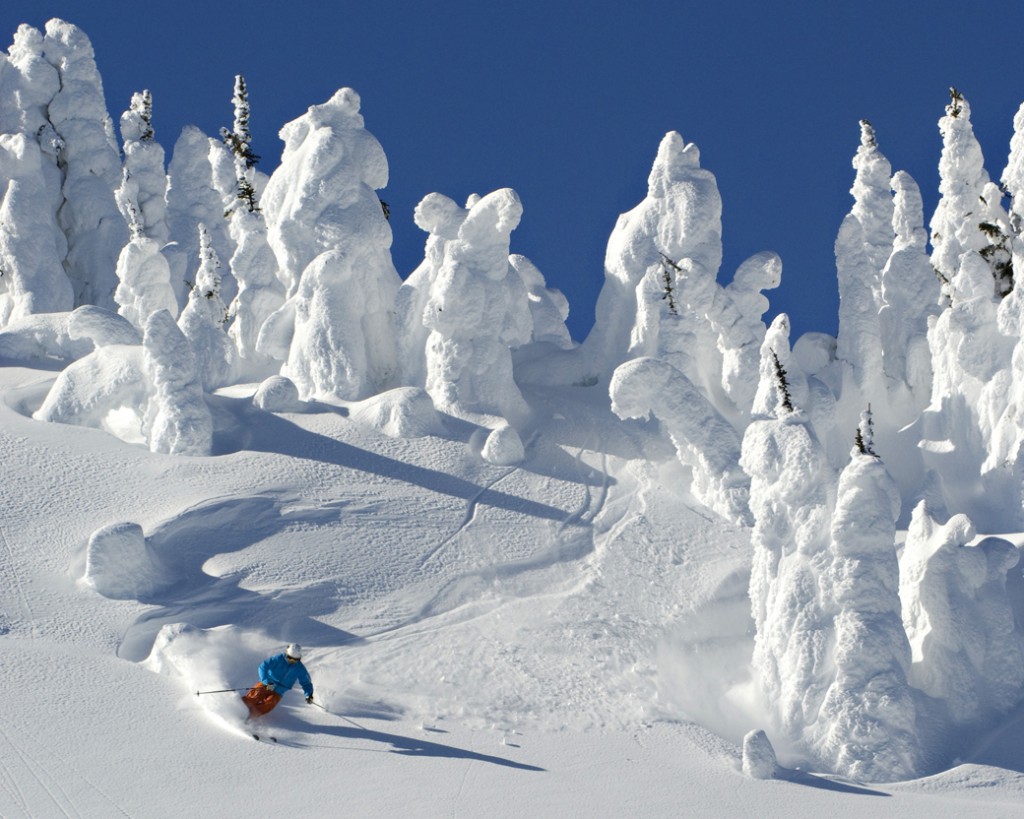 I am pretty sure that I have never skied as fast as I did at Sun Peaks – the runs were glorious. My older teen loved disappearing down the glade runs and our youngest was as happy as Larry in the terrain park. On Sundance, we flew down Sunrise, Sun Down, Sun Catcher, Sundance and Grannie Greenes over and over. We also accessed Mt Morrisey from Sundance, down The Three Bears, which takes you through trees, down the black Peak a Boo, and the leisurely Rambler. All of these link up with the Mt Morrissey Connector, to the base of the Morrissey Express.
Mt Morrissey is just brilliant. I Dunno, Second Growth, Out of the Woods, CC Riders and Mid Life Crisis had us yahooing with pure glee. From Mt Morrissey, you can access the Burfield Chair which takes you up Mt Tod – a playground of blacks and double blacks, or you can access Mt Tod from the village, via the Sunburst Express and the Crystal Chair. Going up there for the first time was unforgettable. As we neared the top the trees were transformed into ghostly shapes – hence the name snow ghosts. There were so many great runs down from here – 5 Mile, the Crystal Bowl, Blue Line, Spill Way and Headwalls. We were as happy as pigs in mud.
Another of the huge pluses for Sun Peaks is not a run or a hotel or a bar. It's a person. But not just any person. Nancy Greene is to Canada what Dawn Fraser is to Australia. Nancy was voted Canada's 'Female Athlete of the Century', winning two Olympic gold and one silver skiing medals over two Olympics. And you can ski with her! Nancy conducts free tours from the top of the Sundance Chair on weekends and holidays – when she is not being a Senator in Quebec. She is so stylish when she skis – so elegant and effortlessly fast. A highlight was when she took us down Mt Morrissey to show us some trees covered in Christmas decorations. She explained that some locals and regular visitors started choosing one tree that they would decorate every year. It's a lovely tradition, and it is fun looking out for the decorated trees all over the resort.
The snow school here is fabulous – both my kids did lessons and one of them learned to snowboard. The prices are excellent compared to Australian resorts, the instructors are friendly and efficient and most importantly, the kids had fun.
Must do – If Nancy is in town, ski with her. If not, enjoy a tour with the Sun Guides – free guided mountain tours for anyone who can ski a green or better.
Dine at: Umbrella Café at the base of Mt Morrisey – great for a quick snack or a warming hot chocolate. Do not leave without having a cinnamon bun – a sticky, dripping, delicious morsel that will have you mewling like a satisfied cat. Best moment: Posing by the Christmas tree with Nancy Greene.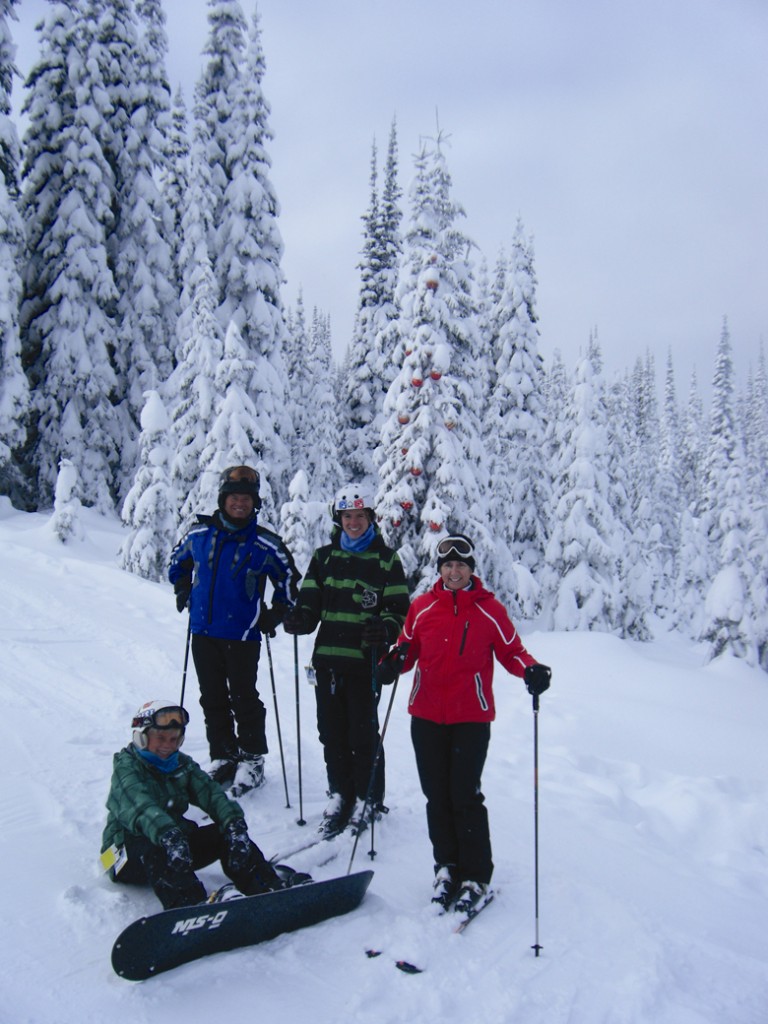 Apres ski – After a day on the slopes, stagger in for a drink at Bottom's Bar and Grill at Coast Sundance Lodge, Morrisey's Public House or Mantles. If you have any energy left dinner and want to boogie away on the dance floor, try The Club at Delta Sun Peaks Resort.
Dining out – In Sun Peaks Resort the Steakhouse at Sun Peaks Lodge is highly recommended as are Mantles at Delta Sun Peaks Resort and Voyageur Bistro at Kookaburra Lodge. If you are into sushi, Oya at Hearthstone has proven popular since it opened last season.  And don't despair if you love a good coffee – you can get it at Bolacco Café, 5Forty Café and for Starbucks fans, Café Soleil.
Other activities – Take your pick! Sun Peaks has a wonderful tubing hill and a terrific ice skating rink. We opted for something even more spectacular – dog sledding. I have always wanted to do it, and so off we went to Mountain Man Adventures Dog Sledding, just out of the village. You could choose to sit in the sled and be driven around, or you could mush your own team. We chose the latter. We were split into two teams; Josh was my driver and husband Matt drove Alex. They were all so well trained and well treated, and they were keen to get going, so with a yell of "Ready ….. GO ,"  they were off. I sat in the back while Josh did all the hard work behind me, using his feet to lean into the turns and running up the odd hill to help the dogs. The scenery was so spectacular, and all too soon, we were heading back to base, enjoying the afternoon light shining on the mountains of Sun Peaks. Back at the base, we fed our dogs a treat for being so lovely and gave them a rewarding pat. It was a fantastic experience and one that we'll never forget.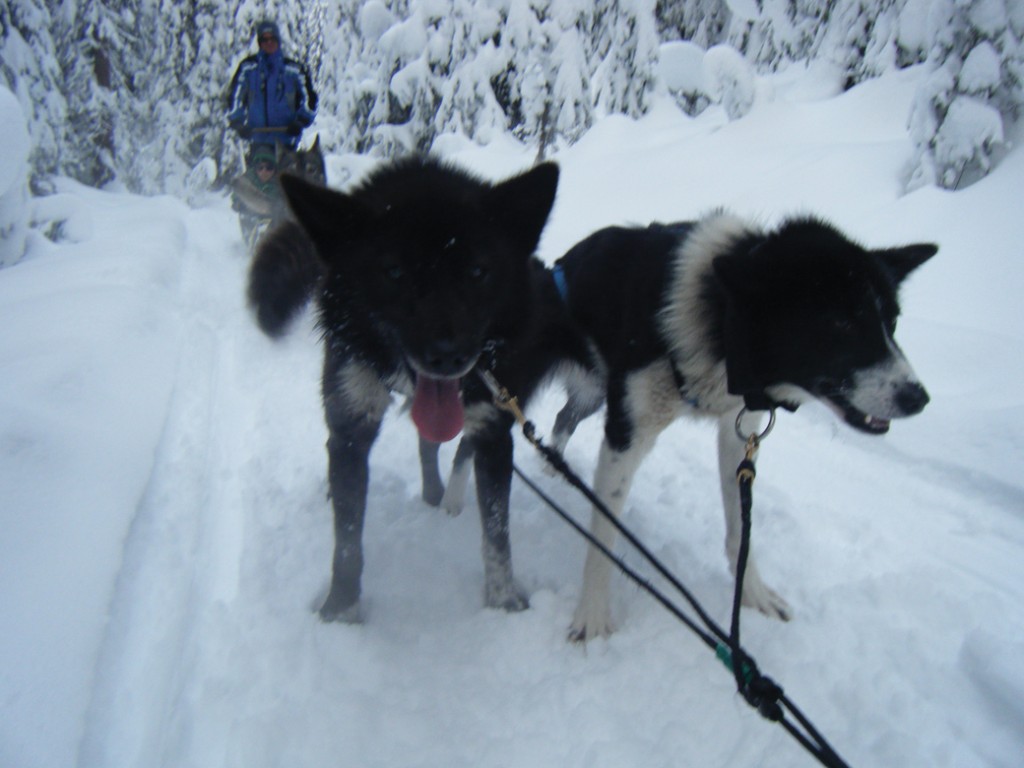 Tips – You will need warmer clothes than you do in Australia, so consider face masks, an extra layer of fleece plus hand and toe warmers. Better still, buy some heated boots, gloves and a heated jacket.
Stay a couple of days in Vancouver at the Four Seasons on your way home. A magnificent property and a great way to end your Canadian sojourn.
Getting there: Fly to Kamloops from Vancouver, or fly to Kelowna from LAX, or inter-resort shuttles are available for a multi-resort stay including to and from Whistler three days per week.
Stay at: Kookaburra Lodge – rent one through www.sunpeakscondos.com or even better, buy one at www.kookaburralodge.ca
Delta Sun Peaks Resort is lovely as well, and is about as ski-in, ski-out as you can get. www.deltahotels.com
More Information: www.sunpeaksresort.com