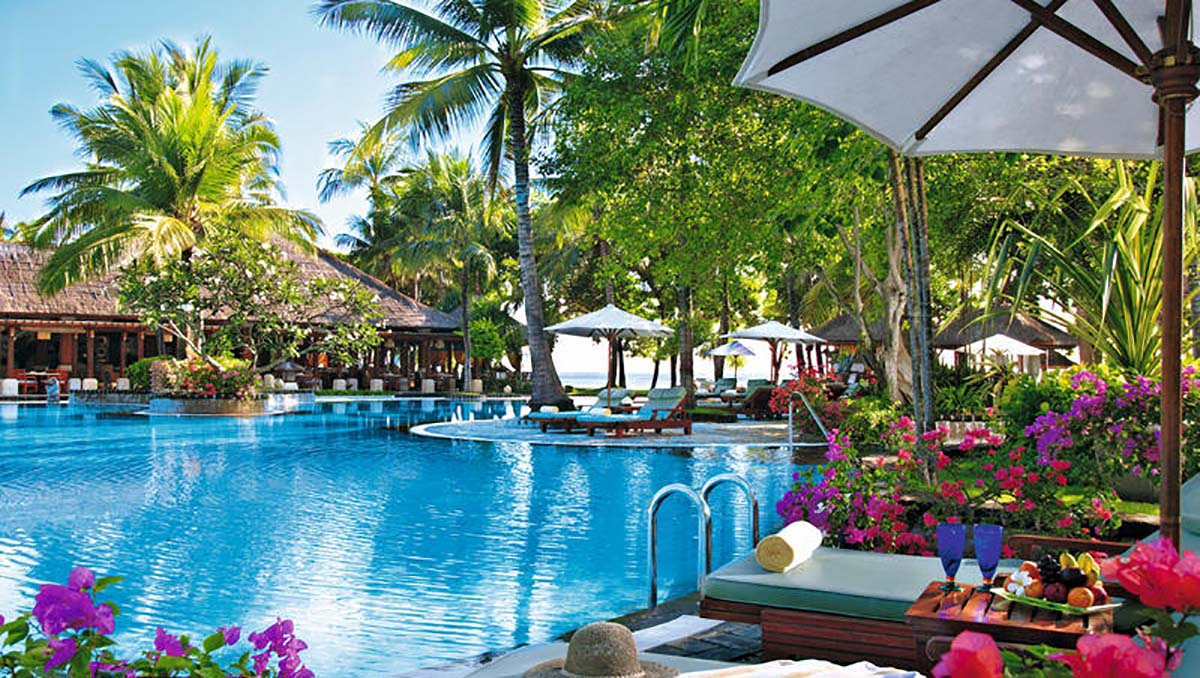 the lux score
78
the lux score explained
Service 9
Rooms 5
Food & Beverage 8
Ambience 8
Attention to Detail 7
Generosity & Value 8
Wow / Hip Factor 8
Facilities 9
Location 8
Fit to Promise 8
Laguna Resort Bali is an excellent family resort. It occupies a large territory in Nusa Dua, on a nice stretch of white sand beach. The grounds of the hotel are beautiful  – immaculately manicured, lush and inviting. Waterfalls, flowers and palm trees create such a wonderful relaxing atmosphere
Hotel's swimming pool is famous in Bali – it is one of the largest on the island and is designed to look like a natural lagoon. Infinite swimming lagoons stretch for over 5,000 sq m – there is a private swimming area for every family or couple at this gorgeous resort.
Accommodation
Swim-out rooms is a special feature of the resort however we wouldn't recommend staying in any room category under the Executive Suites.
Standard rooms and studio suites look quite nice on the hotel's website but in reality they look and smell old and don't have anything luxurious about them. They desperately need a face lift.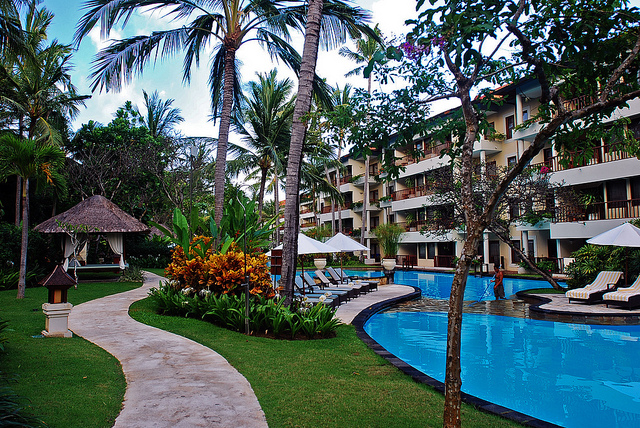 Executive suites are spacious but have OK views onto the resort (nothing special). Swim-out suites are excellent – my favourite in suite category. Even though they are 'older style' to be able to jump into the lagoon from your balcony is a real treat, especially for the little ones. You can enjoy the afternoon on your own deck while the kids have hours of fun in the lagoon in front of you.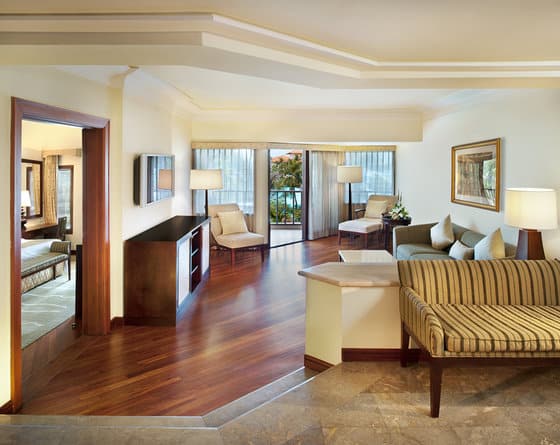 The water in the lagoon is very warm so even at night time swim is a pleasure.
If your budget is flexible new Pool Villas are the Best! They feature private pools, are newer that the rooms so they offer higher standard of finishes and furnishings and feel luxurious. 2 bedroom villas are perfect for families. Top pick!

Facilities
Lagoon Pool – is one of the largest in Bali. 5,000 sqm unfold before you offering sun, cover, and a focus on tranquility. Waterfalls welcome you from the lobby as the lagoon lazily stretches to the beach offering many different experiences. Children delight in 2 sandy beaches and a dedicated pool area. There is ample space for every guest looking either for privacy or for company. Lagoon area is dotted with many Balinese cabanas offering complete seclusion for pampering & lounging by the pool in shade and comfort.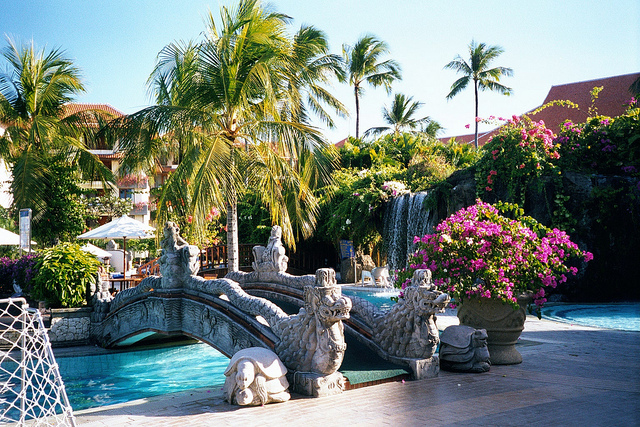 The Spa
Spa has an excellent range of local treatments. They are well priced and utterly relaxing.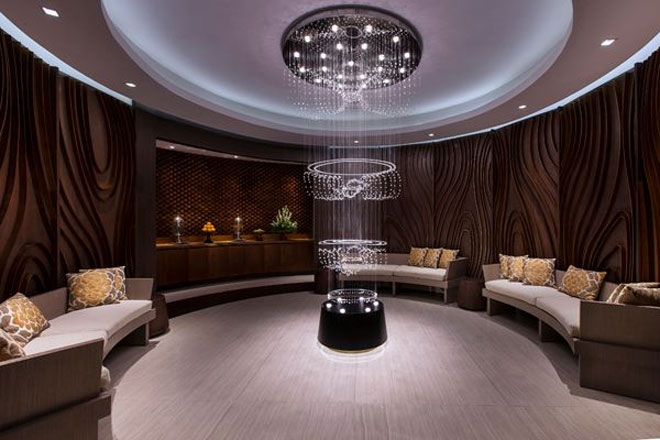 Search for special offers before you arrive (sometimes you get an extra half hour or other treats when you book early).
The Beach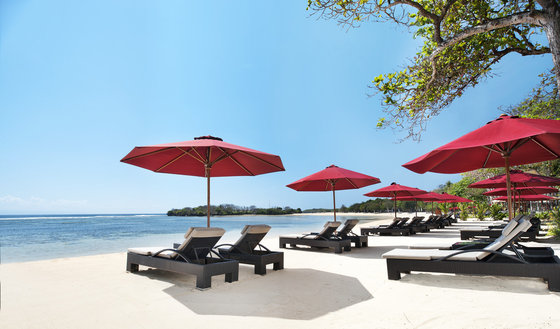 Laguna has a great location on a pretty white sand beach, the best in Nusa Dua. Bali beaches are not great for swimming but this beach was swimmable in the mornings (before the tide goes out), clean & blue. I managed to do a few laps and some kayaking.
Kids Entertainment – Laguna doesn't have a kids club but neighbouring sister property, Westin, has a small club with the focus on children 3+. It caters better for younger kids rather then pre-teens. Laguna guests can use the club for a fee. Westin has a fun swimming pool too with a water slide – hours of fun for the little Lux Travellers.
Dining at Laguna
Breakfast was excellent. Sitting on a shady patio with a glass of fresh orange juice and watching the kids play with local squirrels was a treat. Great service and good food selection. No complains!

Beachside restaurant was fantastic for lunch and quite nice for dinner. We didn't feel any need to leave the resort for our meals. They are tasty, served with a smile and well priced.
Tips for Starwood Platinum Guests – if Executive Suite is not available at check in speak to the front desk manager (Mr Dwi or his replacement) regarding paying a small supplement for a higher category. For a small fee ($50-100 per night) you will be able to upgrade to a fantastic suite, million times better than staying in a room or junior suite.
The Lux Traveller Loves:
New Beachfront Villas
True Balinese style throughout the resort
The biggest lagoon style pool we have seen in Bali
Swim-out suites
Excellent Spa
Very reasonable rates. They start from $200 per night for standard room.
The Lux Traveller Didn't Like:
Standard rooms & suites are dated and desperately need an upgrade
Not much else – The Laguna bali is a wonderful resort!
All In All – The Laguna Bali is an excellent family resort that provides value for money with Lux touches. Recommended for budget conscious Lux Traveller families.
To Book please call: + (62)(361)771327 or email Laguna Reservation laguna.reservation@luxurycollection.com
8618882f80190835c83e66a926ec6425d8a540fa1450bcd14e