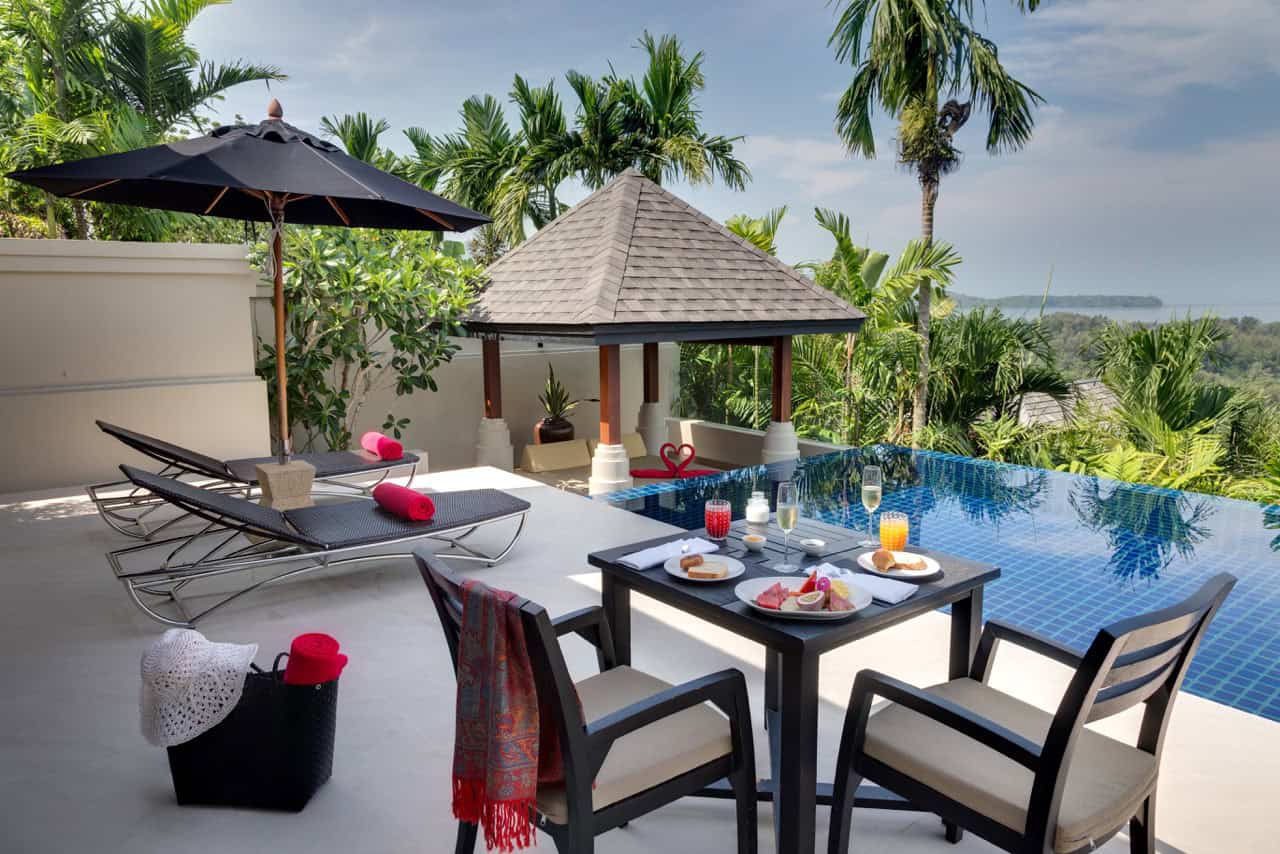 The Pavilions is one of the three 'adults only' 5 star resorts in Phuket. If you are coming to Thailand on a honeymoon this is a perfect place to find absolute seclusion and privacy. The Pavilions are located on top of the hill in the picturesque North of Phuket with the views towards the sea and the mountains. Exciting Laguna complex with wonderful beach clubs, golf course and a multitude of premium restaurants is at your doorstep, no longer than 5-10 minutes away in the hotel car.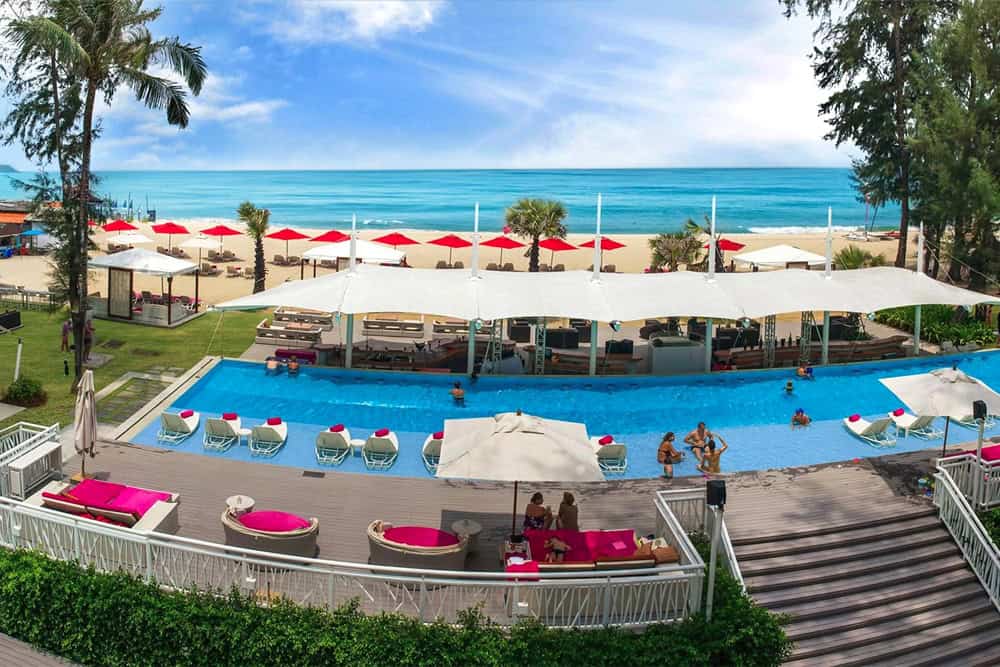 Accommodation
The Pavilions offer either sea or mountain view villas. Ocean view villas are are top choice – from your private infinity pool the views are pure magic. And at night the view turns to mesmerizing – imagine watching the fireworks over the beach with a myriad of stars above you.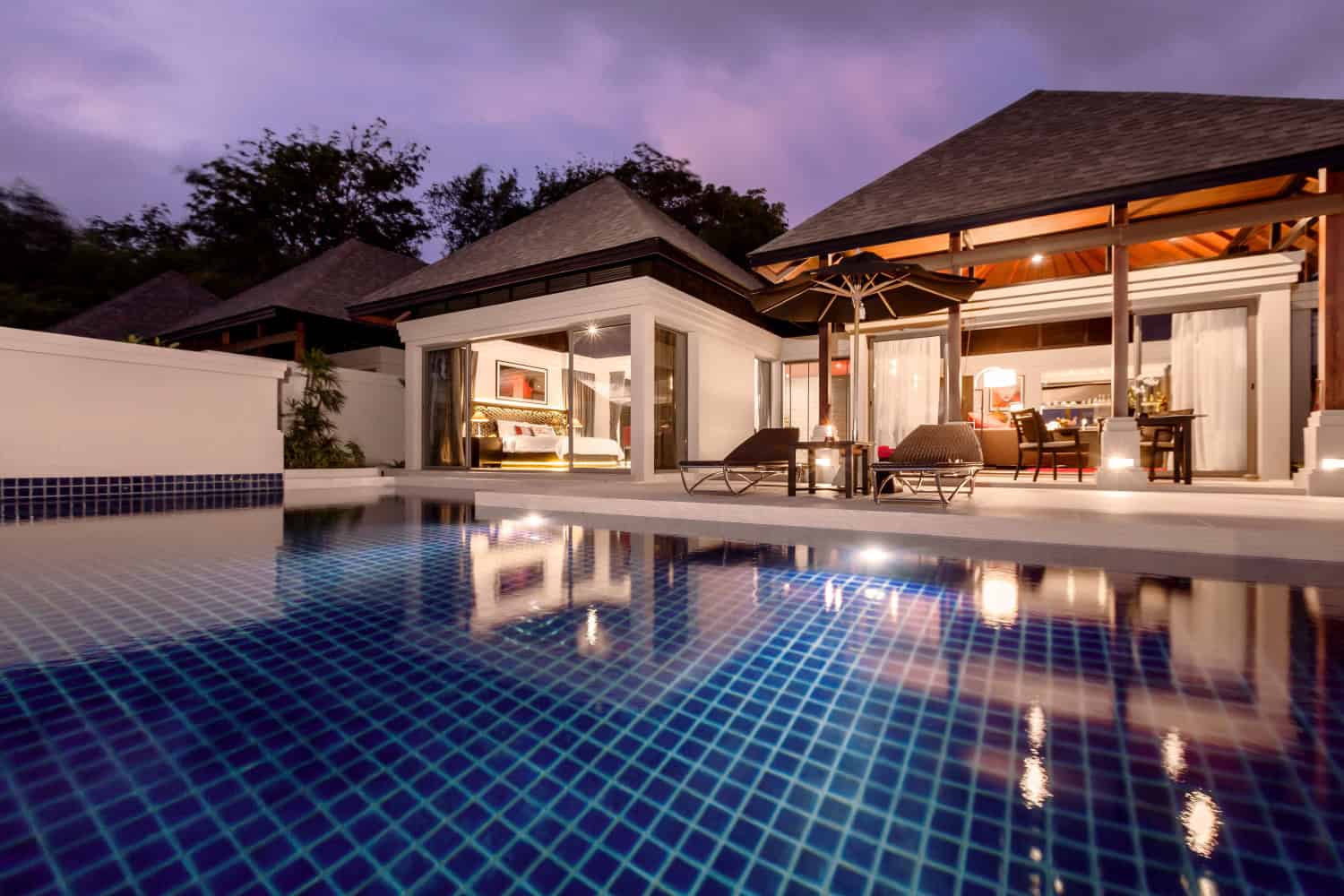 Outdoor terrace has a romantic cabana and a dining table for two – perfect for those romantic dinners under the stars.
The pool is a good size, I managed to do a few laps in the morning – a great way to wake up. Bedroom doors open right onto the pool so I probably wasn't the first one to come up with an idea of a morning swim. Best part – swim in your birth suit and no one will ever know- these villas are completely private.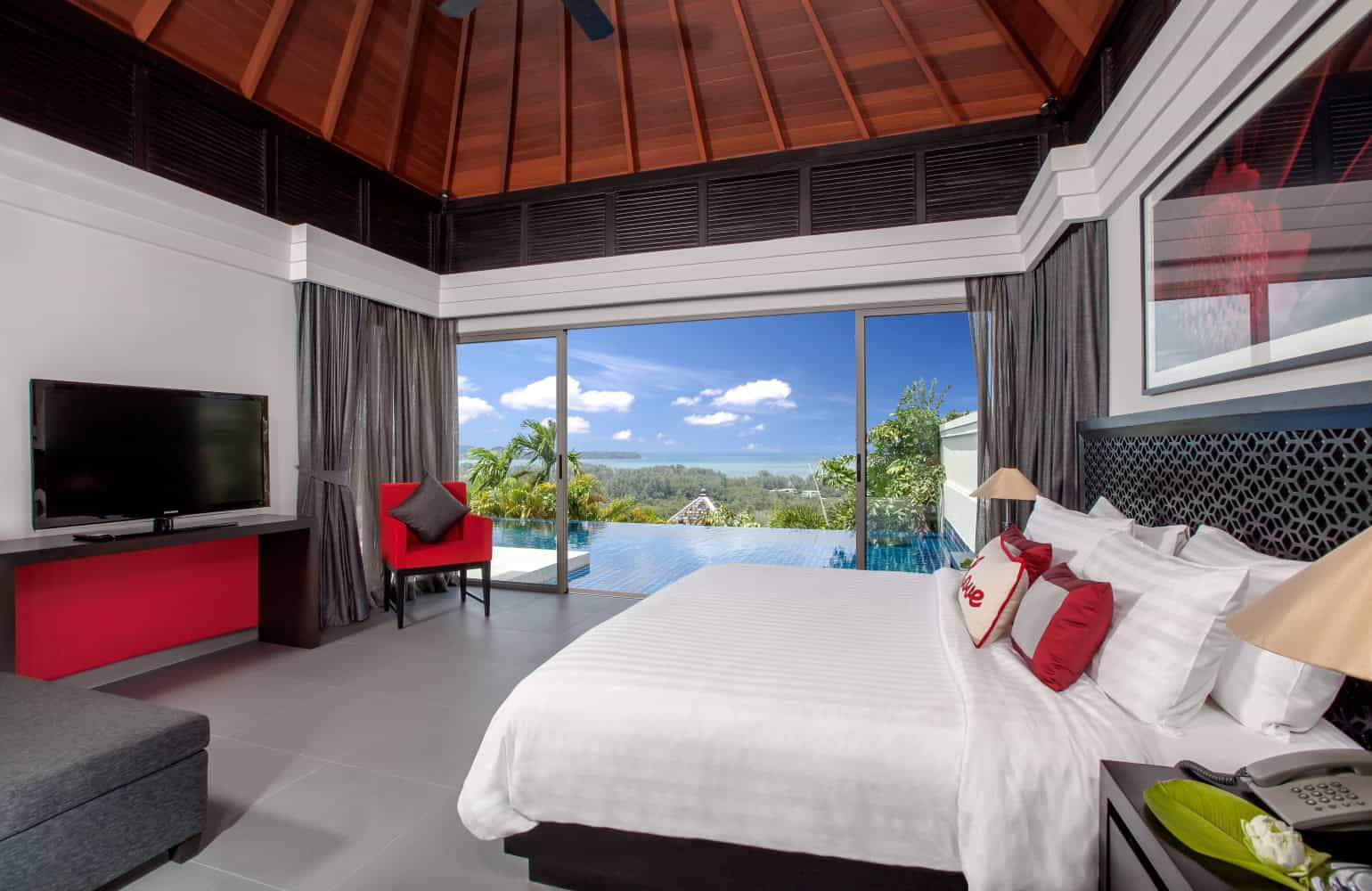 Inside the villas are just as seductive and comfortable as they are outside. The living room is decorated with an oversized love bed / sofa – big enough for two to relax and watch a movie in the ultimate comfort.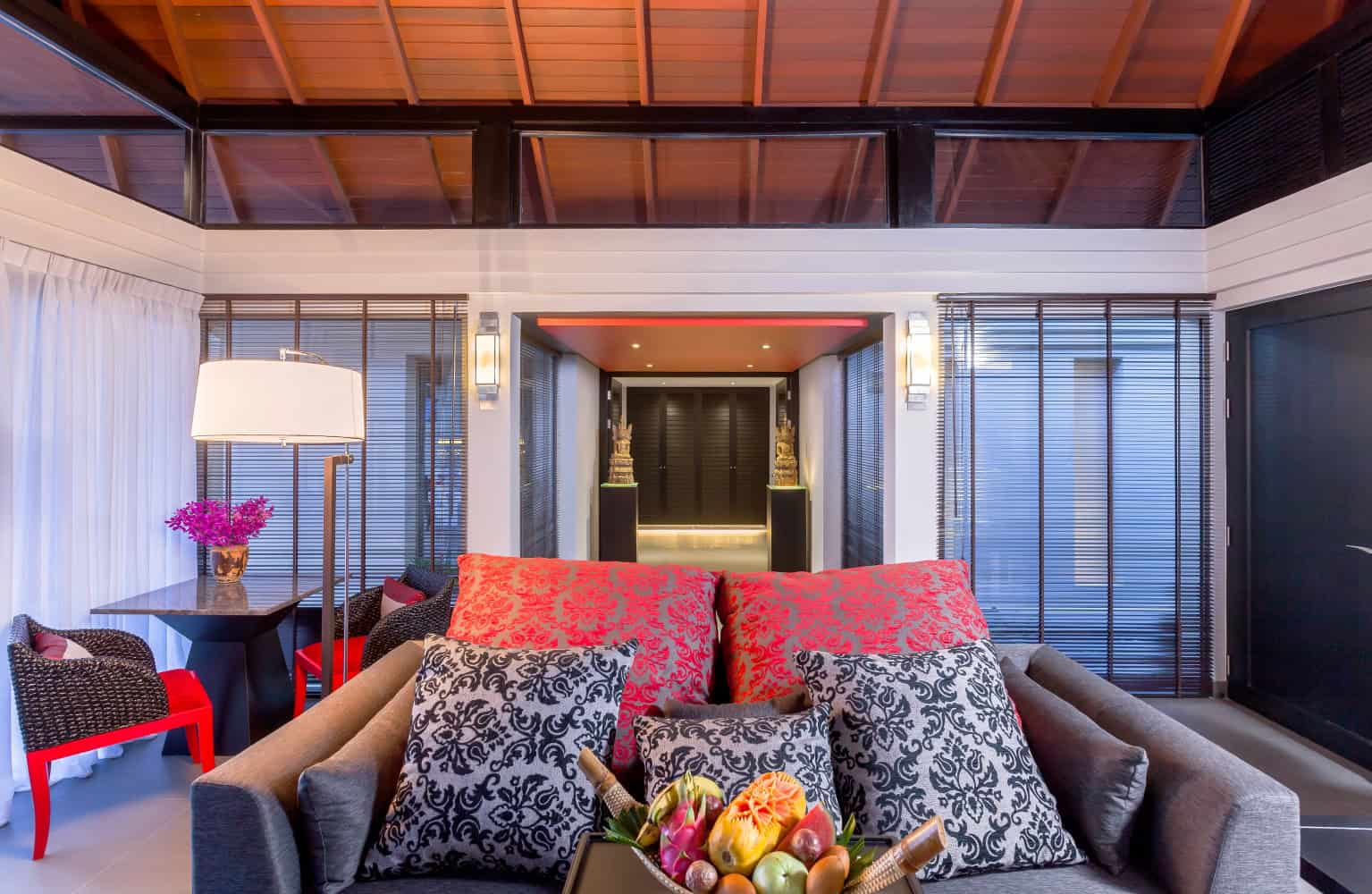 Each room category is decorated with a tropical flower wallpaper that dominates the living room. It could be a lotus or an orchid – pretty and tropical, perfect for The Pavilions setting.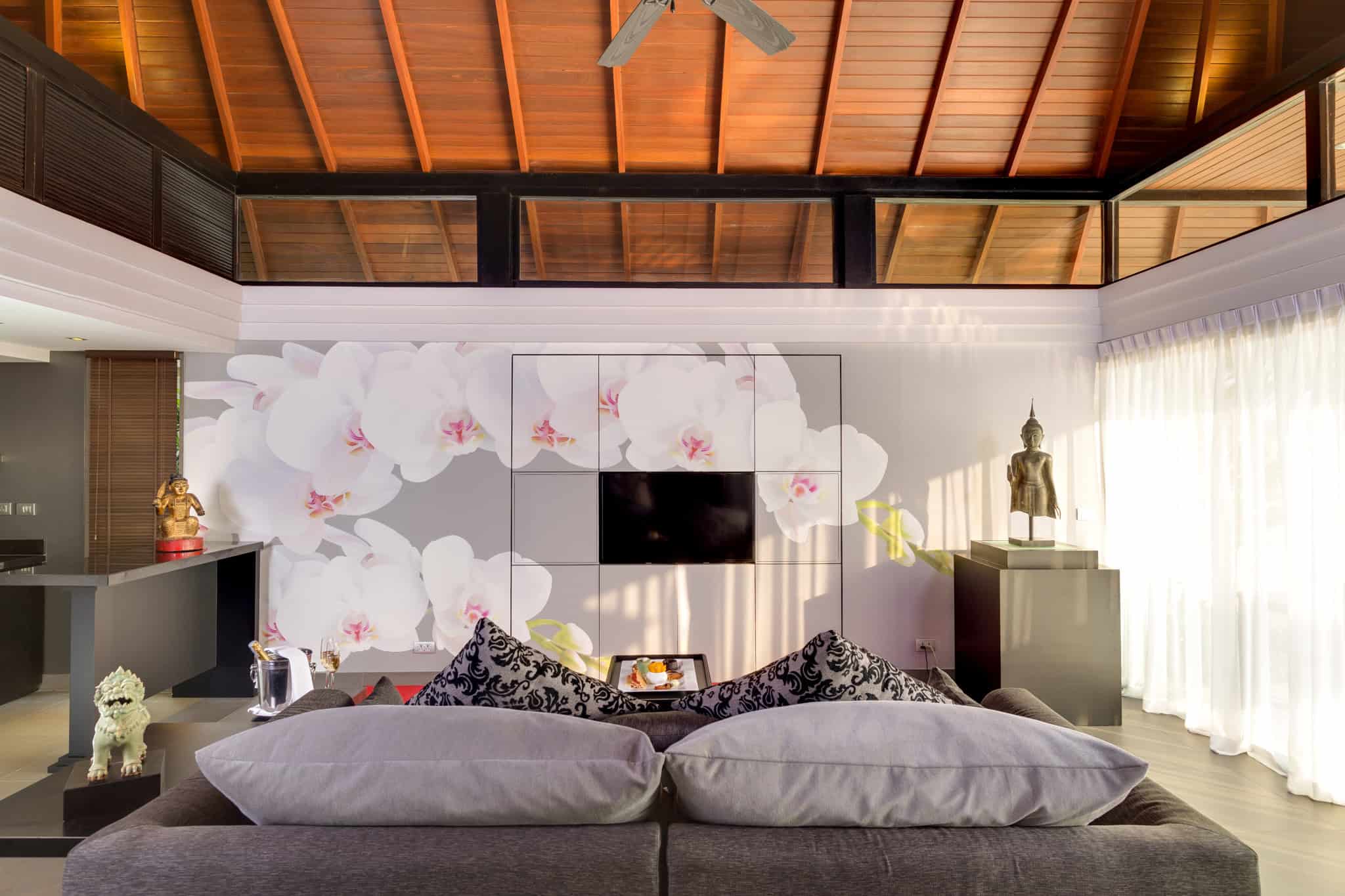 Rooms are decorated in black, red and white tones – strong colour combination but it works remarkably well at The Pavilions. Warm red rugs complement black sofa, modern artworks framed in red and black give the place a touch of chic and white, stand alone baths offer a touch of purity and sense of calm to the whole place.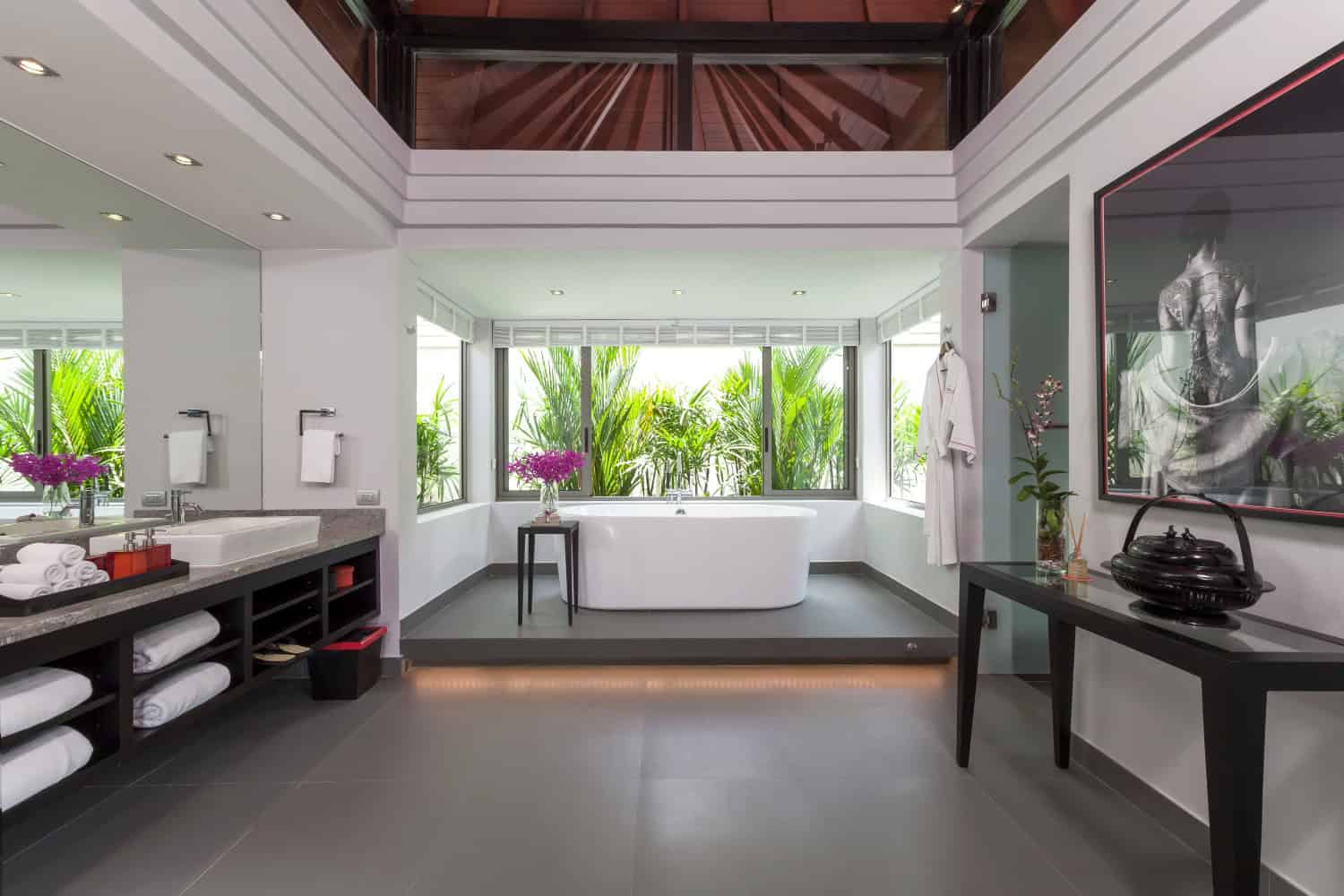 I loved little details like romantic notes left on the bed at turn down, a bed cushion that says 'Amore', interesting quotes of the day on the daily menus.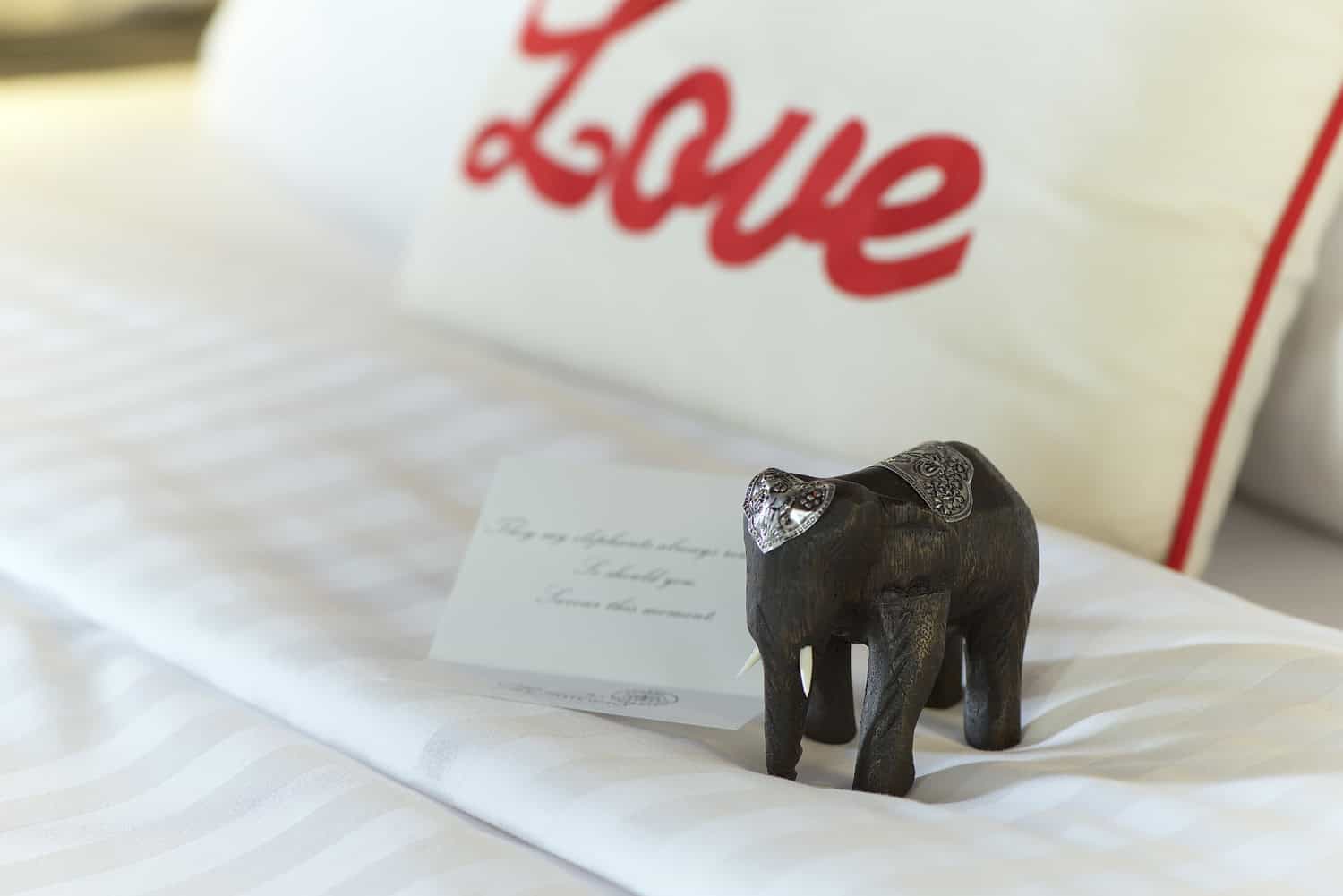 Spa
Spa culture is a big part of the stay in The Pavilions. Each villa is equipped either with two massage tables or with a purposefully set up massage room with its own steam room / sauna. Guests staying in those villas are offered daily treatments as part of the package (on request).
I am a big spa lover and really enjoyed having an in-villa massage. I could choose a view and a setting (indoors or outdoors) and the therapist took care of everything else – refreshing drink before the massage, bathrobe, nicely set up massage table and ginger tea afterwards. The treatment itself was excellent, relaxing 90 minutes oil massage that started with inhalation of aroma oil and finished with an ultimately relaxing head massage.
Dining
The Pavilions offer a few dining options – main restaurant for breakfast and dinner, Bar 360 – for cocktails and tapas in the evening or in-villa BBQ for those who prefer their own company.
Breakfast is a combination of a la carte and buffet. Buffet features fruit, cold cuts and pastries, while daily a la carte menu offers a selection of chef's specials – fresh fruit juices, egg dishes, French toast or pancakes.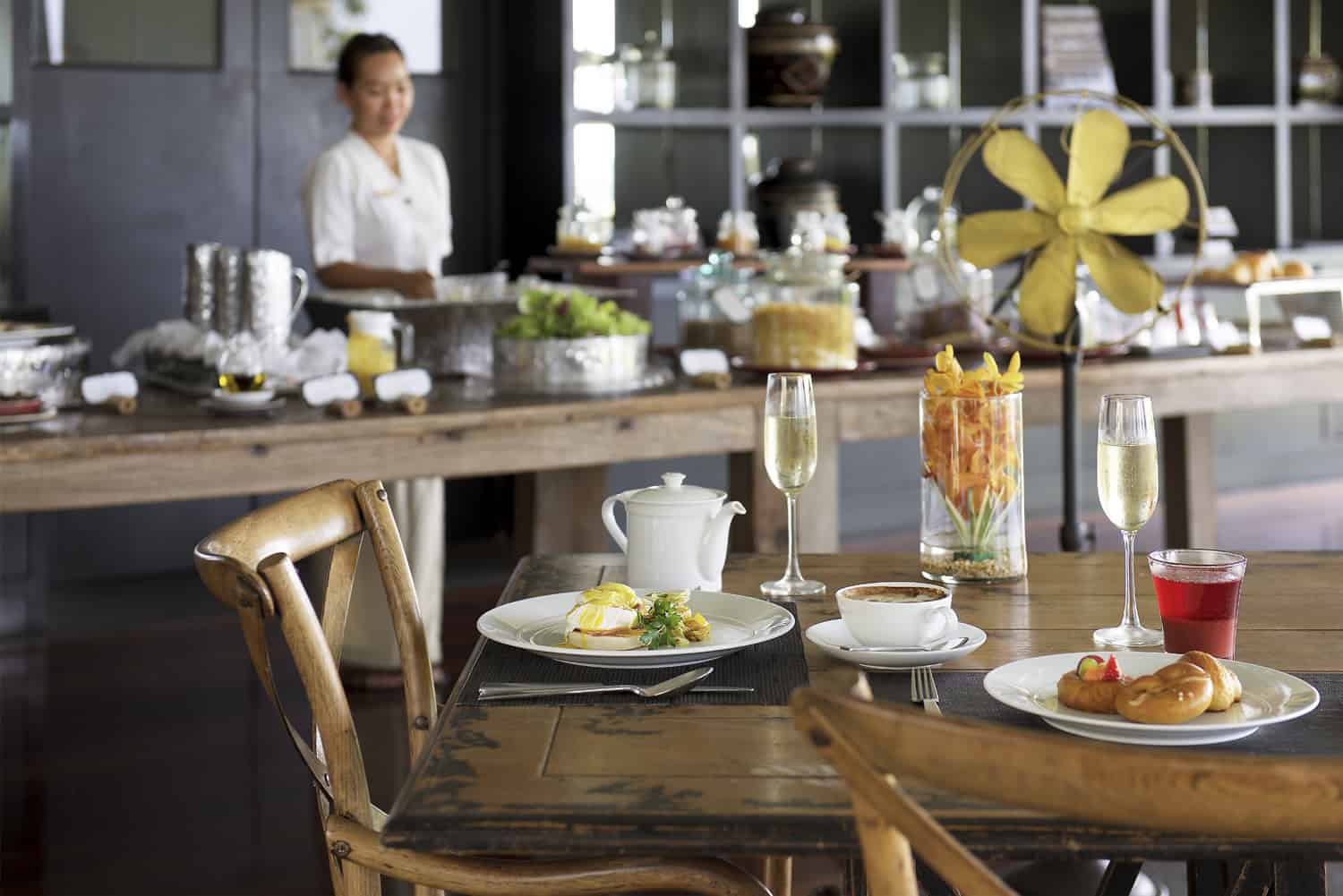 Complimentary afternoon tea is also a lovely feature – it is served in the Plantation Club (resorts club house) between 3.30-4.30pm daily.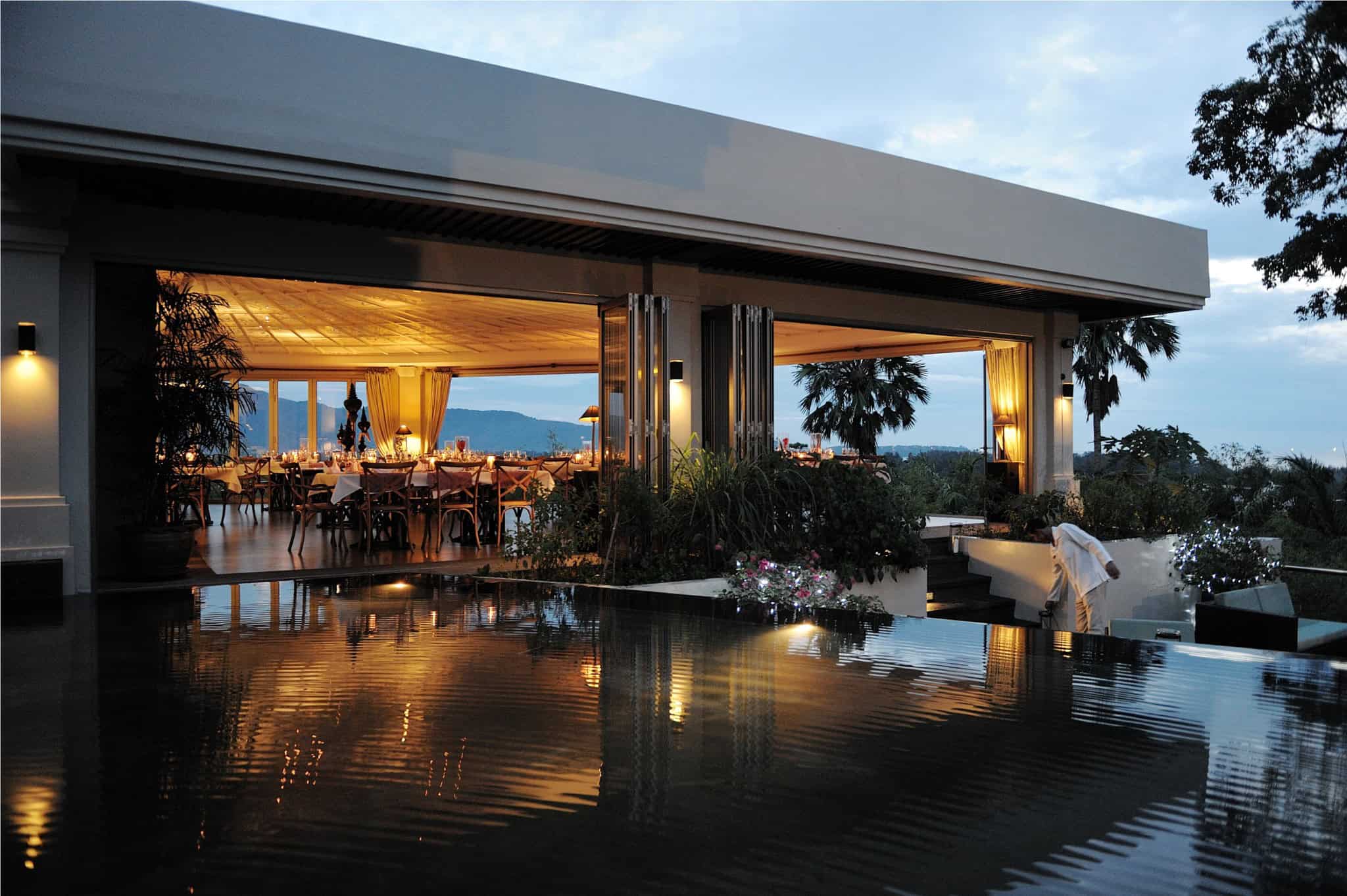 Bar 360 is an absolute must visit, even if you are not staying in The Pavilions. It has a sensational cocktail list and a selection of the best tapas I have tasted in a long time. My favourites were lobster buns, prawns in betel leaves and mamasan beef in roti bread. Make a night of it – dining under the stars at its best in Phuket.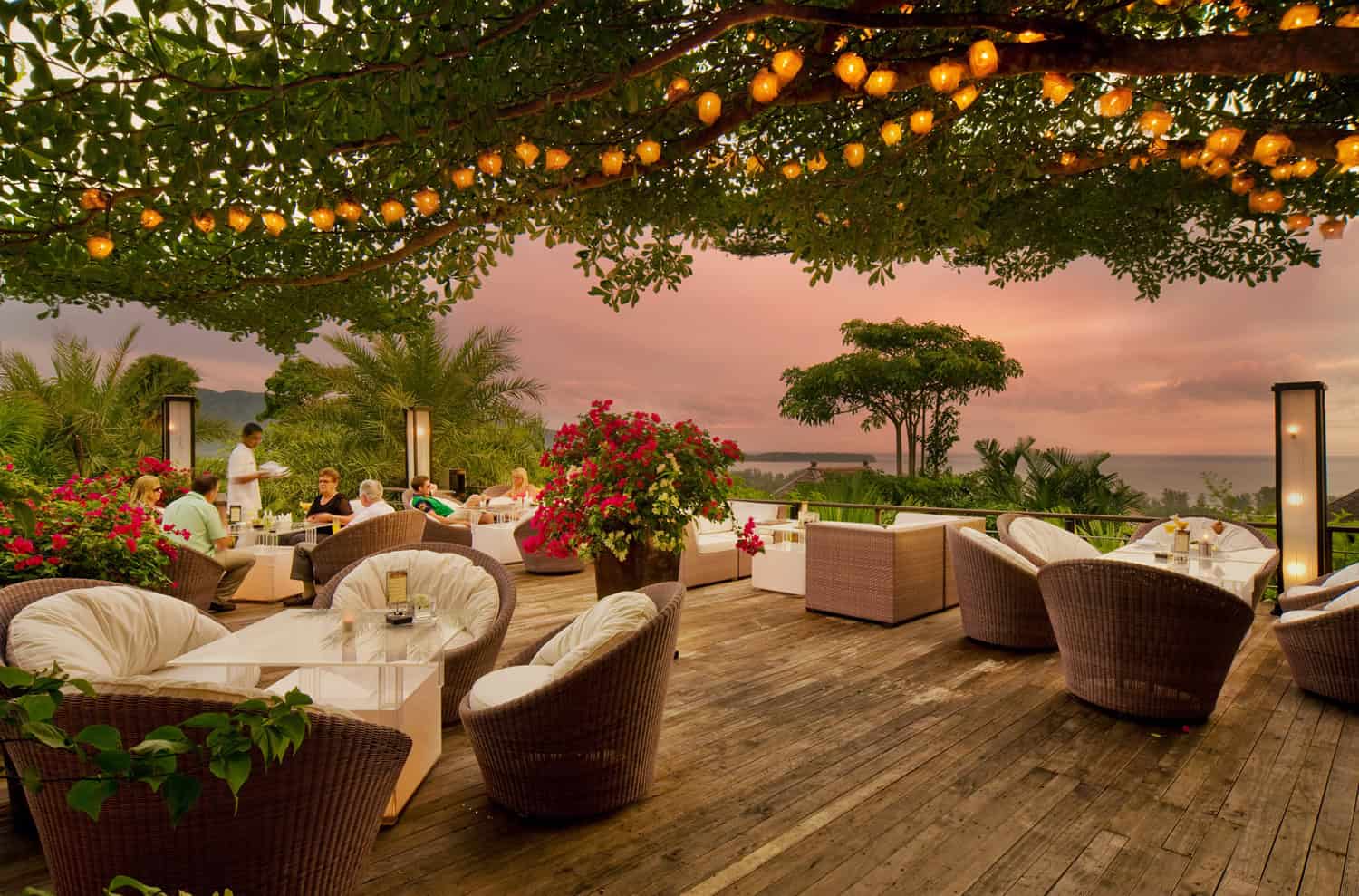 General Information
The resort doesn't offer a common pool area as the idea is for the guests to enjoy privacy and seclusion. Children under 18 are not allowed at the resort.
Even though The Pavilions is not on the sea the hotel offers a shuttle bus to Layan Beach and discounted rate for two of the best beach clubs in Phuket. Both are 10 minutes away by car.
Airport is only 30 minutes away.
The Lux Traveller Loves
Romantic setting, child free policy, very welcoming décor that makes you feel like home, large private pools and exceptional Bar 360.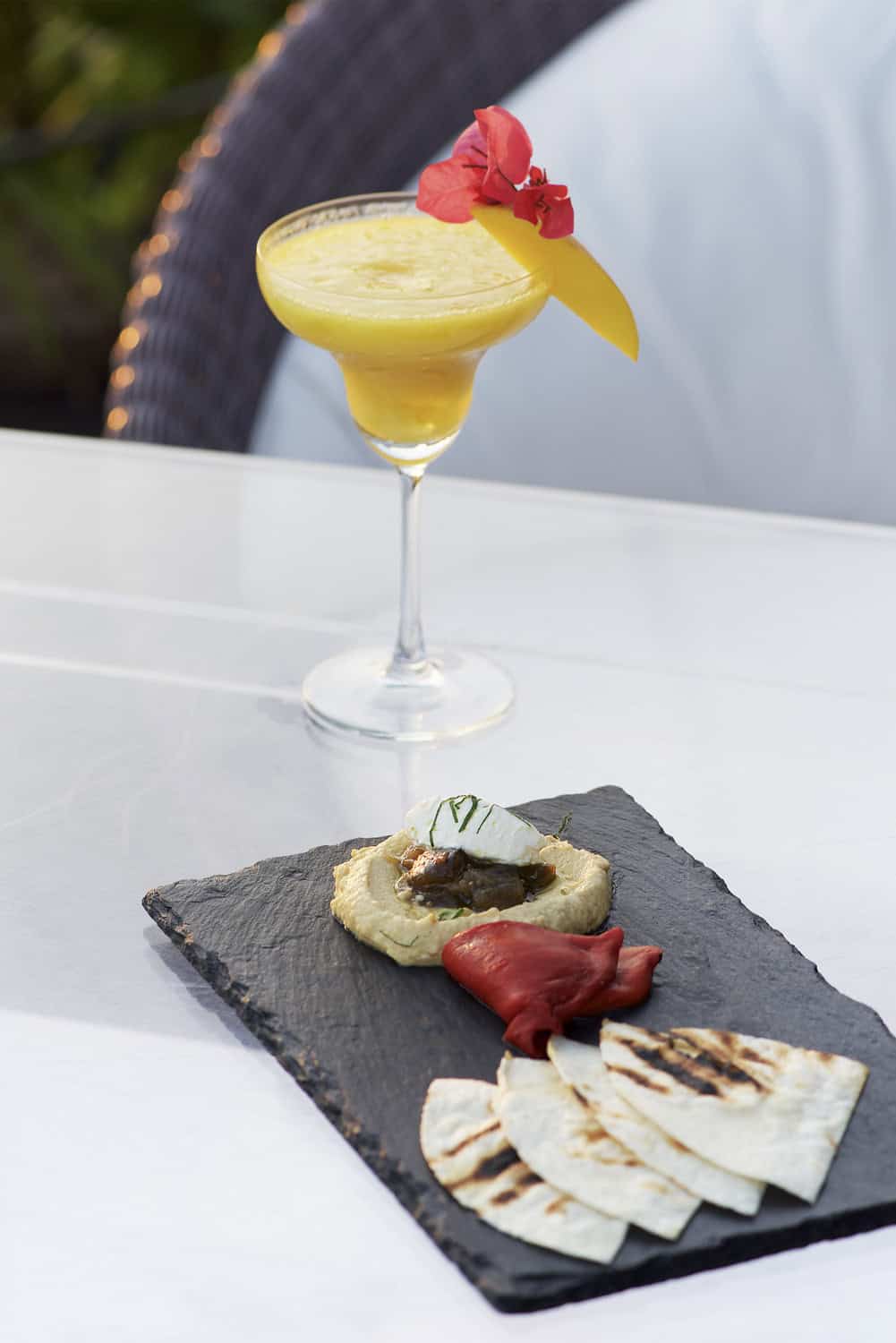 Splitting Hairs
Not all staff are fluent in English and sometimes their hesitance could be misinterpreted as unwillingness to help. Thai people generally are very friendly and don't mean to upset you, they just need a little more training.
All In All
The Pavilions is an excellent choice for those looking for romance and privacy. In-villa spa treatments are sure to pamper your body while the romantic setting will rejuvenate your feelings for each other.