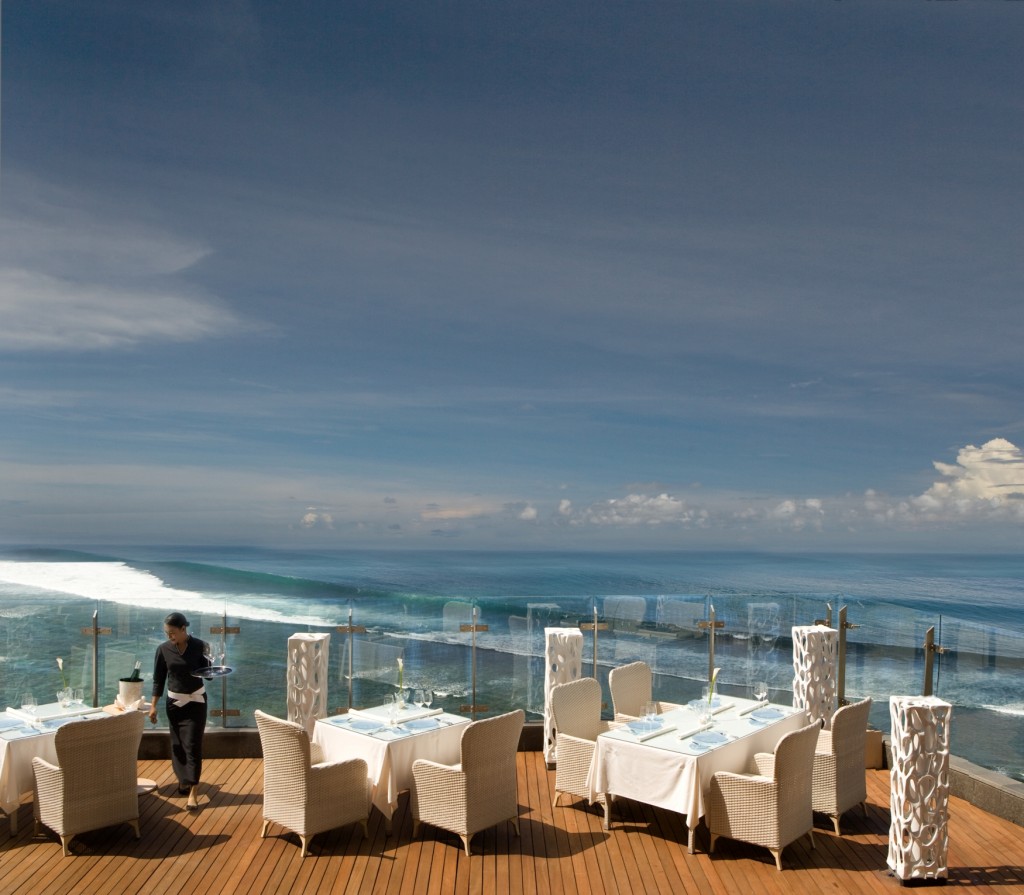 Bali has an overwhelming choice of beautiful restaurants. Some are known for authentic food, some for romantic atmosphere, some for inventive modern cuisine. There is truly something for everyone in Bali but we have chosen Top 10 Restaurants that combine all of the above elements and are truly recommended by The Lux Traveller.
Mozaic Ubud
Mozaic is the most famous restaurant in Bali. Executive Chef Chris Salans is a celebrity in Indonesia and he is now being featured on Indonesian Masterchef and many other TV shows.
His cuisine is based on the local flavours in season yet is completely modern European in style.
Mozaic serves its guests a 6-8 course degustation menu that changes daily and as Mr Salans says is 'orchestrated like a symphony'.
Each dish arrives on the table looking like a piece of art – perfectly arranged on a big plate with a multitude of glorious colours.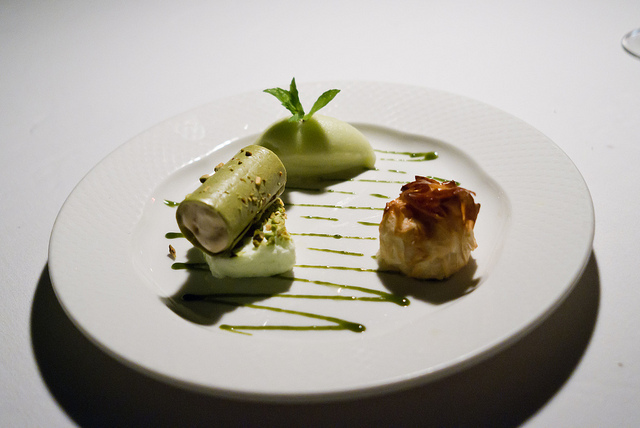 Mozaic also prides itself on having true silver service – wait staff are very knowledgeable, some have been with the restaurant for over 10 years.
The setting is very romantic – 20 tables are set around the large garden, there is enough space between the tables for privacy which adds to the romantic mood. Candle light, sparkly silverware and crisp white table cloths add to the glamorous vibe.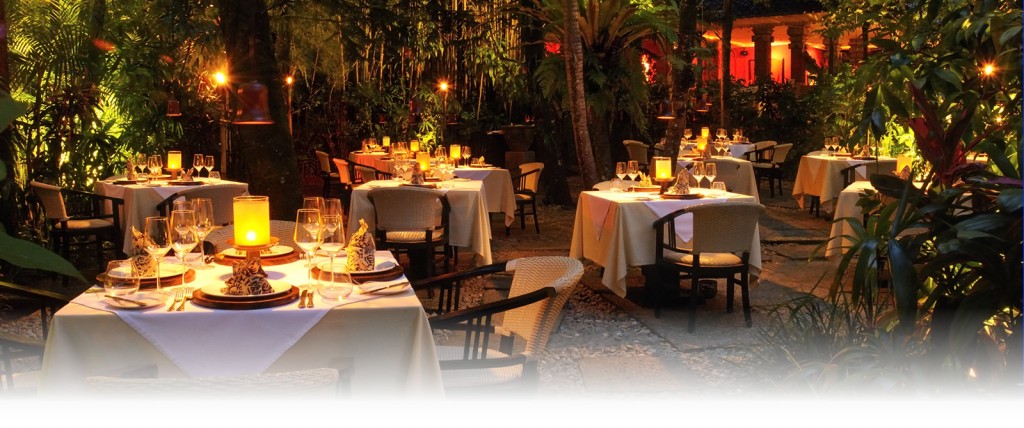 Mozaic is a place we come back to every year and it just gets better and better. As it happens we are not the only ones who recognise Chef Salans' achievements – San Pellegrino guide has added Mozaic to their top 100 restaurants in the world, the only Indoneasian restaurant to achieve this status!
Location: Ubud
Price Range: USD$200 per couple plus wine
Atmosphere: Romantic & glamorous
Family Friendly: No
Mozaic Beach Club Seminyak
A completely different setting and offering to Mozaic Ubud, yet beautiful in its own way.
It is located on a beachfront, 5-7 min taxi drive from the centre of Seminyak. Mozaic Seminyak combines a beach club with sexy white cabanas and a sparkly blue swimming pool with a poolside bar and a restaurant.
I imagine it is a wonderful venue for a late lunch combined with a few lazy hours by the pool. We have only experienced the restaurant for dinner, which is a more quiet time and was perfect for a family outing.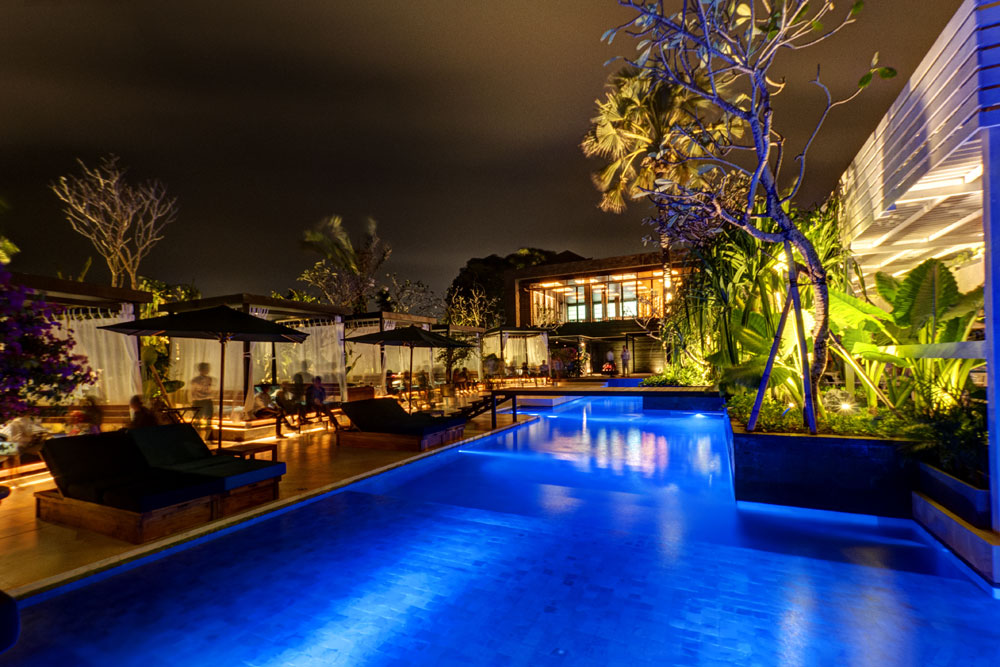 A la carte menu has a great selection of seafood, pastas and salads. The star on the menu is a caviar selection, served with lemon crème fraiche, wakame bread and seaweed salad. We found most dishes to be very rich but certainly full of flavour.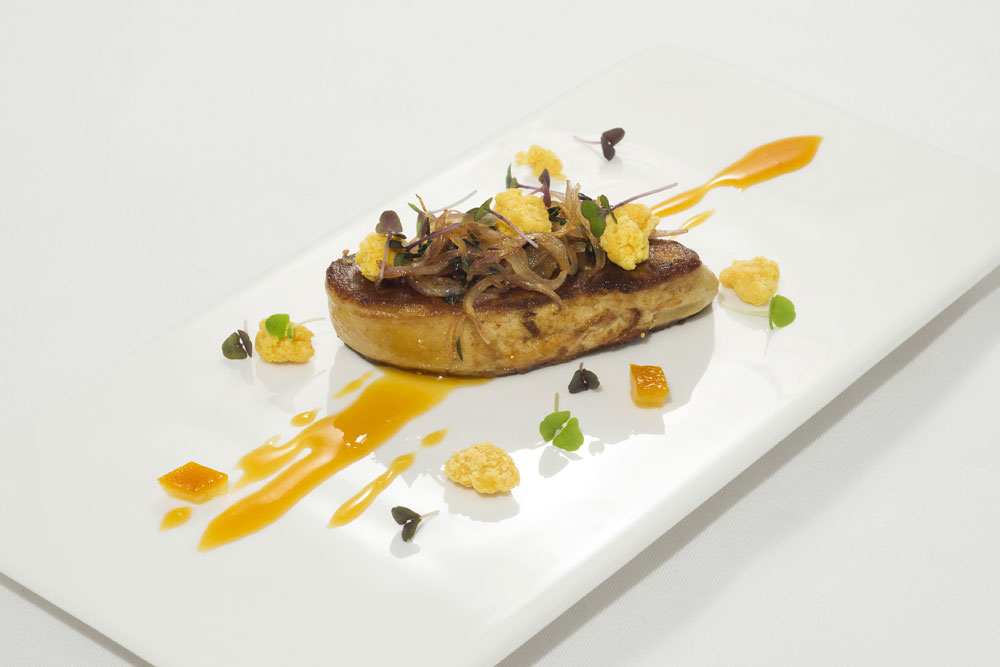 We love the stylish booth seats at Mozaic beach club – they are perfect for romantic couples wanting to seat close. The service was first class and the whole experience very relaxing.
A view over a pretty lit up pool and the sound of rolling waves just added to the relaxed atmosphere of the place.
A great restaurant for a quiet night out.
Location: Seminyak
Price Range: USD$120 per couple plus wine
Atmosphere: Glam
Family Friendly: Yes
Metis Lounge
Metis is another modern French restaurant in Bali – French seems to be a very popular theme amongst the fine dining establishments on the island.
Metis combines a cocktail lounge set up amidst the green rice paddies and a modern French restaurant.
The Lounge is a place to be seen for a pre-dinner drink or a perfect venue for you to warm up before hitting Bali's colourful night scene.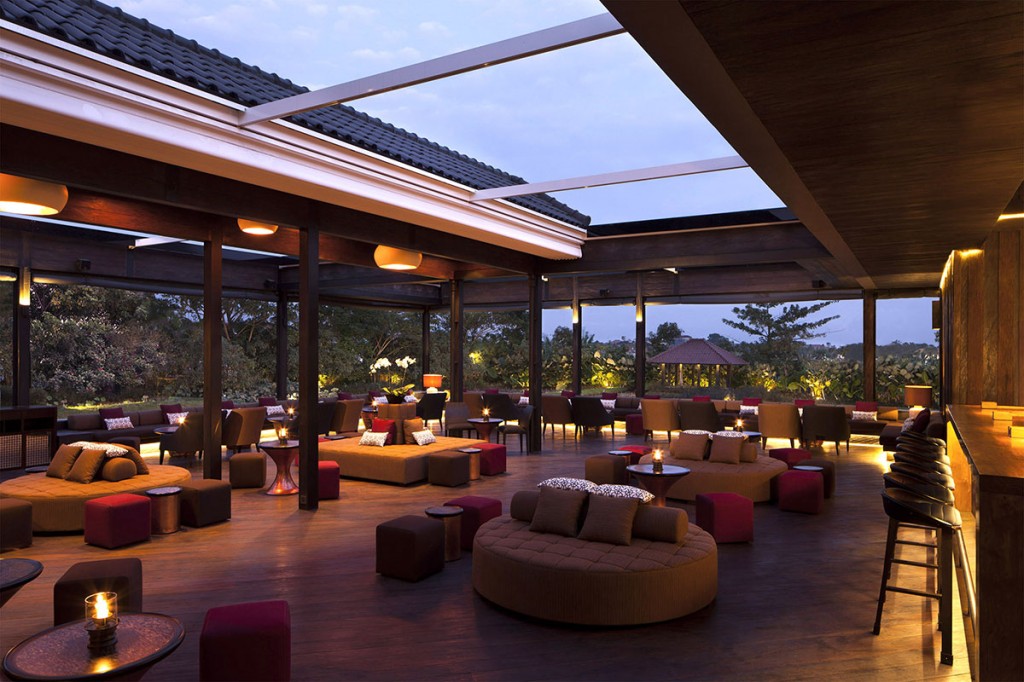 We had a pleasure to experience the 'cocktail and canapé' hour on Friday night – a special night when from 5-7pm guests can enjoy complimentary canapés with any order.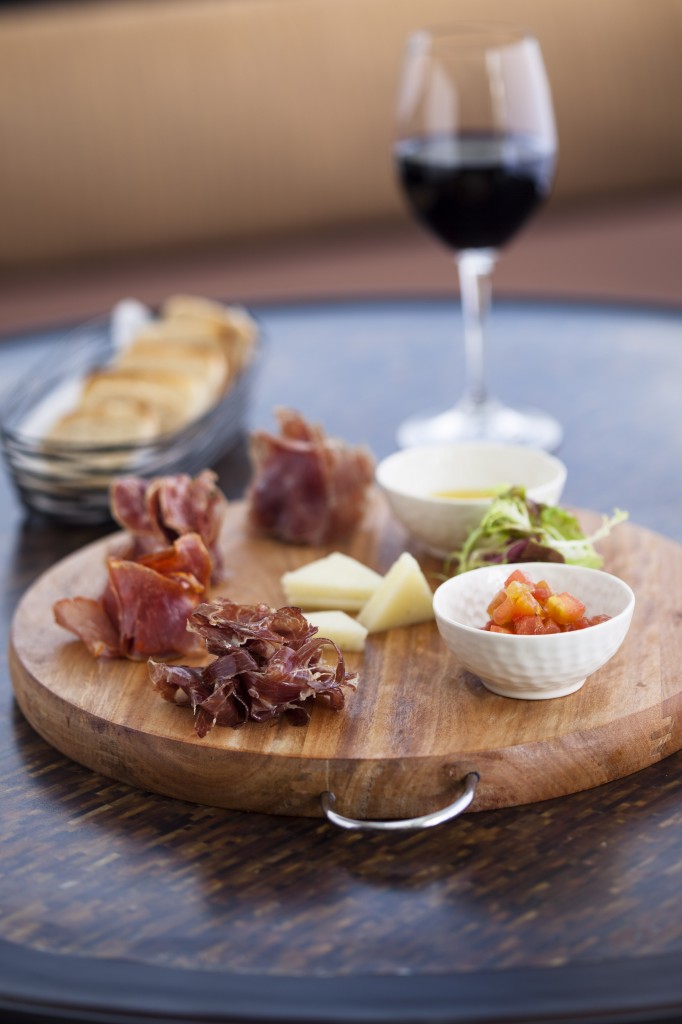 Lounge menu offers a great selection of light dishes – cured meat plates, sushi, light salads, salt & pepper squid and many others that go so well with cocktails and fun conversation.
Make a night of the lounge experience or continue on in the restaurant.
Location: Seminyak
Lounge Prices Range: USD$20 per dish plus drinks
Atmosphere: Glam & Noisy
Family Friendly: Yes
Sarong
If you are in the mood for spicy Asian food in glamorous atmosphere look no further then this chic restaurant.
Sarong firmly remains one of my favourites in Bali – it consistently delivers the most amazing food in a wonderful atmosphere.
Guests can choose between plush indoor setting of comfortable sofas and crystal chandeliers or a romantic garden setting – more private and secluded.
Sarong is booked out every night of the week, so make sure to book well ahead.
Extensive menu features dishes from all over Asia and is divided into Starters, Salads, Curries, Stir fries, Dishes from the Tandoori or front the Coconut Char Grill. Our favourites are Grilled Scallop with sweet crispy duck, Malay Prawn salad with green mango, Slow Cooked Octopus salad with green papaya, Waguy Beef Panang curry and so many others.
Wonderful restaurant and a 'must try' in Bali.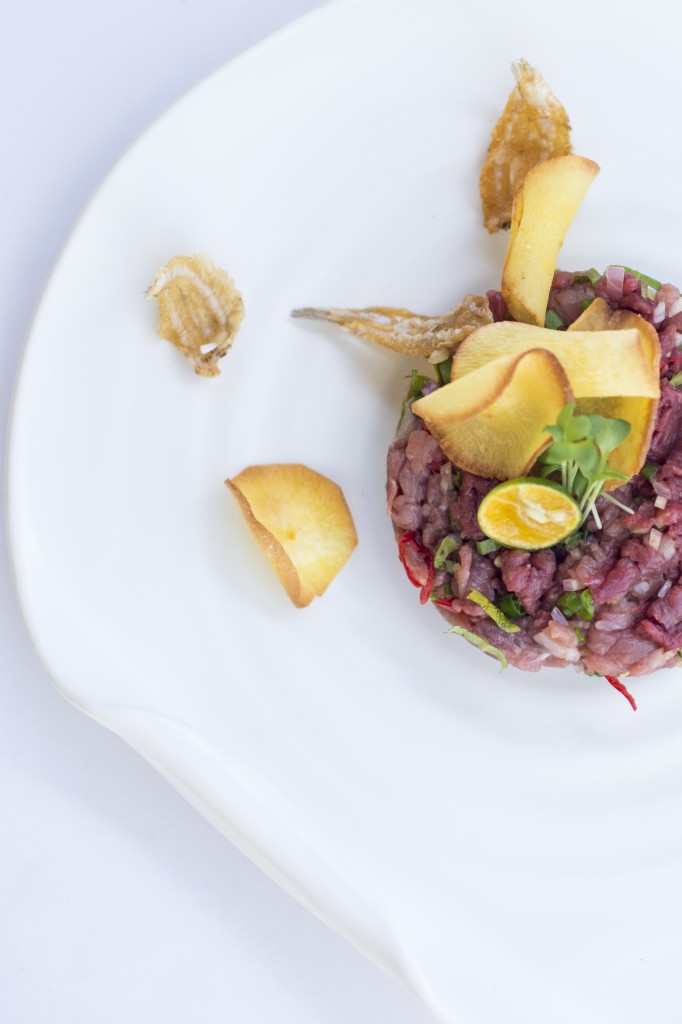 Location: Seminyak
Price Range: USD$100 per couple plus wine
Atmosphere: Romantic & glamorous
Family Friendly: No
Mama San
Mamasan is a sister property to the stylish Sarong. It is in a completely different setting, on a main street of Seminyak in a modern building.
Impressive industrial design is somehow warm and inviting and a huge mural on the wall lets you know that you are in for an Asian treat.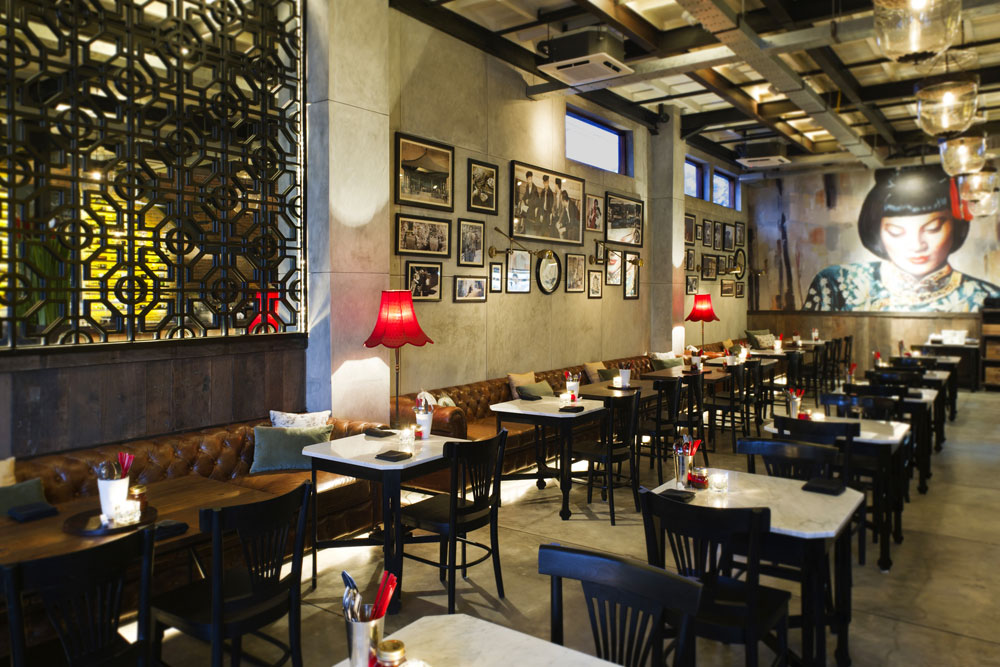 The tables are set over two levels and all of them are booked every night, so just like with Sarong, do book in advance.
The food is unbelievable – the most flavorsome Asian cuisine in Bali. Long menu features specials from all Asian countries and have a wide selection of curries, salads, soups and noodles.
Beef dishes are especially good! Try Beef Vindaloo and the very famous Mama San Beef & Bamboo dumplings.
Atmosphere – busy and buzzing! Mama San is where you find the international jetstet who appreciates the finer things in life.
Another 'must visit' in Bali!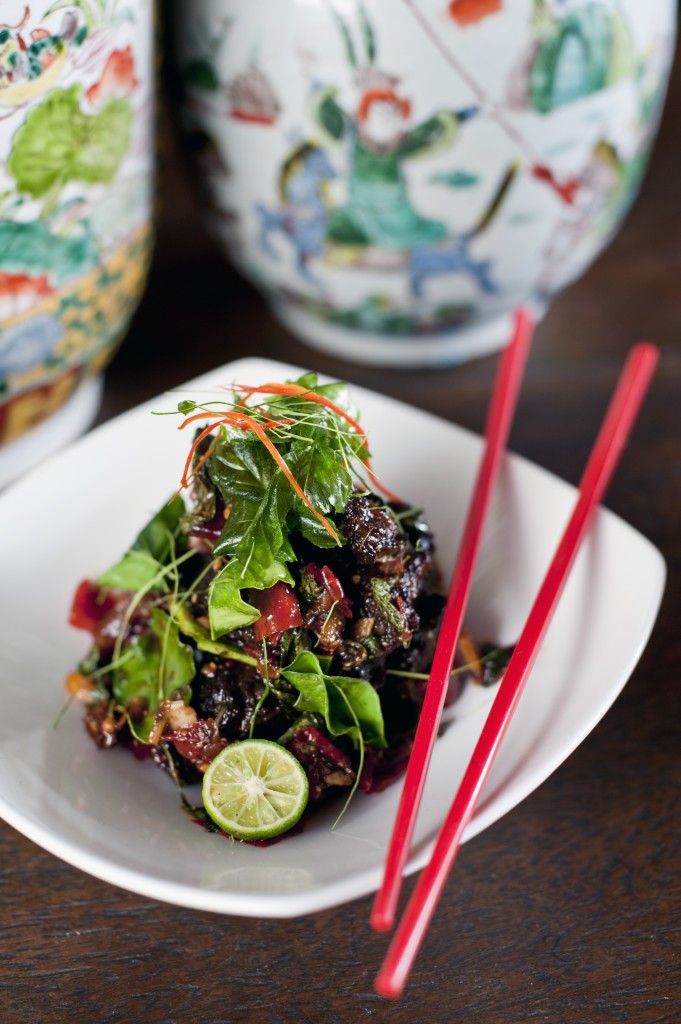 Location: Seminyak
Price Range: USD$100 per couple plus wine
Atmosphere: Buzzing
Family Friendly: Yes for an early sitting
La Lucciola
La Lucciola is a wonderful, very family friendly restaurant on the beachfront in Seminyak. It is a short walk away from The Legian Hotel.
La Lucciola is located is a historic colonial house right on a pretty stretch of Seminyak beach. La Lucciola has been in Seminyak for over 10 years and is one of the pioneers of good food in Bali.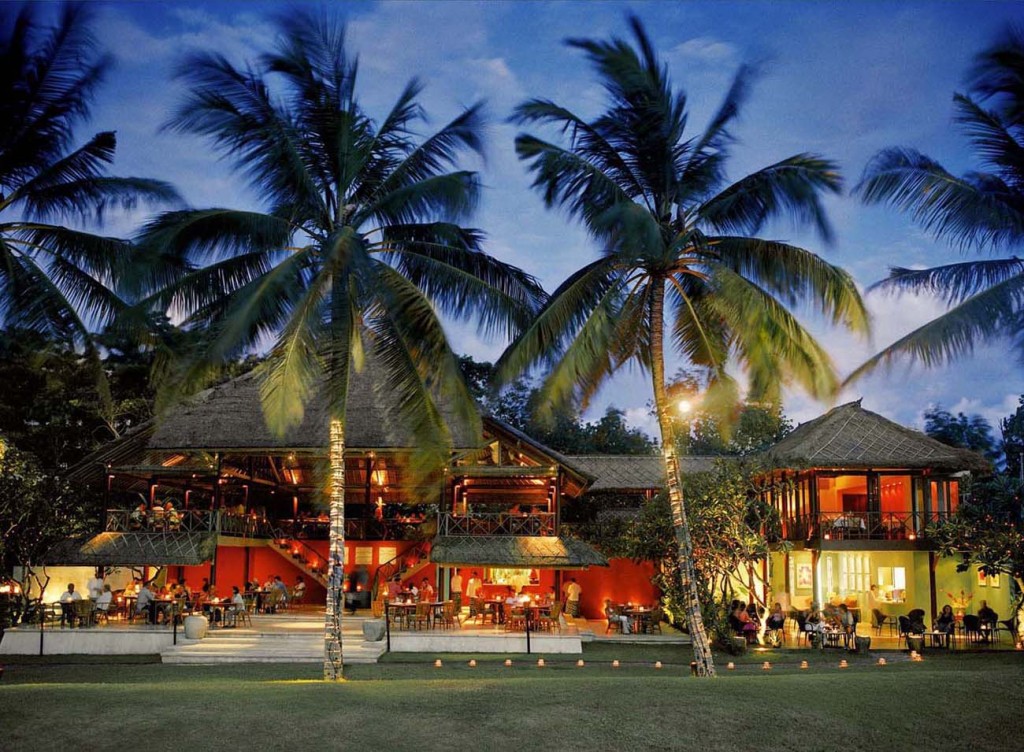 The menu has a fabulous selection of pizzas and pastas, salads, fish and meat. 6pm setting is perfect for a sunset drink or for an early family dinner. From 8pm onwards couples start coming up to the restaurant and the atmosphere changes from family fun to a beachside adult diner.
La Lucciola is open all day and offers excellent weekend breakfast and Sunday brunch (we hear it is very popular with the expats).
The prices are very reasonable which makes it even more enjoyable to linger at La Lucciola a little longer.
Location: Seminyak
Price Range: USD$60 per couple plus wine
Atmosphere: Relaxed
Family Friendly: Very
Cuca Flavor
Cuca is a new kid on the block and another excellent find. It is located in Jimbaran Bay, an area of Bali with a multitude of hotels yet not many great restaurants to choose from.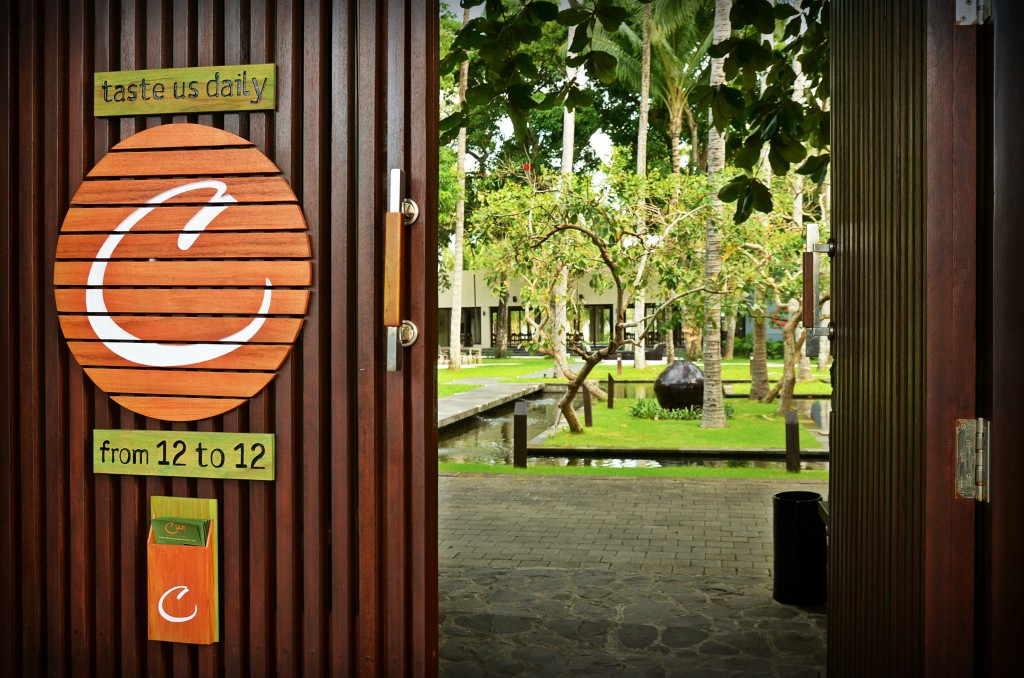 Cuca's appearance in Jimbaran was very well received and our experience at the restaurant was fabulous.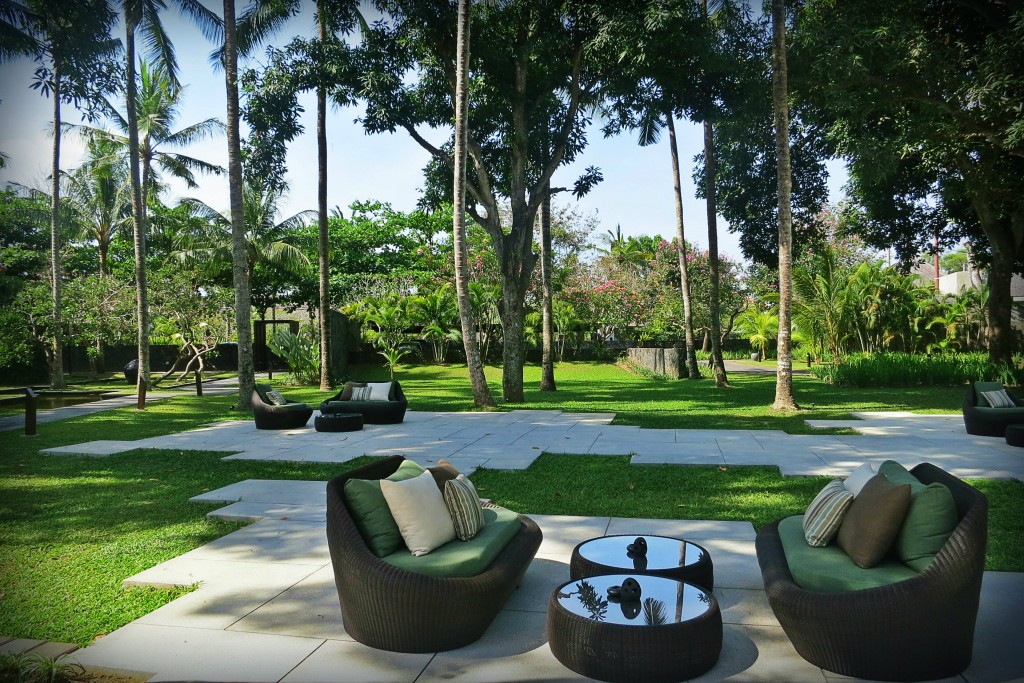 Tapas style dishes are made using only the best and the freshest local ingredients. The dishes are designed to be shared, so get a group of friends together and come over to Cuca for a celebration of local flavours.
Cuca food is a treat for all senses – it is colourful, immaculately presented and delicious. Some of our favourite dishes at Cuca are BBQ octopus, Roasted Tiger Prawns and Cuban Corn.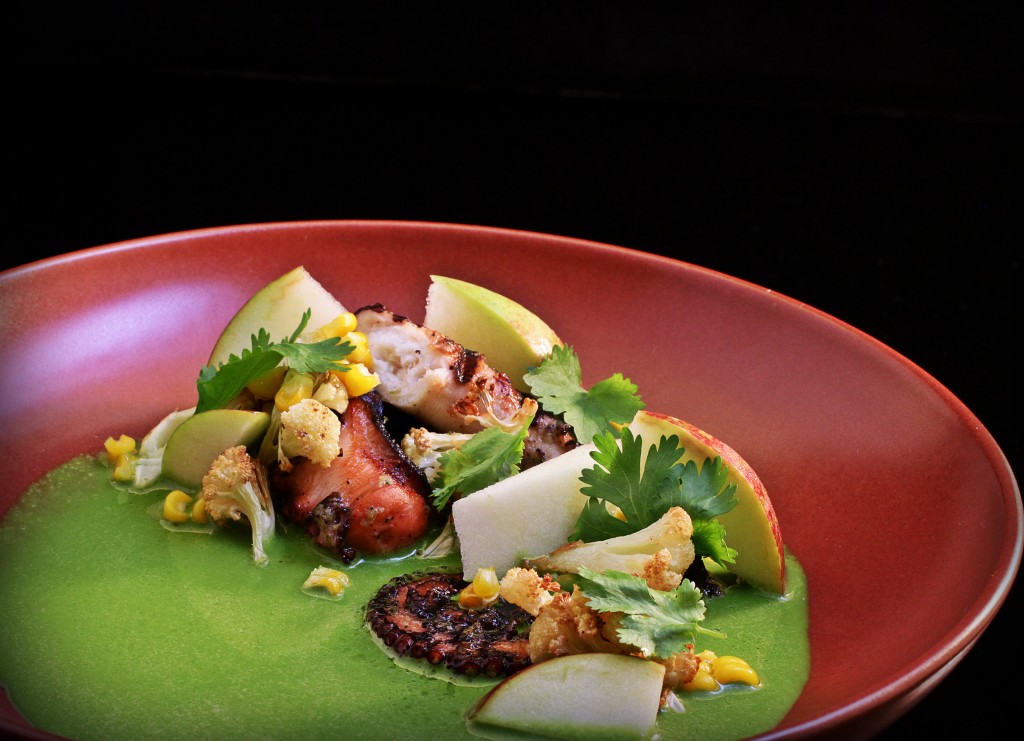 As for the setting, guests can choose from a chef's table with 'front row' seats in the kitchen-theatre, in a tropical intimate garden for a romantic setting or in the main dining room where each table can be given privacy with flowing white curtains drawn around it.
Location: Jimbaran Bay
Price Range: USD$80 per couple plus wine
Atmosphere: Relaxed, romantic, private
Family Friendly: Yes
Il Ristorante
Il Ristorante is a signature restaurant of Bulgari Resort in Uluwatu.
It is the most romantic fine dining restaurant in Bali and it appears that we are not the only ones who think so; this restaurant is awarded as Best Hotel Restaurant In The World by International Food & Beverage Forum, Best Top 10 Great Hotel Restaurant 2011 by Villeroy & Boch and Asia's Top 500 Finest Restaurants by The Miele Guide 2013.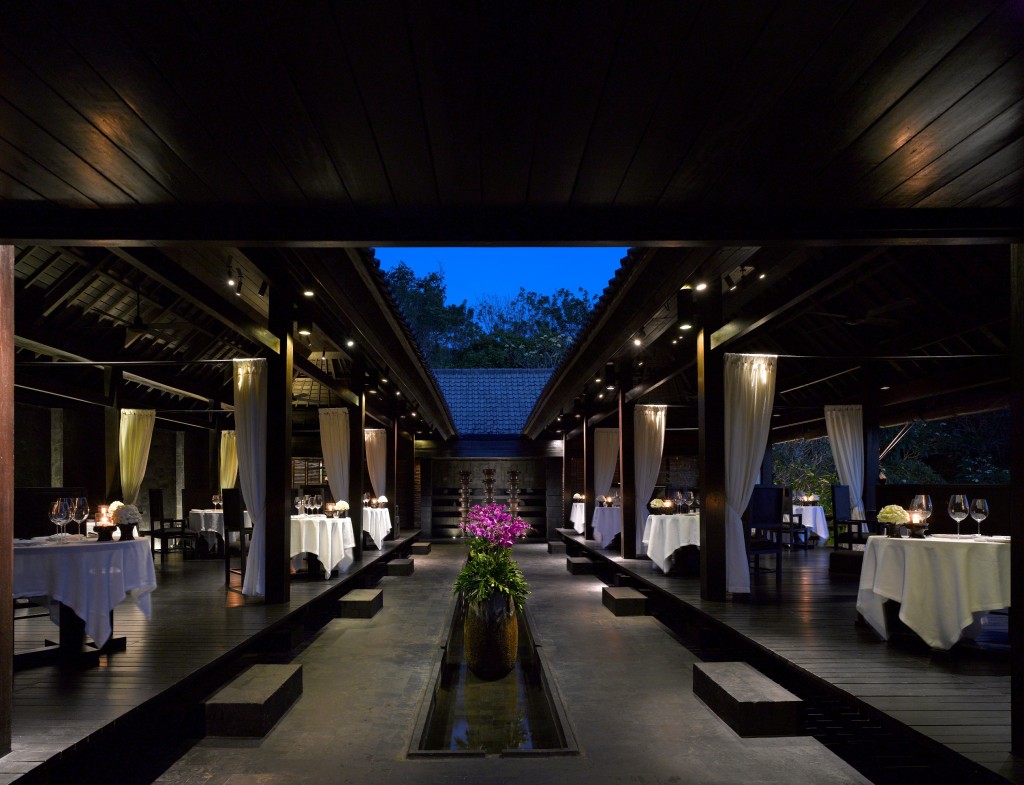 Il Ristorante represents everything a perfect romantic gourmet evening should be – divine atmosphere, sensational food prepared with a lot of love and accompanied by fine wines and silver service.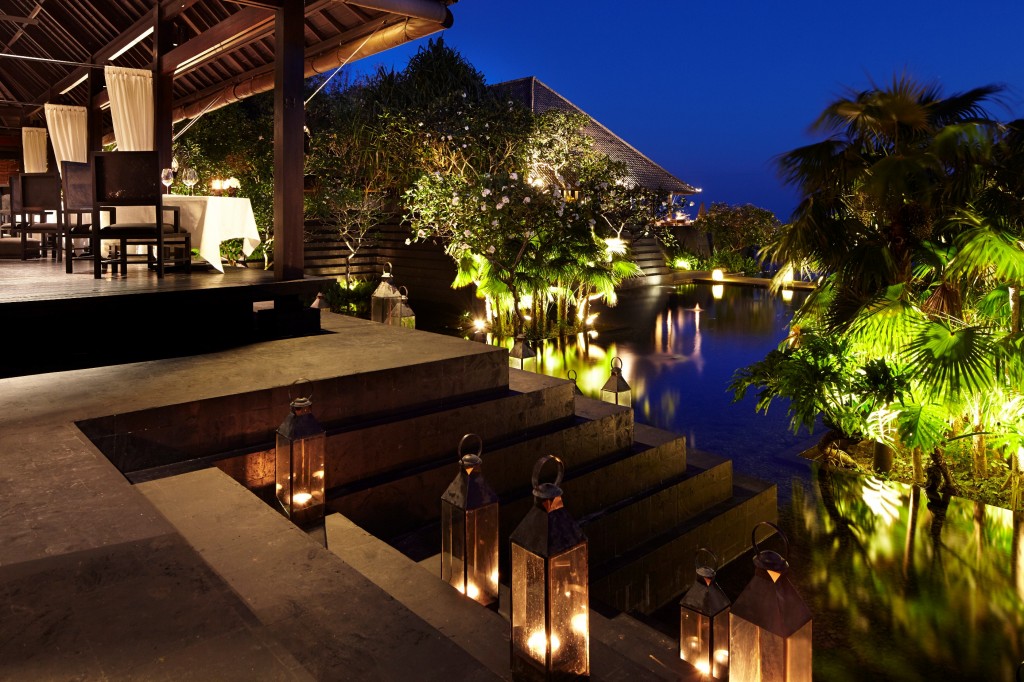 The restaurant is situated in an al fresco bale with a view of a beautifully designed tiered lake and Indian Ocean as a background. Candle light, exquisitely set tables and soft Italian music just add to the atmosphere of exclusivity and luxury.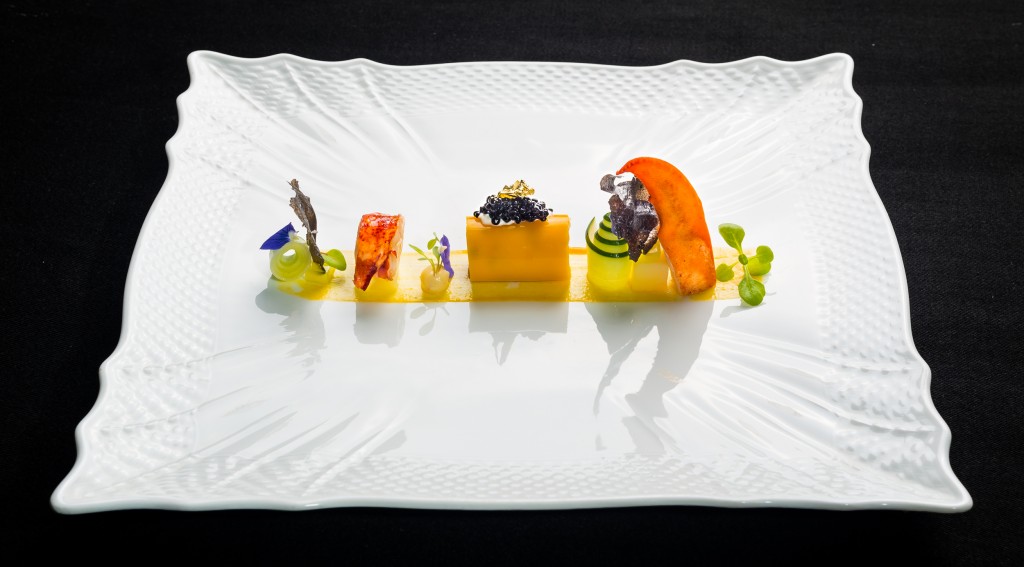 Location: Uluwatu
Price Range: USD$200 per couple plus wine
Atmosphere: Romantic
Family Friendly: Children are welcome for an early sitting
JuMaNa
Jumana is another award winning fine dining restaurant in Uluwatu. It is part of the stunning Banyan Tree Resort.
The restaurant's cliff side location guarantees breathtaking views over the Inian ocean. We recommend you come in early, around 6-6.30pm to enjoy the sunset cocktail on the restaurant's al fresco terrace and continue on for dinner in the sophisticated indoor setting.
Jumana has won The Best Restaurant In Indonesia award for 2014 and it truly deserves this status.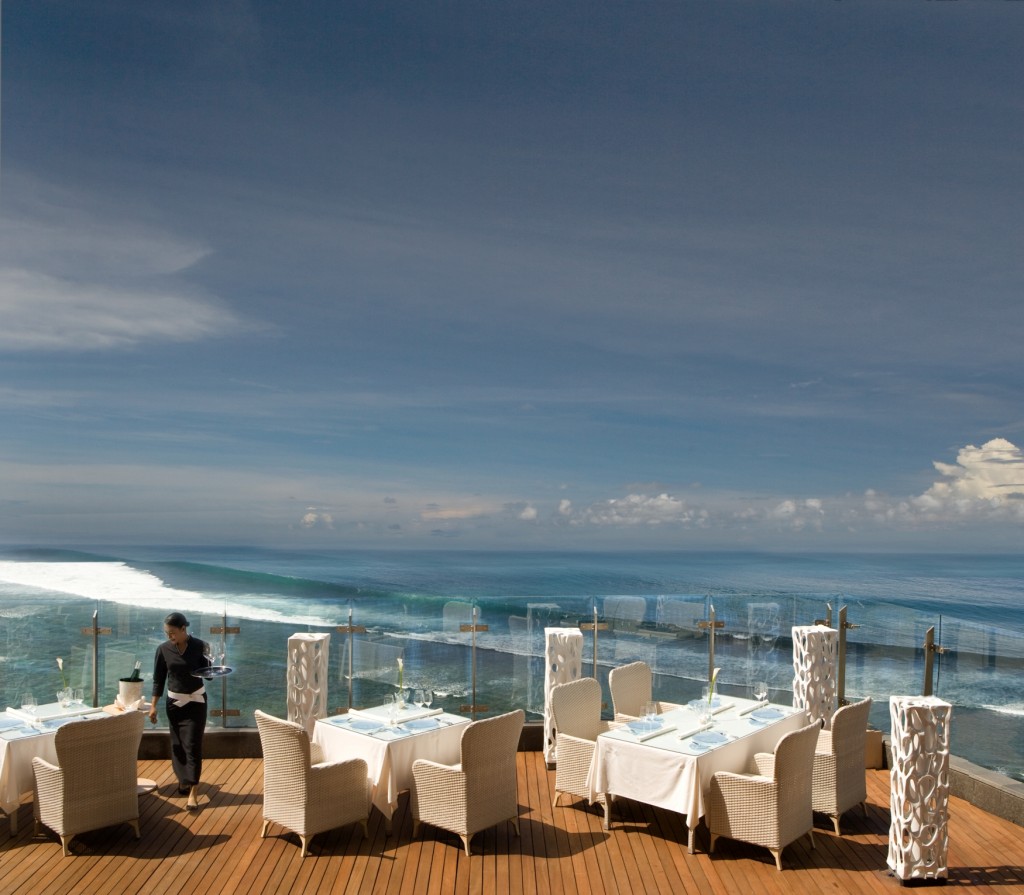 Jumana's degustation menu left us in awe of how skilful their chef is. We could've been in one of the top restaurant in New York or Sydney.
We indulged in Lobster soup, Ama Ebi Tartar, Waguy Duo (braised short ribs and grilled strip loin) served with crispy green vegetables and followed by a selection of mouthwatering deserts.
Jumana guarantees a fantastic dinner with a wonderful view and an impeccable silver service!

Location: Uluwatu
Price Range: USD$200 per couple plus wine
Atmosphere: Romantic
Family Friendly: Children are welcome for an early sitting
Warung
Warung is an Indonesian restaurant, part of the sensational Alila Uluwatu resort.
Cliffside sunset drinks and dinner at The Warung will make a wonderful outing on one of the nights you are in Bali.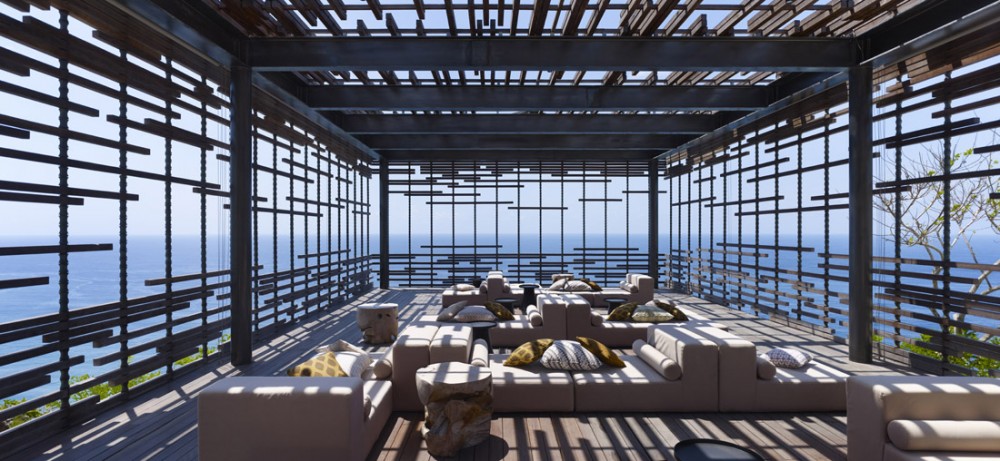 The setting of The Warung is very special – you have uninterrupted views of the Indian ocean to one side and sparkling blue wet edge pool to the other.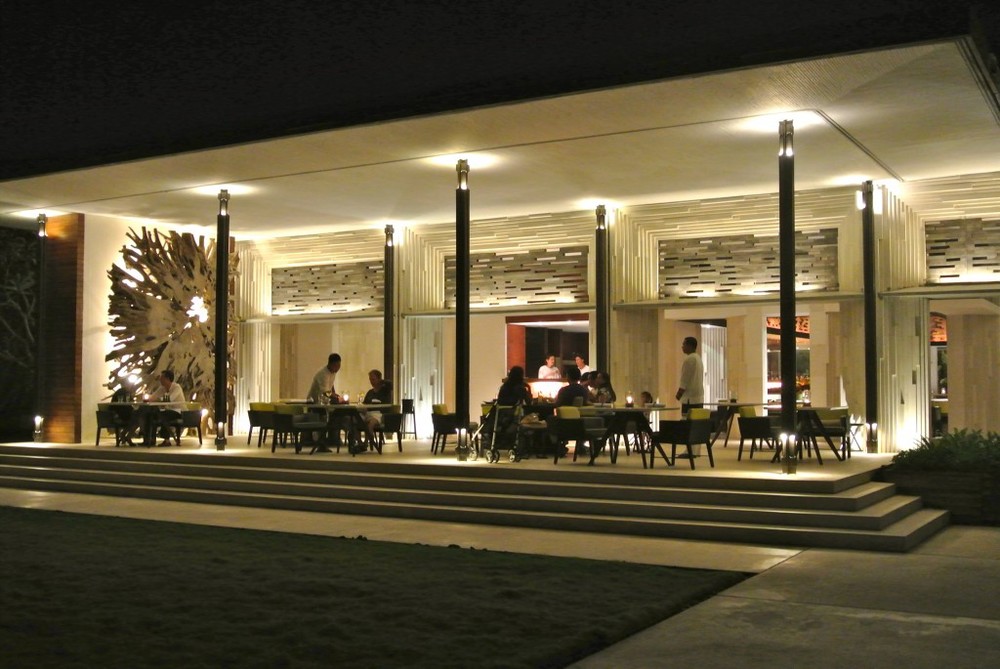 The food in this restaurant is magnificent – the best Indonesian we had in Bali!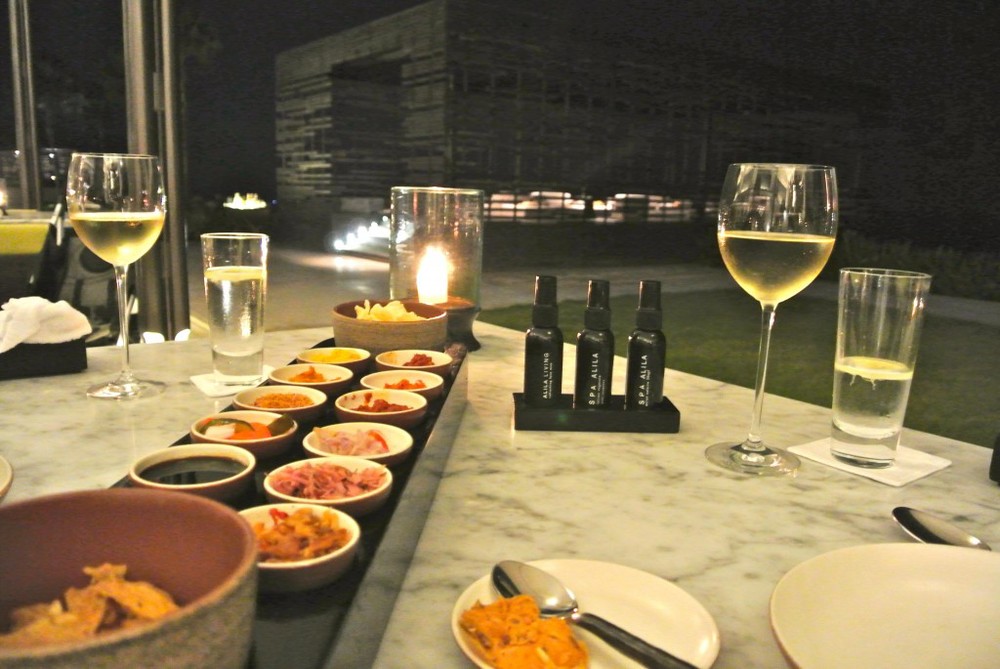 To experience a wide variety of local dishes we suggest you try Chef's Selection "Uluwatu" – it consists of eleven mini dishes ($69++ per person).
The 'must try' dishes are Young jack fruit salad with pork, Shredded chicken with chili and lime, Minced duck in banana leaf. Their simple soups are also outstanding – sweet corn soup and clear chicken soup are the best!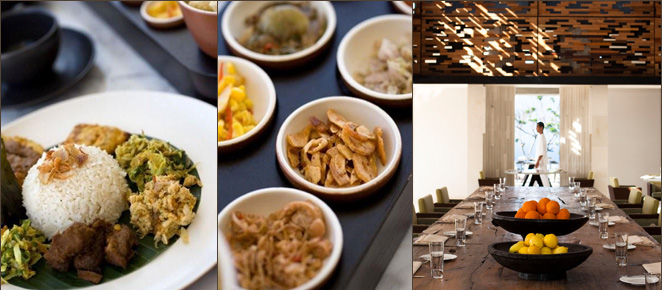 Location: Uluwatu
Price Range: USD$200 per couple plus wine
Atmosphere: Romantic
Family Friendly: Children are welcome