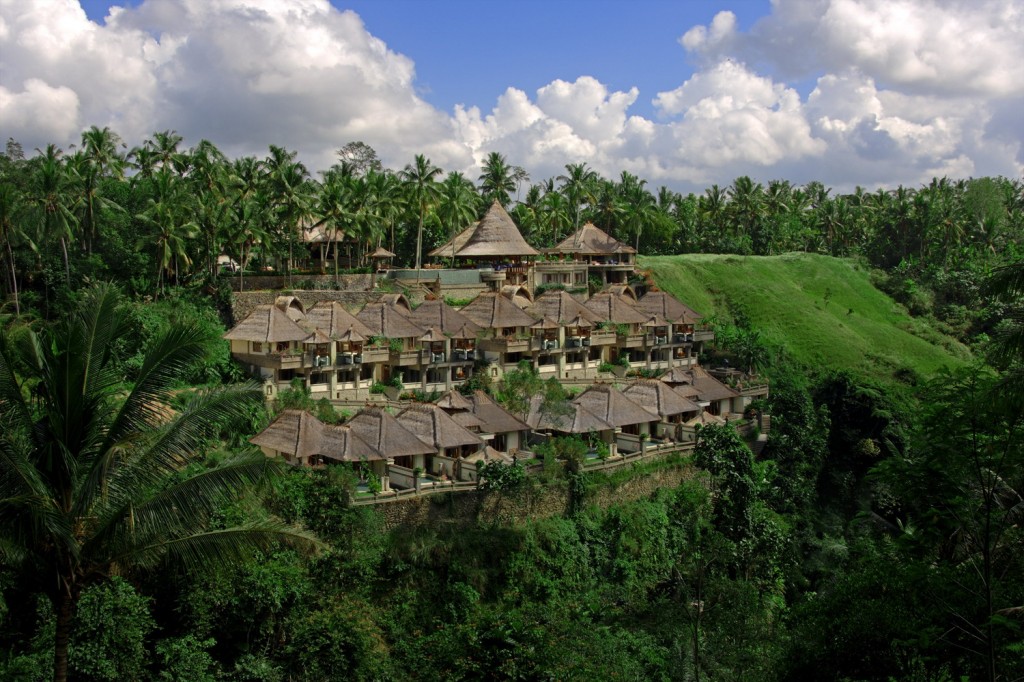 the lux score
93
the lux score explained
Service 10
Rooms 9
Food & Beverage 10
Ambience 5
Attention to Detail 9
Generosity & Value 10
Wow / Hip Factor 10
Facilities 10
Location 10
Fit to Promise 10
Viceroy is one of the best 5 star resorts in Ubud, Bali. It is a member of the Small Luxury Hotels group. We have mistakenly thought that Viceroy Bali is part of the global Viceroy chain, but it happens to be an independent hotel. It is owned and run by a lovely Australian family.
Viceroy is a wonderful resort for romantic couples in search of peace, romance and privacy.
Location
Viceroy Bali is located 10 min drive away from the centre of Ubud. Hotel offers transfers to the centre for USD $8 – an easy way to get around.
The resort is beautifully located on the steep side of the 'Valley of the Kings' and boasts spectacular views.
Villas
Viceroy is a small boutique resort, with only 25 luxury pool villas. The resort is 15 years old however the owners are constantly working on updating the villas and a few of the villas are brand new. The villas are tiered over three levels looking over a lush, green valley below.
For Couples:
The Lux Traveller suggests booking a villa on the lowest level as they have the best views.  If you are high up, you'll look onto the roofs of all the other villas which is not ideal. Apart from that factor most of the villas are very similar in style – elegant and very modern. Espresso machines & iPod docks are wonderful additions to the already excellent rooms.
Deluxe Terrace Villas below: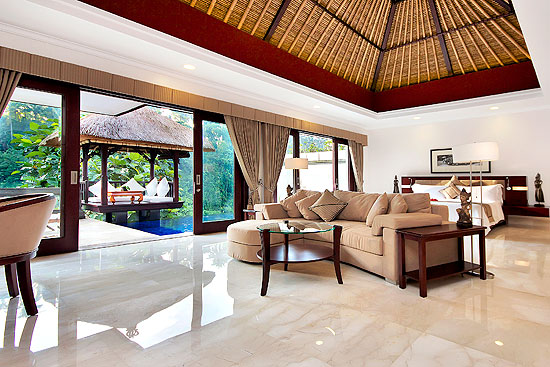 And wet edge pool at the Deluxe Terrace Villa: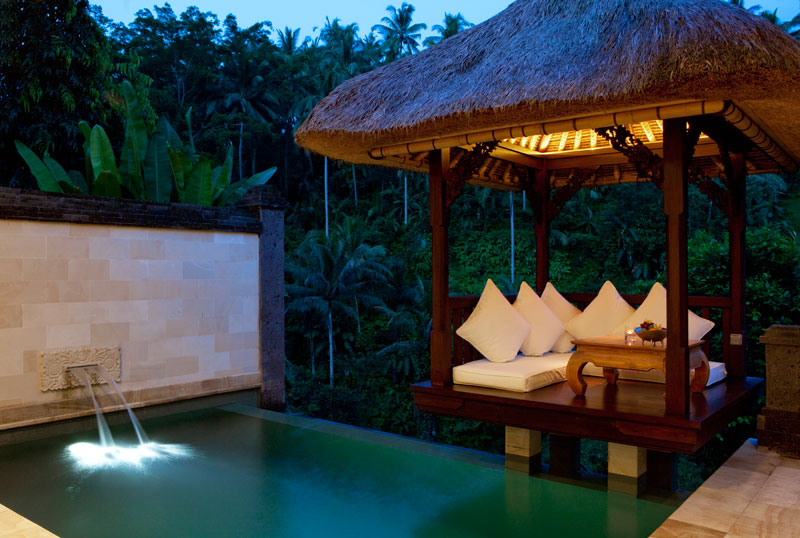 For Families:
Viceroy is not an ideal resort for children. Not because of any other reason, but the design of the villas and pools. There are lots of nooks and open spaces, un-gated pool areas and other danger alrets for the little ones, who could easily get in big trouble. So the only villa we recommend for families is the one we chose to stay in – The Viceroy Villa.
The Viceroy Villa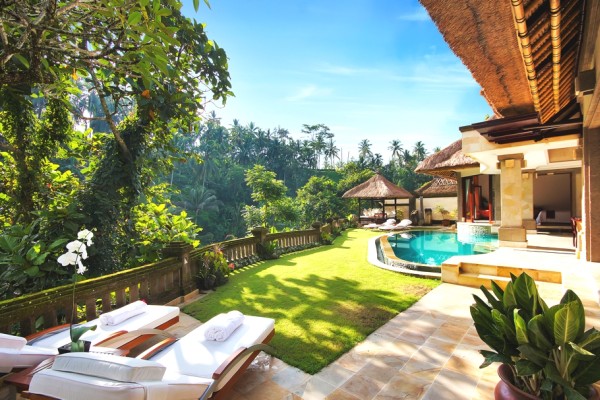 This villa is a jewel of the resort. It is one of the most inspirational villas we stayed at in Bali.
Apart from sensational views and uninterrupted valley views, it is exceptionally comfortable and very luxurious. It is finished with utmost attention to detail – beautiful furniture, huge bathrooms, large pool and many other special touches.
The villa is designed for indoor / outdoor living and is absolutely perfect for families. Comfortable leather lounges and dining table can comfortably seat 4.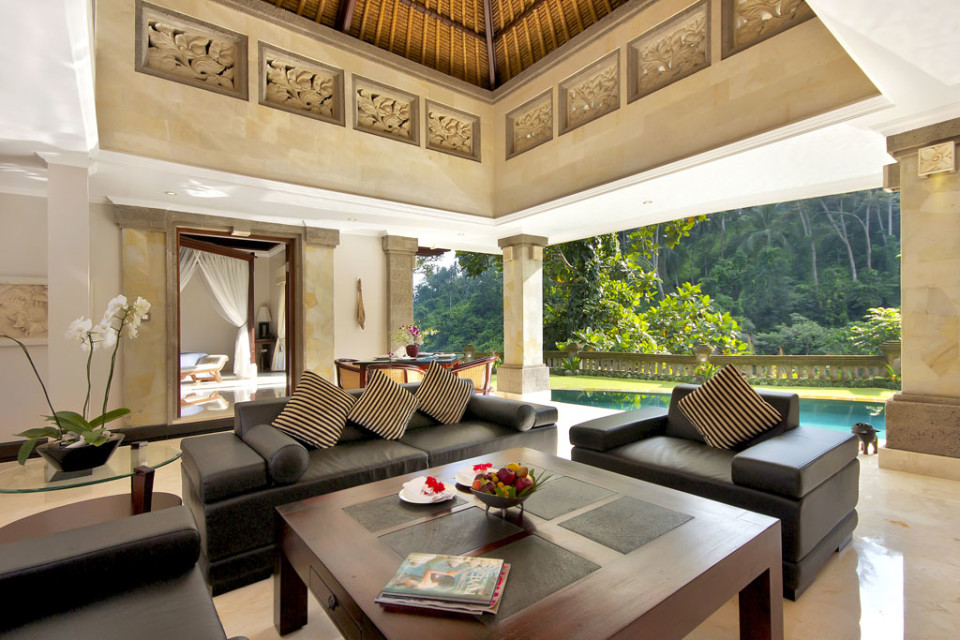 Viceroy villa features 2 gorgeous bedrooms, master bedroom with canopy bed and an oversized marble bathroom with a water feature.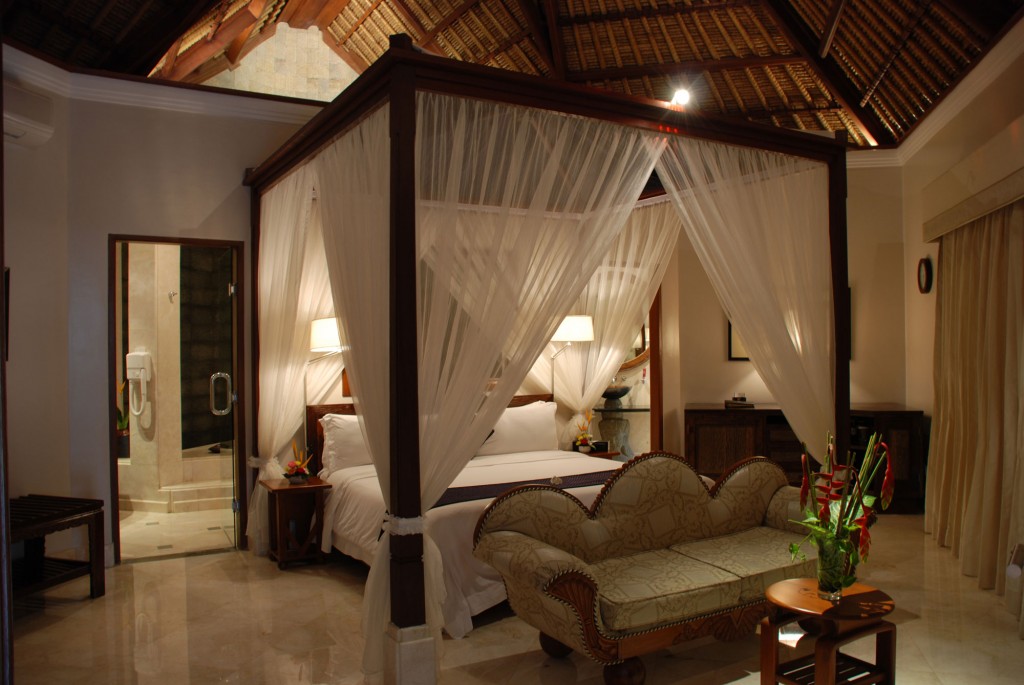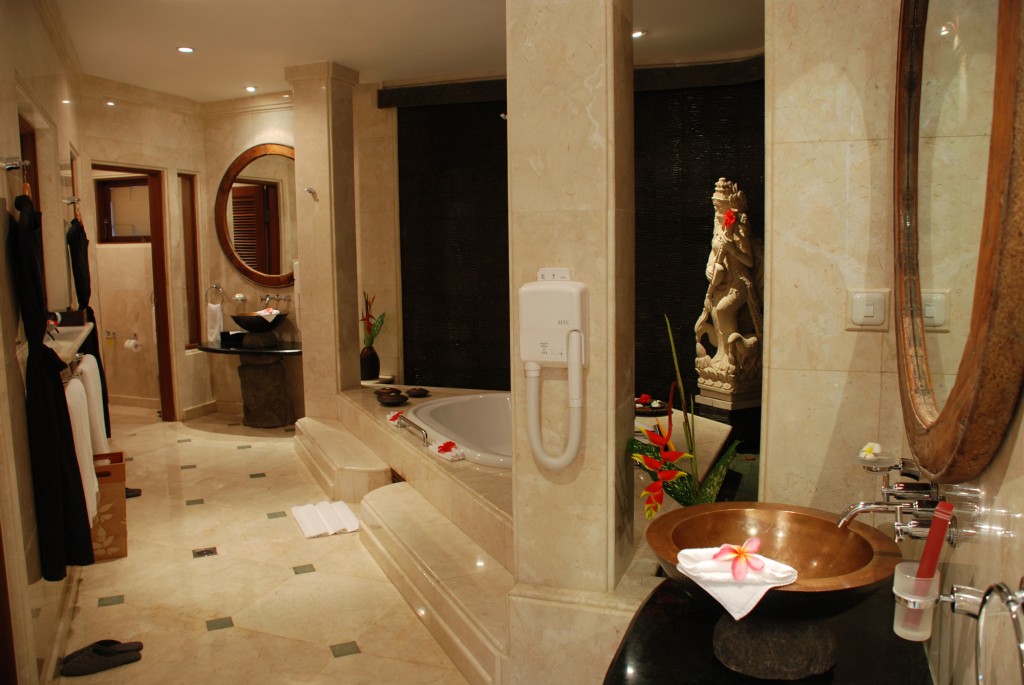 Kids bedroom has 2 very comfortable beds and another sensational on-suite (the biggest we've seen in Bali)! And o course, sensational views.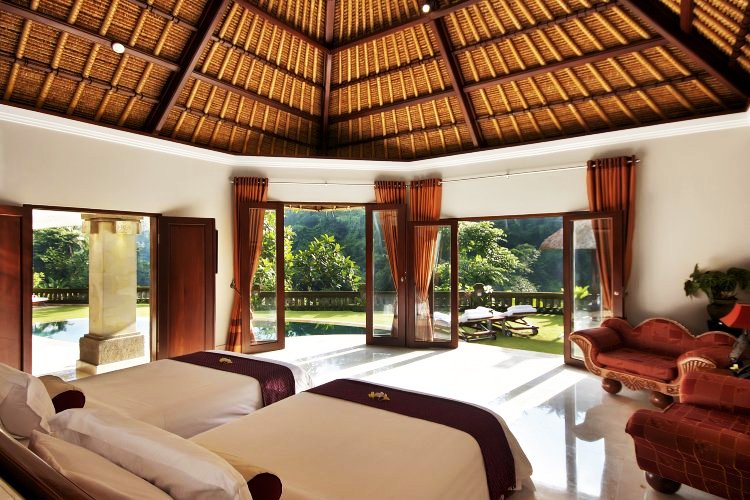 Our private pool and garden were absolute hit with the kids. Even though the main pool is stunning they didn't want to leave our villa.
Viceroy Villa is a perfect choice for a family of four.
Dining
Breakfast – Excellent, True 5 star!
The menu has a large selection of the freshest beautiful dishes like yogurt trifle, chocolate pancakes, fruit plates, egss and anything else you could dream of. We enjoyed long lazy breakfasts here day after day. Well done, Viceroy!
Lunch
Seeing that we had a pleasure of staying in stunning luxurious villa, room service was the way to go on most days.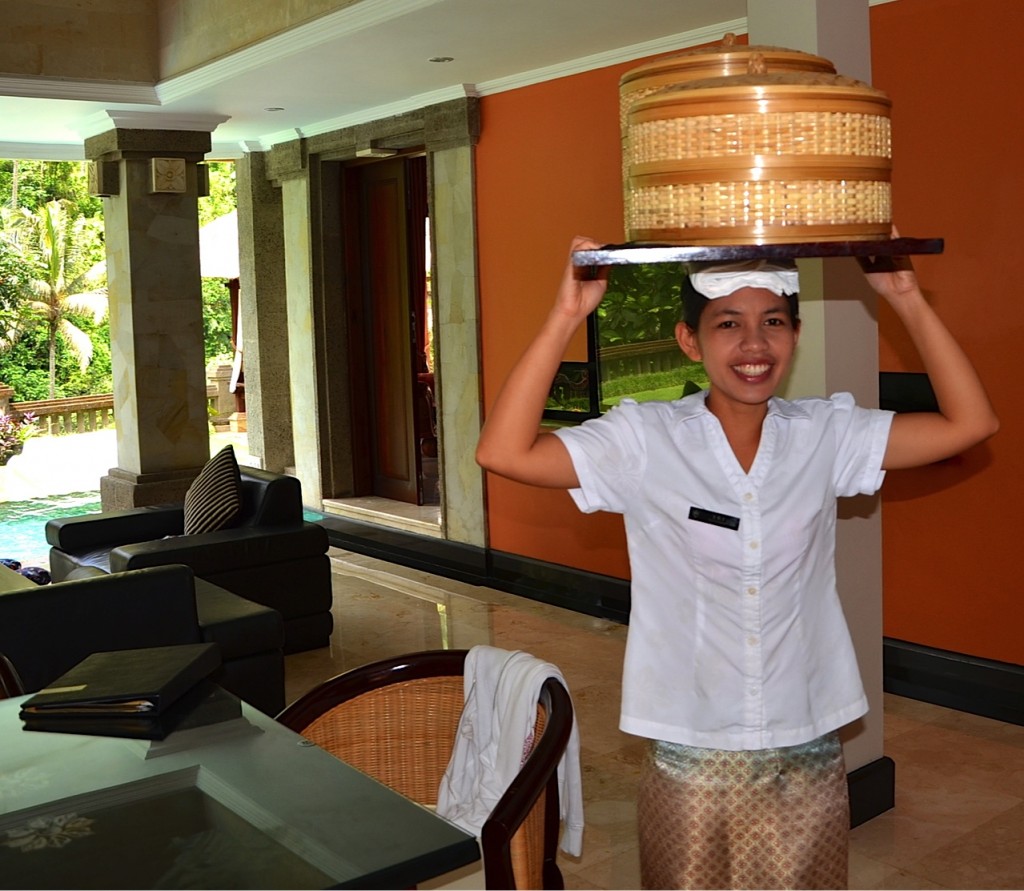 We tried most of the Balinese dishes on the menu – all superb and the kids loved Spaghetti Bolognese and fruit sorbets.
Dinner
Romantic dinner at the CasCades restaurant is an affair to remember. The staff set up a private table for you away from the other guests with rose petals and dimmed lights.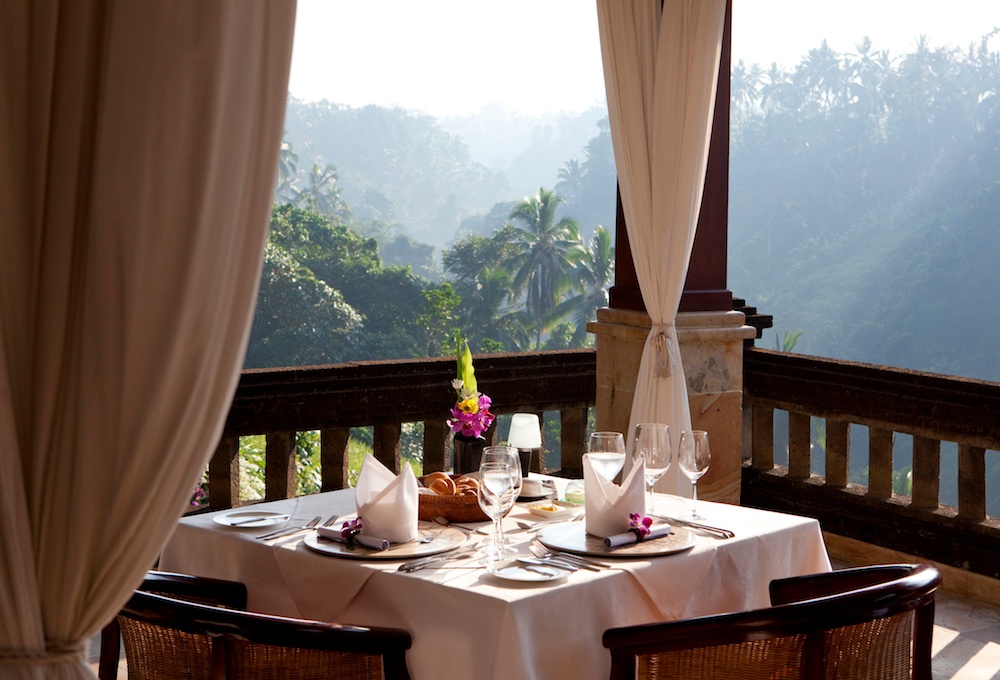 We were spoiled with a delightful degustation dinner on one of the nights. It consisted of 6 delectable courses and I must say, the food was excellent! Modern European dishes like mushroom soup, baked fish, meat carpaccio delighted our taste buds with mushroom soup being one of the best we have ever tasted.
The atmosphere in the restaurant is very romantic and peaceful, hardly anyone around. It truly feels like you are the only few couples on the edge of the world.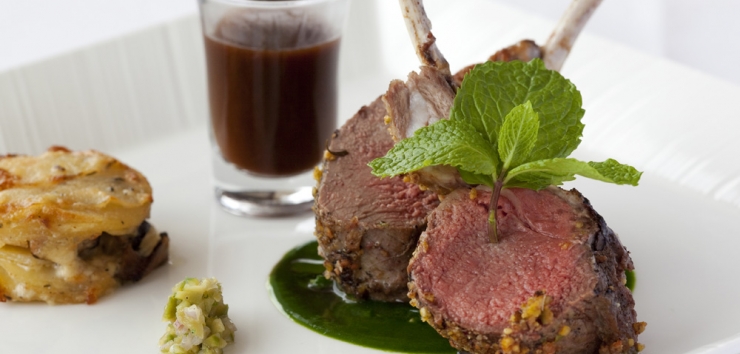 Activities
If after a couple of days peace and quiet is a little too much, Viceroy can arrange a lot of different activities to keep you occupied.
We tried a private yoga lesson, walk through the rice paddies and a kite making lesson for our daughter.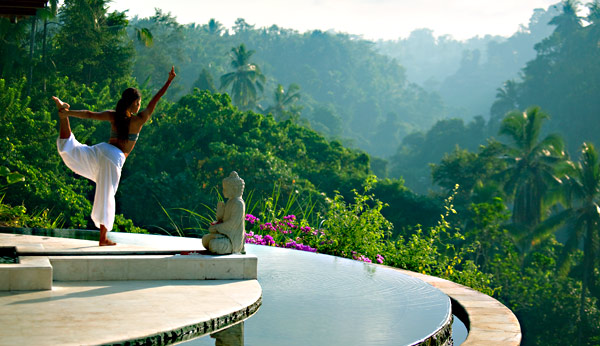 Yoga was a spiritual experience on the lawn of our villa – divine setting, spiritual experience. Yet the yoga master we got wasn't great; ask for someone with a lot of experience.
Walk through the rice paddies was very pleasant and was enjoyed by adults and kids.
If you are a little more active try white water rafting and a morning excursion to the top of the volcano – both are excellent!
Facilities
Viceroy has a good library with a lot of English books and movies.
It also has a small gym and a 2 room spa. Spa experience wasn't the best though.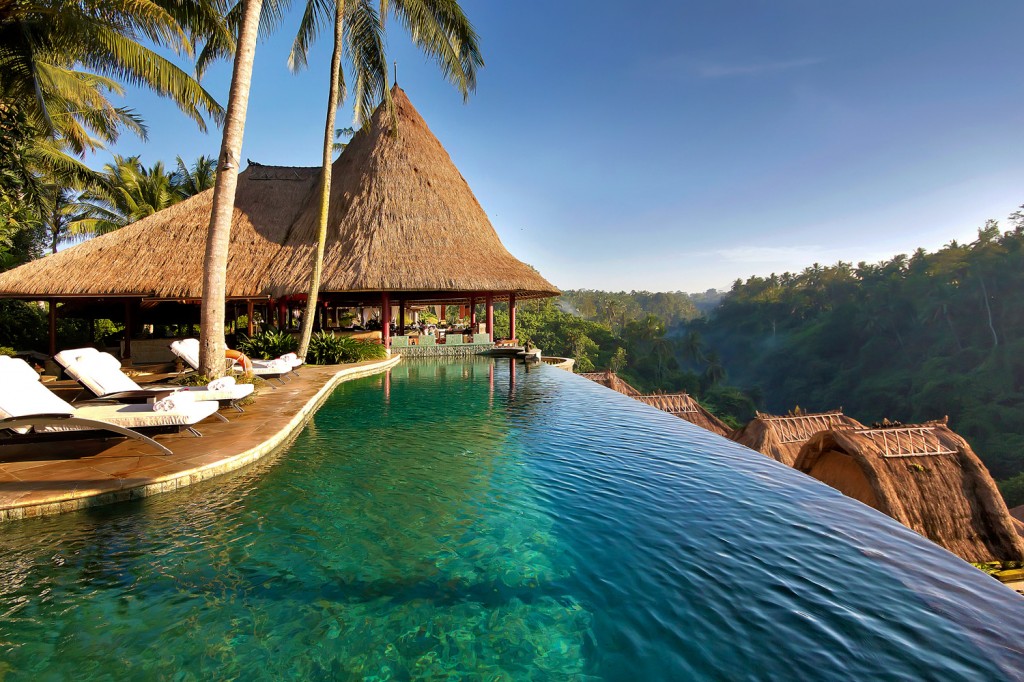 The Lux Traveller Loves:
The Viceroy Villa is an excellent choice for families  – it is very elegant, luxurious and spacious. Absolutely perfect!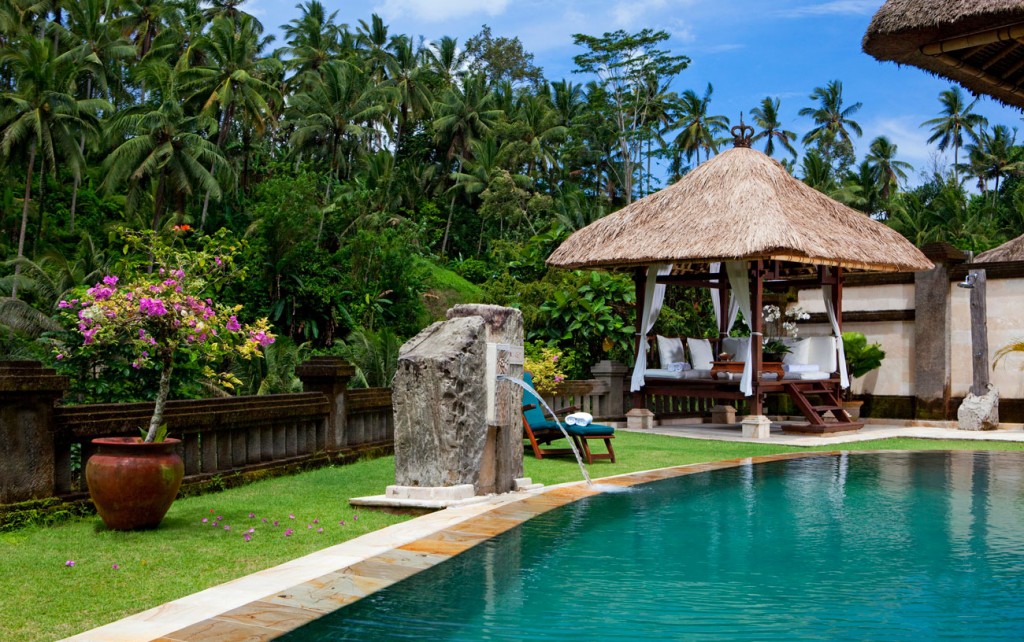 Spectacular views over the valley and calming sound of the river running down below
Romantic degustation dinner – beautiful food served with grace and attention to detail
Helipad on grounds – what a way to arrive! Journey from Seminyak could take up to 4 hours in bad traffic; helicopter trip will take only 20 min.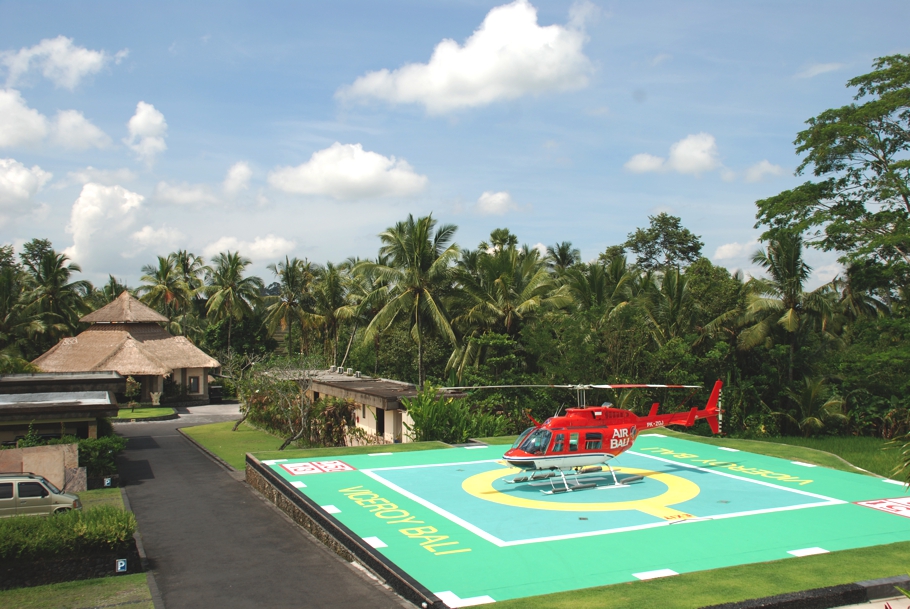 The Lux Traveller Didn't Like:
The view from the top villas isn't ideal
Safety issues for small children
Spa services need to be improved asap to come up to high Bali standards
All In All – Viceroy is a good and well priced resort for couples looking for romance and solitude in the middle of Ubud.
It is a very peaceful resort, offering excellent spacious villas furnished to the highest standard with the latest in technology and comfort.
Wonderful food at the CasCades restaurant is another stand out feature of this beautiful resort.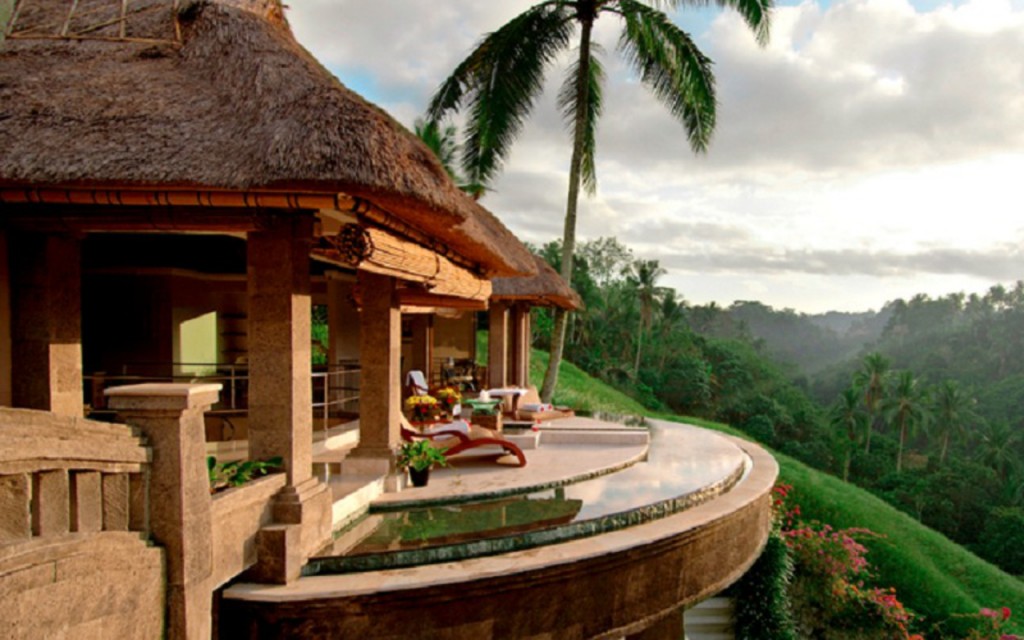 To Book a villa at Viceroy Bali please call +62 361 971 777 or email resv@viceroybali.com.