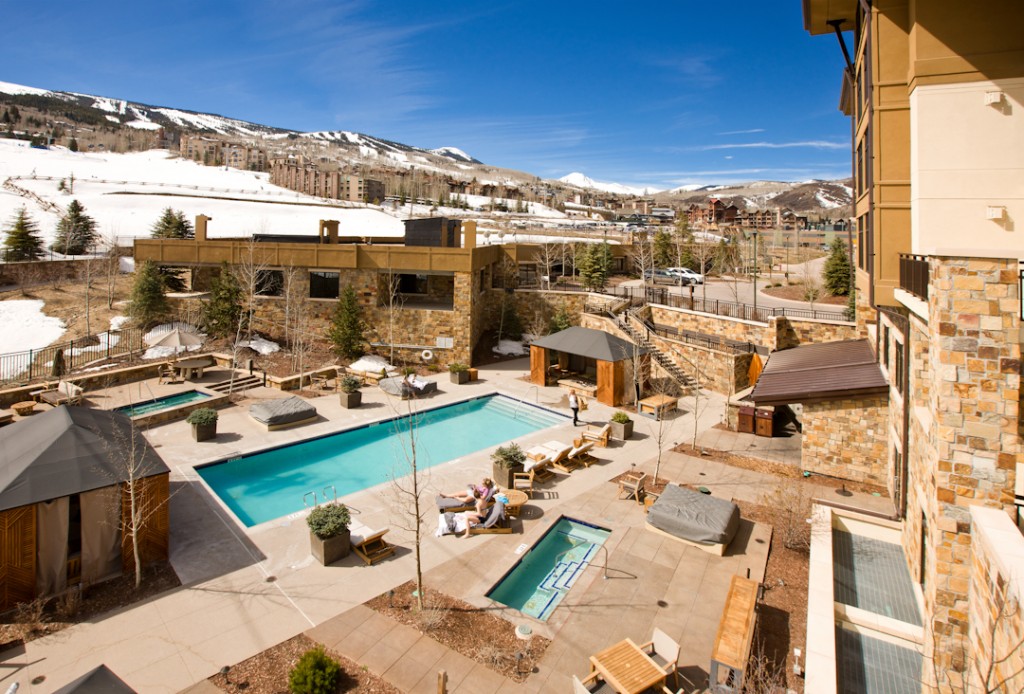 the lux score
90
the lux score explained
Service 9
Rooms 9
Food & Beverage 8
Ambience 8
Attention to Detail 10
Generosity & Value 9
Wow / Hip Factor 8
Facilities 10
Location 10
Fit to Promise 9
The environmentally sustainable (gold LEED certified) Viceroy Snowmass offers an ideal ski-in ski-out hotel at the base of the Snowmass Ski Resort, the largest of the four mountains in the Aspen/Snowmass complex. It is particularly suited to intermediate skiers and families with its long blue and green runs.
Arrival and Location
On arrival, we are greeted warmly by the doorman who whisks our luggage into the foyer and arranges for our ski and snowboard gear to be taken directly to the ski valet.
The spacious lobby is backed by a row of aspen trunks which add a delightful natural ambiance. A nice touch is the hot coffee and chocolate and cold water available all day here.
Accommodation
The Viceroy has 165 apartments that range from studios to four bedrooms, which are absolutely perfect for families and friends holidaying together.
We stayed in a two-bedroom apartment with a state-of-the-art fully appointed kitchen (including a full fridge and espresso machine). This is terrific for families as you can cook at home and relax in the large living room which has comfortable couches, a dining table, gas fireplace and big screen television. It also had a private balcony so you can drink in the mountain views.
The two bedrooms had comfortable pillow-top beds and flat screen televisions as well. And humidifiers are a nice touch so you can better handle the high, dry mountain air.
One bathroom had a bath and separate shower, dual vanities and a washer/dryer, which is also handy when you are travelling with kids. The other bathroom had a shower and vanity.
Meals
We loved the Nest Public House with its terrace overlooking the slopes and pool. Decorated in white and neutral tones, this Colorado beer house and gastro pub is famous for stocking over 45 different Colorado craft beers, ales and stouts which go down a treat with the likes of guacamole, Caesar salad, gourmet burgers and the like.
On the lobby level, the expansive Eight K restaurant, named after the elevation (in feet) of Snowmass, is where Chef Will Nolan channels his New Orleans roots to offer an innovative collection of creole-inspired dishes in addition to modern mountain comfort food, perfect for diners who've burned up lots of energy during the day.
Eight K also offers delicious all you can eat breakfasts while the adjacent bar and lounge features après ski live music and inventive cocktails. Be sure and check out the 30-metre long glass-topped après-ski bar, lit up with neon blue strips.
Activities
Located at the base of Snowmass Mountain, just steps away from the Elk Camp Gondola, Village Express Lift and the Assay Hill Lift, Viceroy has an Aspen Ski Company outlet at level three right in the hotel. This means that you can arrange for your lift tickets, equipment rentals, and lessons without having to go outside. The dedicated ski valet service houses and cares for skis and snowboards, sets them up when you are ready to ski or board and also transfers them to the other mountains (Aspen, Aspen Highlands and Buttermilk). It saves untold amounts of time and adds so much comfort to your winter sports vacation.
The Viceroy also has access to local guides who can offer year-round adventures including skiing and snowboarding, golf, fly fishing, road and mountain biking, horseback riding and more.
The outdoor heated saline pool is open year-round, next to Nest restaurant. It has two hot tubs, three outdoor fire pits and private cabanas and you can enjoy casual meals on the terrace or in the cabanas.
Guests can also join the executive chef for Winter Wine Tours, one-of-a-kind dining experiences pairing the wines from renowned vineyards with custom multi-course dinners.
Not far away is the award-winning multi-level Treehouse Kids' Adventure Center, a spectacular kids' childcare facility with Colorado themed play rooms, playgrounds and supervised activities for children 8 weeks to 4 years.
Teens and kids programming is also available from the concierge desk.
The hotel offers a free airport transfer and free shuttle service in the Snowmass area. There's even free docking facilities for your electric car, befitting the hotel's green credentials.
Wellness
Inspired by the elements…fire, water and earth…the expansive 7000 square foot spa facility is one of the Viceroy's most enchanting features. Guests spend time before and after treatments in a serene meditative relaxation lounge with the soothing sound of falling water from an infinity pool and waterfall. The whole facility exudes a Zen-like calm. There are six luxurious treatment rooms and the change rooms also feature large communal relaxation baths.
There are a range of massages inspired by ancient Native American, Nordic and Asian cultures, as well as facials and other 'beautification journeys.'
My masseuse was supremely qualified and worked my ski-sore muscles beautifully so that I felt absolutely no muscle twinges after four intense days on the slopes.
The Lux Traveller Loves:
The ski-in, ski-out facilities and the ski booking and ski concierge facilities right in the hotel.
The serene surrounds of the spa and the high quality massages.
The terrific selection of Colorado craft beers and tasty selection of casual dishes at Nest.
Washer/dryers in the condominium style apartments, which are perfect for families.
Splitting hairs
The décor felt a little suburban for my taste.
Sue Henly is a travel writer and a creator of of Genuine Journeys website.