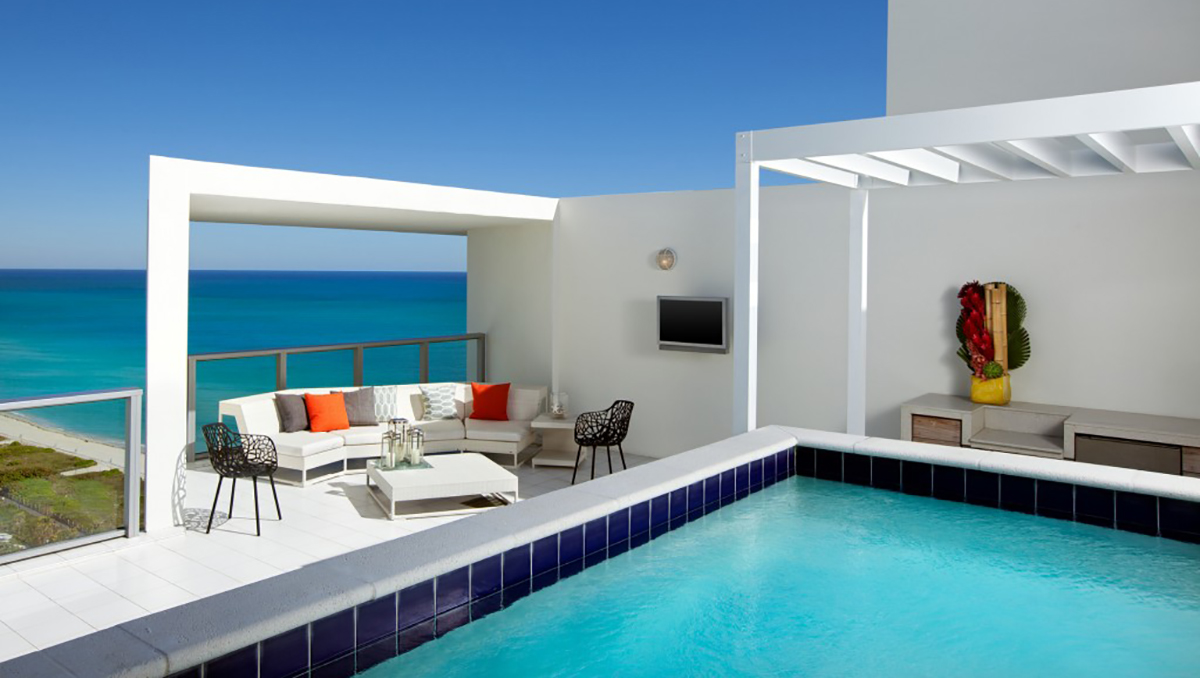 the lux score
91
the lux score explained
Service 10
Rooms 10
Food & Beverage 7
Ambience 9
Attention to Detail 9
Generosity & Value 9
Wow / Hip Factor 9
Facilities 8
Location 10
Fit to Promise 10
Swanky Lux Travellers – This one is especially for you! W South Beach is a fantastic hotel, frequently visited by celebrities. If you like to show off your gorgeous self, see and be seen – look no further!
This hotel is excellent – new, sexy and stylish.
Location
Excellent – W South Beach is located on Collins St (main street in Miami) close to all Miami action and directly on the white sand beach.
Service at the W is exceptional – I'll go as far as to say – The best we have experienced in the States.
Accommodation
Being Starwood Platinum members we were upgraded to a huge one bedroom suite with a view and a large terrace without any questions asked. The suite was very modern (but not too much), had plenty of room for us and our luggage, had double bathroom and a direct sea view. The terrace had ample shade and was perfect for sipping a glass of champagne in the afternoon in private. It also had lounge chairs and a rain shower. Excellent!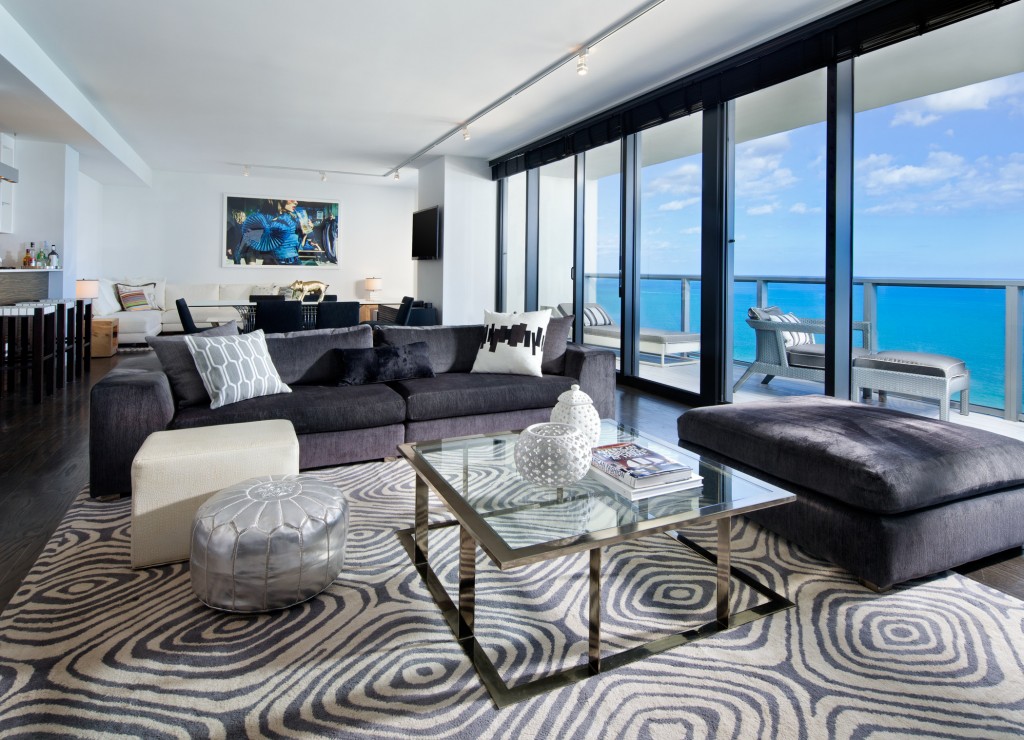 'Bliss' amenities are an extra treat. They are really nice even for cosmetics aficionados.
Pool scene is wonderful with 2 restaurants nearby and a DJ playing sexy tunes all day long. The lounges seemed to be taken for most of the day so be quick to reserve them in the morning. However we preferred the beach – it is more relaxed and really pretty. There are plenty of W beach cabanas available for the hotel guests for a small daily fee.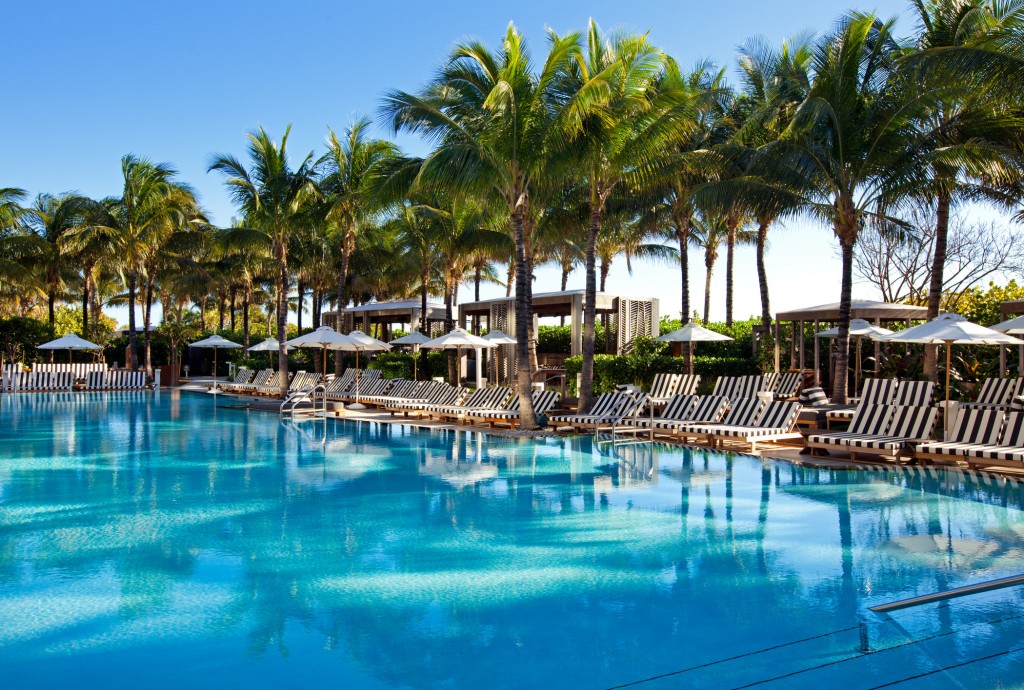 Dining at W South Beach
Breakfast – most unusually this hotel doesn't have a buffet breakfast; possibly it is a Miami thing to do as you have to look your best for the beach… Platinum guests get a fresh juice and a pastry basket in the room for breakfast (complimentary) or otherwise you can order some a la cart meals in the restaurant downstairs (chargeable). We found the little room breakfast to be a nice change from the big holiday buffets.
Lunch – 2 main options, poolside cafe or The Dutch in the courtyard – both excellent options. Dining at the Dutch is more dressy, you'll often find yourself surrounded by the local 'ladies who lunch' or suited businessman sharing a bottle of rose.
Dinner – W South Beach is home to fancy Mr Chow restaurant – very elegant, dressy designer heaven of modern asian cuisine prepared by a celebrity chef. Must try! but in a typical Miami style best outside cabana style tables are facing onto hotel's car park. Only in Miami! Well, at least you won't be looking at the beat up Toyota's – this car park is full of Bentleys, Mercedes and other european beauties!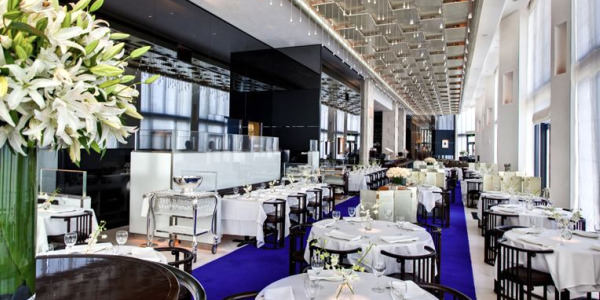 Atmosphere in the hotel is luxurious and elegant. Everyone is nicely dressed and very good looking. Bliss!
Tips for Miami – sun bathe, swim, eat and party!
Miami is one of our favourite places in the world as it has a great mix of all things we love – excellent weather all year round, the best swimming beach I have seen in North America, sensational hotels, designer restaurants and ample night life! It is a fantastic city with something for everyone. The best tip – don't leave your black amex at home as Miami is not cheap.
For the active Lux Travellers – hire a stand up paddle board for a bit of action in the afternoon or try diving. Miami has some amazing dive sites, unlike anything you've seen before.
The Lux Traveller Loves: 
Swanky design, excellent service, pool scene, perfect peach, celebrity spotting – pretty much everything!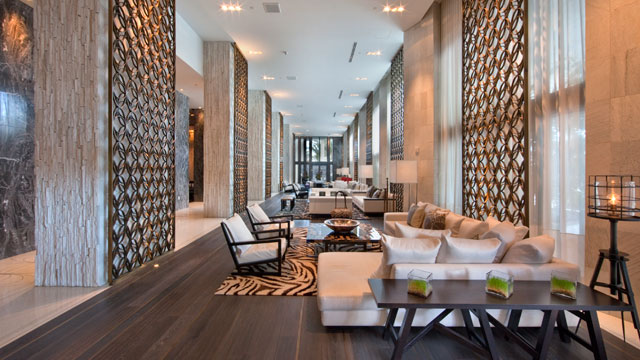 The Lux Traveller Doesn't Like:
Very ordinary spa and poor concierge service.
The Bliss Spa is beyond basic, without any special amenities (like fancy relaxation area, hammam, pool or anything of the kind) – just small treatment rooms and somewhat unskilled therapists. A real let down for a fancy W Hotel and Bliss spa. Personally, I recommend you skip it and spend your money on something else.
Concierge has also appeared to be new on the job and couldn't help with anything but the very basics (like maps and nearby restaurants).
All In All – We recommend this hotel as one of the best in Miami. We had a wonderful stay and can't wait to go back!