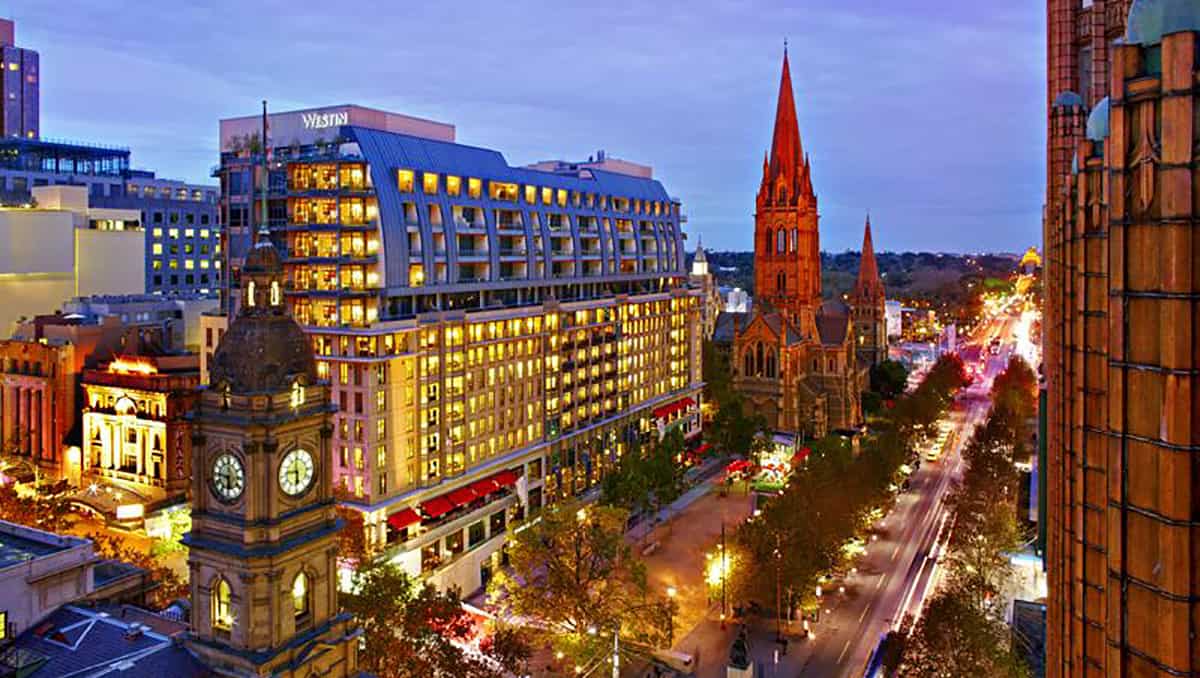 the lux score
86
the lux score explained
Service 9
Rooms 9
Food & Beverage 8
Ambience 6
Attention to Detail 9
Generosity & Value 9
Wow / Hip Factor 9
Facilities 9
Location 9
Fit to Promise 9
Melbourne is a gorgeous city with a European feel to it and a multitude of gourmet cafes tucked in the lanes and more fine dining restaurants per capita then in any other Australian city.
The Lux Traveller loves Melbourne as a weekend getaway location and we are looking for the city's top three  most luxurious hotels.
Our choice for this weekend is a Regent Suite in The Westin Melbourne.
Regent suites are well priced (they start from $900 per night) and look gorgeous on the hotel's website. I have to say that our experience was nearly faultless.
The Westin Melbourne is in an excellent location on the corner of Collins St and Swanston St in the heart of the city.
If shopping is your thing, you couldn't pick a better location.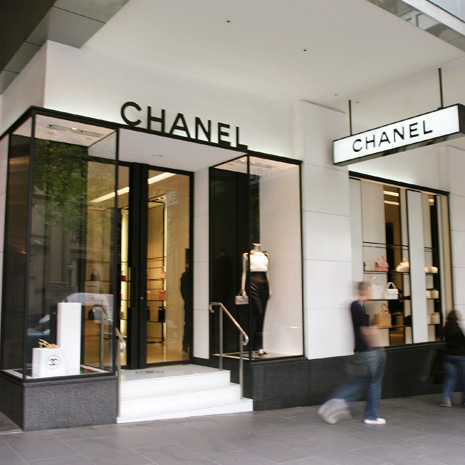 The Westin Melbourne shares a building with Chanel, Miss Louise, an excellent designer shoe store that stocks Sergio Rossi, Tods, Giuzeppe Zanotti and the like is right next to the hotel's entrance and Louis Vuitton, Gucci and many other high end brands are within a five minute walk.
There are dozens of excellent cafes, restaurants and bars within walking vicinity too.
We arrived in the hotel quite late. The porter opened the limo door, greeted us and took care of the luggage. As soon as I walked into the Westin's luxurious lobby I felt calm and relaxed.The check in was very quick, taking only two minutes which is perfect after a long journey.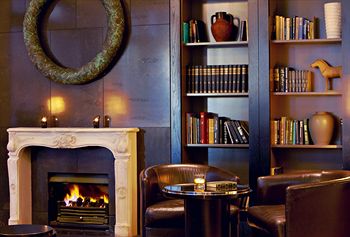 After having a quick look at the suite (more about it later ) we went back to the downstairs lobby bar for a glass of champagne.
The bar is fantastic for a late drink or a pre-dinner cocktail. It was freezing outside but so cozy and comfortable on the big sofa by the fireplace.
Regent Suites
The Regent Suites are the hotel's best accommodation option. They are over 90 sq metres and comprise a spacious bedroom, a living room with ample sofas, a dining area with a table for 6, a bathroom with double vanities and a separate toilet.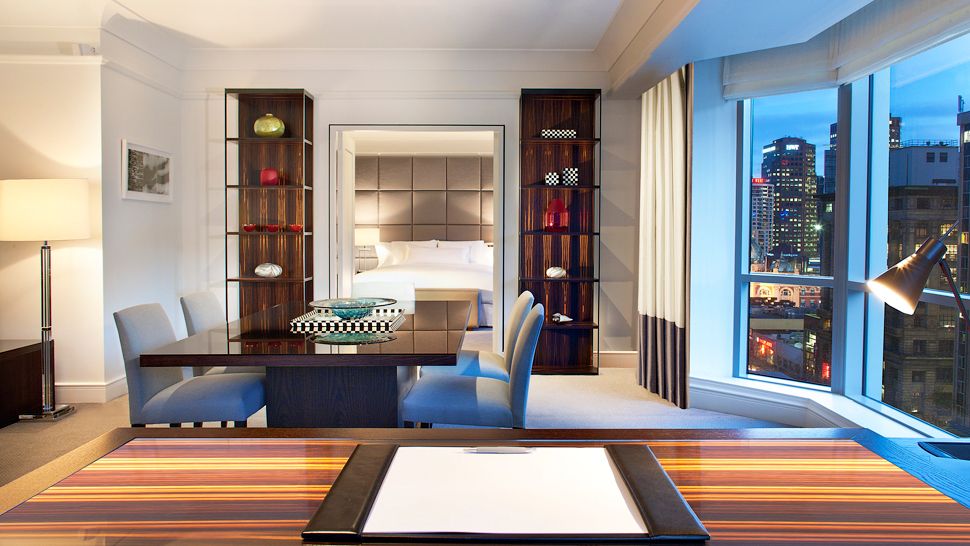 Small design flaws in the suite are that there is only one wardrobe and no separate luggage storage area for the bags. If you have more than one bag it will be out in the open. A second powder room would also have been nice to have. But apart from those two small issues the suite is perfect. It feels like a lovely modern apartment and would be very comfortable for a longer stay for a family with young children or a luxury business traveller.
Atmosphere – the hotel has a very boutique feel about it, the lobby is never crowded and is very relaxed and luxurious. People walking in and out of the Westin are well dressed but then, you are in Melbourne which is a very stylish city.
The bar downstairs is one of my favourite features of the hotel, stylish and cozy all at once.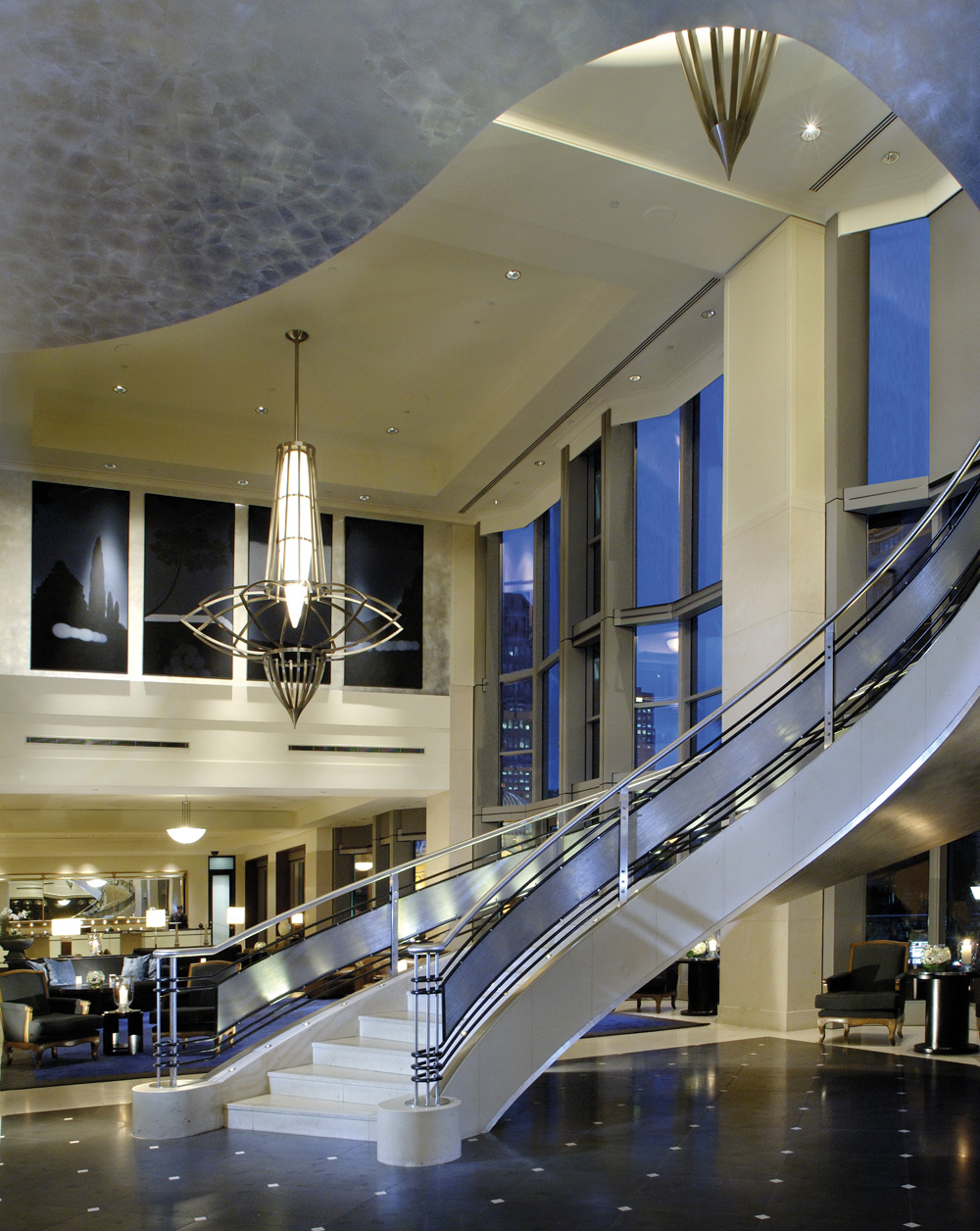 Service – The service at the Westin was excellent. Nothing seemed like too much trouble. I asked the concierge to organize a massage for me and within a couple of hours a massage table was set up in my suite and a very professional masseuse was working on my muscle tension. It was a nice change from having to go downstairs to the spa. You can have a nap right before the treatment and jump in the bath straight after. What luxury!
Breakfast – This is one area the hotel could improve on. The breakfast is quite basic, no fresh berries or juices and only a small selection of cold cuts, cheeses and breads. However it still was a pleasant start to my day.
Gym, Pool, Sauna – All are great additions to an already wonderful hotel. The pool is very stylish 20 metre lap pool and especially convenient if you are travelling with children. The Gym is spacious and has a great range of equipment. The sauna compliments both of the above.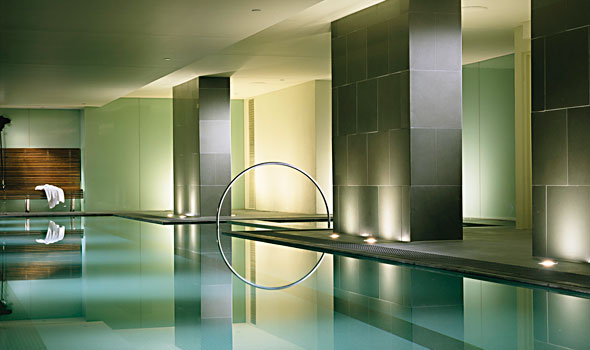 Did we find luxury in Melbourne? Absolutely! The hotel and the suites are gorgeous. It is without a doubt a true five-star hotel in the heart of Melbourne.
Splitting hairs – If you are a very light sleeper, keep in mind there is some tram noise from Collins st and request a room facing away. However Collins St is the best view.
All in all – The Westin Melbourne is a fantastic Hotel in a very convenient location for both business and pleasure travellers.  We have been very loyal guests for years and will definitely return.