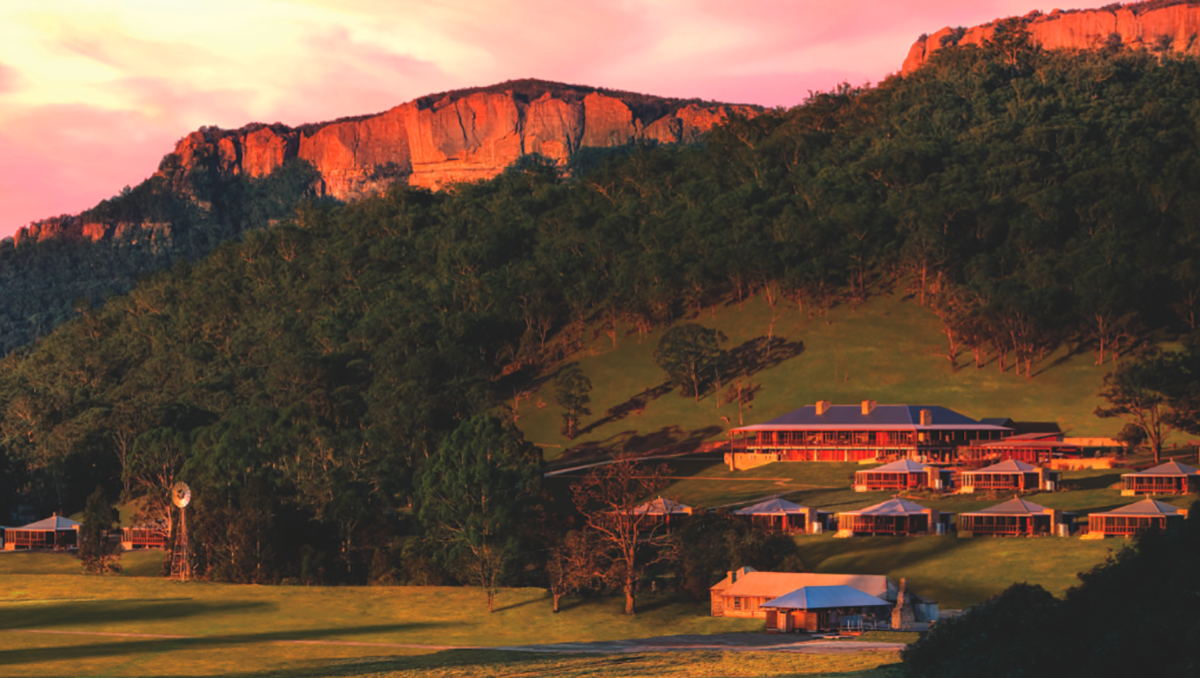 the lux score
96
the lux score explained
Service 9
Rooms 9
Food & Beverage 10
Ambience 9
Attention to Detail 9
Generosity & Value 10
Wow / Hip Factor 10
Facilities 10
Location 10
Fit to Promise 10
Wolgan Valley is one of the most romantic and picturesque resorts in Australia. 
If you are looking for a very special place to take your loved one for a weekend – look no further! It is not a cheap resort (rates start from $1400 per night) but it is well worth it.
I have seen this resort featured in many luxury travel magazines, but being so busy travelling the world I hadn't had a chance to visit. A free weekend came up and my husband and I packed our bags into a 4WD and off we went to explore this amazing place.
What can I say – I am so glad we decided to visit it – Wolgan Valley is one of the best resorts in Australia!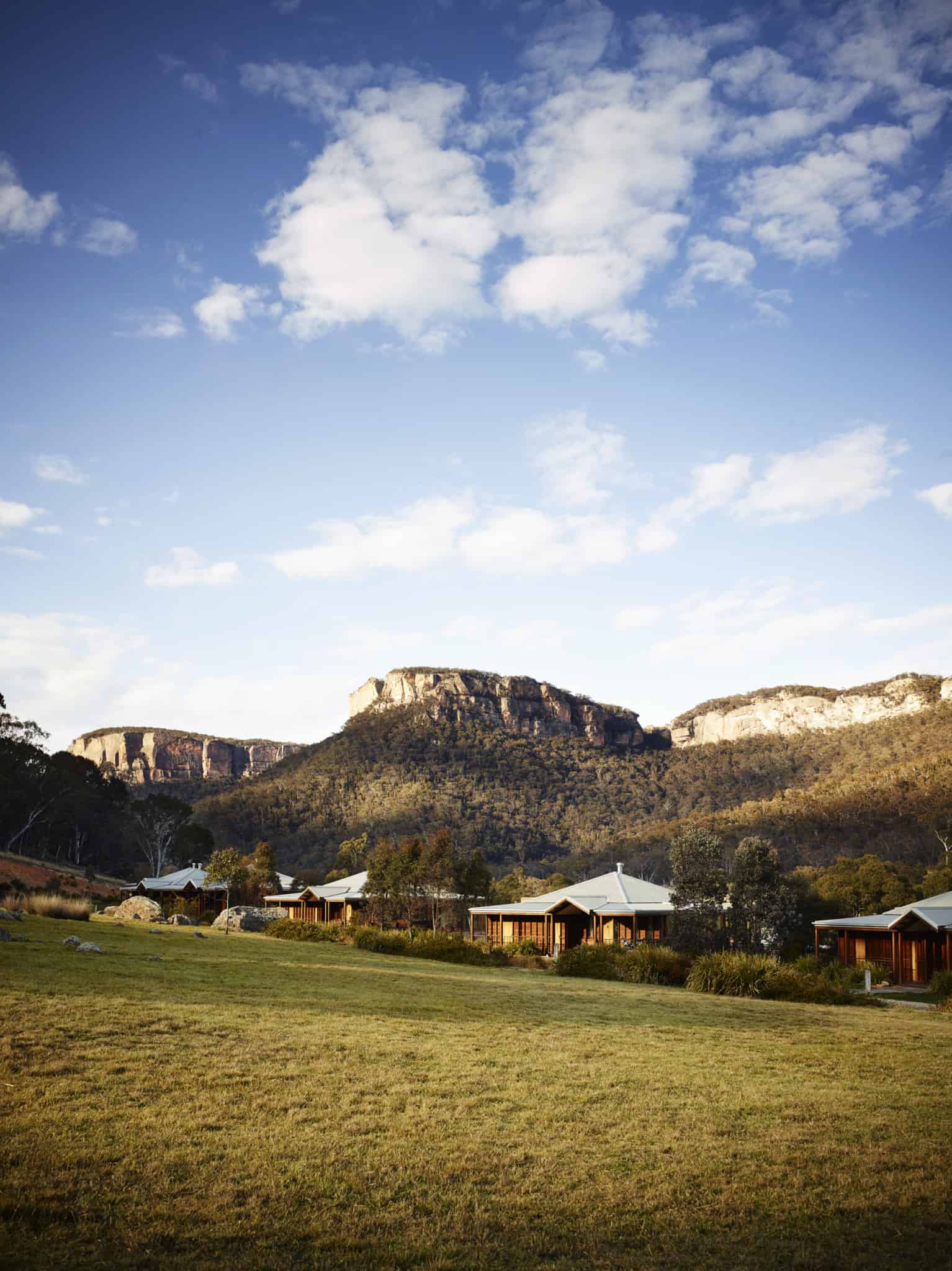 The Location is truly beautiful, picturesque, inspirational and very secluded.
It is about 2.5 hrs away from Sydney (an easy drive if you can avoid peak hour Friday night traffic). Part of the road is a dirt road so please leave your luxury car at home and take your wife's 4WD instead.
There are no cars at the actual resort, so when you arrive at the security gates you'll need to park the car and get a five minutes 4WD transfer to the reception.
Wolgan Valley treats their arrivals very seriously – uniformed  security guards will meet you at the gate with a list of guests arriving that day. No visitors are allowed due to the very special peaceful nature of the resort.
Reception staff will greet you by the name to make you feel instantly welcome. After a quick but informative tour of the property you'll be escorted to your villa.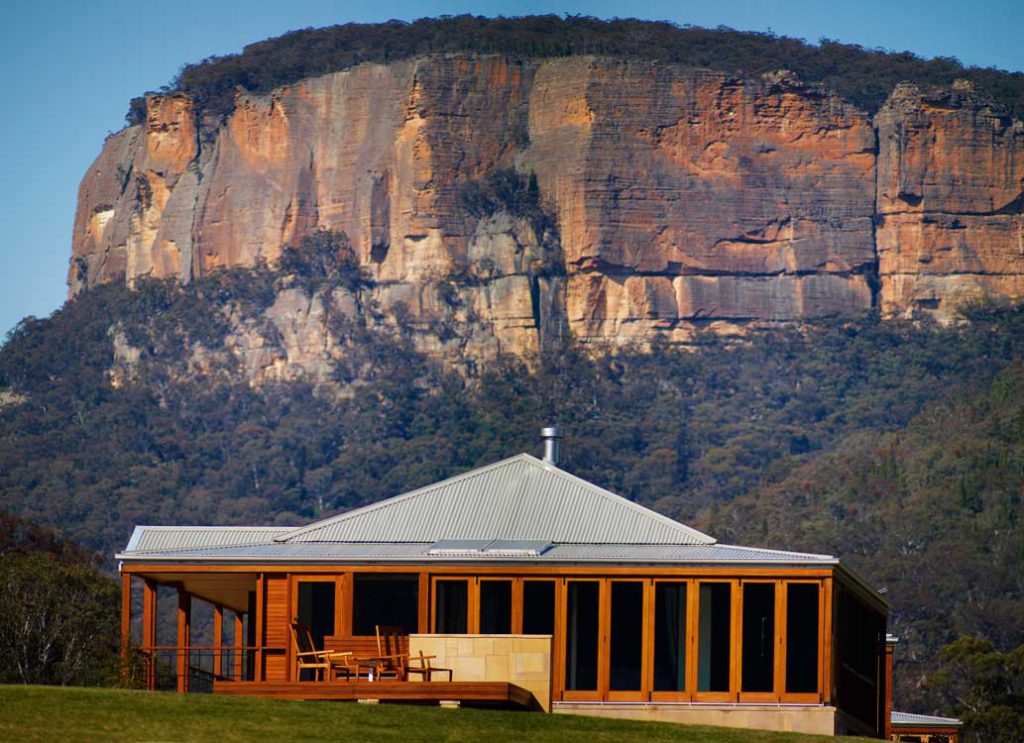 All villas are freestanding and private. For ultimate privacy, ask for a villa at the end of the row – that way no one will be able to look onto your terrace or private pool. Did I mention that every villa comes with a private pool!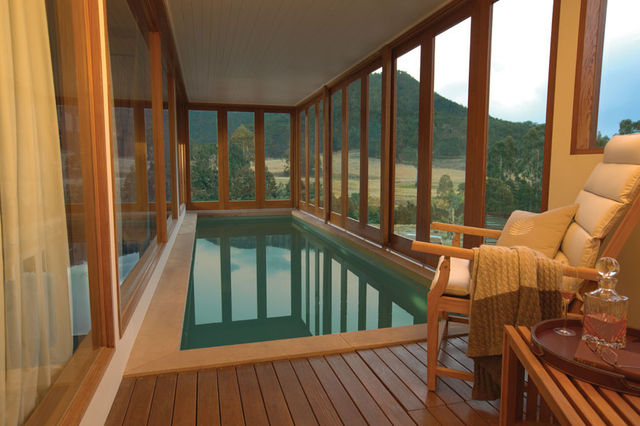 I am 'a hard to impress' Lux Traveller but Wolgan Valley's villas are truly divine and very well designed. I'd like my next home to be like them. Our villa is warm, plush, with earthy tones, wood and stone, fireplace and a four poster bed. Oh, so romantic!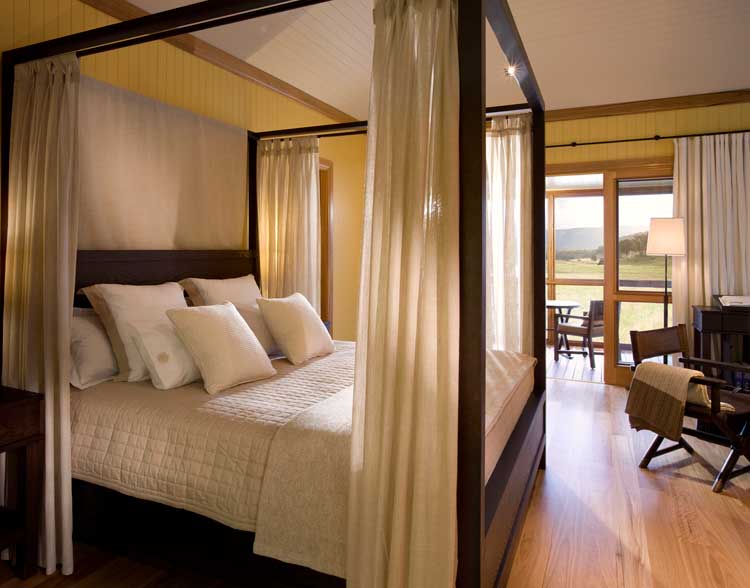 All one bedroom villas come with a spacious living room, beautiful bedroom, very spacious black stone bathroom with a shower, bath and double vanities.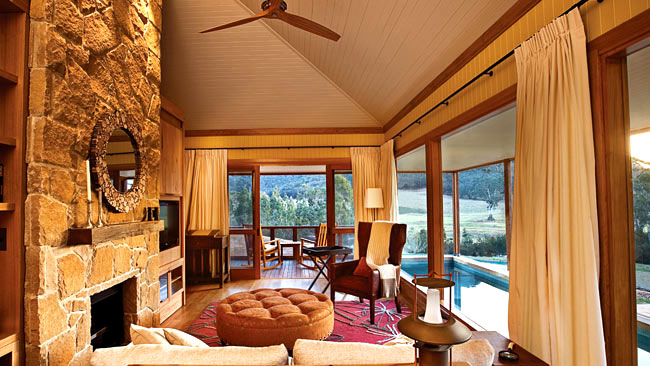 A really lovely feature of the villas is a separate walk-in wardrobe/dressing room. It has a make up table and ample room for your designer luggage.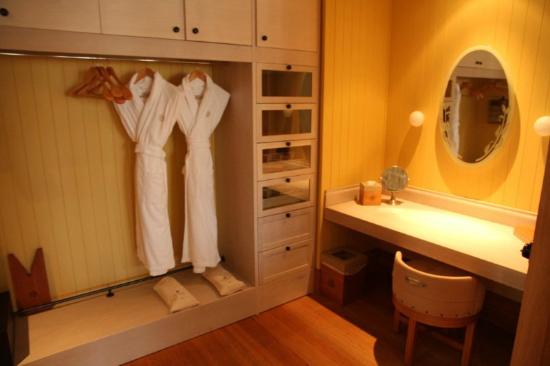 Nice touches in the villas:
The lounge room has a super comfy sofa with a cashmere throw/blanket. I felt at home snuggling up on it with a fire gently crackling in the fireplace and a cup of freshly brewed peppermint tea in hand.
The fireplace opens to both the living room and bedroom – very smart.
All movies are included in your room rate.
Bathrobes are by Frette, an Italian luxury brand – they feel so lovely on.
A Nespresso coffee machine is always a bonus if you are a coffee lover; if not, there is a selection of designer teas in the room for your enjoyment.
Minibar items (apart from imported alcohol) are also included in your room rate.
The same applies for all meals at the resort, even if you order room service (only a small charge of $12pp applies for the service and you can order anything you like). The staff do try very hard to be as accommodating as possible.
For the families – if you are travelling with one child they will sleep very comfortably on the sofa. For bigger groups / families – choose a two-bedroom suite for the ultimate comfort. Two bedroom suites offer a bigger living room too so there is plenty of room for everyone. They are a home away from home.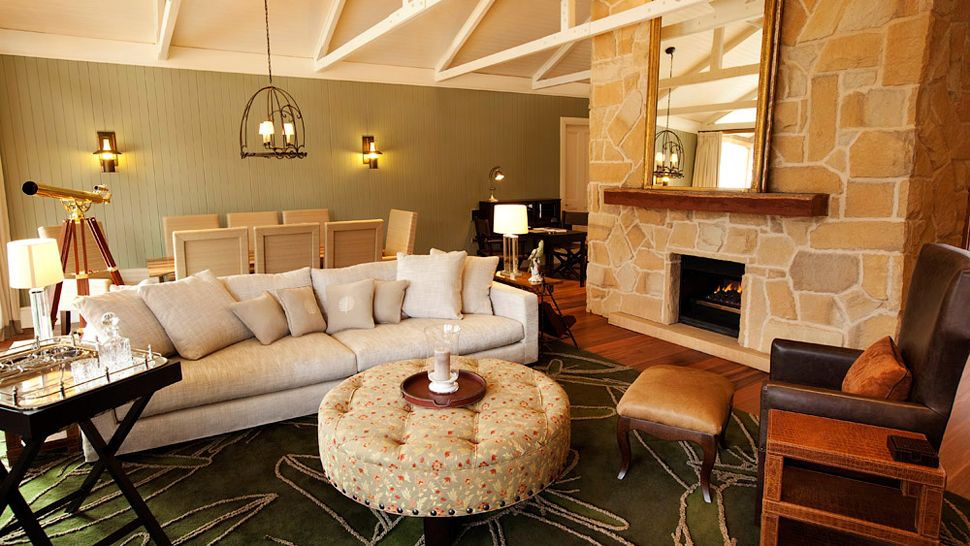 It doesn't matter if it is a rainy or a sunny day at Wolgan Valley.
On our first day the sun was shining and we enjoyed a walk around the property, spotted some cute kangaroos and enjoyed an open air lunch at the resort's Country Kitchen (a relaxed eatery offering a-la carte dishes throughout the day). On a warmer day we could've also enjoyed the stunning wet edge pool with amazing views of the valley.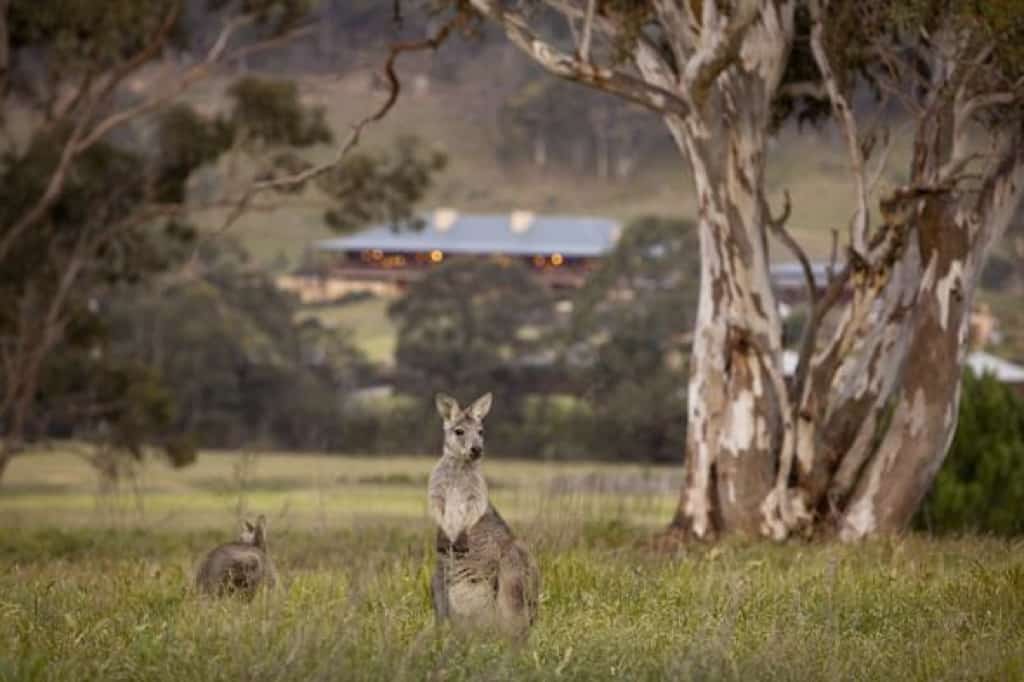 We weren't so lucky with the weather the next day – it was pouring rain, so my husband and I just cuddled up in our luxurious suite all day long. The beds are super comfortable with a variety of pillows for every taste – a great place to spend a rainy morning. We lit up the fireplace, put on a movie (the resort has a great selection of films to choose from), ordered in-room dining, popped a complimentary bottle of red and enjoyed each other's company. Can you think of a better way to spend a day?
Dining at Wolgan Valley is also very special. I love fresh produce and organic ingredients. Wolgan Valley manages to combine those with style and creativity which results in beautifully presented gourmet meals.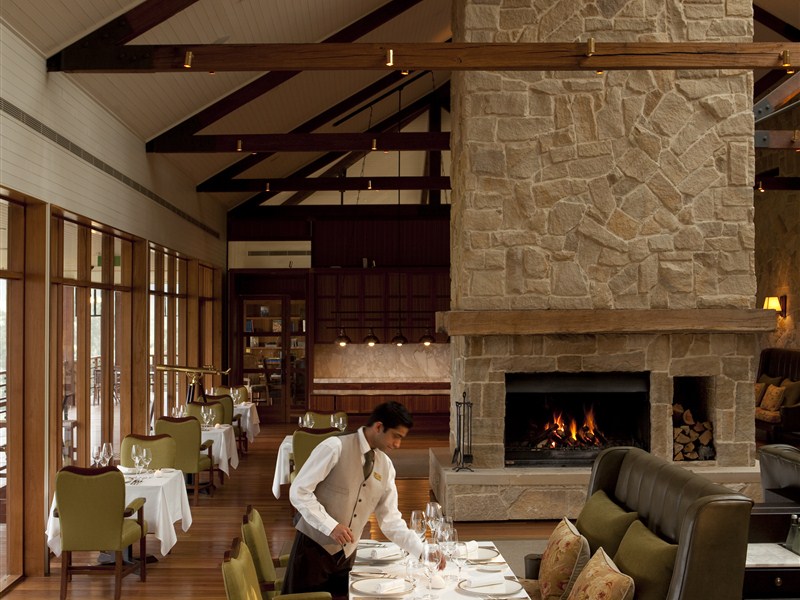 The Wolgan Valley food philosophy is based on seasonal, regional, and organic produce from local boutique farms and private growers. All ingredients are sourced locally within a 160-kilometre radius of the resort.
The atmosphere at breakfast and dinner is one of elegance and sophistication.
At breakfast there is a small buffet of freshly squeezed juices, home made jams, breads, pastries, fruit, organic cereals and yogurts, cold cuts and cheeses complemented by your choice of a hot meal. Basically anything your heart desires.
In the evening, crisp linen adorns the tables, while polished silver and sparkling crystal catches the light for a refined six-course menu or an à la carte evening meal. Dinner is a sophisticated affair. Do bring something elegant to wear.
Activities
There is a variety of nature-based activities you could try at the resort – including horse riding, walking, cycling and wild life safaris. Unfortunately we came on a very wet weekend and didn't get to experience any of these but I am sure they would be delightful. If you are travelling with children, the resort offers a wide variety of activities for the little Lux Travellers as well. Children won't be bored here.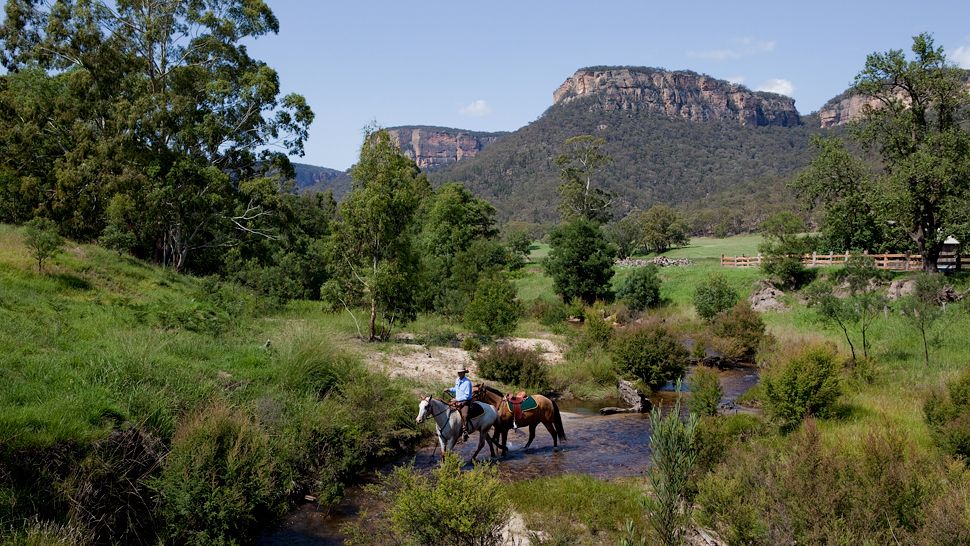 Timeless Spa – The Best in Australia! 
If you are here on a wet weekend like me, the Timeless Spa is a must.
It is the most friendly and professional spa I have been to in Australia! I love spas and have experienced hundreds of treatments yet Timeless Spa at Wolgan Valley still stands out for me.
All the treatment rooms have beautiful views of the valley and are very modern but warm at the same time. I could easily spend a whole day here being pampered.
The Spa's double rooms  are very romantic – each room has its own changing area and private bathroom featuring a shower and a Japanese-style soaking tub to complete the indulgent experience.
During the winter months, a massive stone fireplace in the relaxation room creates a cosy atmosphere, while in summer, huge doors open to invite the outdoors in.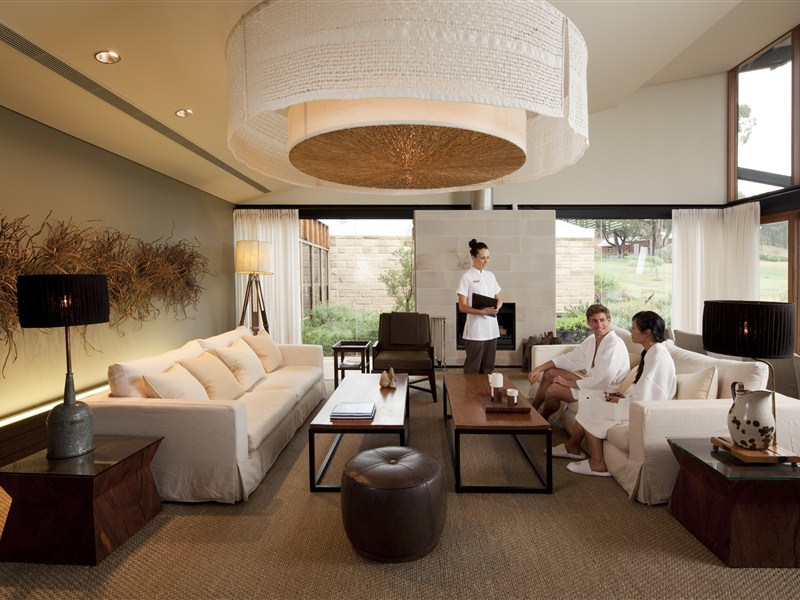 The Lux Traveller Loves:
Everything – The setting, the views, the holistic atmosphere at the resort, the immaculate design of the villas, the million special touches, the spa, the food.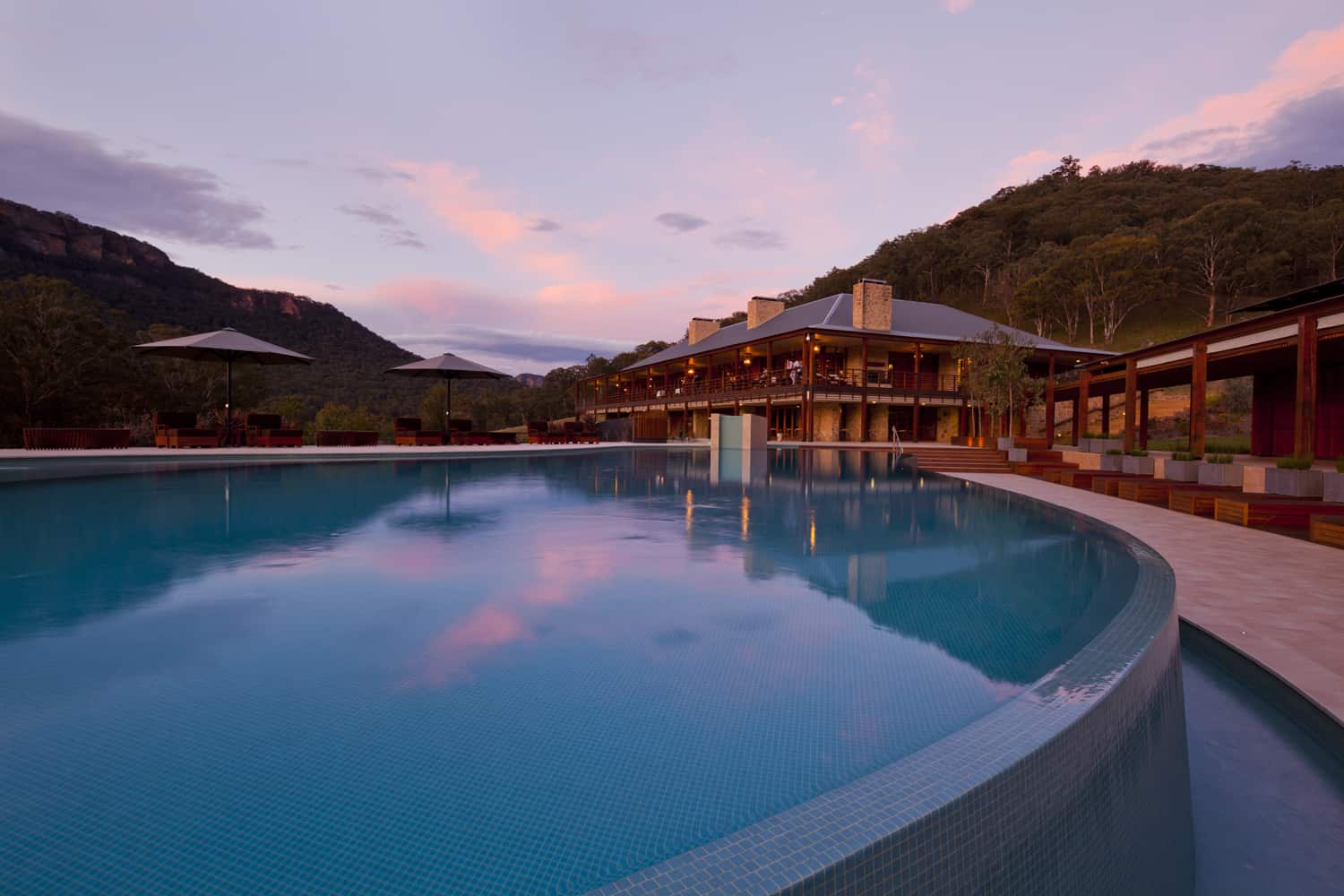 The Lux Traveller Didn't Like:
The bathrooms don't seem to have heating which is not overly inviting on a cold night. Heated floors would've been a great touch. The hot water also went out a few times during our stay  – not what you'd expect from a resort in this price range. I can't say that those minor details have effected our stay though.
All in all – I can not wait to come back and stay for longer. I think Wolgan Valley is one of the most romantic, luxurious resorts in Australia – a must for all overseas visitors and the best weekend getaway for Sydney couples.
I would love to bring the kids here next time and write about the family experience in this wonderful resort. I think it will be just as family friendly as it was romantic this time!