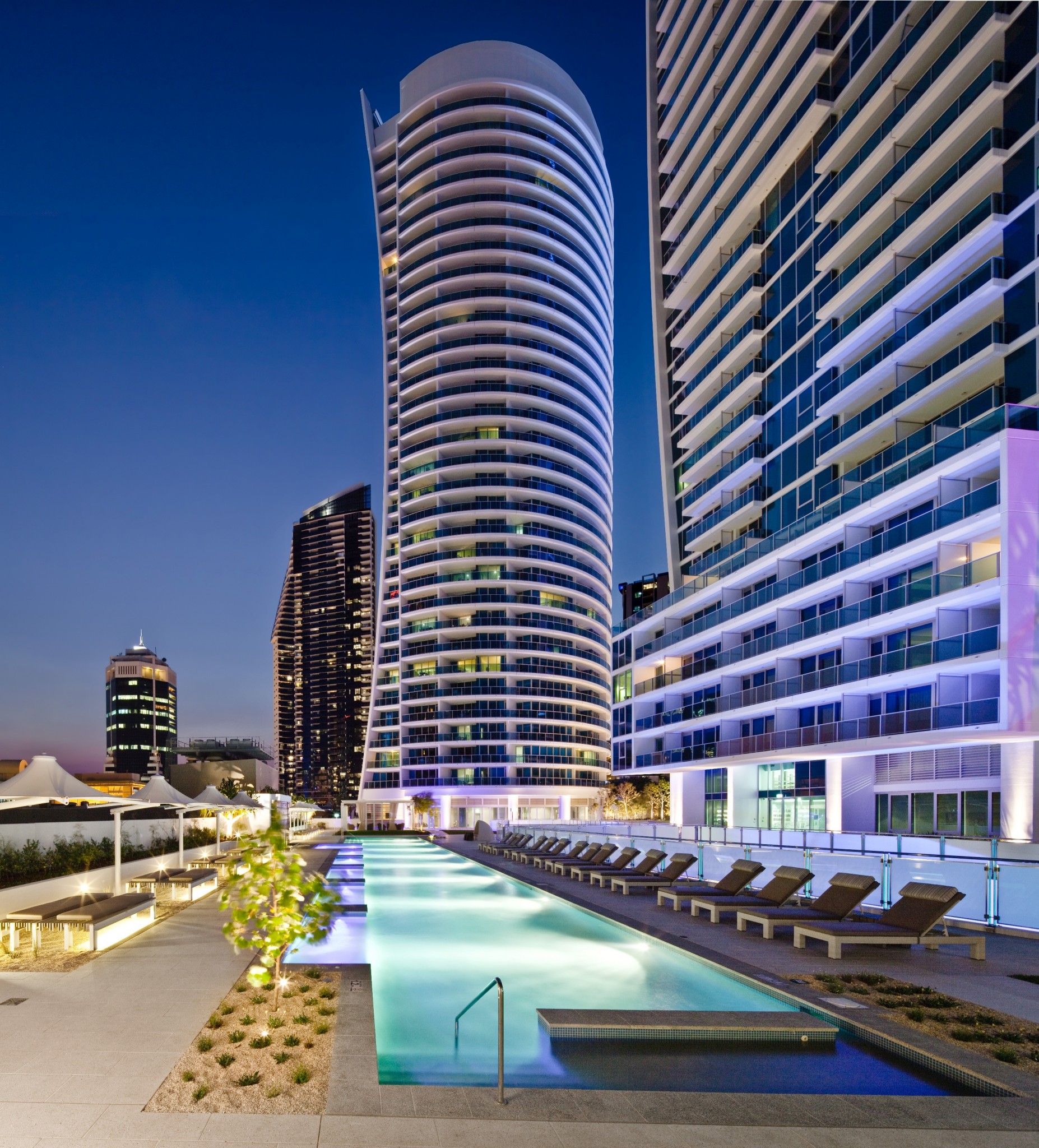 the lux score
71
the lux score explained
Service 6
Rooms 7
Food & Beverage 6
Ambience 7
Attention to Detail 7
Generosity & Value 8
Wow / Hip Factor 7
Facilities 7
Location 9
Fit to Promise 7
For those of you who are not very familiar with Australia, Surfers Paradise is located in Queensland, our sunny state. Surfers is a wonderful beach town, famous by a mile long white sand surf beach, highrises and ample night life.
It is very easy going, family friendly – typically Australian. Queenslanders are known for being the most friendly people in our country and our stay here is a testament to this.
Arrival & Accommodation
Hilton Surfers Paradise is located about 30 min away from Coolangatta airport or 1hr10 min away from Brisbane airport.
There are no valet attendants at the front of the hotel so we had to park the car ourselves in the hotel underground parking and come up to reception.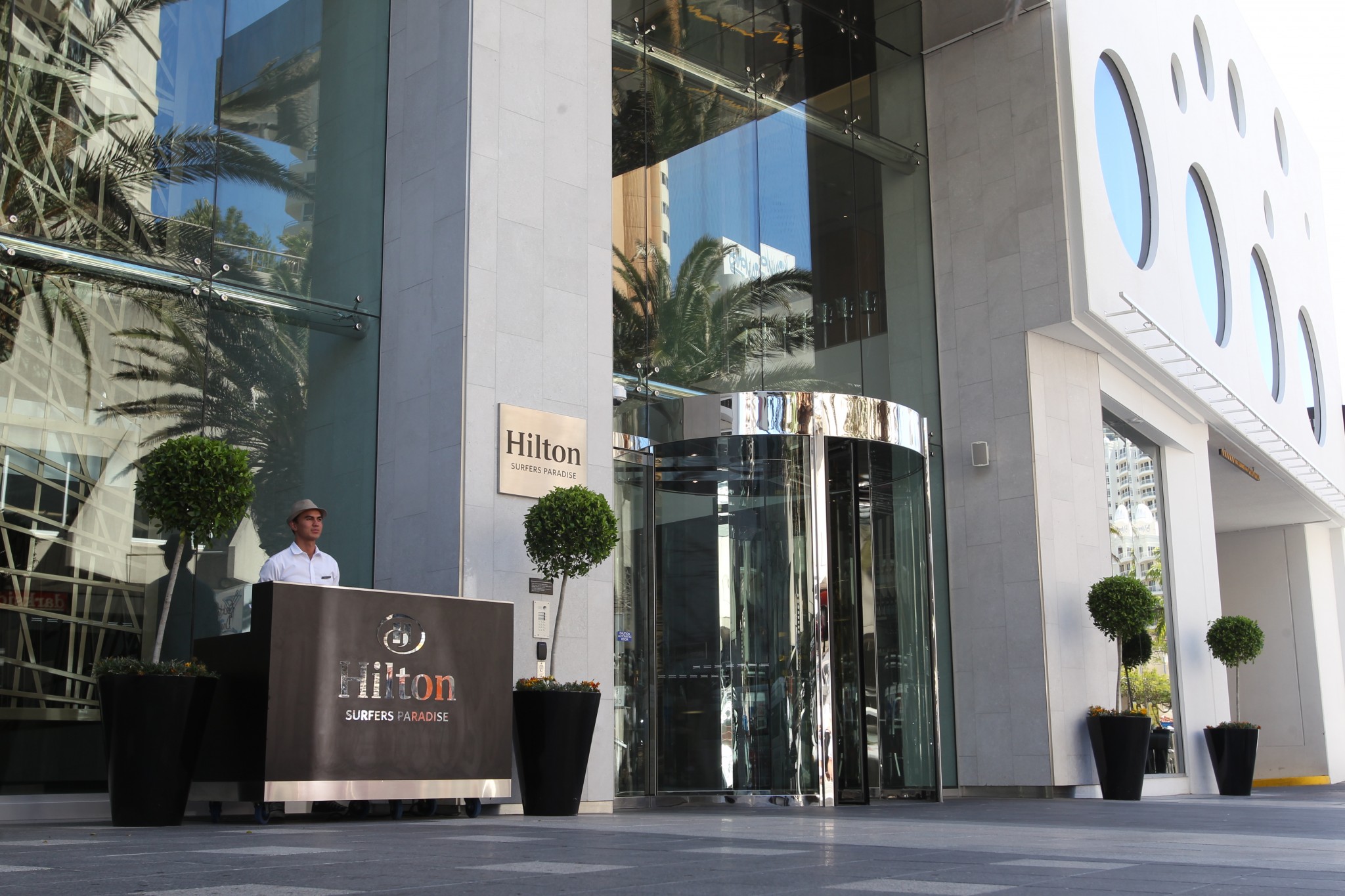 Hilton Surfers Paradise comprises of two parts – residential apartments on the higher floors and hotel rooms on the lower levels. Hotel offers standard rooms with various views and small Relaxation Suites that comprise of a tiny living room that adjoins to the bedroom. Both are perfect for couples but are a little too small for families.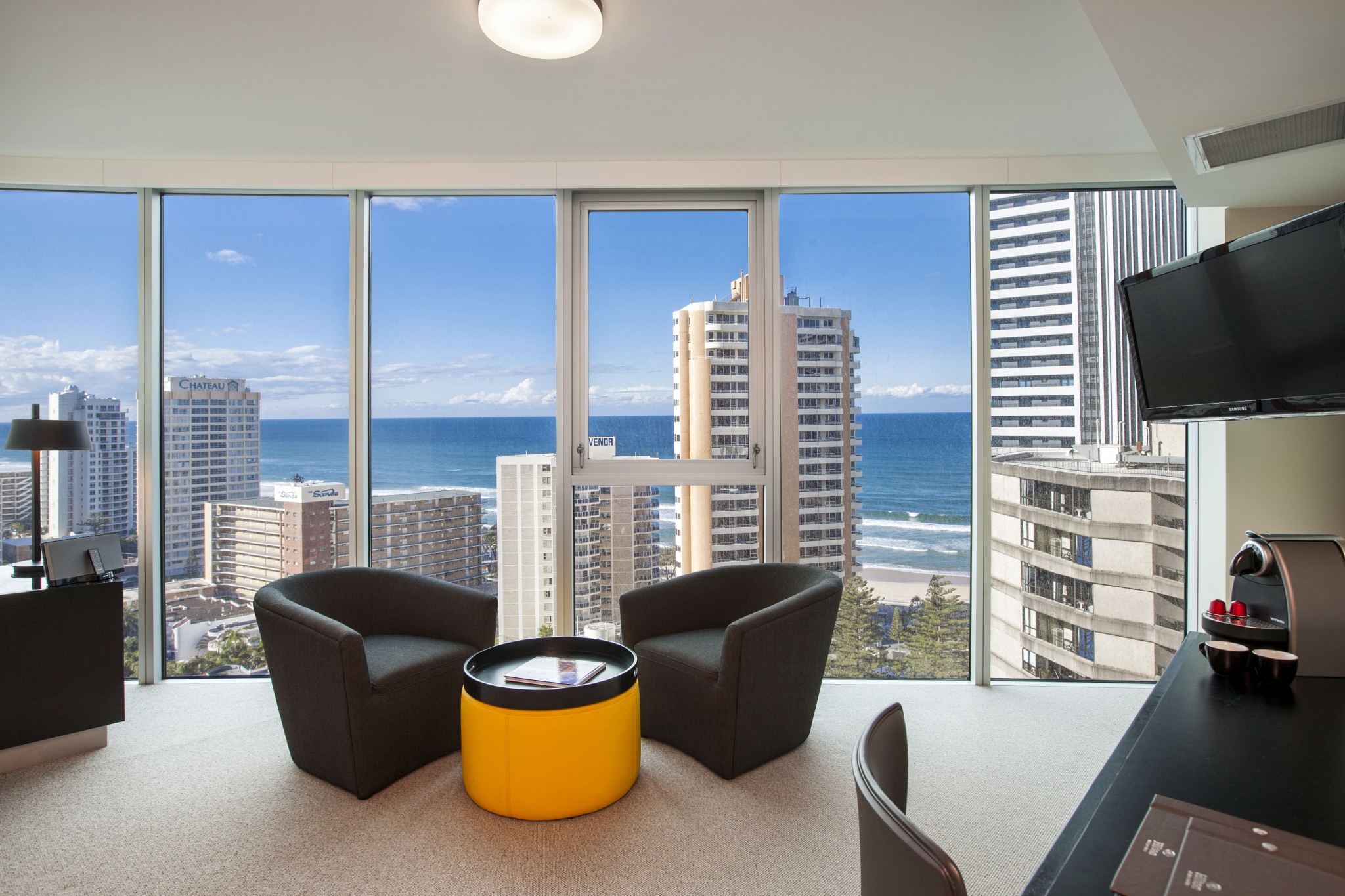 If you are looking for extra room or are bring the family with you make sure to make a reservation in the Hilton Residences. Residences & Hotel are treated as two separate hotels, so changing reservation last minute on arrival could be a little tricky.
Residences offer 1,2,3 and 4 bedroom apartments, some with amazing ocean views. We stayed in a 2 bedroom sky residence, which was absolutely perfect for 2 adults and 2 little kids.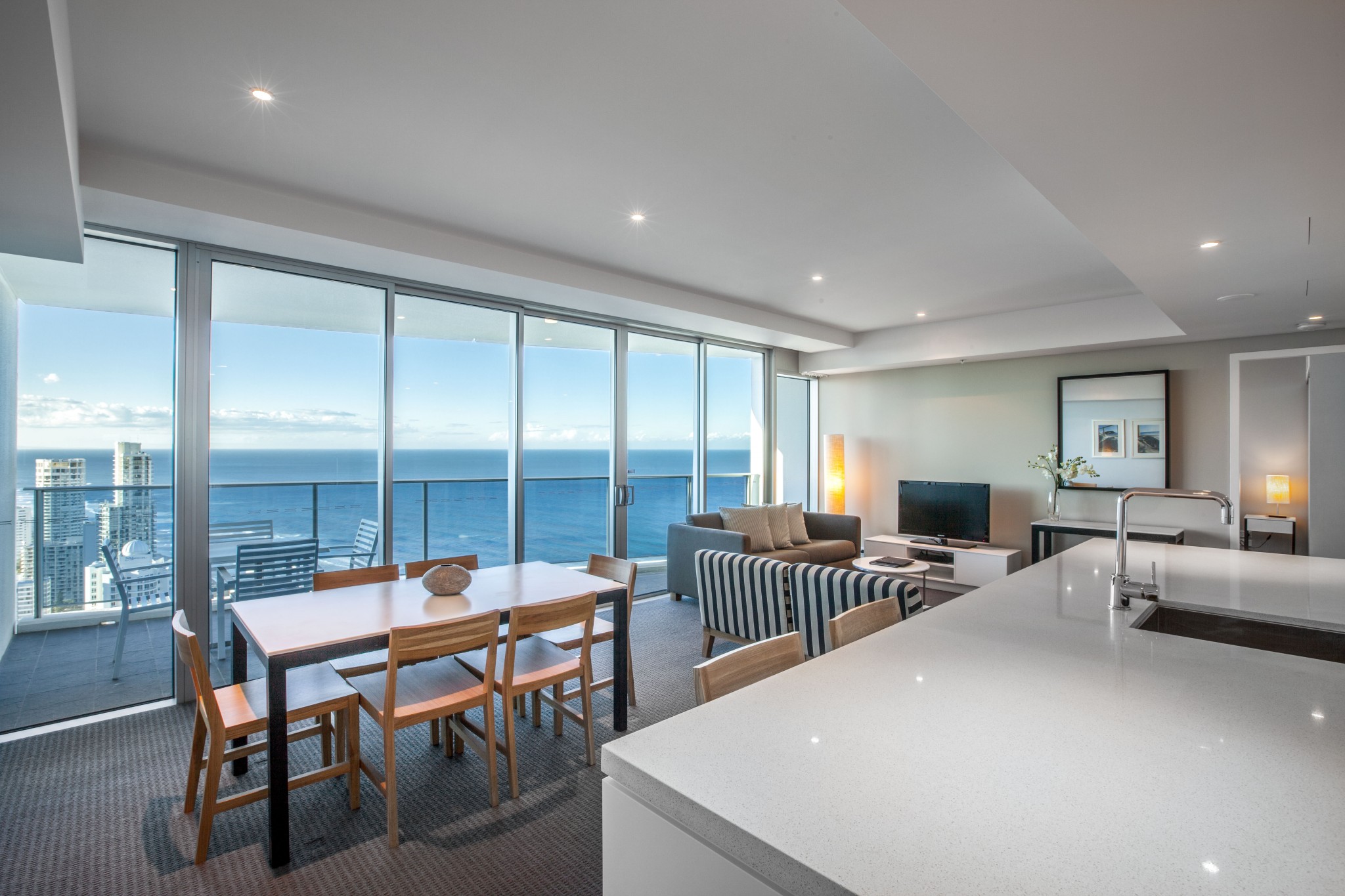 Lounge room is very spacious with 2 sofas, dining table for four, fully equipped kitchen and best of all – long outdoor balcony to enjoy the ocean breeze and spectacular views in front of you.
The apartments also feature on-suites for each bedroom, luggage room in the master bedroom and laundry with a washing machine and a dryer.
Apartments are designed in neutral colours – white and beige pallet is perfectly complimented by the deep blue of the ocean in front of you. The apartments are new, bright and very comfortable. After 4 days here we didn't want to leave.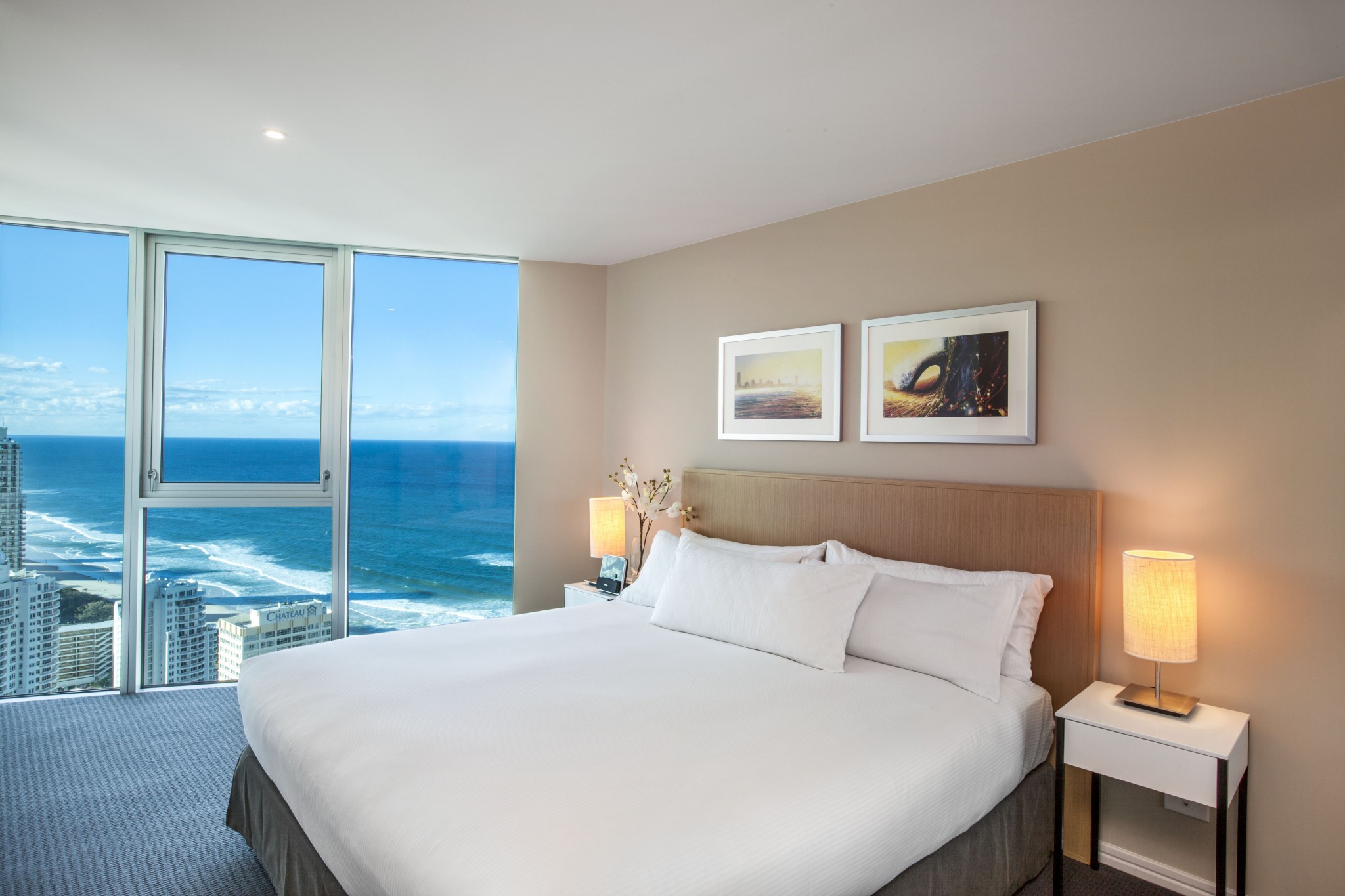 Location
Hilton Surfers Paradise is in a perfect location, in the very centre of town and one street away from the beach. Put your swimmers on, grab a towel and you are at the beach 2 minutes later – perfection!
There is a multitude of nice cafes, bars and night clubs right around the hotel, so if you like your holidays entertaining you will certainly find everything you are looking for here.
You don't need a car in Surfers as everything is very close.
Facilities
Hilton has a pretty outdoor pool and a smaller indoor pool, popular with the little kids. There is a small gym, steam room and sauna and a spa in the complex.
Dining
Hotel offers breakfast either in the main restaurant or in the club lounge. I highly recommend booking a room with club access in this particular hotel as the club is fantastic while the main restaurant is very ordinary.
Service, food selection and cleanliness in the main buffet have left us very disappointed.
For dinner, same restaurant Salt Grill is supposed to be quite good as it is run by Australian celebrity chef Luke Mangan. I tried his creations in Sydney restaurant and the steaks especially are fantastic. However we didn't get a chance to try Salt Grill on this trip.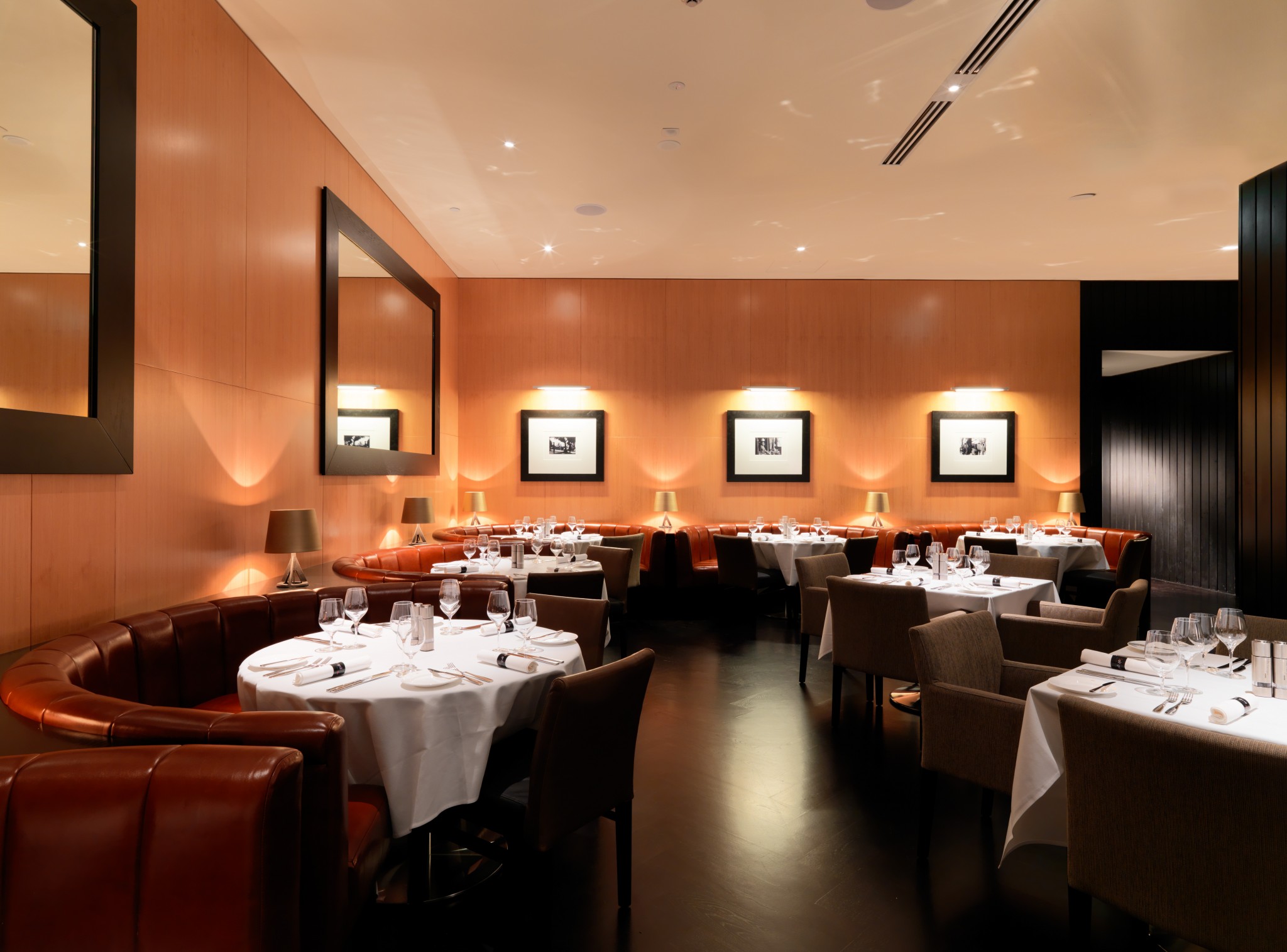 For more dining recommendations at the Gold Coast please see our tips here.
Executive Lounge
Executive Lounge is fantastic. The staff are happy and exceptionally accommodating while ocean views from each window make each dining experience special. The lounge is tastefully furnished and is generally a very pleasant space to relax in. Our favourite area is a little balcony with only 3 tables on it – perfect hideaway on warm summer nights.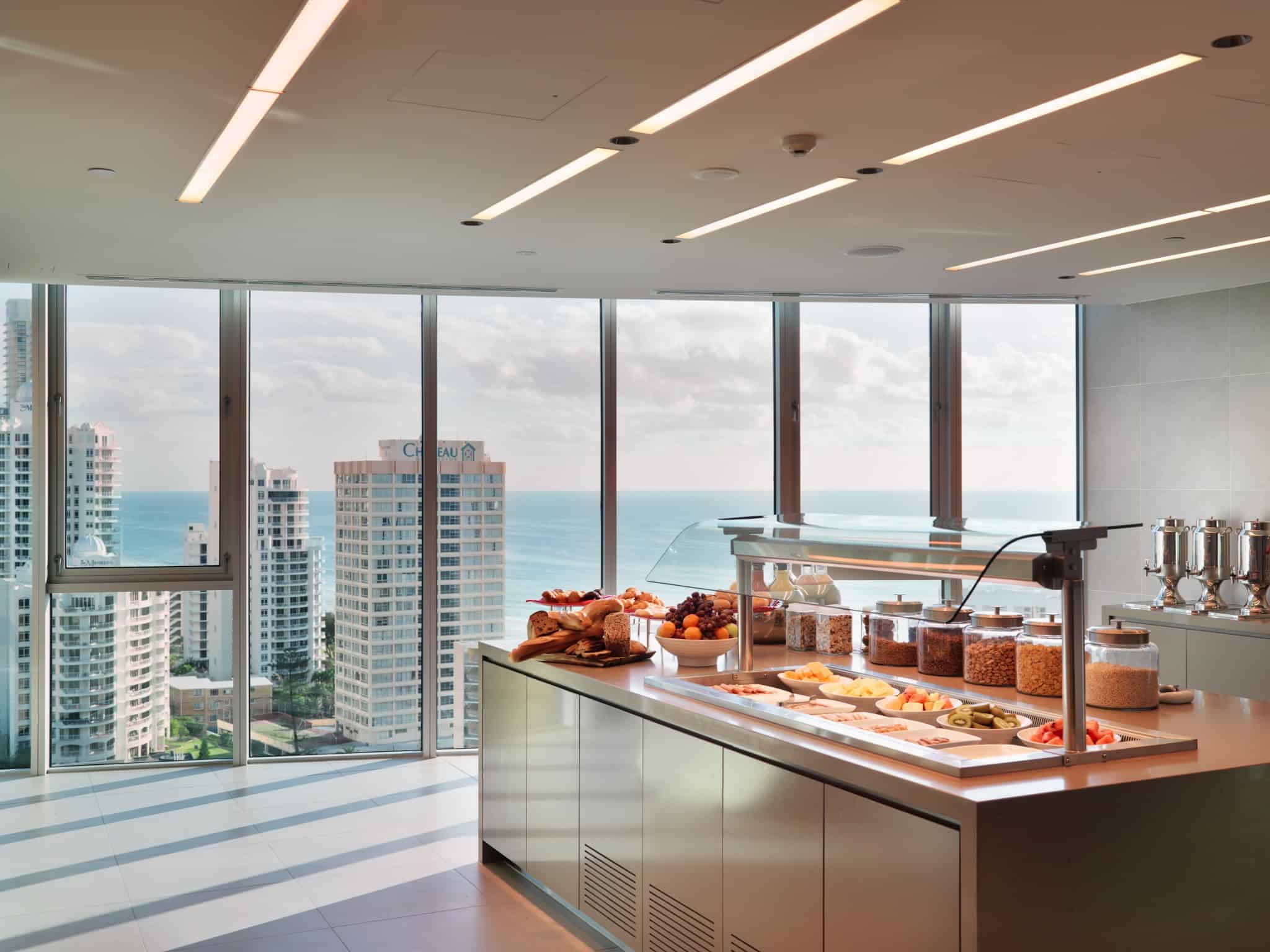 The Lux Traveller Loves
As a family we loved having a spacious apartment verses a hotel suite offered by other 5 star hotels in the area
Excellent Executive Lounge
Fantastic beachside location
The Lux Traveller Didn't Like
Confusing Residences vs Hotel accommodation system
Very ordinary (3 star) breakfast service in the main restaurant
All In All
We will definitely return to this hotel. It is perfect for families looking for a relaxing vacation in style on the Gold Coast. And having a kitchen and a laundry was a huge bonus – made my life so much easier travelling with little kids who get too tired at night to go out for dinner.