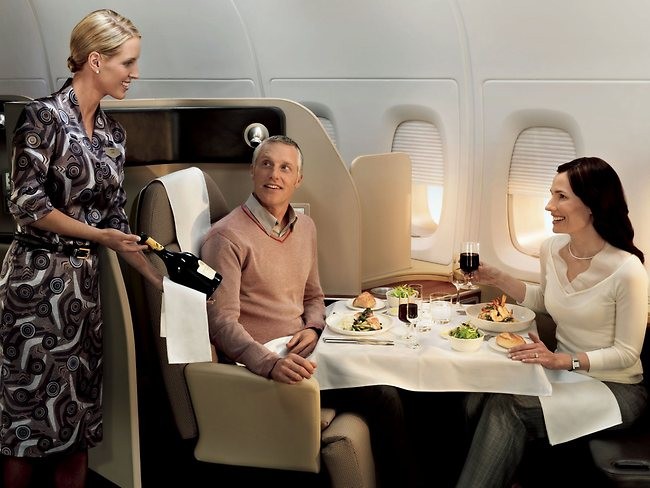 Great news for luxury lovers & first class frequent flyers – Qantas is now offering Yasa Caviar at the pointy end of their aircrafts, often accompanied by Taittinger fine vintage champagnes.
Yasa black caviar comes from Emirates Aquatech, world largest caviar farm located in Abu Dhabi. Yasa caviar is roe of the sturgeon fish, Siberian Ossetra variety. It has a very delicate taste and a dark grey colour. Qantas First Class Passengers get to enjoy it in style – served on a light crispy tartlet and accompanied by a glass of vintage Taittinger champagne.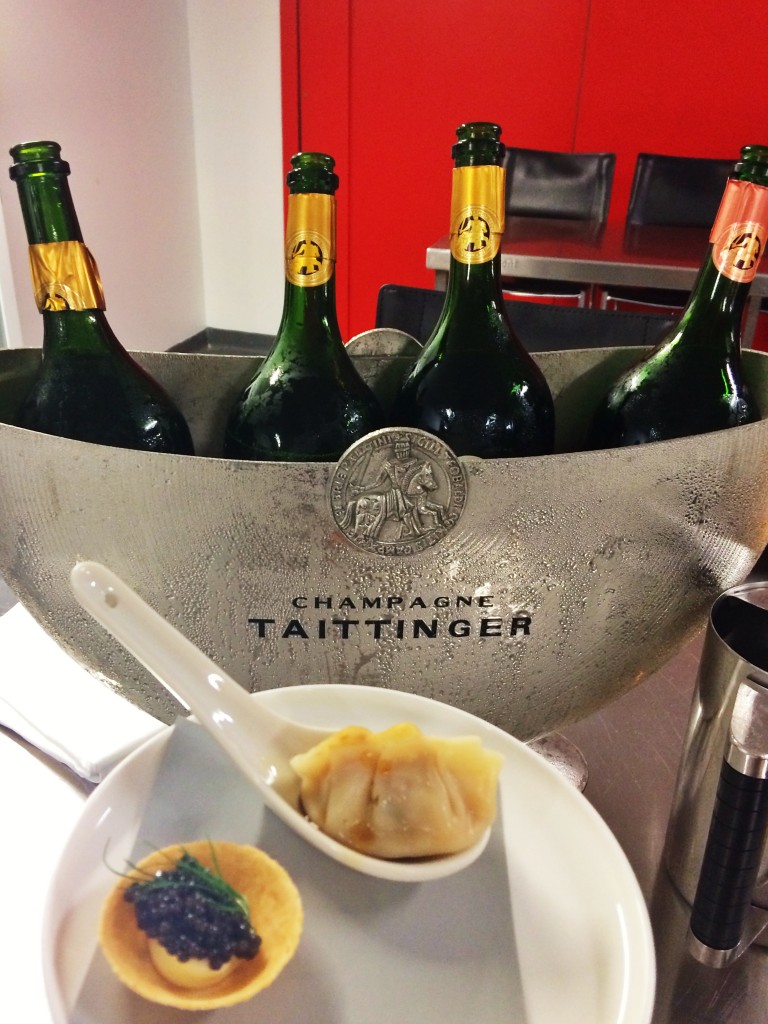 Once your caviar craving is satisfied, you'll be offered the new autumn 6 course degustation menu. It takes about 2.5-3 hours and is absolutely perfect for an afternoon or early evening flight out of Australia.
Here are some of the highlights from the 2015 Autumn Menu.
Simple entree yet everyone's in-flight favourite is a broccoli soup, freshly prepared earlier that morning. It is a healthy vegetarian dish.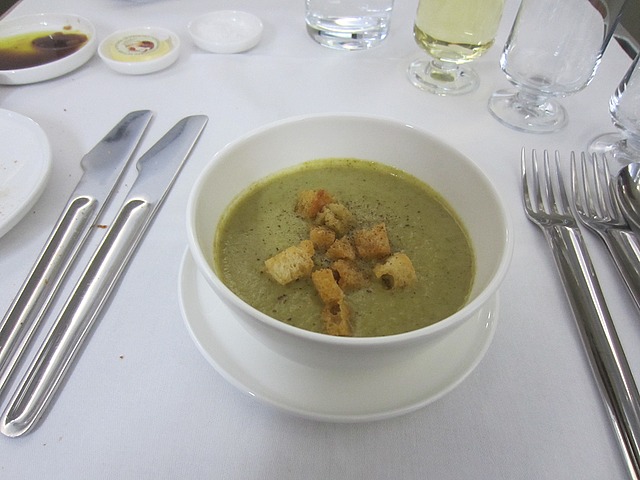 Delicious soup is followed by a choice of mains (all served in a degustation size to make sure you'll have the room to try all 6 dishes) – Roast Duck with egg noodle salad, Blue Eye Trevalla with tomato sauce or Rockpool famous Cape Grim beef fillet served with potato & Jerusalem artichokes gratin.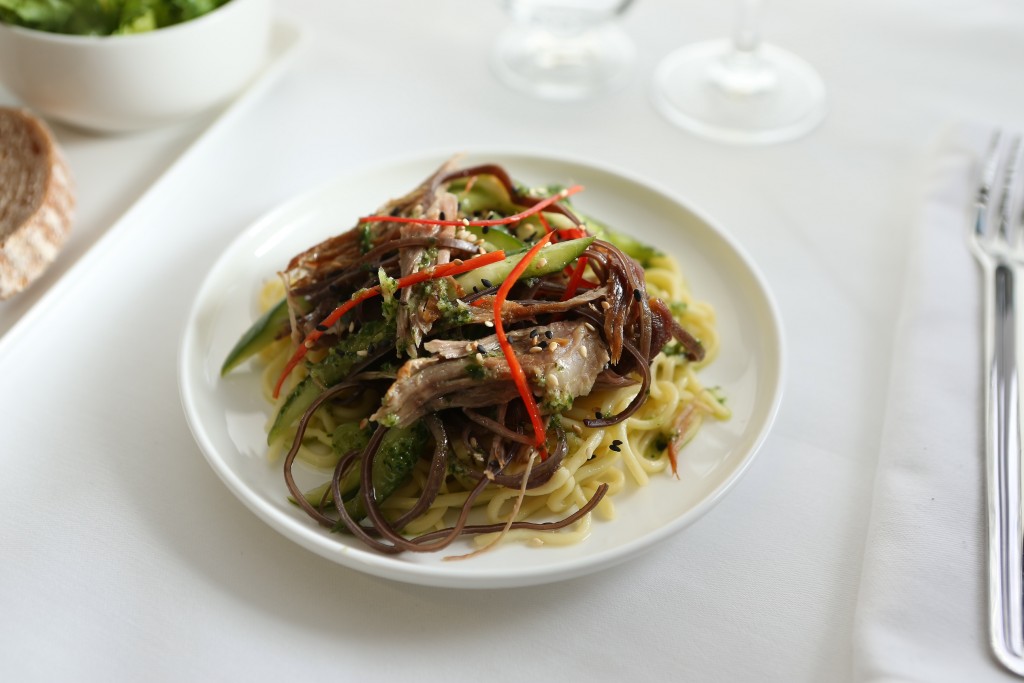 I found the duck to be a little less exciting than the rest (duck could be a little chewy), while Blue Eye Trevalla was absolutely divine – tender, cooked to perfection, simply put 'melts in your mouth'.
Cape Grim Beef Fillet from Tasmania is lean, healthy (Qantas chooses only grass fed beef) & served medium rare. An absolute hit with the men on board!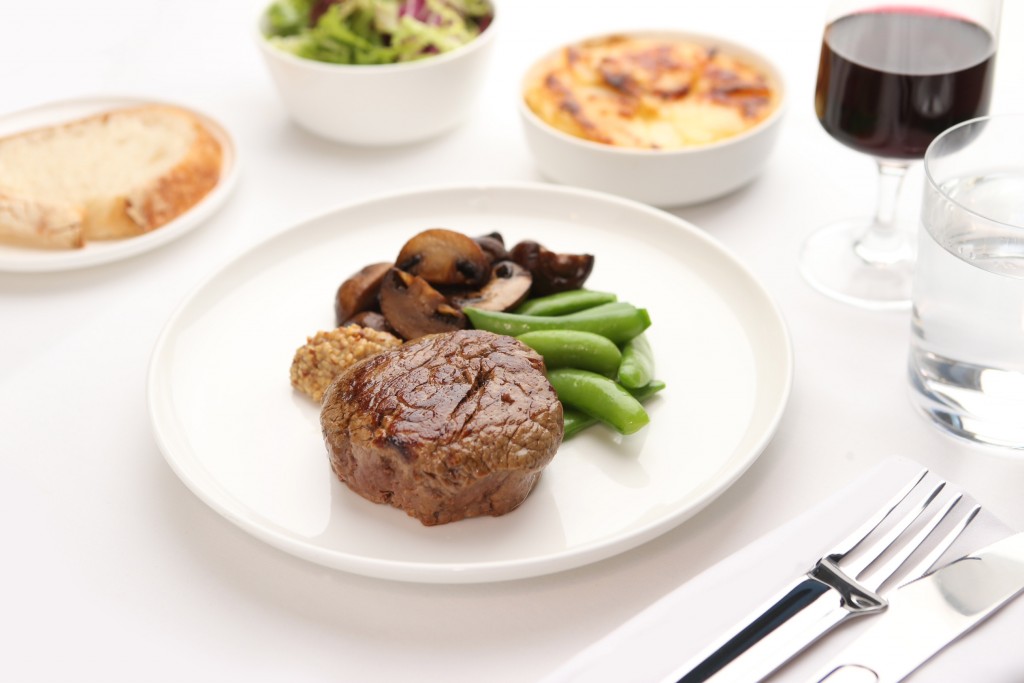 Apart from the above dishes, Qantas is a first airline to introduce a seasonal 'surprise' special for their First Class passengers. In the beginning of March it was a sensational dish of Grilled Moreton Bay Bugs with fennel salad, and from the 19th of March it is being replaced by the Fraser Isle Spanner Crab. The special depend on the seasonal produce available and changes every 4-6 weeks.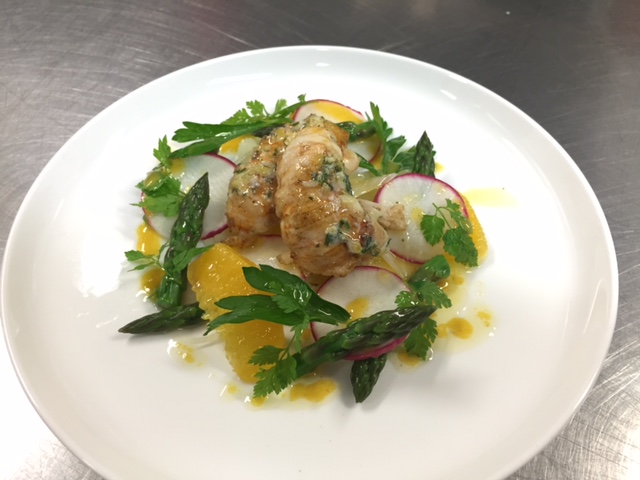 For those who have room left for desert, there is a delightful Panna Cotta trifle with pear, balsamic & apple jelly (very light & fresh – a perfect way to complete your degustation experience).
The Lux Traveller Loves
Black caviar & French vintage champagnes on board
Seafood has never before tasted so good  up in the air – I don't know how they manage to keep it so tender & light. Morton Bay bugs are amazing!
Fresh sourdough bread
A multitude of vegetarian options
Splitting Hairs
Qantas is very proud of being an all-Australian airline hence they serve only Australian wines on board. While our wines are wonderful it would be nice to have a choice of french or Italian wines to choose from.
All In All
Yasa caviar & 2015 Autumn menu rock! There is something for everyone including vegetarians and children.
Enjoy your flight & an amazing Rockpool dining experience on board Qantas First Class!